Thriller Korean dramas
---
Korean dramas are not all about romances where the perfect-looking leads ultimately end up together after overcoming a series of obstacles. There are many thriller Korean dramas out there with enthralling storylines that will have you glued to the screen while you chomp away on a huge bag of chips.  
If you're up for some suspense-filled dramas – from gruesome murder cases to unimaginable large-scale corruption plots – here are 34 thriller Korean dramas you need to have on your must-watch list.
---
1. Connect (2022)
---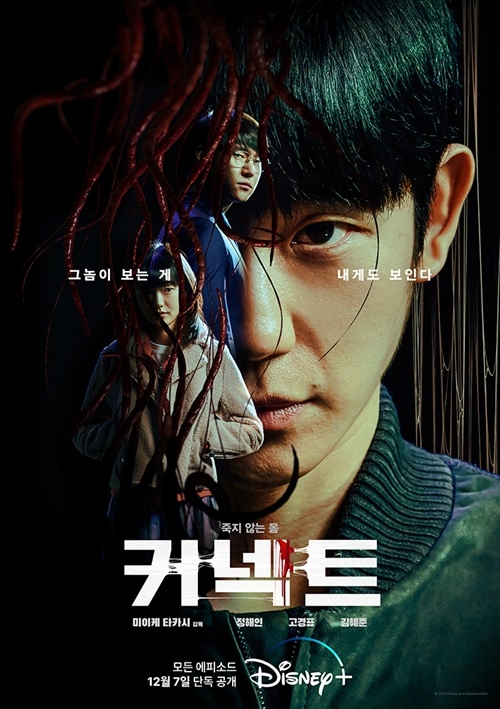 Image credit: Disney+
Main Cast:
Adapted from a webtoon of the same name by Shin Dae Sung, Connect is a Disney+ show that revolves around Ha Dong Soo, who is part of an immortal race known as Connect. Dong Soo is kidnapped by organ traffickers who then steal his eye and transplant it into a serial killer's body. 
Dong Soo soon realises that he is now able to see from the serial killer's perspective, and he attempts to stop the killer's murders and retrieve his eye. 
Sub-genres: Mystery, horror, crime, science fiction, supernatural
---
2. Big Mouth (2022)
---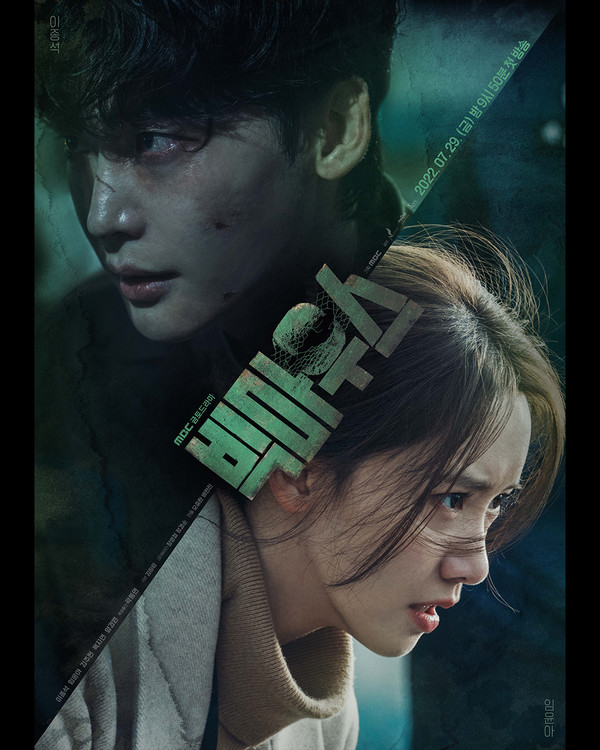 Image credit: MBC
Main Cast:
Lee Jong Suk as Park Chang Ho

Im Yoon Ah as Go Mi Ho

Kim Joo Hun as Choi Do Ha
Park Chang Ho, also known as "Big Mouth" due to his tendency to overpromise, is infamous for being an incompetent lawyer. 
Framed and wrongly accused of being the swindler called "Big Mouse", he's sent to prison. His wife, Go Mi Ho, stops at nothing to prove her husband's innocence.
With a star-studded cast, Big Mouth is definitely a must-watch, especially for thriller fans.
Sub-genres: Mystery, law, drama
---
3. All of Us Are Dead (2022)
---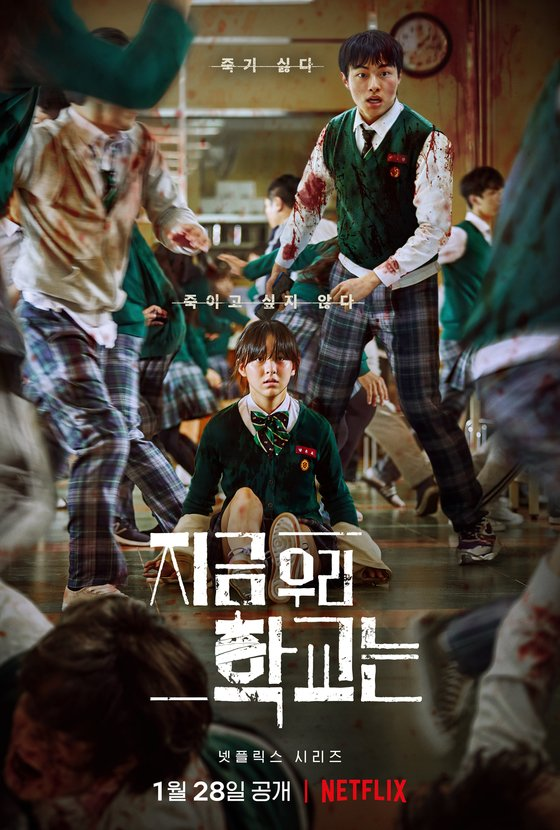 Image credit: Netflix
Main Cast:
Based on the webtoon All of Us Are Dead by Joo Dong Geun, this hit Netflix series depicts a zombie outbreak in the middle of a high school.
The story follows a group of high school students who get trapped in their school after a zombie virus breaks out and spreads throughout the country. As they try to avoid being infected, these students race against time to find a way to safety.
Check out our other articles on All of Us Are Dead:
Sub-genres: Action, horror, supernatural
---
4. Hellbound (2021)
---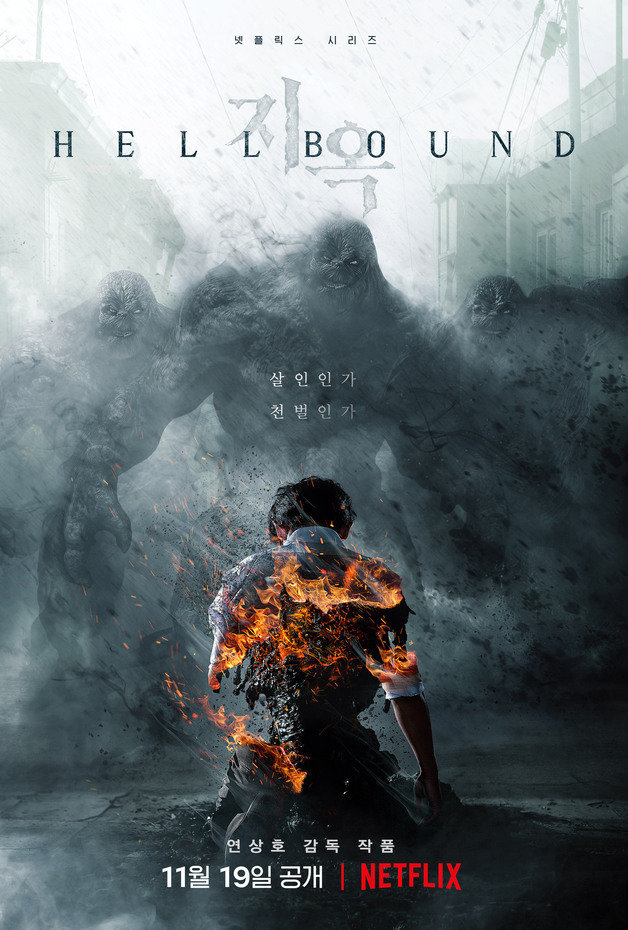 Image credit: Netflix
Main Cast:
Yoo Ah In as Jung Jin Su

Kim Hyun Joo as Min Hye  Jin

Park Jung Min as Bae Young Jae

Won Jin Ah as Song So Hyun

Yang Ik Jun as Jin Kyung Hoon
The world trembles in fear after three executors from hell appear on earth to kill those who had received a death decree sent by an angel. 
An astute religious group known as the 'New Truth Society' begins to gain widespread support as people start believing that the leader, Jung Jin Su, had prophesied the mayhem that rampages their world.. 
Together with an extremist cult called 'Arrowhead', the 'New Truth Society' condemns people according to their religious principles. However, not everyone is a follower – some take their guidance and control of society with a pinch of salt.
Min Hye Jin is a lawyer who works to the best of her ability to reveal the corrupt nature of the 'New Truth Society'. She gets a married couple, Bae Young Jae and Song So Hyun, to fight against the 'New Truth Society' and 'Arrowhead'.
Fun fact: Hellbound was adapted from an animation and a webtoon.
Read more about unknown Hellbound facts here and check out our episode one review of Hellbound.
Sub-genres: Mystery, horror, drama, supernatural
---
5. Happiness (2021)
---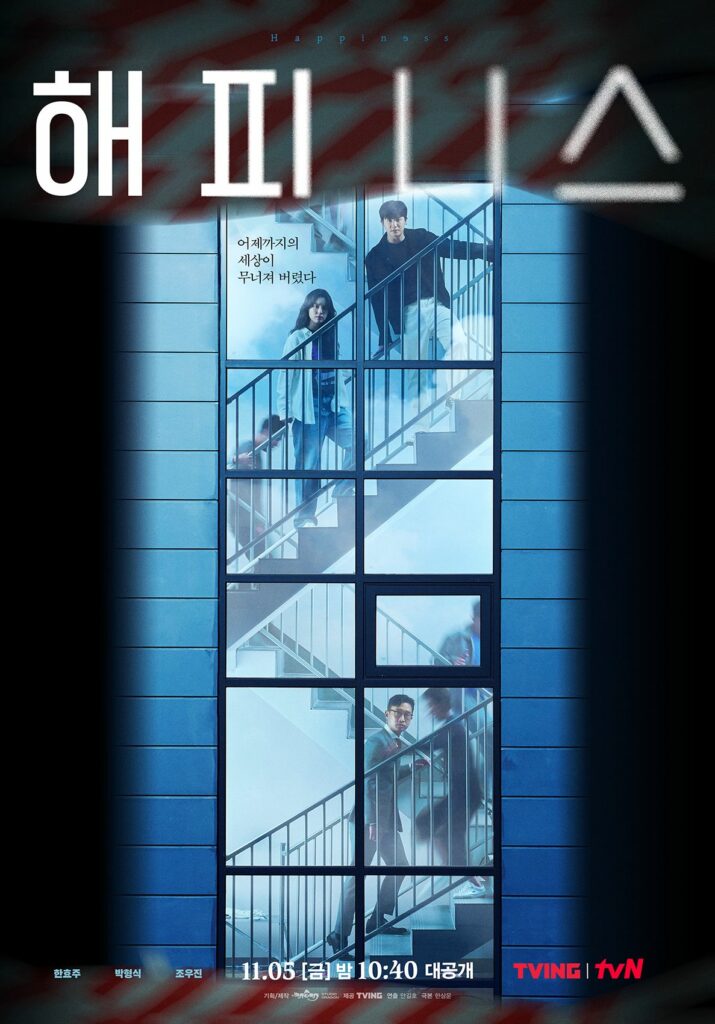 Image credit: tvN
Main Cast:
Set in a post-Covid world, society is once again plagued by an infectious disease. But this time, it's a disease that turns people into zombie-like creatures.
To avoid the risk of being infected, people are confined to their apartments and forced to do something we are more than familiar with – social distancing. Puzzled by the sudden outbreak, counter-terrorism expert Yoon Sae Bom and detective Jung Yi Hyun work together to look into the causes of the infectious disease.
Amidst the investigation, the pandemic and chaos open their eyes to even more complex societal issues. 
Sub-genres: Action, drama, supernatural
---
6. My Name (2021)
---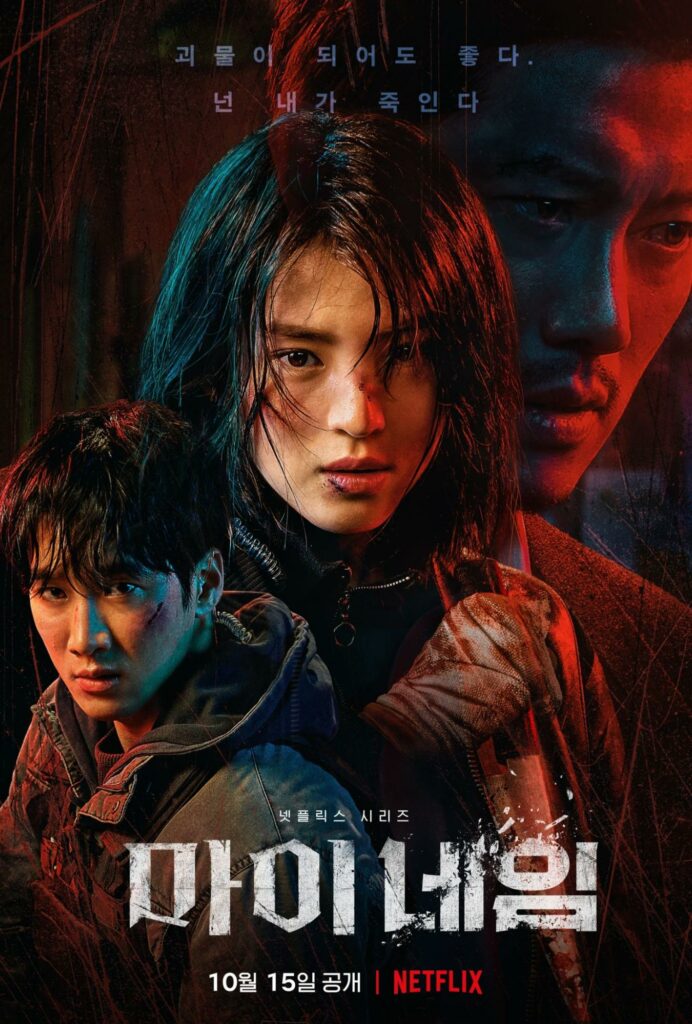 Image credit: Netflix
Main Cast:
Driven to avenge her father's murder, Yoon Ji Woo seeks the help of a powerful crime boss, Choi Moo Jin, and goes undercover as a police officer.
Meanwhile, Ji Woo's partner, Jeon Pil Do, is a Drug Investigation Unit detective who had vowed to take down the very crime ring headed by Choi Moo Jin.
Action-packed and shrouded in mystery, this K-drama makes for an exciting watch. And while you're at it, why not check out our review of My Name? 
Sub-genres: Action, mystery, crime
---
7. Squid Game (2021)
---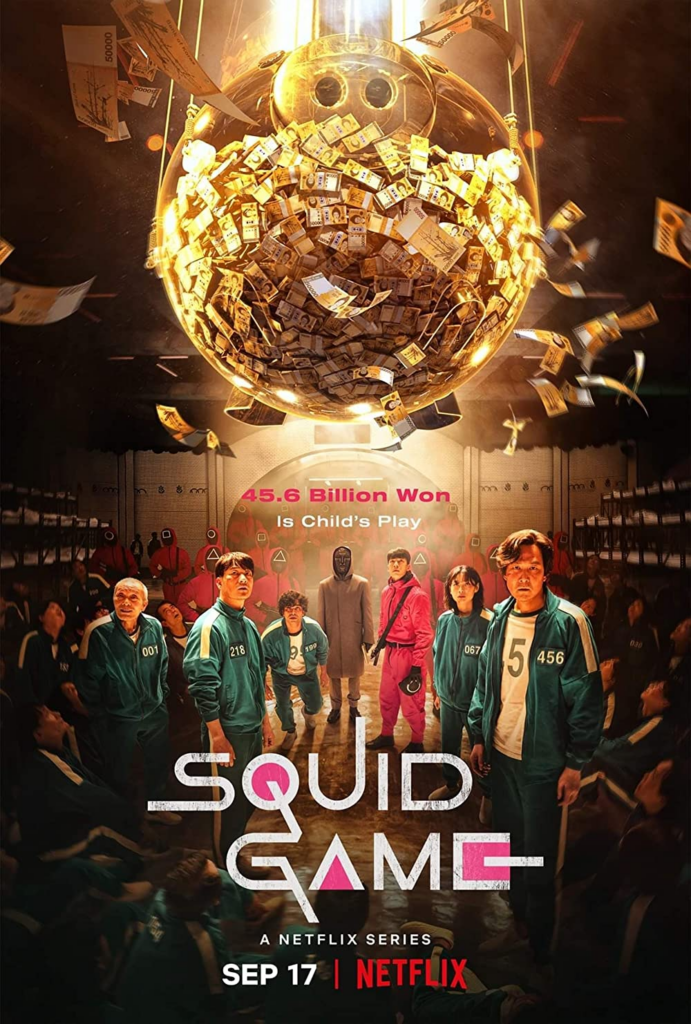 Image credit: Netflix
Main Cast:
Squid Game is an internationally acclaimed K-drama that has garnered a number of local and international awards, including multiple Baeksang Arts Award, a Primetime Emmy Award, and a Golden Globe Award. With season 2 airing this year, it is definitely one of the most anticipated series of 2023. 
Seong Gi Hoon is a debt-ridden man who cannot provide for his daughter and depends entirely on his elderly mother. When he is offered a chance to participate in a game with a KRW45.6 billion prize against 455 other players, he readily accepts. However, he soon comes to realise that the game is more deadly than it was made out to be.
Don't miss out on these other Squid Game articles:
Sub-genres: Action, mystery, drama
---
8. Mouse (2021)
---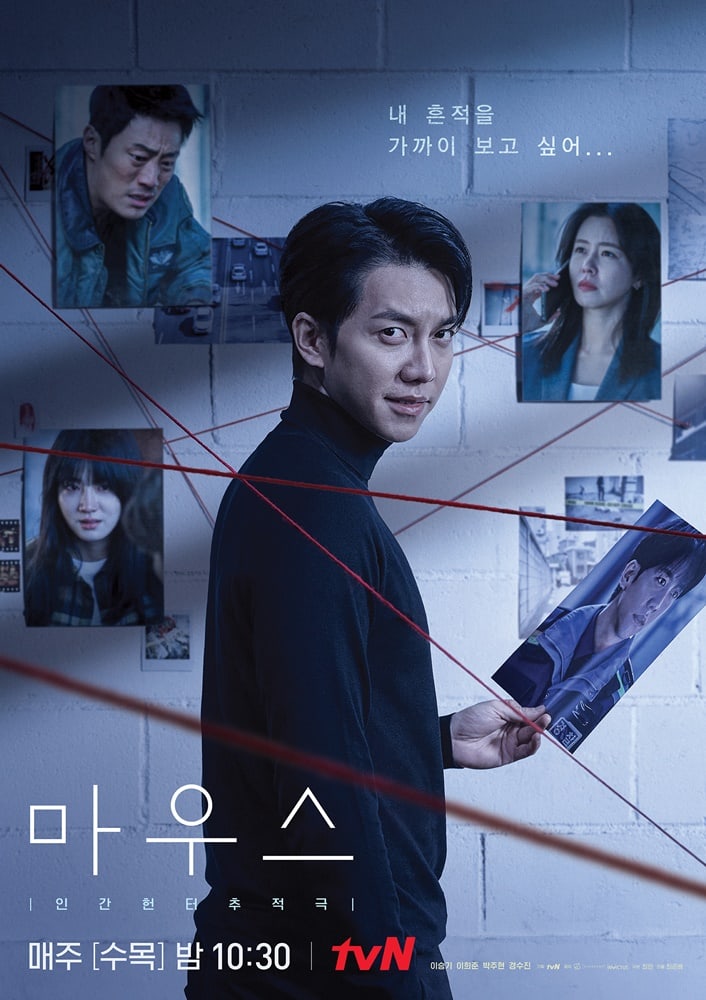 Image credit: tvN
Main Cast:
Lee Seung Gi as Jung Ba Reum

Lee Hee Joon as Ko Moo Chi

Park Ju Hyun as Oh Bong Yi

Kyung Soo Jin as Choi Hong Joo
This K-drama is set in a world where psychopaths can be identified before they are born. Jung Ba Reum, an honest and empathetic rookie police officer, faces a psychopath who has committed a long string of murders. 
As he helps detective Go Moo Chi uncover the culprit, he also begins to find connections to a past serial killer.
Find out more about the K-drama in our Mouse review.
Sub-genres: Crime, mystery, dark fiction, psychological
---
9. Beyond Evil (2021)
---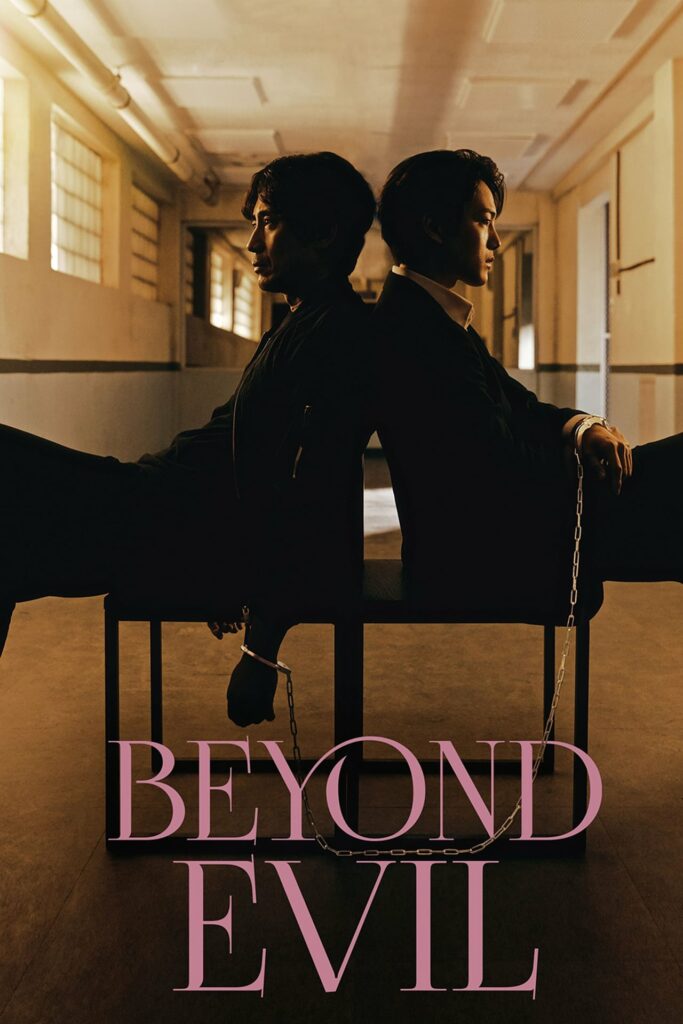 Image credit: JTBC
Main Cast:
Shin Ha Kyun

as Lee Dong Shik

Yeo Jin Goo as Han Joo Won

Choi Dae Hoon as Park Jung Je

Kim Shin Rok as Oh Ji Hwa

Choi Sung Eun as Yoo Jae Yi
Lee Dong Sik was once a capable detective who got demoted. At present, he is tasked with performing menial duties at the Manyang Police Substation. On the other hand, Detective Han Joo Won is an elite detective with high social standing who was just transferred to the station.
Both individuals work together to investigate a string of murders, which is eerily similar to the unsolved serial murder cases from 20 years prior. The more the duo investigates each murder, the more suspicious the townsfolk become. The two detectives work together to uncover the truth behind the town's involvement.
Sub-genres: Mystery, psychological, drama
---
10. Sweet Home (2020)
---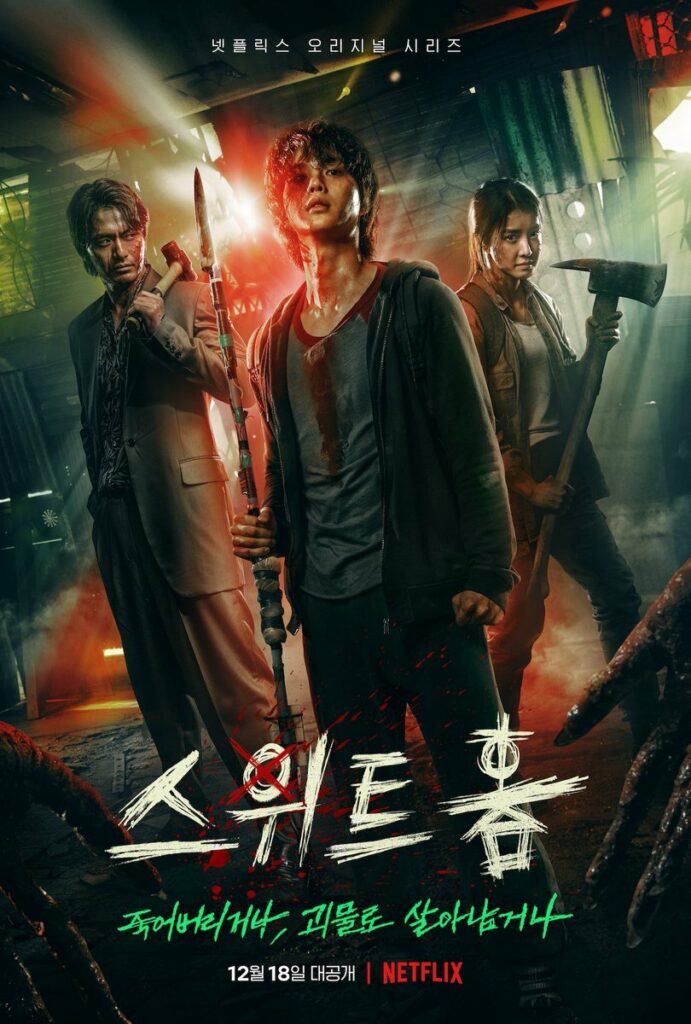 Image credit: Netflix
Main Cast:
Song Kang as Cha Hyun Soo

Lee Jin Wook as Pyeon Sang Wook

Lee Si Young as Seo Yi Kyung

Lee Do Hyun as Lee Eun Hyuk

Kim Nam Hee as Jung Jae Heon

Go Min Si as Lee Eun Yoo 
Based on the popular webtoon series of the same name by Kim Kan Bi and Hwang Young Chan, Sweet Home is a thriller K-drama with supernatural elements. Following its success, Netflix has renewed the series for seasons 2 and 3 as well. 
Cha Hyun Soo is a high school student who loses his family in an accident. Following the unexpected loss of his family, he moves to a dilapidated apartment and lives there by himself.
His dream of living a quiet life is crushed when an inexplicable occurrence takes place  – humans begin to turn into monsters, and these monsters prowl about Hyun Soo's apartment. 
As a result, the residents – including Hyun Soo – are confined to the apartment. They team up against the monsters and fight for their lives.
Sub-genres: Action, horror, drama, supernatural
---
11. Awaken (2020)
---

Image credit: tvN
Main Cast: 
Nam Goong Min as Do Jung Woo

Kim Seol Hyun as Gong Hye Won

Lee Chung Ah as Jamie Layton

Yoon Sun Woo as Moon Jae Woong
More than 3 decades ago, a small village was thrown into chaos due to a perplexing phenomenon that was buried with neither a clear explanation nor proper closure.
36 years have passed since then, and the same village is now plagued with a new series of mysterious events. Do Jung Woo, also known as one of the most competent leaders at the National Police Agency, begins to investigate the strange occurrences.
Jung Woo works closely with Officer Hye Won, as well as Detective Jamie from the FBI. They go out of their way to unravel the mystery, only to find out that the present events are intertwined with the incidents that took place more than three decades ago.
Sub-genres: Mystery, crime, fantasy, psychological
---
12. Flower of Evil (2020) 
---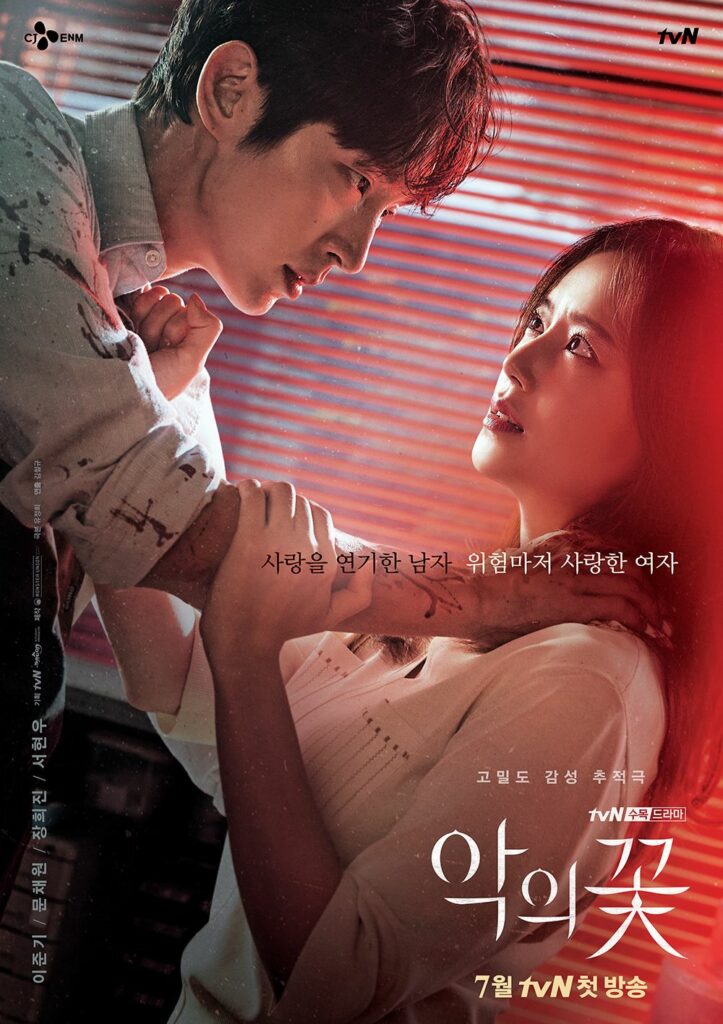 Image credit: tvN
Main Cast:
Lee Joon Gi as Baek Hee Sung

Moon Chae Won as Cha Ji Won

Jang Hee Jin as Do Hae Soo

Seo Hyun Woo as Kim Moo Jin
Hee Sung and Ji Won are a happily married couple with a stable career and a beautiful child. Their marriage is smooth sailing until Hee Sung begins to show patterns of unusual behaviour that create a gap between him and his wife.
Since Ji Won works as a homicide detective, she's quick-witted and perceptive. After she observes her husband's change in behaviour, she learns more about his hidden identity. While doing so, she finds out that her husband is connected to a serial murder case that occurred 15 years ago.
Sub-genres: Romance, crime, melodrama
---
13. Rugal (2020)
---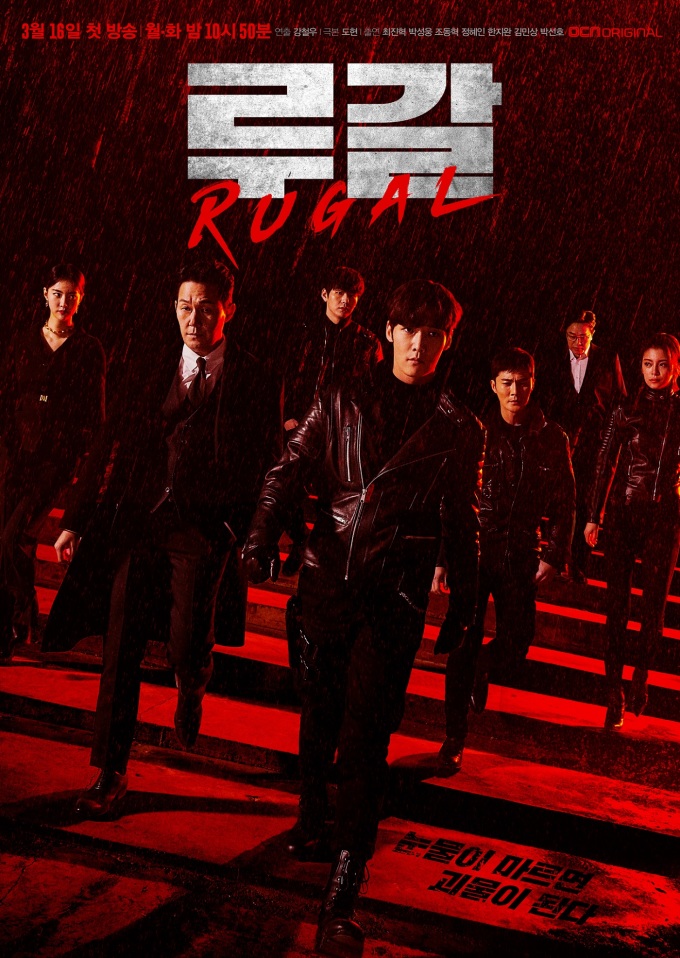 Image credit: OCN
Main Cast:
Choi Jin Hyuk as Kang Ki Beom

Park Sung Woong as Hwang Deuk Gu

Cho Dong Hyuk as Han Tae Woong

Jung Hye In as Song Mi Na

Han Ji Wan as Choi Ye Won 

Park Sun Ho as Lee Gwang Cheol

Kim Min Sang as Choi Geun Cheol
Detective Kang Ki Beom was working on a case involving a criminal organisation, Argos, when he returns home to find his wife murdered by their men. In an ambush, the men knocked him out and removed both of his eyeballs.
When he wakes up in the hospital, not only has he lost his eyesight, but he is also framed for his wife's murder. 
The National Intelligence Service (NIS) offers him a chance at revenge by being part of Rugal, a special team hunting down the criminal syndicate. After regaining his sight thanks to artificial eyeball implants, Ki Beom and his team set out to bring Argos down. 
Sub-genres: Action, crime, science fiction
---
14. Vagabond (2019)
---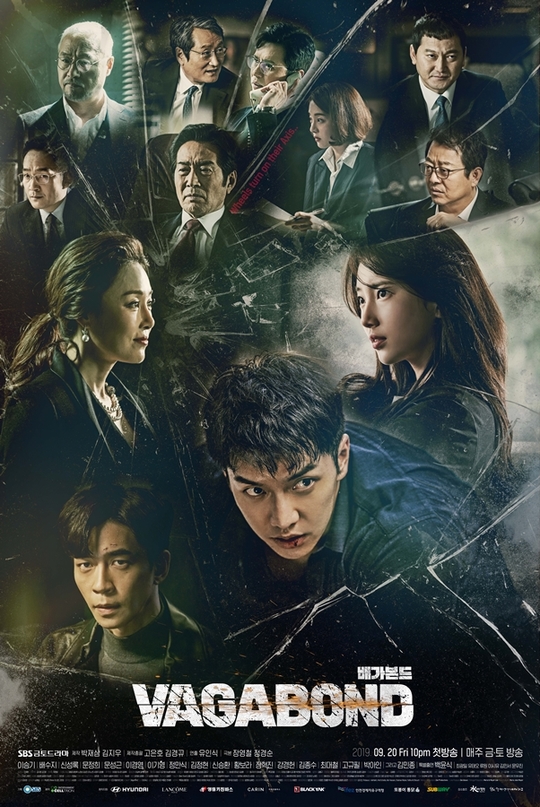 Image credit: SBS
Main Cast:
Lee Seung Gi as Cha Dal Geon

Bae Suzy as Go Hae Ri 

Shin Sung Rok as Gi Tae Ung
You know a drama is going to be a hit from the get-go when it has some of the best actors like Lee Seung Gi and Bae Suzy starring in it. 
Seung Gi plays Cha Dal Geon, who works as a stuntman to make ends meet and bring up his nephew, Cha Hoon. But when Hoon's flight to Morocco for a taekwondo competition crashes with all the people on board losing their lives, Dal Geon puts his life on the line in an attempt to search for an answer.
Teaming up with Go Hae Ri, a National Intelligence Service agent stationed at the Korean embassy in Morocco, they dig deeper into the case to uncover corruption at a scale that's far beyond their imagination. 
Sub-genres: Action, mystery, crime
---
15. Strangers From Hell (2019) 
---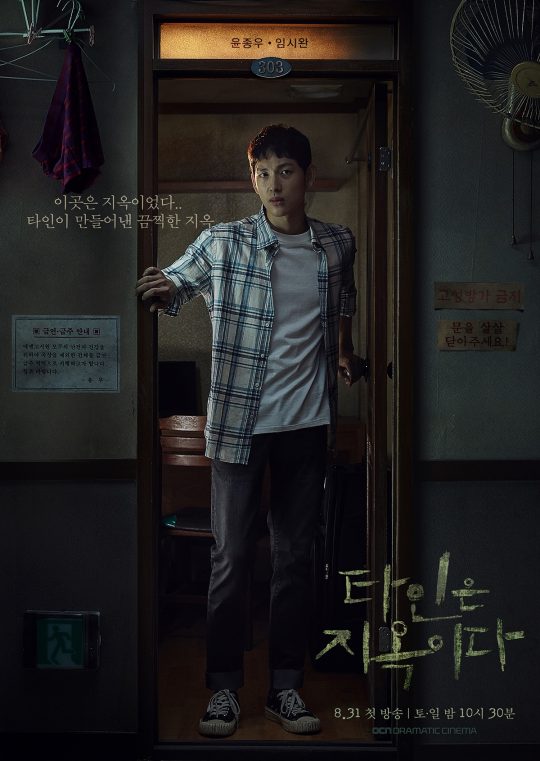 Image credit: OCN 
Main Cast: 
Im Si Wan as Yoon Jong Woo

Lee Dong Wook as Seo Moon Jo
Yoon Jong Woo decides to move from the countryside to Seoul in order to clinch a job offer. Since he's on a budget, he looks for a cheap residential facility. 
He has no choice but to stay in a goshiwon, which is a cheap boarding house. Renters typically get a small, furnished room with a bed, study desk, and chair. Fancier goshiwon rooms come with ensuite bathrooms and proper closets, and some places even provide free rice and kimchi.
But that's not the case with Jong Woo, as he settles for a decrepit goshiwon. On top of that, his neighbours are unsavoury characters, but he has to endure the next six months so that he can afford a better place. 
During his time at the goshiwon, Jong Woo comes across strange residents such as Seo Moon Jo, who works as a dentist. To make matters worse, a series of mysterious events unfold at the goshiwon, which causes Jong Woo to be fearful and paranoid of the residents. 
Sub-genres: Horror, psychological, drama
---
16. Watcher (2019)
---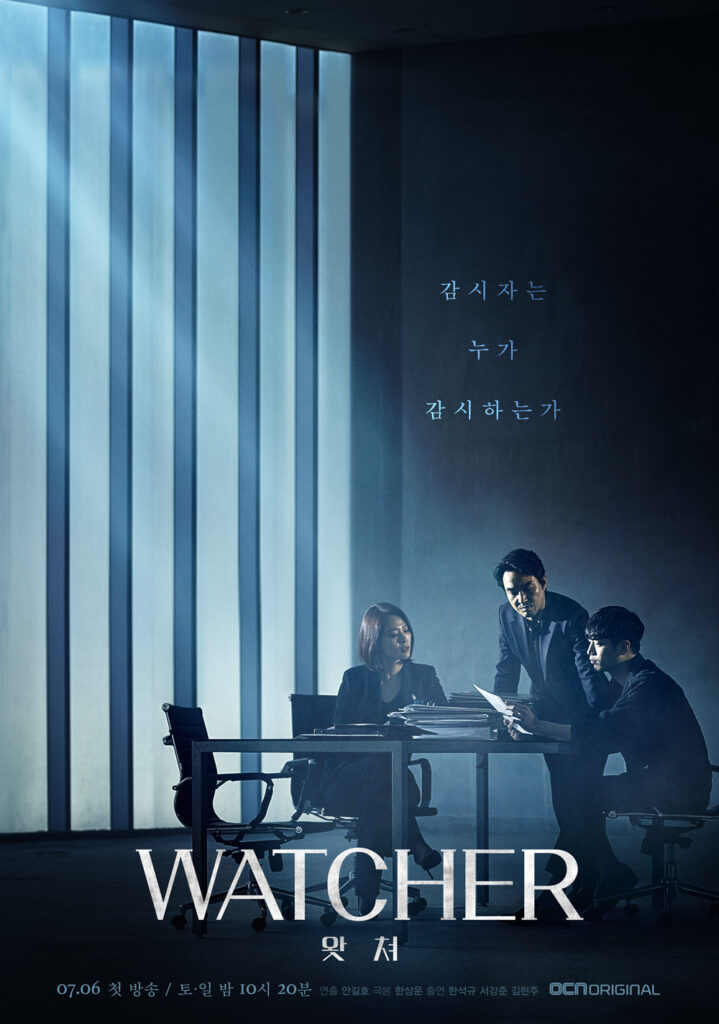 Image credit: OCN
Main Cast:
Han Suk Kyu as Do Chi Kwang

Seo Kang Joon as Kim Yeong Goon

Kim Hyun Joo as Han Tae Joo
Kim Yeong Goon's mother was murdered and his father, accused of the crime. Police officer Do Chi Kwang brought Yeong Goon's father into questioning, and prosecutor Han Tae Joo convicted him with the charge.  
But 15 years later, the three of them  – now police officer Yeong Goon, detective Chi Kwang, and lawyer Tae Joo  – reunite on the same internal affairs investigation team to reveal the truth behind this incident. 
Sub-genres: Mystery, drama, political
---
17. He is Psychometric (2019)
---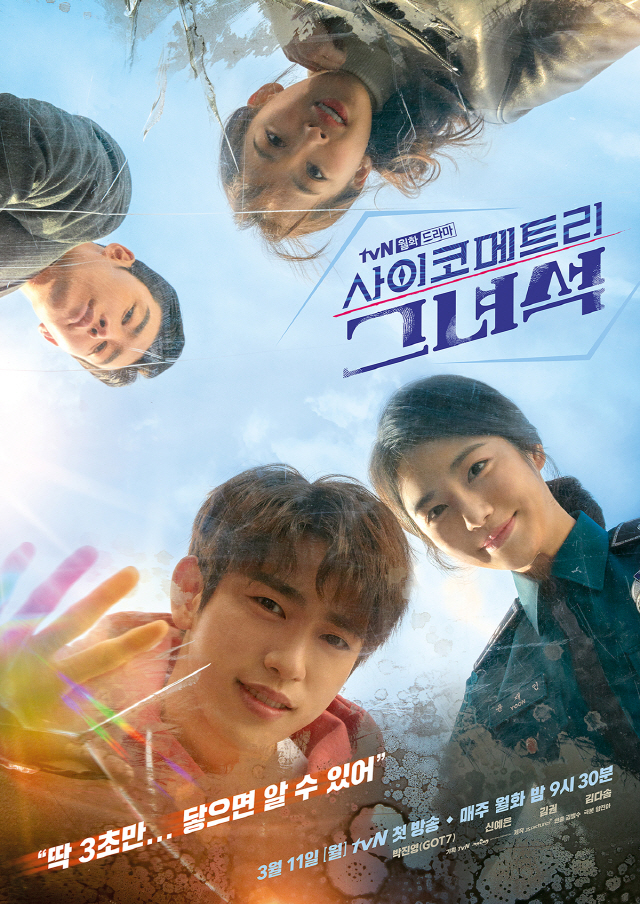 Image credit: tvN
Main Cast:
Park Jin Young as Lee Ahn

Shin Ye Eun as Yoon Jae In

Kim Kwon as Kang Sung Mo

Kim Da Som as Eun Ji Soo
Lee Ahn possesses the ability to see people's memories when he touches them. While he still lacks full control over his power, he wishes to use it to find leads and crack down on crimes. 
One day, Ahn meets Yoon Jae In, who has been hiding a painful past. In order to help Jae In, he needs to put his ability to the test and get better control over it. He convinces his brother, prosecutor Kang Sung Mo, and investigator Eun Ji Soo to let him join them in solving ongoing crimes. 
But this results in each person uncovering dark secrets about each other that they wish they never knew. 
Sub-genres: Mystery, romance, supernatural
---
18. Kingdom (2019) 
---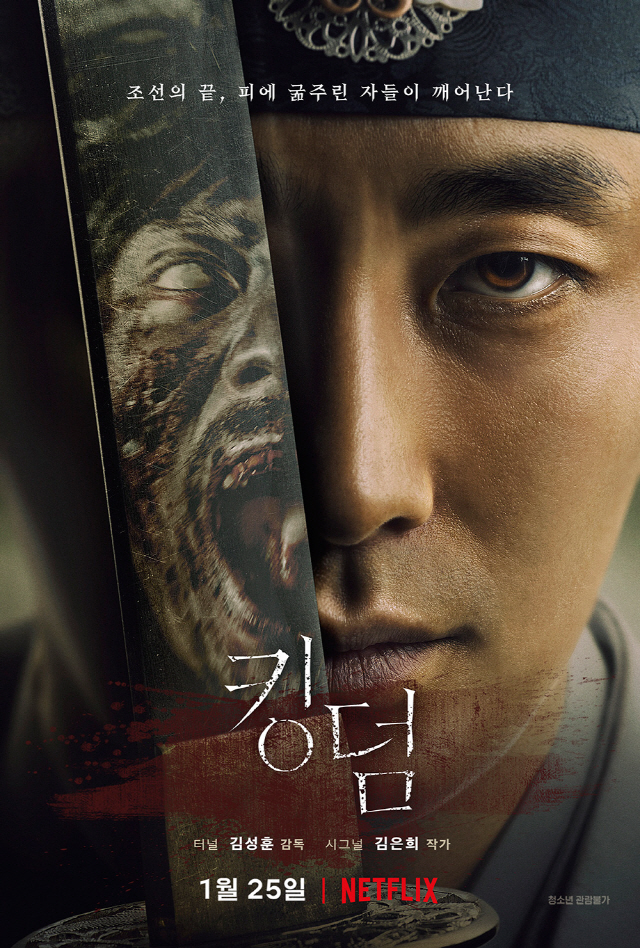 Image credit: Netflix 
Main Cast:
Ju Ji Hoon as Lee Chang

Bae Doo Na as Seo Bi

Ryu Seung Ryong as Jo Hak Joo

Kim Sung Kyu as Young Shin

Kim Hye Jun as Queen Consort Cho

Kim Sang Ho as Moo Young
If you're a fan of Train to Busan or just anything zombie-related, don't miss out on the Netflix series Kingdom. Season 2 came out in March 2020, while its prequel, Kingdom: Ashin of the North, was released in July 2021. For people who have yet to jump onto the Kingdom bandwagon, you have plenty of heart-stopping episodes to catch up on.
Set in the Joseon period, the drama follows the crown prince, Lee Chang, on his journey to uncover the truth behind a mysterious disease plaguing the king. Together with his guard Moo Young, they head off to a faraway province, Dongnae, in search of a physician. 
To their horror, they arrive at the clinic only to find it in ruins with dead bodies piling up under the building. They meet Seo Bi, the only survivor from the clinic, who tells them that the people are not dead and will begin their killing rampage once the sun sets. 
With the zombie disease spreading fast across the Southern provinces, they'll have to find a remedy, fast. 
Check out our article on Kingdom: Ashin of the North.
Sub-genres: Historical, horror, political
---
19. Memories of the Alhambra (2018)
---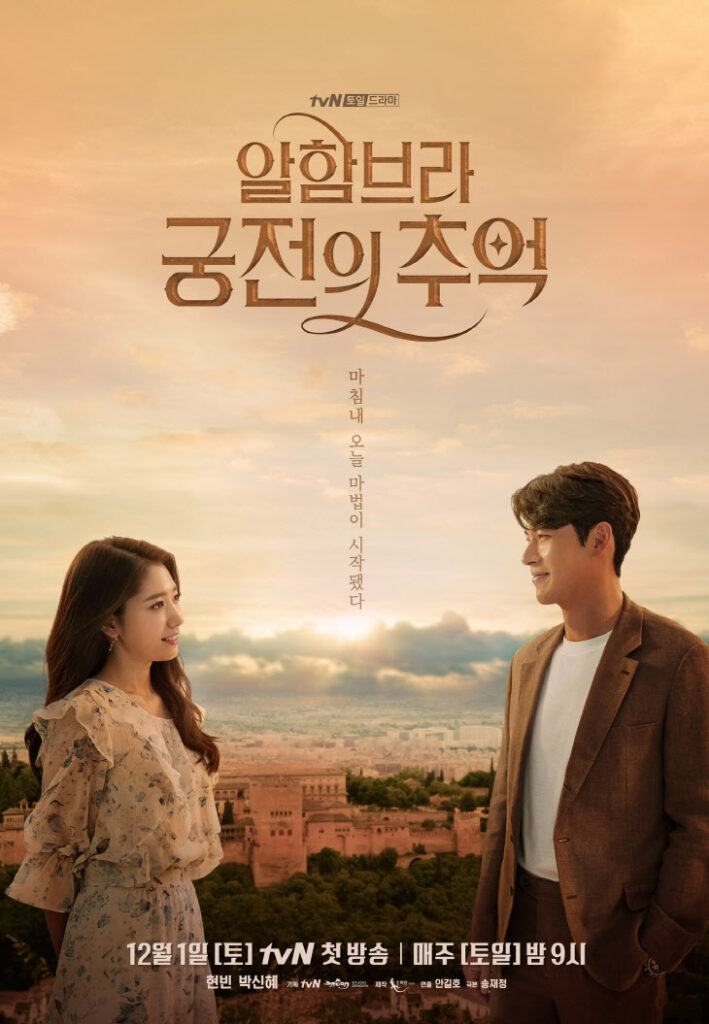 Image credit: tvN
Main Cast:
Memories of the Alhambra was a highly anticipated drama in 2019 starring big names such as Hyun Bin and Park Shin Hye. Set in Granada, Spain, a newly invented AR game starts to blur the lines between the real world and the virtual world. 
When the CEO of an investment company, Yoo Jin Woo, decides to head to Hostel Bonita in Granada to seal a deal with the game's developer, Jung Se Joo, the latter goes missing without a trace. Jin Woo instead meets Se Joo's sister, Hee Joo, who happens to be the owner of the hostel. 
But as the leads fall in love with each other, a series of mysterious occurrences keeps happening, making it hard for them to snap out of virtual reality and keep the relationship going. 
Sub-genres: Action, romance, science fiction
---
20. Children Of A Lesser God (2018)
---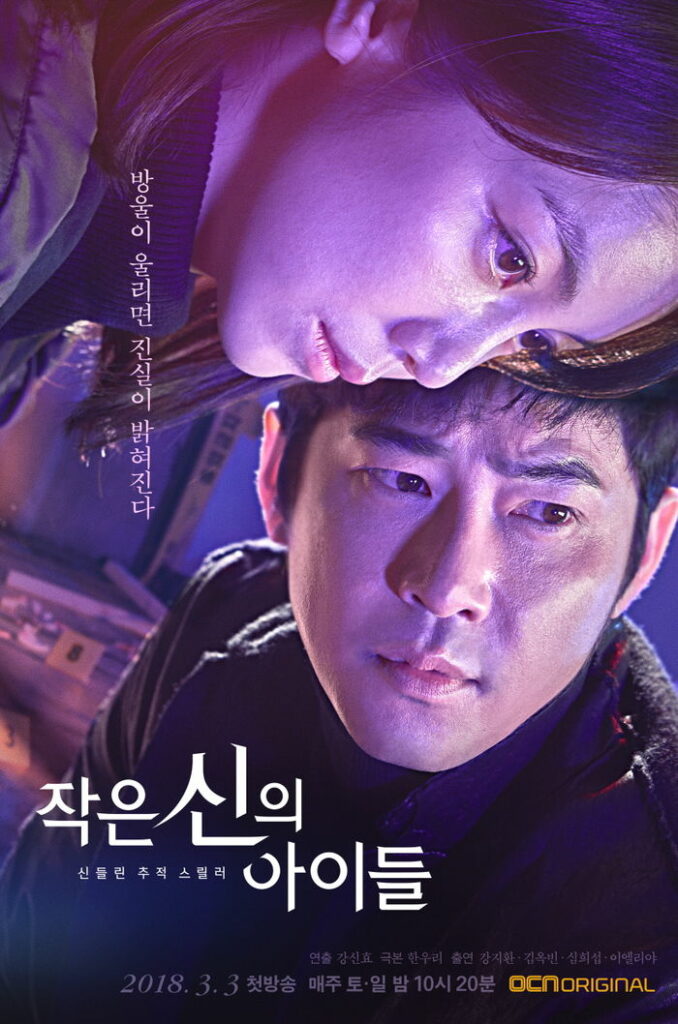 Image credit: OCN
Main Cast:
Kang Ji Hwan as Chun Jae In

Kim Ok Bin as Kim Dan

Shim Hee Sub as Joo Ha Min

Lee Elijah as Baek Ah Hyun
Chun Jae In is a genius detective who only believes in solid evidence, while Kim Dan is a rookie detective with supernatural powers that allow her to occasionally foresee people's deaths.
Despite their contradictory characters, they work together to unearth the culprit of a series of murders and uncover a conspiracy involving a powerful organisation.
Sub-genres: Mystery, supernatural
---
21. Black (2017)
---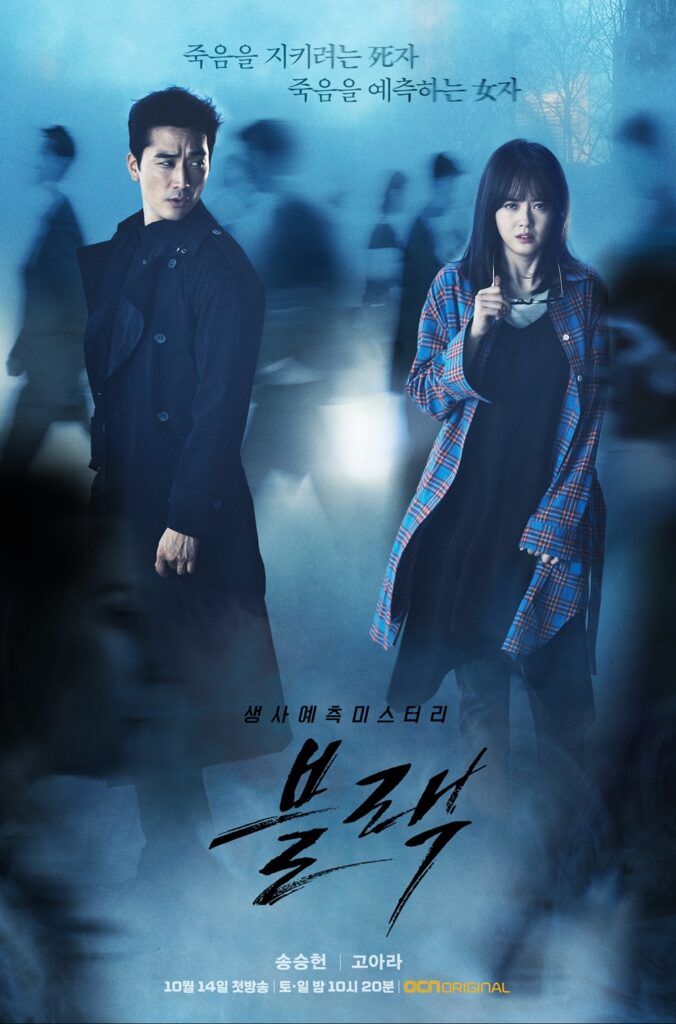 Image credit: OCN
Main Cast:
Song Seung Heon as Han Moo Gang / Black

Go Ara as Kang Ha Ram

Lee El as Yoon Soo Wan

Kim Dong Jun as Oh Man Soo
Apart from being a detective working on murder cases, Han Moo Gang is also a Grim Reaper responsible for guiding those who have passed on to the afterlife.
As the former hampers the process of the latter, Moo Gang often finds himself torn between saving lives and abiding by the rules of heaven. To make matters worse, he falls in love with Kang Ha Ram, which inevitably forces him to disobey the rules against meddling with the affairs of humans. 
Sub-genres: Mystery, supernatural
---
22. Save Me (2017)
---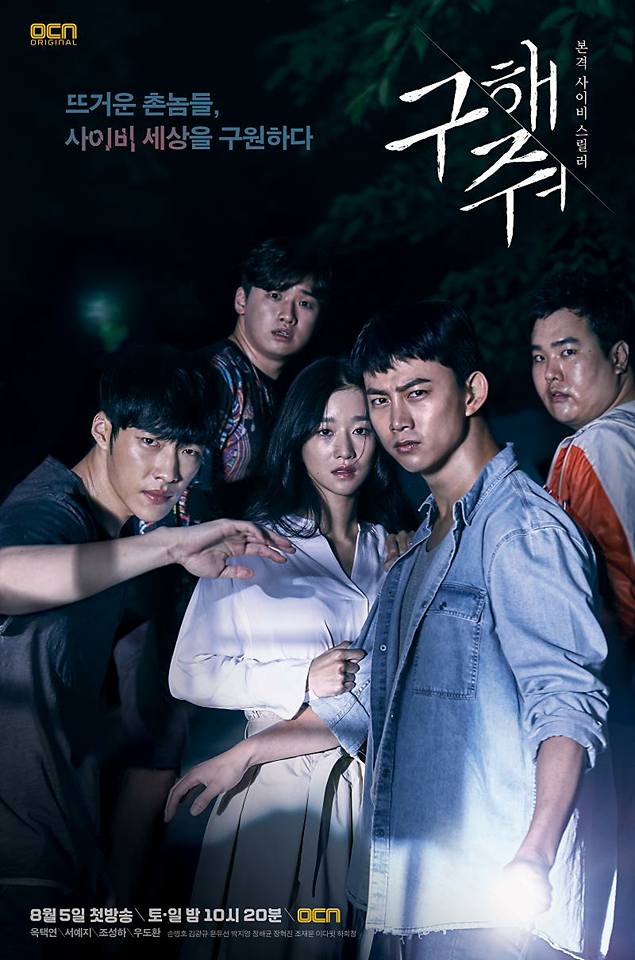 Image credit: OCN
Main Cast:
Ok Taecyeon as Han Sang Hwan

Seo Ye Ji as Im Sang Mi

Woo Do Hwan as Suk Dong Chul

Jo Sung Ha as Baek Jung Ki
While Taecyeon is better known as a member of 2PM  – a popular Korean boy band – he is also a prolific actor, starring in popular dramas such as Dream High and Cinderella's Stepsister. So be sure to catch this drama – one of his last projects before he went on to serve his mandatory military service  – to witness this multi-talented star in action.  
In this drama, Taecyeon plays Han Sang Hwan, who's a lawyer. One day, he and three other friends run into their ex-classmate, Sang Mi, who is part of a religious cult mired in secrecy and violence. With her father brainwashed and her mother emotionally unstable due to her brother's death, Sang Mi is trapped with no way out and asks them for help.
From here, the four friends take it upon themselves to help Sang Mi by revealing what goes on in the cult behind closed doors. 
Sub-genres: Action, mystery, drama
---
23. Stranger (2017)
---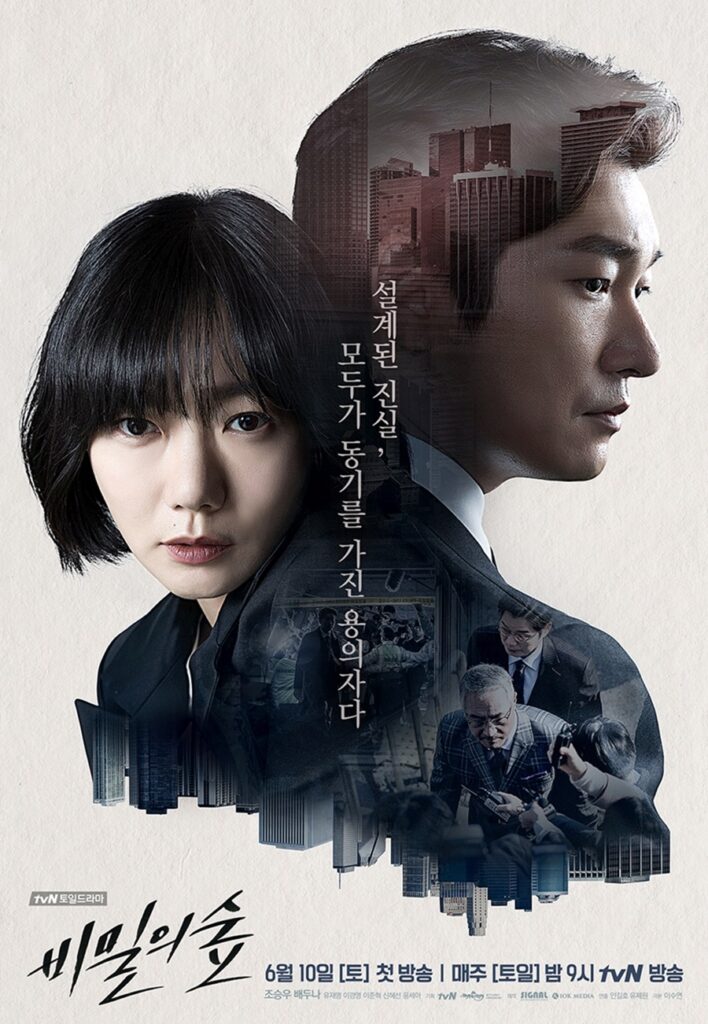 Image credit: tvN
Main Cast:
Cho Seung Woo as Hwang Shi Mok

Bae Doo Na as Han Yeo Jin

Lee Joon Hyuk as Seo Dong Jae 

Yoo Jae Myung as Lee Chang Joon

Shin Hye Sun as Young Eun Soo
Cracking an unsolved murder mystery is not an easy task, especially when you're working with someone with a polar opposite personality.
Follow a prosecutor, who doesn't feel any emotions after having undergone brain surgery as a child, and an enthusiastic female detective who can't keep her emotions to herself, as they work together to get to the bottom of these unsolved cases.
Sub-genres: Mystery, law, drama
---
24. Tunnel (2017)
---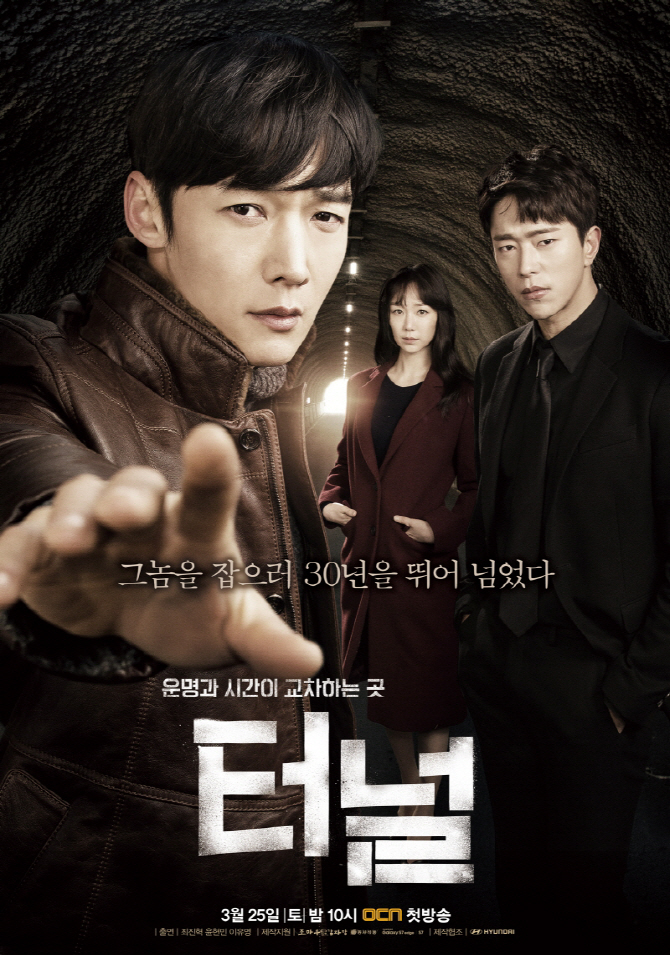 Image credit: OCN
Main Cast:
Choi Jin Hyuk as Park Gwang Ho

Yoon Hyun Min as Kim Sun Jae 

Lee Yoo Young as Shin Jae Yi 
Tunnel is an underrated crime drama that deserves more credit. With an intriguing plot, you'll find yourself at the edge of your seat at the end of each episode, wondering what's next to come. 
As detective Park Gwang Ho enters a pitch-black tunnel while giving chase to a serial killer, he gets knocked out by an unknown figure. Waking up to find himself teleported into the future, he now has to work with detective Kim Sun Jae and criminal psychologist Shin Jae Yi to catch the killer on the loose. 
Sub-genres: Mystery, science fiction, fantasy
---
25. Defendant (2017)
---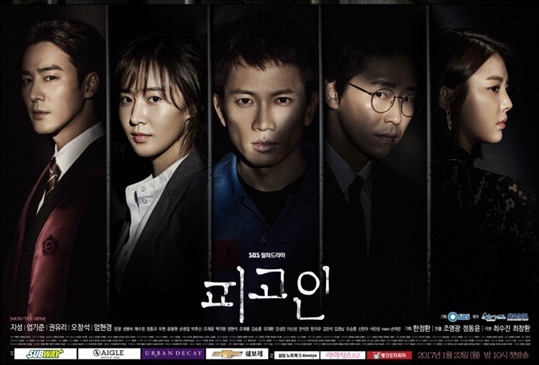 Image credit: SBS
Main Cast:
Ji Sung as Park Jung Woo

Um Ki Joon as Cha Sun Ho / Cha Min Ho (twins)

Kwon Yu Ri as Seo Eun Hye

Oh Chang Seok as Kang Jun Hyuk 

Uhm Hyung Kyung as Na Yeon Hee 
The only thing worse than having a nightmare is not waking up from one. That's what happens to Prosecutor Park Jung Woo, who wakes up one day to find himself on death row for killing both his wife and daughter. 
Unable to recall what exactly happened on the day of the incident, he struggles to produce a credible alibi to clear his name. And as a prosecutor who has spent most of his life trying to uncover truths, trying to find an answer while stuck behind bars will require great resolve. 
Sub-genres: Mystery, law, drama
---
26. Voice (2017) 
---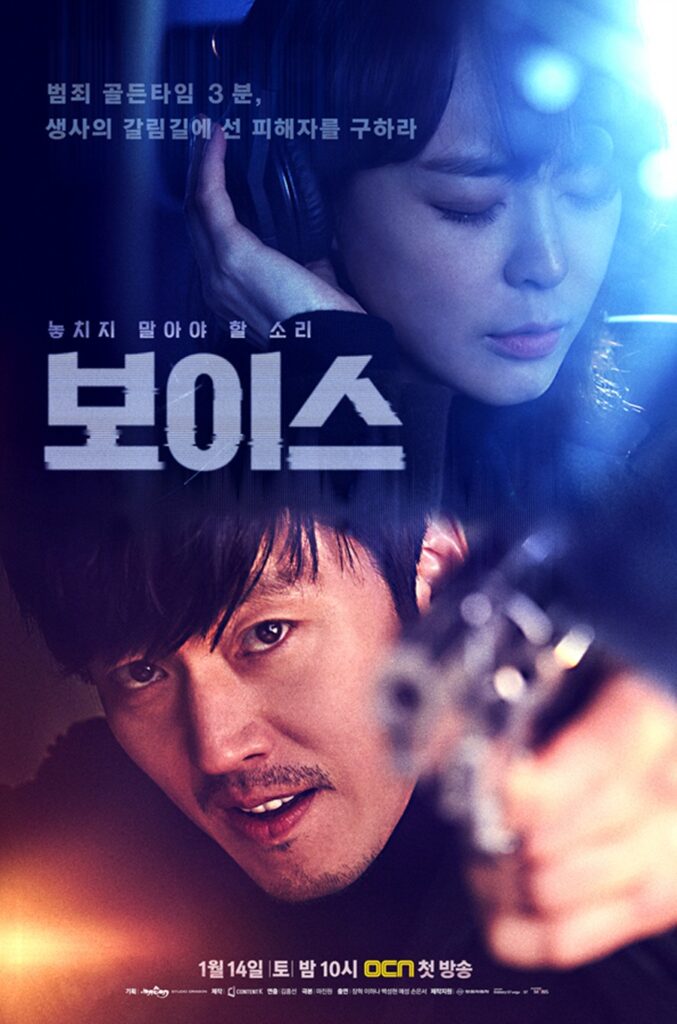 Image credit: OCN
Main Cast:
Jang Hyuk as Moo Jin Hyuk 

Lee Ha Na as Kang Kwon Joo 
Moo Jin Hyuk is an outstanding detective known for solving many hard cases. But his life takes a turn for the worse when his wife gets murdered. 
Lee Ha Na, on the other hand, is an ambitious police officer who decides to leave for the States to study voice profiling after learning that her father got murdered while out on an investigation.
Years later, both Jin Hyuk and Ha Na form a team to find the serial killer who's responsible for the deaths of both their loved ones. 
If you want more convincing that this show's worth your time, check out our Voice 4 review.  
Sub-genres: Mystery, psychological
---
27. The K2 (2016)
---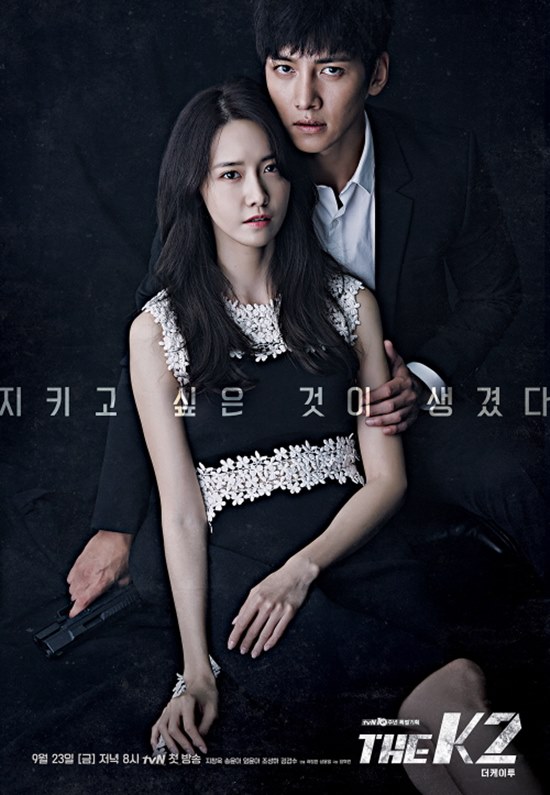 Image credit: tvN
Main Cast:
Ji Chang Wook as Kim Je Ha

Im Yoon Ah as Go An Na
Kim Je Ha is working as a mercenary soldier in Iraq when he gets framed for killing his girlfriend. He manages to sneak back into Korea and lands himself a job as a bodyguard to Go An Na, the illegitimate daughter of a presidential hopeful, Jang Se Joon. 
Je Ha is, however, hired by An Na's stepmother Choi Yoo Jin to ensure that An Na is never revealed to the world as it would ruin her chance of becoming the First Lady. Over time, Je Ha starts to fall in love with An Na, making it hard for him to carry out his duties as his employer is the one inflicting pain on the love of his life. 
This action-packed drama is full of unexpected plot twists and betrayals  – a winner for those who love a show that constantly keeps you on your toes.
Sub-genres: Action, psychological, romance
---
28. Signal (2016)
---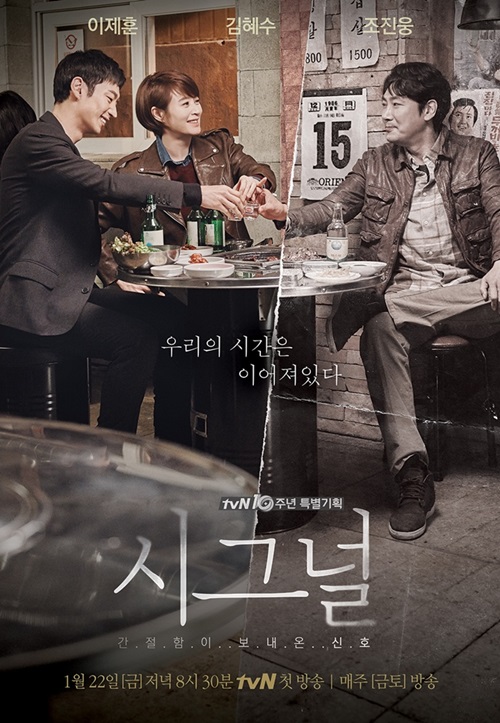 Image credit: tvN
Main Cast:
Lee Je Hoon as Park Hae Young

Kim Hye Soo as Cha Soo Hyun

Cho Jin Woong as Lee Jae Han
Park Hae Young was in elementary school when he witnessed his classmate being taken away by a woman, only to be found dead days later. Despite his efforts to tell the police what he saw, they revealed that the suspect was a man and never found the real killer. 
When Hae Young becomes a police officer years later, he comes across a walkie-talkie that connects him to detective Lee Jae Han. Detective Lee, however, is a detective living in the past, obsessed with investigating the case of his deceased classmate. 
Both Hae Young and Detective Lee continue to communicate via the walkie-talkies as they search for answers to the unsolved murder. 
Sub-genres: Mystery, science fiction
---
29. Remember (2015)
---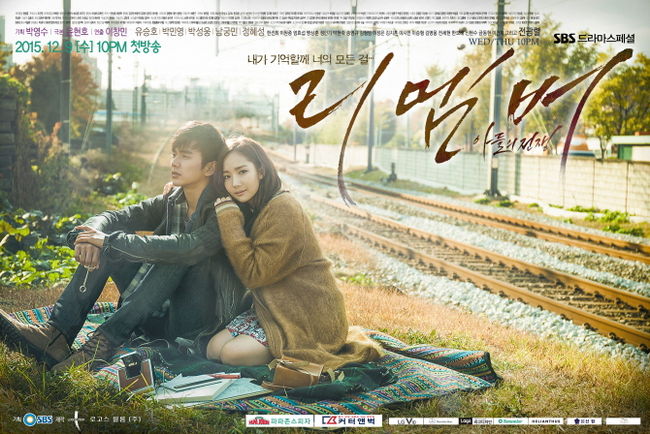 Image credit: SBS
Main Cast:
Yoo Seung Ho as Seo Jin Woo

Park Min Young

as Lee In Ah

Park Sung Woong as Park Dong Ho 
While Seo Jin Woo is gifted with the ability to recall every single day in perfect detail, his father is diagnosed with Alzheimer's disease, causing him to lose his memory over time. As he is unable to recall events, Jin Woo's father, who stumbled upon a murder crime scene, is framed for a crime he didn't commit.  
Jin Woo becomes a lawyer years later to represent his father in court. But bribery and corruption are not the only obstacles he will encounter, as he starts to develop Alzheimer's as well.
We're not out to spoil it for you, but just a heads up  – be sure to have a box of tissues ready by your side. 
Sub-genres: Crime, suspense, mystery
---
30. Hello Monster (2015)
---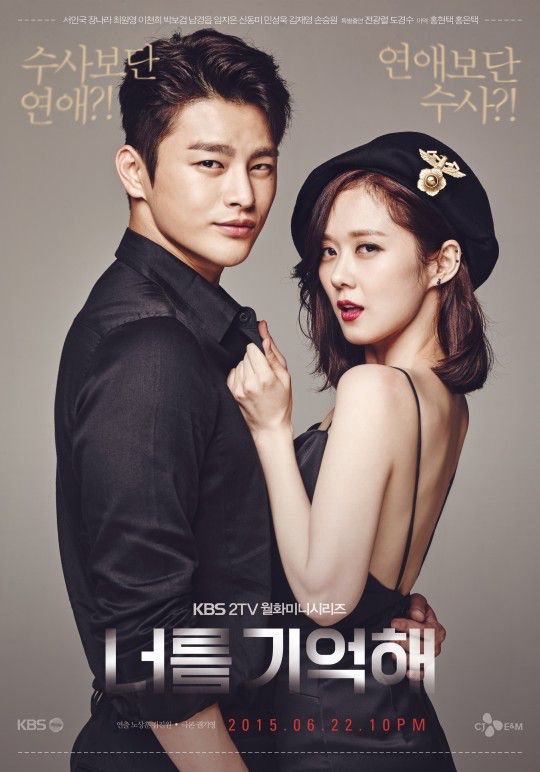 Image credit: KBS
Main Cast:
Seo In Guk

as Lee Hyun

Jang Na Ra as Cha Ji An 

Choi Won Young as Lee Joon Ho

Park Bo Gum as Jung Sun Ho
A serial killer is on murder spree, killing women with similar attributes, and the police department can't seem to find any evidence for a much-needed breakthrough. 
While detective Cha Ji An is searching for evidence, criminal profiler Lee Hyun shows up at the scene to review the site and point toward a likely suspect – the one responsible for his own father's murder and his brother's disappearance when he was a child. 
Lacking evidence to track down the killer, Ji An and her team turn to Lee Hyun to assist them in their investigation.
Sub-genres: Mystery, psychological, drama
---
31. Healer (2014)
---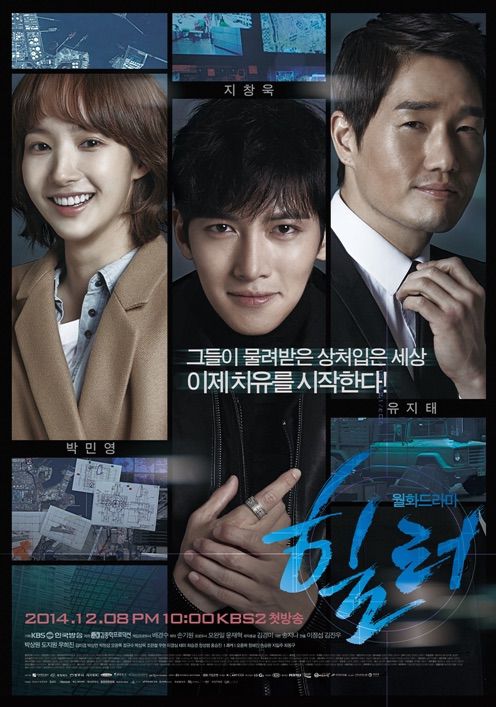 Image credit: KBS 
Main Cast:
Ji Chang Wook as Seo Jung Hoo / Healer 

Park Min Young

as Chae Young Shin / Oh Ji An 

Yoo Ji Tae as Kim Moon Ho 
A crime drama with good-looking leads – yes, please! While this 2014 crime drama is full of action-packed scenes, it also offers a breather in the form of a blossoming love story between Park Min Young and Ji Chang Wook.  
While trying to reveal the truth behind the tragic deaths of a couple many years ago, reporter Kim Moon Ho engages a night courier, Seo Jung Hoo – better known as the 'Healer' – to verify the identity of Chae Young Shin, who has presumably died along with her parents. 
Reporter Kim proceeds to pay him to protect her from the people who had wanted her dead. But it won't take long before Healer and Young Shin join forces with Moon Ho to discover the truth behind the case.
Sub-genres: Action, mystery, romance
---
32. Bad Guys (2014)
---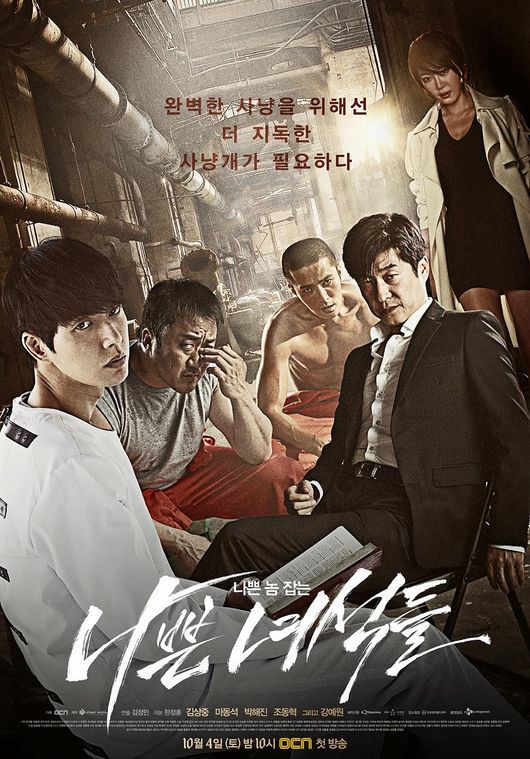 Image credit: OCN
Main Cast:
Kim Sang Joong as Oh Gu Tak

Ma Dong Seok as Park Woong Cheol

Park Hae Jin as Lee Jung Moon

Jo Dong Hyuk as Jung Tae Soo

Kang Ye Won as Yoo Mi Young
Detective Oh Gu Tak was tasked to form a special team made up of "bad guys" to combat the rising number of crimes in the district. 
His team is made up of ex-criminals: Park Woong Cheol, a gangster; Lee Jung Moon, a serial killer; and Jung Tae Soo, a contract hitman. The last member joining detective Gu Tak and his team of criminals is Yoo Mi Young, a young female inspector known for her zeal.  
Sub-genres: Action, psychological, crime
---
33. Gap-dong (2014)
---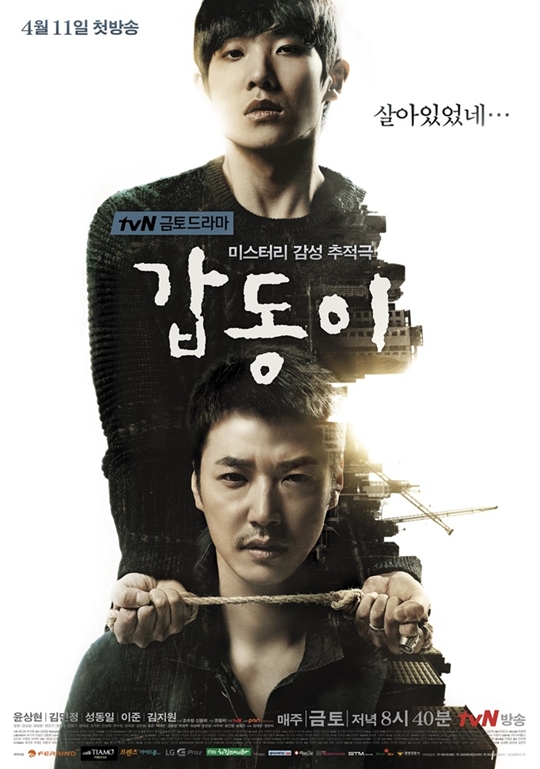 Image credit: tvN
Main Cast:
Yoon Sang Hyun as Ha Moo Yeom

Sung Dong Il as Yang Cheol Gon

Kim Min Jung as Maria Oh

Lee Joon as Ryu Tae Oh

Kim Ji Won as Ma Ji Wool 
In this murder mystery, a series of murders collectively known as the 'Gap-dong serial murder case' takes place in 1996. Things get complicated when a likely suspect, Ha Moo Yeom's father, commits suicide to clear his name. 
Determined to prove his father's innocence, Moo Yeom becomes a detective years later and works relentlessly on the case. When all hope seems to be lost as the statute of limitations nears expiration, incidents resembling that of the Gap-dong murder case start to occur. Together with officer Yang Cheol Gon, Moo Yeom helps the investigation to finally nab the real killer.   
Sub-genres: Mystery, drama
---
34. City Hunter (2011)
---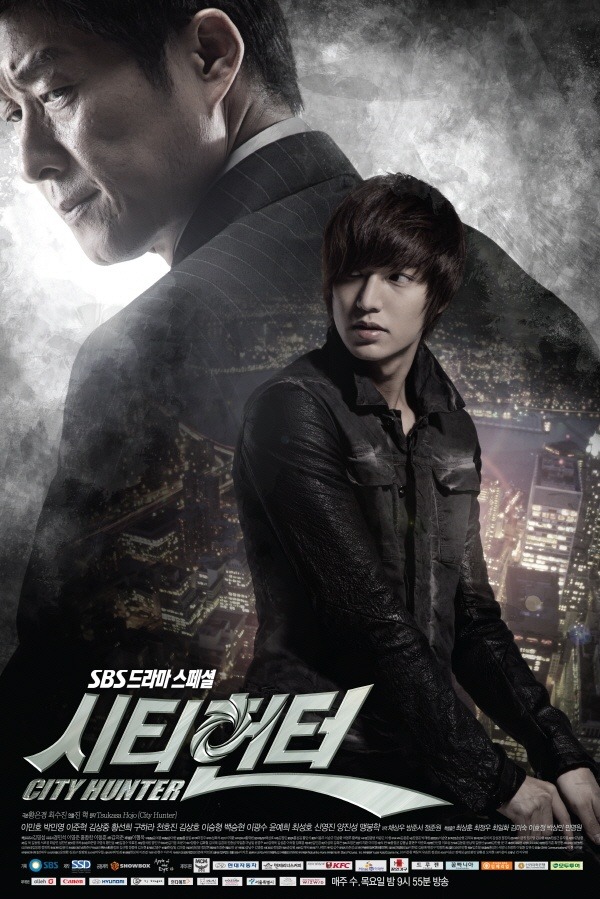 Image credit: SBS
Main Cast:
Lee Min Ho as Lee Yoon Sung

Park Min Young as Kim Na Na

Lee Joon Hyuk as Kim Young Joo

Kim Sang Joong as Lee Jin Pyo 
Betrayed by his own country in a military operation, Lee Jin Pyo is the sole survivor who can avenge the death of his comrades. 
In order to carry out his revenge plan, he kidnaps his comrade's son, Lee Yoon Sung, and flees to Thailand. Over there, he trains Yoon Sung to be combat-ready so that they can return to South Korea one day to carry out his revenge plan. 
Years later, Yoon Sung lands himself the role of an IT engineer at the Blue House, where he meets and falls in love with bodyguard Kim Na Na. Engaging in a romantic relationship only becomes a hindrance to Jin Pyo's revenge plan, resulting in escalating tensions between Yoon Sung and Jin Pyo.
Sub-genres: Action, crime
---
Best gripping thriller Korean dramas
---
And there you have it – 34 thriller Korean dramas for you to check out if you're done watching all the romantic K-dramas we've previously compiled. Murder, corruption, kidnapping, violence, and even zombies – you name it, we've got it. 
Check out these other K-drama articles:
---
Cover image adapted from: Netflix, Netflix, Netflix
This article was written by Samantha Chew on 28th April 2020 and last updated by Charmaine Tan on 22nd March 2023.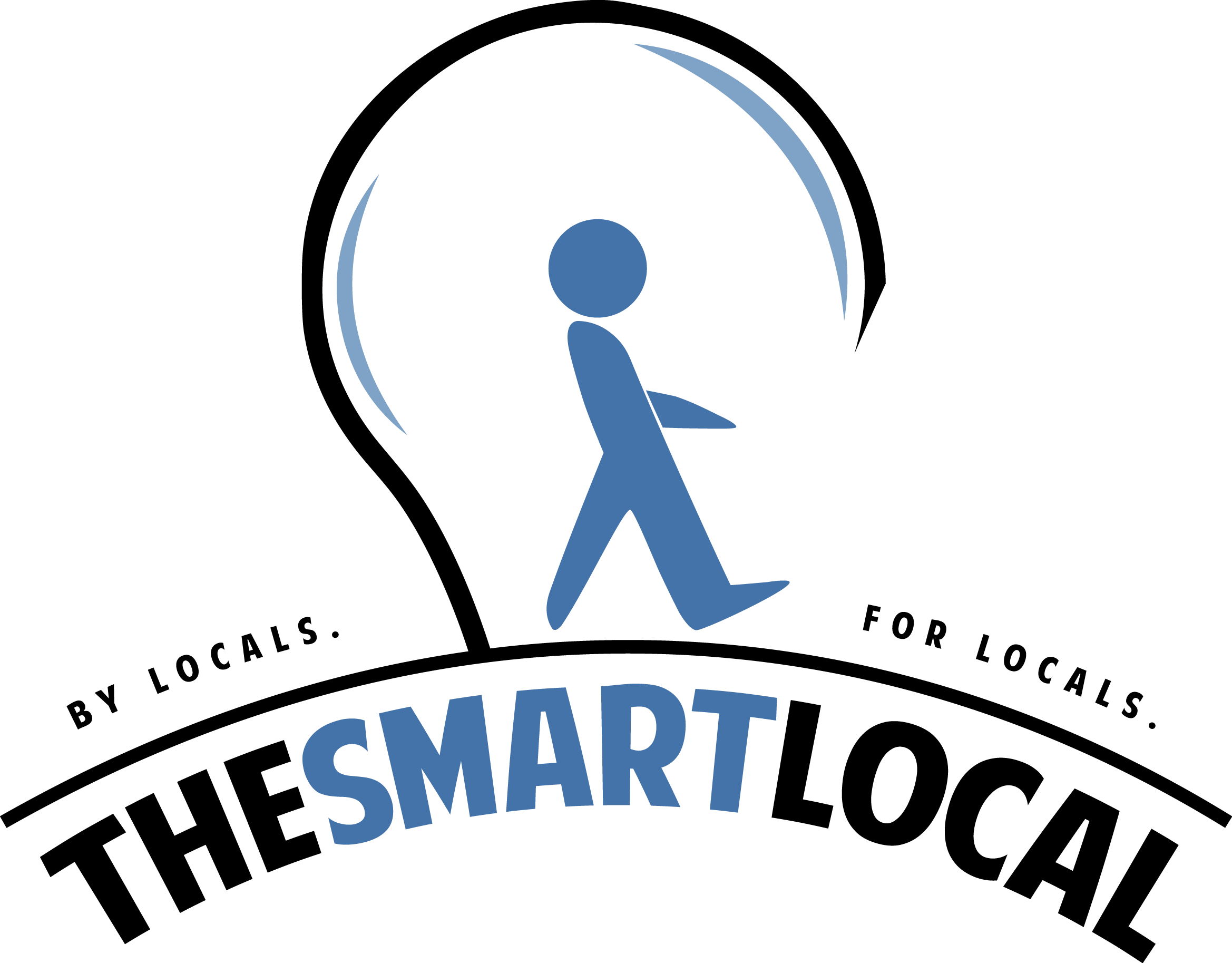 Drop us your email so you won't miss the latest news.