Feel-good Korean dramas 

---
Some days are harder than others, and on such days, all we really want to do is snuggle up and hibernate for the next month or so. But realistically speaking, shirking our responsibilities is easier said than done. Hence, we've compiled a list of feel-good Korean dramas you can watch when life hits you hard, or when you need a momentary escape from reality. 
---
1. Yumi's Cells (2021) 
---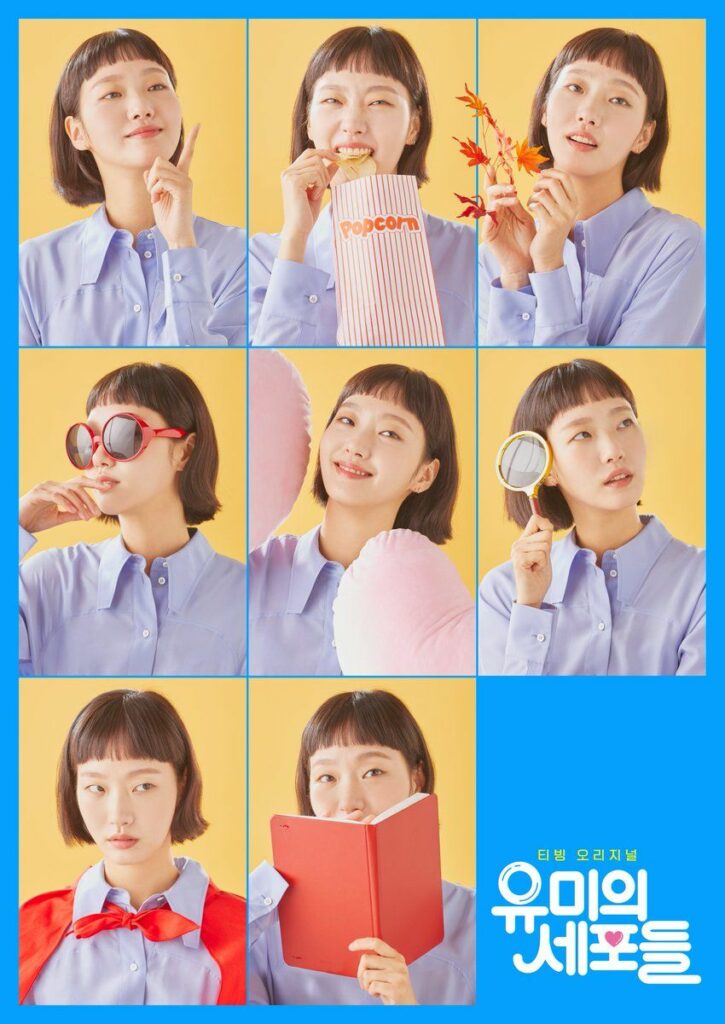 Image credit: tvN
Main Cast:
Kim Go Eun

as Kim Yu Mi

Ahn Bo Hyun

as Gu Woong

Lee Yoo Bi as Ruby 

Park Ji Hyun as Seo Sae Yi

Park Jin Young as Yoo Ba Bi
Adapted from the famous Korean webtoon of the same name, Yumi's Cells is a bubbly and light-hearted drama sure to make you grin from ear to ear.
Yumi, the main character, appears to be an ordinary working adult. But internally, she has conflicts and battles that no one knows about.
One of her biggest struggles is her inability to express her feelings. In the drama, you get to see the adorable interaction among Yumi's brain cells. These cells are representations of her emotions, with love being the most important one among them.
In the beginning, Yumi goes through heartbreak after her long-term relationship with her boyfriend comes to an end. This results in her love cell falling into a coma. Though Yumi thinks that her love cell will never reawaken, that changes when she meets Gu Woong, a game developer who shows her what true love is.
Watch the teaser here:
Video credit: TVING
---
2. Our Beloved Summer (2021)
---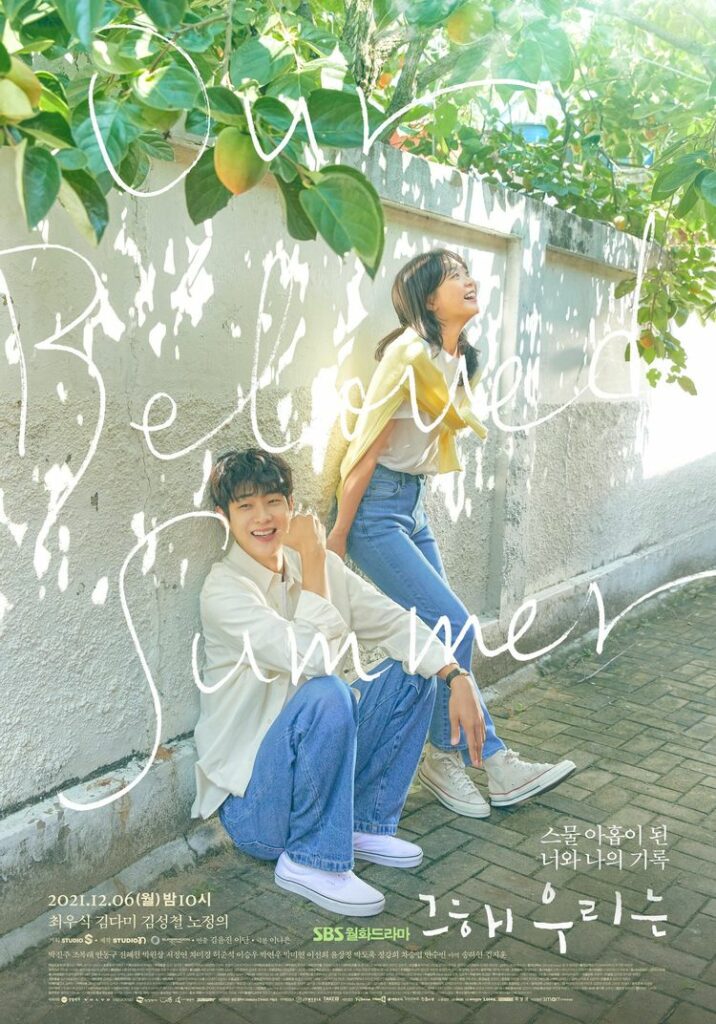 Image credit: SBS
Main Cast:
Choi Woo Shik as Choi Woong

Kim Da Mi as Gook Yeon Soo

Kim Sung Chul as Kim Ji Woong
You can expect nothing less than sizzling on-screen chemistry between Choi Woo Shik and Kim Da Mi in Our Beloved Summer. The drama follows the two protagonists over the years, from their high school days to becoming working adults.
Choi Woong and Gook Yeon Soo used to date in high school, and they even had a documentary filmed when they were students. 
Out of the blue, a decade after its release, the documentary goes viral. However, the couple had already broken up.
To make matters worse, they're not on good terms, and they two have vastly different personalities. Woong is indifferent to his worries and responsibilities, whereas Yeon Soo struggles to bridge her confident public persona and insecure private self.
Don't miss out on the teaser: 
Video credit: SBS Catch
---
3. Hometown Cha-cha-cha (2021)
---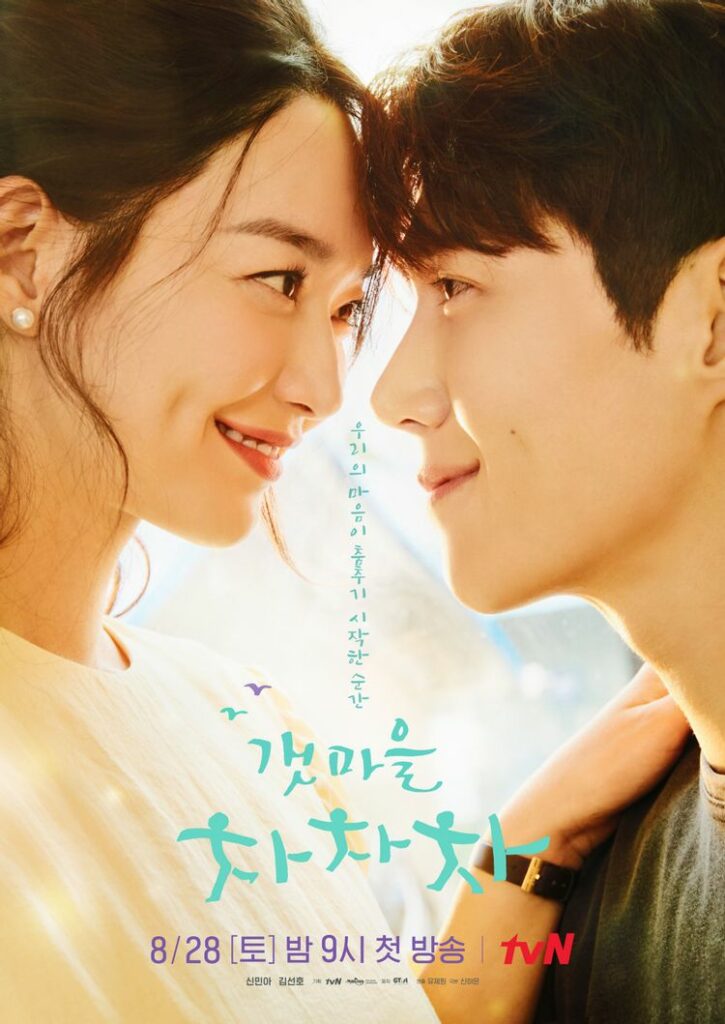 Image credit: tvN
Main Cast:
​​Shin Min Ah as Yoon Hye Jin

Kim Seon Ho as Hong Doo Shik
If all you need is a healing K-drama after an exhausting day, Hometown Cha-cha-cha is here for you. 
This drama is set in a seaside village called Gongjin. Here, the lifestyle is far more relaxed than the fast-paced way of life in the city.
Yoon Hye Jin used to live in the city, and she possessed all that she needed: an independent lifestyle and a successful career. However, Hye-jin wasn't content and felt as though there was a missing piece in her life.
After she quits her job as a dentist, she visits Gongjin to take a breather. There, she meets Hong Doo Shik, a man filled with mysteries. Doo Shik is well-liked by the Gongjin residents, and he seems to be everywhere Hye Jin goes. While taking some time to figure him out, she begins to catch feelings for him.
Read our review on the first episode of Hometown Cha-cha-cha here.
Check out the teaser here:
Video credit: tvN drama
---
4. Itaewon Class (2020)
---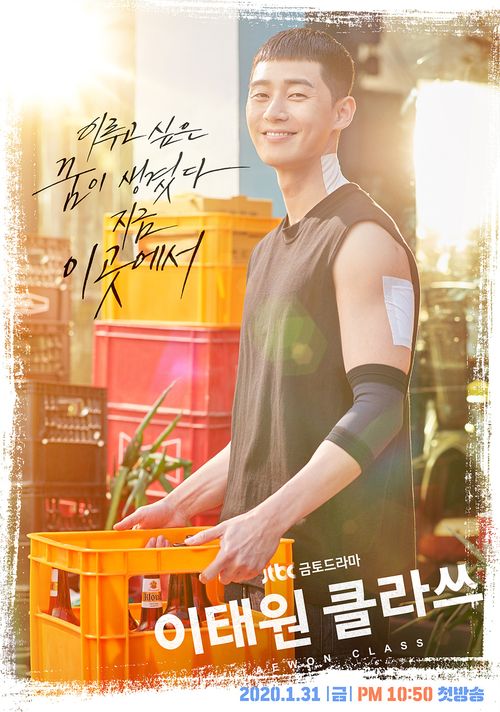 Image credit: JTBC
Main Cast:
Park Seo Joon as Park Sae Ro Yi

Kim Da Mi as Jo Yi Seo

Ahn Bo Hyun as Jang Geun Won

Kwon Na Ra as Oh Soo Ah
Adapted from the Kakao webtoon of the same name, Itaewon Class was a hit in 2020 – millions of fans were whipped for Park Seo Joon and his iconic chestnut hairstyle.
The drama begins with Park Sae Ro Yi as a high school student. After witnessing Jang Geun Won, the school bully, picking on one of his classmates, Park Sae Ro Yi gets into a fight with Geun Won. 
It turns out that Geun Won comes from a chaebol (family-run conglomerate), and his father owns the Jangga Group.
Geun Won's father, Jang Dae Hee, threatens to get Park Sae Ro Yi expelled from school if he doesn't apologise to his son. But Park Sae Ro Yi stands his ground and refuses to apologise. Eventually, he gets expelled.
Park Sae Ro Yi's life takes a turn for the worse when his father passes on after being hit by a motorcycle. He is overcome with fury and rage when he finds out that Geun Won deliberately ran over his father.
Now, Park Sae Ro Yi is driven by only one purpose in life: seeking revenge. He establishes his own restaurant in Itaewon to bring the Jangga Group down once and for all.
Watch the teaser here:
Video credit: The Swoon
---
5. Run On (2020)
---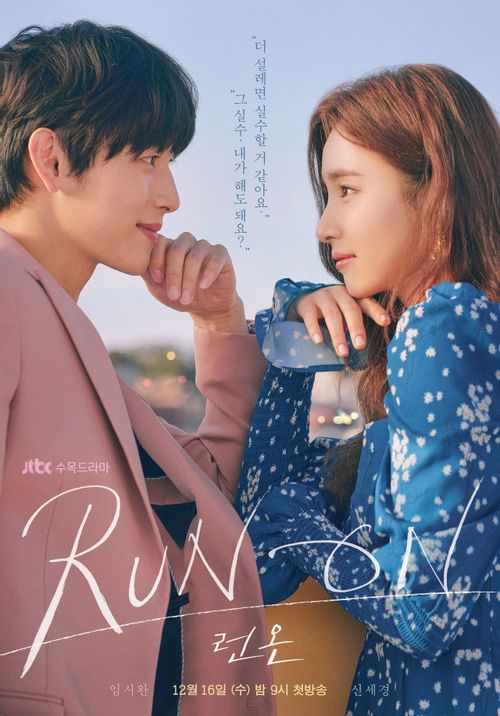 Image credit: JTBC
Main Cast:
Shin Se Kyung as Oh Mi Joo

Im Si Wan as Ki Seon Gyeom

Choi Soo Young as Seo Dan Ah

Kang Tae Oh as Lee Young Hwa
If you're looking for a quintessential romance K-drama, give Run On a shot.
This drama follows 2 couples: Ki Seon Gyeom and Oh Mi Joo, and Lee Young Hwa and Seo Dan Ah. 
Mi Joo works as a translator who translates movie subtitles. On the other hand, Seon Gyeom is a national sprinter. Unfortunately, he's coerced into giving up his dreams. Life seems to go by in a blur for Seon Gyeom until he meets Mi Joo, with whom he falls in love.
Dan Ah is a successful career woman who oversees a sports agency. Despite her competence, she struggles with career progression due to gender discrimination at her workplace.
Young Hwa majors in art, and he has a passion for motion pictures and drawing. His life changes when Dan Ah becomes an indispensable person in his life.
Catch the teaser here:
Video credit: The Swoon
---
6. Hospital Playlist (2020)
---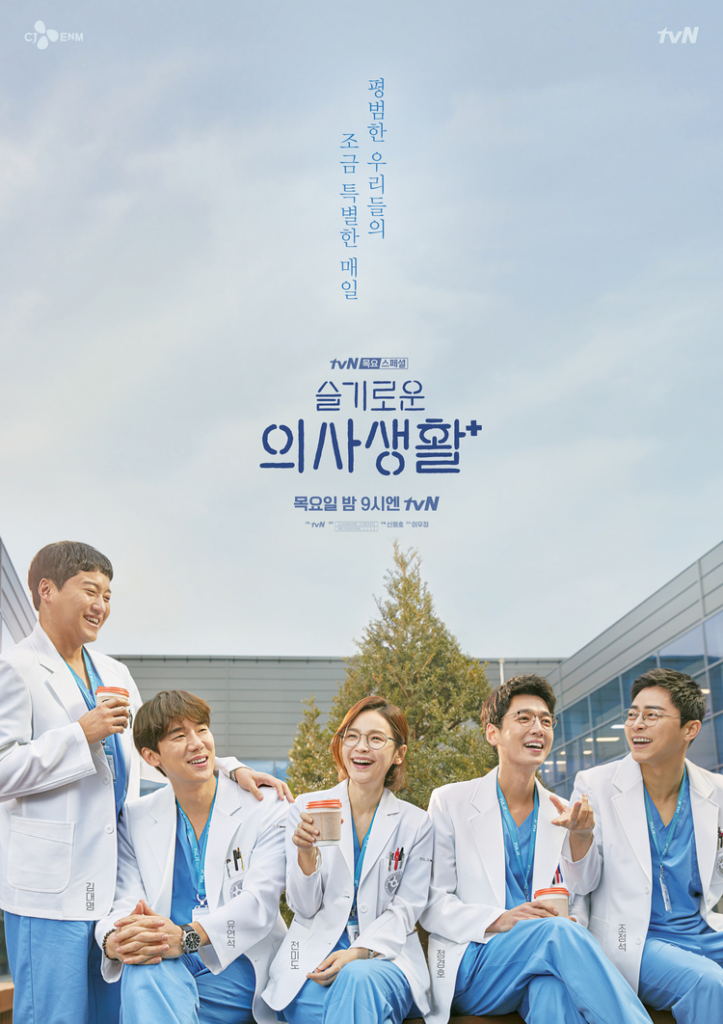 Image credit: tvN
Main Cast:
Jo Jung Suk as Lee Ik Jun

Jeon Mi Do as Chae Song Hwa

Yoo Yeon Seok as Ahn Jeong Won 

Jung Kyung Ho as Kim Jun Wan

Kim Dae Myung as Yang Seok Hyeong
Hospital Playlist was lauded for the realistic depiction of doctors and the struggles they face, and fans all over the world love this series so much that there's potential for the release of a third season. 
This medical K-drama focuses on a group of friends called the 99z, and all of them are doctors working in the same hospital. 
Although the series revolves around doctors, it also sheds light on patients who fight lonely battles, as well as the loved ones of these patients who often collapse as a result of feeling helpless and hopeless.
Though Hospital Playlist touches on heavy topics such as death and child abuse, the overall message is centred on hope, growth, and love.
Don't miss out on the teaser:
Video credit: The Swoon
---
7. Be Melodramatic (2019)
---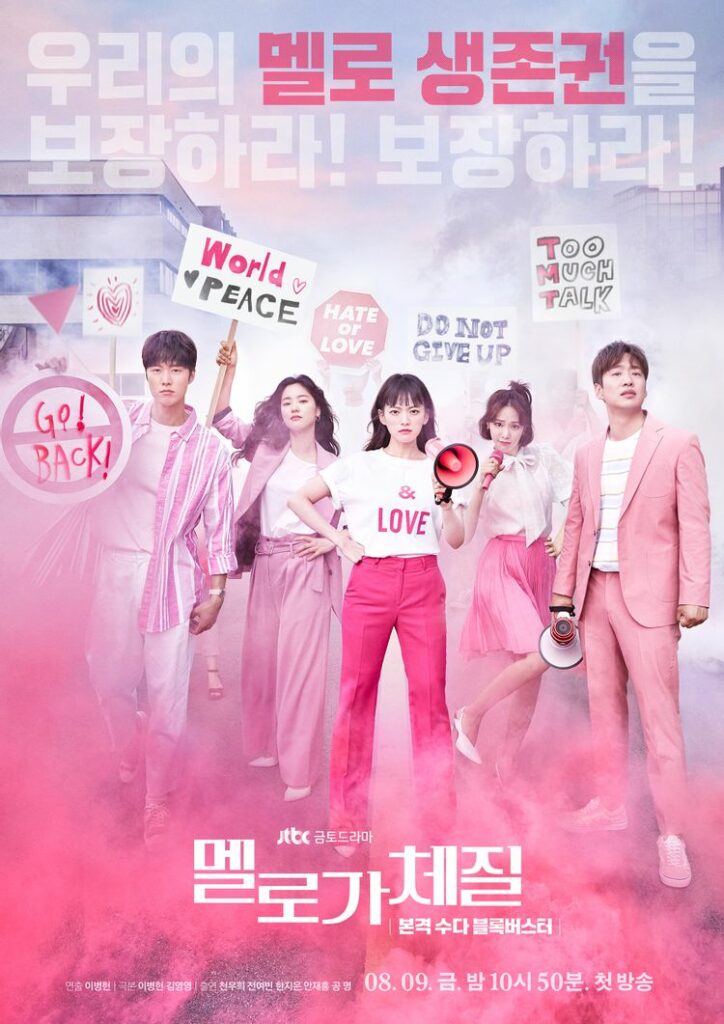 Image credit: JTBC
Main Cast:
Chun Woo Hee as Im Jin Joo

Jeon Yeo Been as Lee Eun Jung

Han Ji Eun as Hwang Han Joo

Ahn Jae Hong as Son Beom Soo

Gong Myung as Choo Jae Hoon
Striking the perfect balance between love and friendship, Be Melodramatic revolves around 3 women, Im Jin Joo, Lee Eun Jung, and Hwang Han Joo, who have just entered their 30s.
Although they're best friends, they have completely different personalities and ways of life. Jin Joo earns a living as a playwright, and she's often seen as eccentric in the eyes of others. Unlike her abstract thoughts, her scripts are usually direct and one-dimensional.
Eun Jung directs documentaries in her small one-man company. One of her documentaries achieves overnight success, and this marks a turning point in her life.
Finally, Han Joo is the busiest among the three. In addition to her job at a production company, she's also a single mother who raises her child to the best of her abilities.
Watch the teaser here:
Video credit: JTBC Drama
---
8. Romance Is A Bonus Book (2019)
---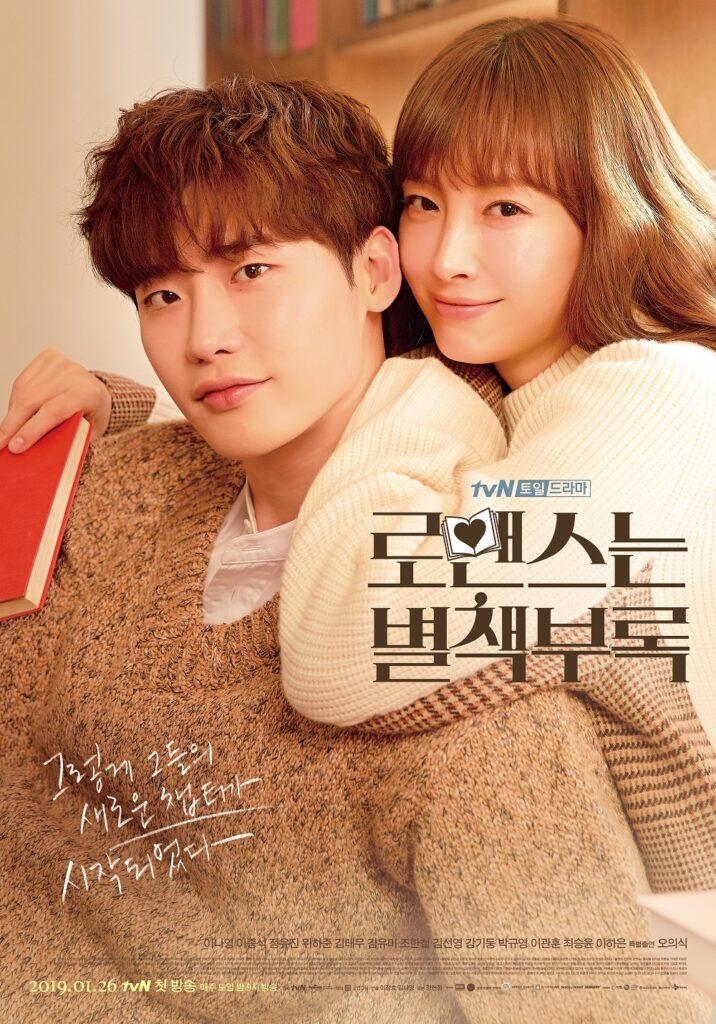 Image credit: tvN
Main Cast:
Lee Na Young as Kang Dan Yi

Lee Jong Suk as Cha Eun Ho

Wi Ha Joon

as Ji Seo Joon

Jung Yoo Jin as Song Hae Rin
Can childhood friends develop romantic feelings for each other? Well, Romance Is A Bonus Book says hell yeah.
Kang Dan Yi and Cha Eun Ho used to be childhood friends, but they drifted apart as they grew up.
Now, Eun Ho works at a publishing company as the youngest ever editor-in-chief. He's not only proficient at his job, but also well-liked by those around him.
On the flipside, Dan Yi's life is on a downward spiral. Gone are the days when she was a successful copywriter – she goes through a divorce, struggles to make ends meet for her child, and faces the harsh reality of unemployment.
With her child's well-being at stake, she makes a rash decision to deceive her employers. Eventually, she gets hired as a temporary employee. Her life becomes a mess when she finds out that Eun Ho works in the same building as her. What will she say to him for the first time in years?
Get a taste of the drama here:
Video credit: tvN drama
---
9. What's Wrong With Secretary Kim (2018) 
---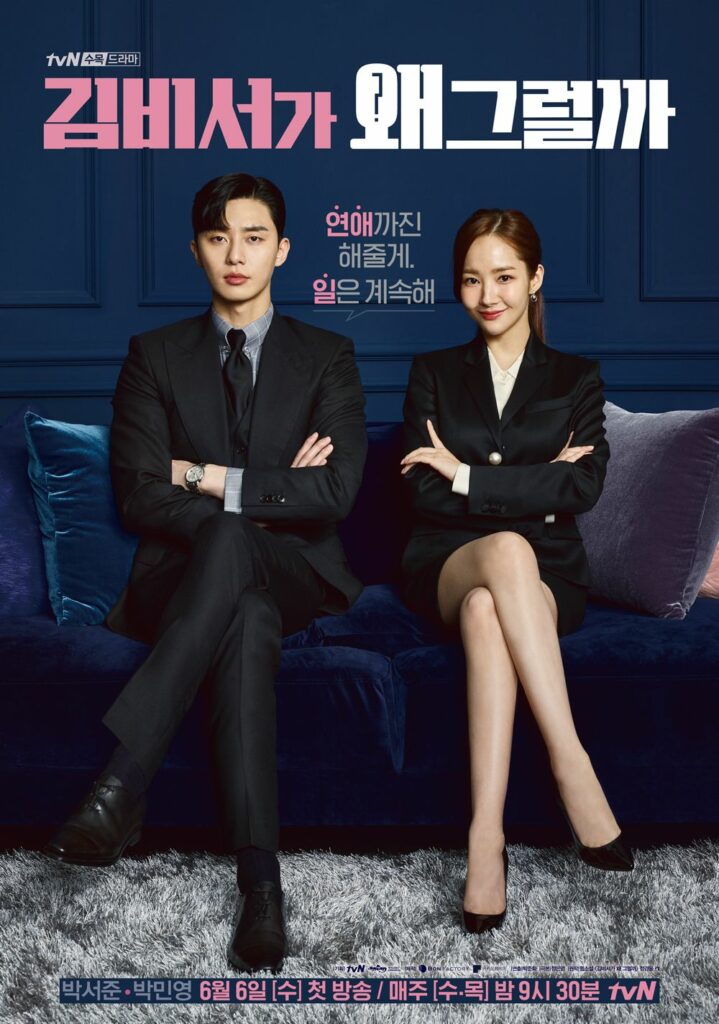 Image credit: tvN
Main Cast:
Filled with laugh-out-loud moments and lovey-dovey scenes, What's Wrong With Secretary Kim got K-drama fans all over the world rooting for a real-life romance between Park Min Young and Park Seo Joon.
Lee Young Joon may be affluent and charming, but he's a pain in the neck. He's the vice president of his company he works at, which is run by his family. Despite his distasteful traits, such as being self-centred and condescending, Kim Mi So, his secretary of close to a decade, works alongside Young Joon without complaints.
Mi So knows how to keep her work life apart from her private life. But will her relationship with her boss remain purely professional?
Here's a glimpse of the drama: 
Video credit: tvN drama
---
10. The Beauty Inside (2018) 
---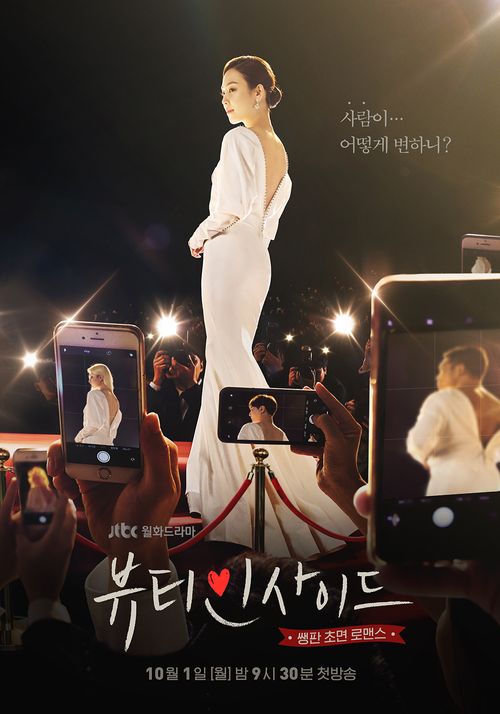 Image credit: JTBC
Main Cast:
Seo Hyun Jin as Han Se Gye

Lee Min Ki as Seo Do- Jae

Lee Da Hee as Kang Sa Ra

Ahn Jae Hyun as Ryu Eun Ho
Imagine living a life as a completely different person every week. Sounds strange, right? But that's Han Se Gye's reality in The Beauty Inside.
Se Gye is a famous actress, but don't be fooled by the glitz and glamour of her life as she, too, has her battles to fight, just like everyone else.
Her life changes drastically when she wakes up in a different body one day. Some days, she becomes a young man, and other days she turns into an old lady.
In the midst of her confusion, she meets Seo Do Jae. He's a warm-hearted person who's adept at his job as an executive director of an airline company. However, he struggles with face blindness, which is a condition that results in an inability to recognise people's faces.
Funnily enough, Do Jae is able to recognise only one person: Se Gye. Gradually, their feelings for each other develop beyond a platonic relationship.
There are times when this drama gets you reaching for the tissue box, but overall, it's packed with heartwarming scenes and an important message.
Check out this hilarious teaser: 
Video credit: Viu Singapore
---
11. Fight For My Way (2017) 
---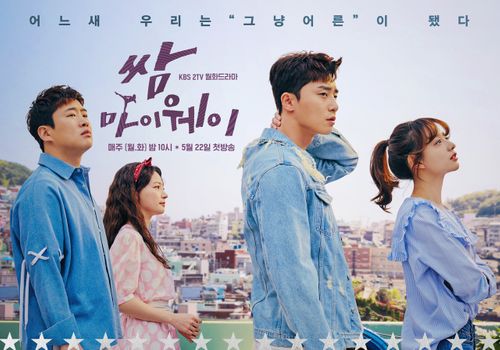 Image credit: KBS2
Main Cast:
Park Seo Joon as Ko Dong Man

Kim Ji Won as Choi Ae Ra

Ahn Jae Hong as Kim Joo Man

Song Ha Yoon as Baek Seol Hee
Fight For My Way grapples with 2 key themes: dreams and love. Instead of giving one up for the other, this drama evokes a sense of hope by showing us that we can achieve both.
Since young, Ko Dong Man has aspired to join the national taekwondo team. But his current reality is distant from the life he dreamt of, and he survives on a meagre salary.
Choi Ae Ra is Dong Man's closest friend who works at a department store. She used to work towards becoming a news anchor, but she ends up at the information desk of a mall instead.
Despite their relentless attempts to chase their dreams, their qualifications are dismissed as inferior to the rest of society.
Dong Man, Ae Ra, and their two friends Joo Man and Seol Hee support one another through thick and thin. They go against all odds to achieve their goals, and more importantly, love.
Watch the teaser here:
Video credit: KBS WORLD TV
---
12. Because This Is My First Life (2017)
---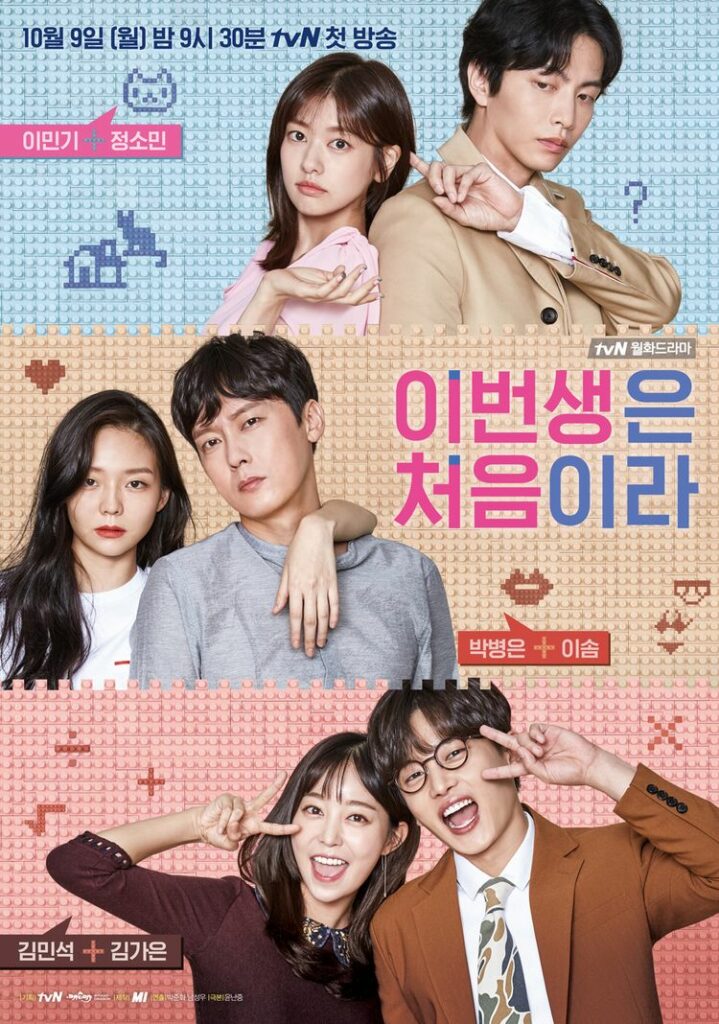 Image credit: tvN
Main Cast:
Lee Min Ki as Nam Se Hee

Jung So Min as Yoon Ji Ho

E Som as Woo Soo Ji

Park Byung Eun as Ma Sang Goo

Kim Ga Eun as Yang Ho Rang

Kim Min Seok as Shim Won Seok
Because This Is My First Life follows two protagonists, Nam Se Hee and Yoon Ji Ho, who are in their 30s. 
Se Hee and Ji Ho share several similarities, such as struggling with financial difficulties and losing hope in the idea of dating or marriage.
Although Se Hee owns a house, he's in debt. On the other hand, Ji Ho doesn't have a place that she calls home. 
Following their encounter, Ji Ho decides to live under Se Hee's roof. They refer to each other as housemates, but is that really all there is to their relationship?
Besides hilarious scenes and cringe-worthy moments, this drama also explores realistic challenges that Korean youths face. 
Don't forget to watch the teaser here:
Video credit: tvN drama 
---
13. Weightlifting Fairy Kim Bok-joo (2016) 
---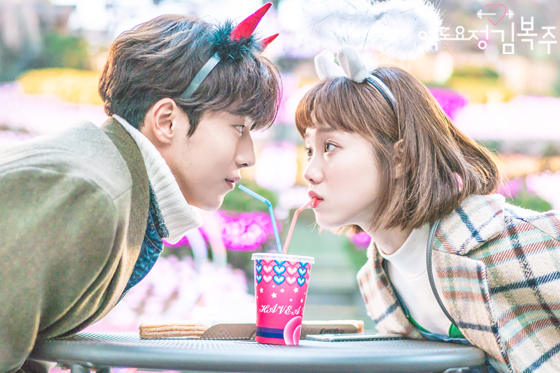 Image credit: MBC
Main Cast:
Lee Sung Kyung as Kim Bok Joo

Nam Joo Hyuk

as Jung Joon Hyung
Arguably the epitome of a feel-good Korean drama, Weightlifting Fairy Kim Bok-joo is a masterpiece starring Lee Sung Kyung and Nam Joo Hyuk. 
Set in Haneul Sport University, childhood friends Kim Bok Joo and Jung Joon Hyung meet again after they enter the same university. Bok Joo is a weightlifter, while Joon Hyung is a swimmer.
Despite their intense training schedules, Bok Joo and Joon Hyung go from friends to something more. During their time at Haneul Sport University, they learn to navigate through insecurities, dreams, friendships, and love.
Here's a teaser that will give you butterflies in your stomach:
Video credit: MBCdrama
---
14. Another Miss Oh (2016)
---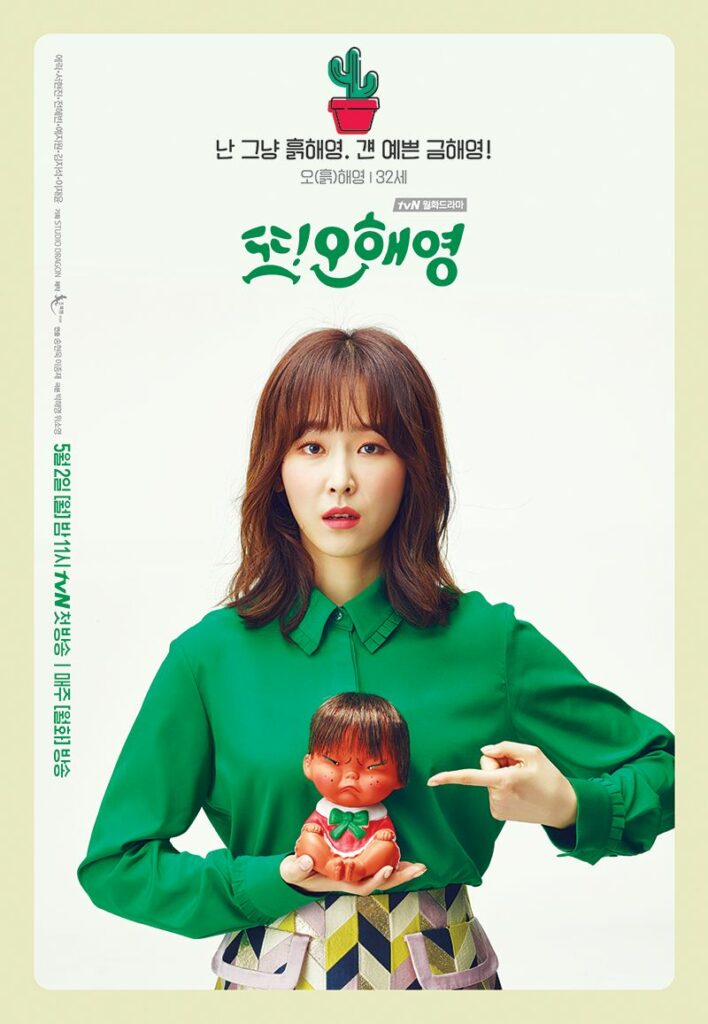 Image credit: tvN
Main Cast:
Eric Mun as Park Do Kyung

Seo Hyun Jin as Oh Hae Young (1)

Jeon Hye Bin as Oh Hae Young (2) 
As the title of the drama suggests, another Oh Hae Young enters Park Do Kyung's life just when he thought he was done with the first Oh Hae Young, to whom he was wed. Do Kyung constantly finds himself entangled with the two women of the same name. 
From high school students to career women, Oh Hae Young #1 and Oh Hae Young #2 have never been apart.
Yet, this is no good news for Oh Hae Young #1 as she feels insecure about herself whenever people compare her to the oh-so perfect Oh Hae Young #2. 
What's more, Do Kyung can predict the future as he has a special ability to see snippets of what's going to happen. How will his relationship with the two women develop? 
Catch the teaser here:
Video credit: tvN drama
---
15. Jealousy Incarnate (2016)
---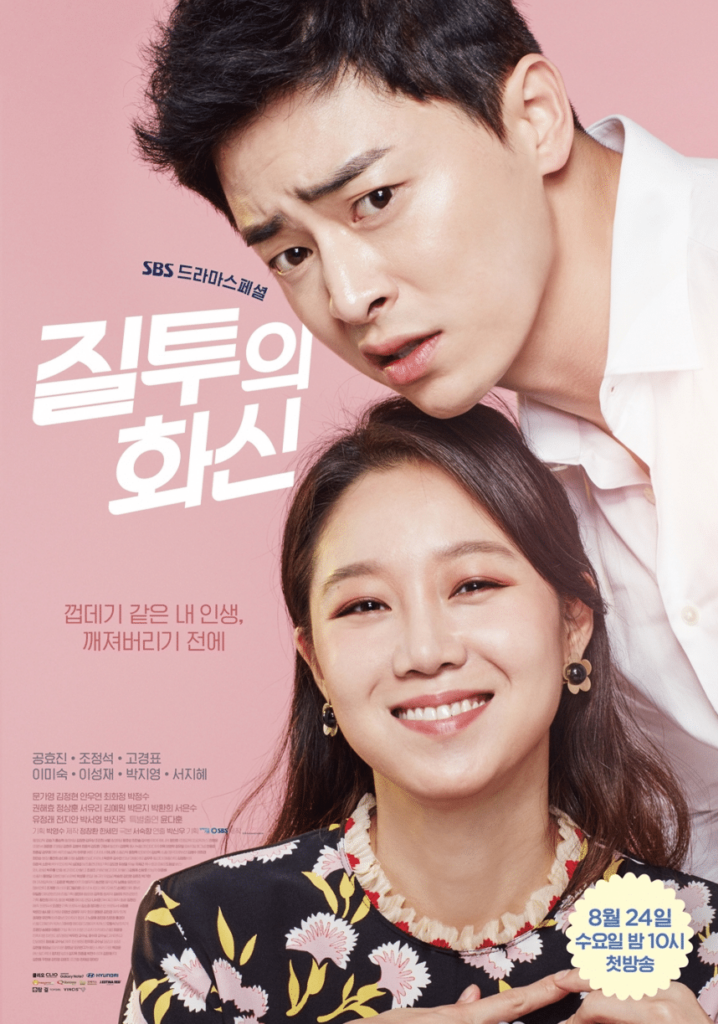 Image credit: SBS
Main Cast:
Jo Jung Suk as Lee Hwa Shin

Gong Hyo Jin as Pyo Na Ri

Ko Kyung Pyo

as Go Jeong Won
Jealousy Incarnate is the perfect blend of romance and comedy. This drama focuses on the story between Lee Hwa Shin and Pyo Na Ri, whose relationship gradually develops from rivals to lovers.
There's nothing that Hwa Shin lacks – he's an experienced news anchor with impressive qualifications, and he even comes from a well-to-do family. 
In contrast, Na Ri has neither a substantial fortune nor a jaw-dropping resume. However, she's passionate and adept at her job as a weather forecaster despite being a temporary contract employee.
What's at stake when the two rivals start to catch feelings for each other? There's only one way to find out: watch the drama.
Don't miss out on the teaser:
Video credit: SBS NOW / SBS 공식 채널
---
16. Cheese In The Trap (2016)
---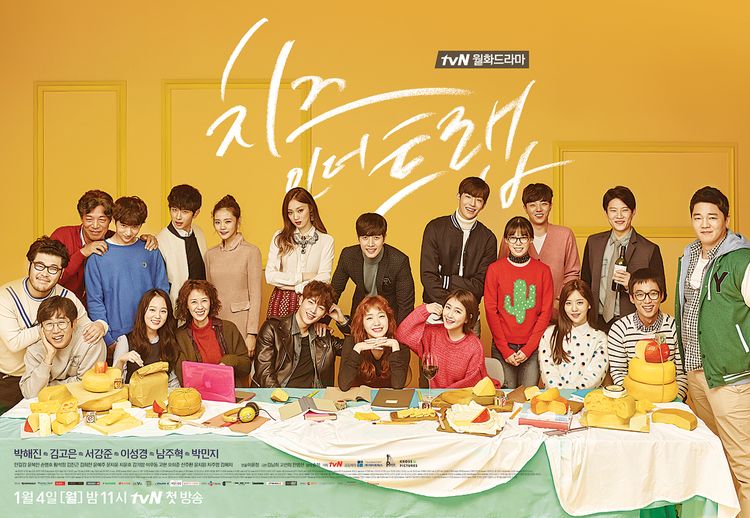 Image credit: tvN
Main Cast:
Kim Go Eun as Hong Seol

Park Hae Jin as Yoo Jung

Seo Kang Joon as Baek In Ho

Lee Sung Kyung as Baek In Ha

Nam Joo Hyuk as Kwon Eun Taek
Adapted from the Korean webtoon of the same name, Cheese In The Trap depicts the strange relationship between two university students, Hong Seol and Yoo Jung. 
Seol and Jung lead completely different lives. Although Seol's family struggles to make ends meet, she always does her best in school. On the other hand, Jung comes from a rich family, and money has never been a source of worry for him.
On the surface, Jung seems like the guy everyone likes to be around. Little do they know that he's scheming and manipulative, and enjoys witnessing the downfall of others.
After Seol finds out about his true colours, her life is never the same again. Eventually, she decides to take a break from school.
A year later, she returns to school only to realise that Jung has become a completely different person. He treats her with kindness, and even asks her out on a date. Could he have turned over a new leaf, or is he still the same evil mastermind that Seol is familiar with?
Watch the teaser here:
Video credit: tvN drama
---
17. Oh My Ghost (2015)
---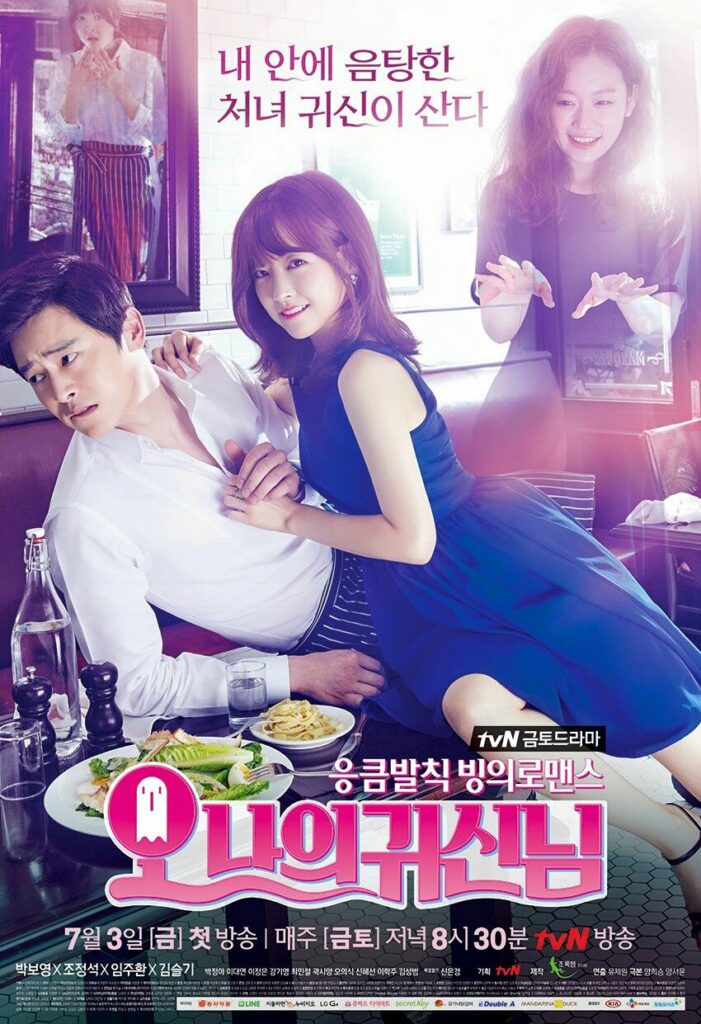 Image credit: tvN
Main Cast:
Park Bo Young as Na Bong Sun

Jo Jung Suk as Kang Seon Woo

Kim Seul Gi as Shin Sun Ae

Im Joo Hwan as Choi Seong Jae
The on-screen chemistry between Jo Jung Suk and Park Bo Young set thousands of hearts aflutter, and you'll understand why once you give Oh My Ghost a try.
Na Bong Sun is timid and reserved by nature. She rarely speaks her mind and has low self-esteem. To make matters worse, she's possessed by a ghost driven by lust.
Although she's not good at expressing her feelings, she's secretly whipped for Kang Seon Woo, the chef whom she works with at the restaurant. She stands no chance as he's popular with the ladies, and he has yet to move on from his ex-girlfriend.
At first, Seon Woo was indifferent to Bong Sun and showed no interest in her. But his feelings for her begin to waver when the bashful Bong Sun becomes confident and outspoken all of a sudden.
Here's a sneak peek: 
Video credit: tvN drama
---
18. She Was Pretty (2015) 
---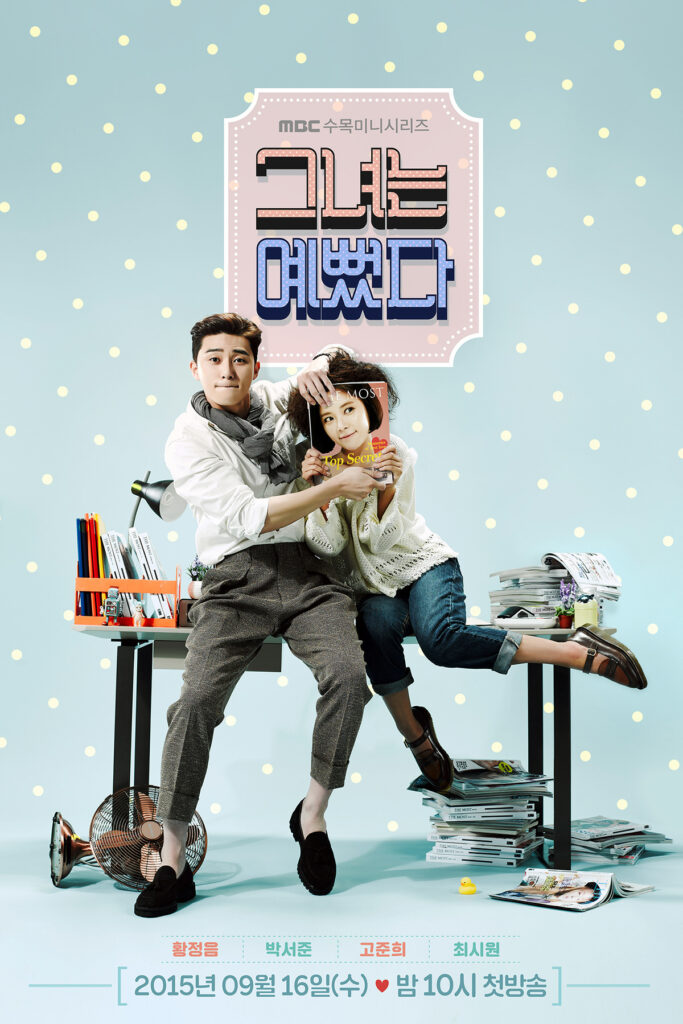 Image credit: MBC
Main Cast:
Hwang Jung Eum as Kim Hye Jin

Park Seo Joon as Ji Sung Joon

Go Joon Hee as Min Ha Ri

Choi Si Won as Kim Shin Hyuk
Kim Hye Jin was beautiful as a child, but puberty hit her like a truck and her appearance became drastically different.
Despite having no full-time job and living rent-free with her best friend, she remains happy-go-lucky. But Hye Jin's positive outlook on life changes when her childhood friend and first love, Ji Sung Joon, asks to meet her after years of losing contact.
Hye Jin is over the moon as she makes her way to meet Sung Joon. However, she's overcome with insecurity when she sees how suave and attractive he has become.
She decides to send Min Ha Ri, her best friend, to meet him in her stead. But her plan goes haywire when Ha Ri falls in love with Sung Joon.
Check out the teaser: 
Video credit: MBCdrama
---
19. Oh My Venus (2015)
---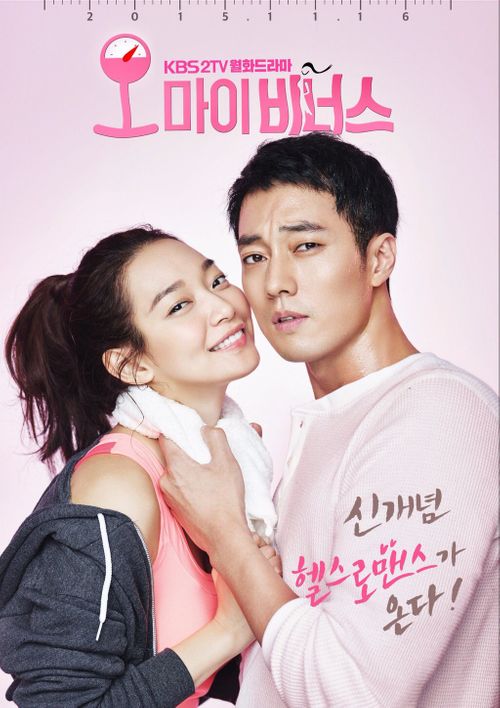 Image credit: KBS2
Main Cast:
So Ji Sub as Kim Young Ho / John Kim

Shin Min Ah as Kang Joo Eun

Jung Gyu Woon as Im Woo Shik

Yoo In Young as Oh Soo Jin
Starring Shin Min Ah and So Ji Sub, Oh My Venus revolves around a personal trainer whose physique is to die for, and an unfit lawyer who is heartbroken after her relationship of 15 years comes to a close.
Kim Young Ho worked as a personal trainer abroad before he was forced to return to Korea. Meanwhile, Kang Joo Eun is a lawyer whose life becomes a mess after she breaks up with her boyfriend. She used to be the representative of beauty at her school, but now, she couldn't care less about her diet and health.
When Young Ho personally trains Joo Eun to regain her health, their platonic relationship advances to something more.
Watch the teaser here:
Video credit: KBS WORLD TV
---
20. The Heirs (2013)
---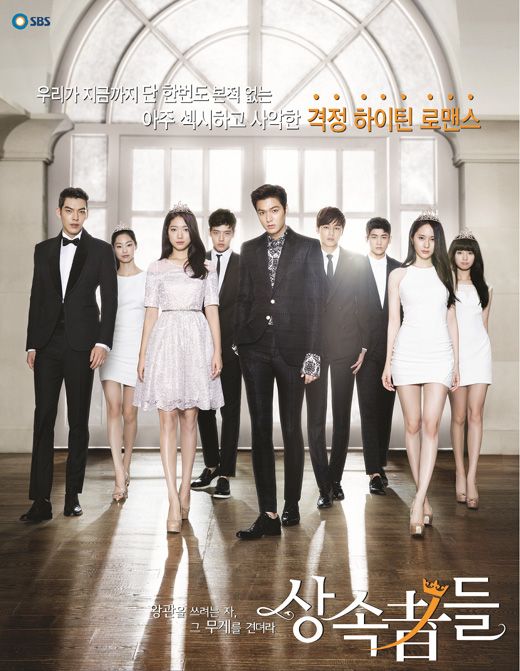 Image credit: SBS
Main Cast:
Lee Min Ho as Kim Tan

Park Shin Hye

as Cha Eun Sang

Kim Woo Bin as Choi Young Do

Kim Ji Won as Rachel Yoo
Those who've been a part of the K-drama world since the 2010s will know the legendary The Heirs, which starred Lee Min Ho, Park Shin Hye, and Kim Woo Bin.
Kim Tan's future is set – he's handsome, charismatic, and the heir to Empire Group. On the other hand, the downtrodden but plucky Eun Sang comes from a poor family, and her mother works as the housekeeper of Kim Tan's family.
In the midst of Kim Tan's half-brother trying to take over the Empire Group, Kim Tan begins to fall in love with Eun Sang.
However, he faces a dilemma – should he pursue love with Eun Sang or serve his duty by staying with Rachel Yoo, his fiancée whom he has no feelings for?
Here's a glimpse into the drama: 
Video credit: SBS NOW / SBS 공식 채널
---
Feel-good Korean dramas that bring warmth in this cold world
---
Some may say that feel-good Korean dramas romanticise our reality, but desperate times call for desperate measures. As long as you feel a sense of comfort and solace, there's nothing wrong with indulging yourself in some of these dramas.
Also check out: 
---
Cover image adapted from: SBS, tvN, JTBC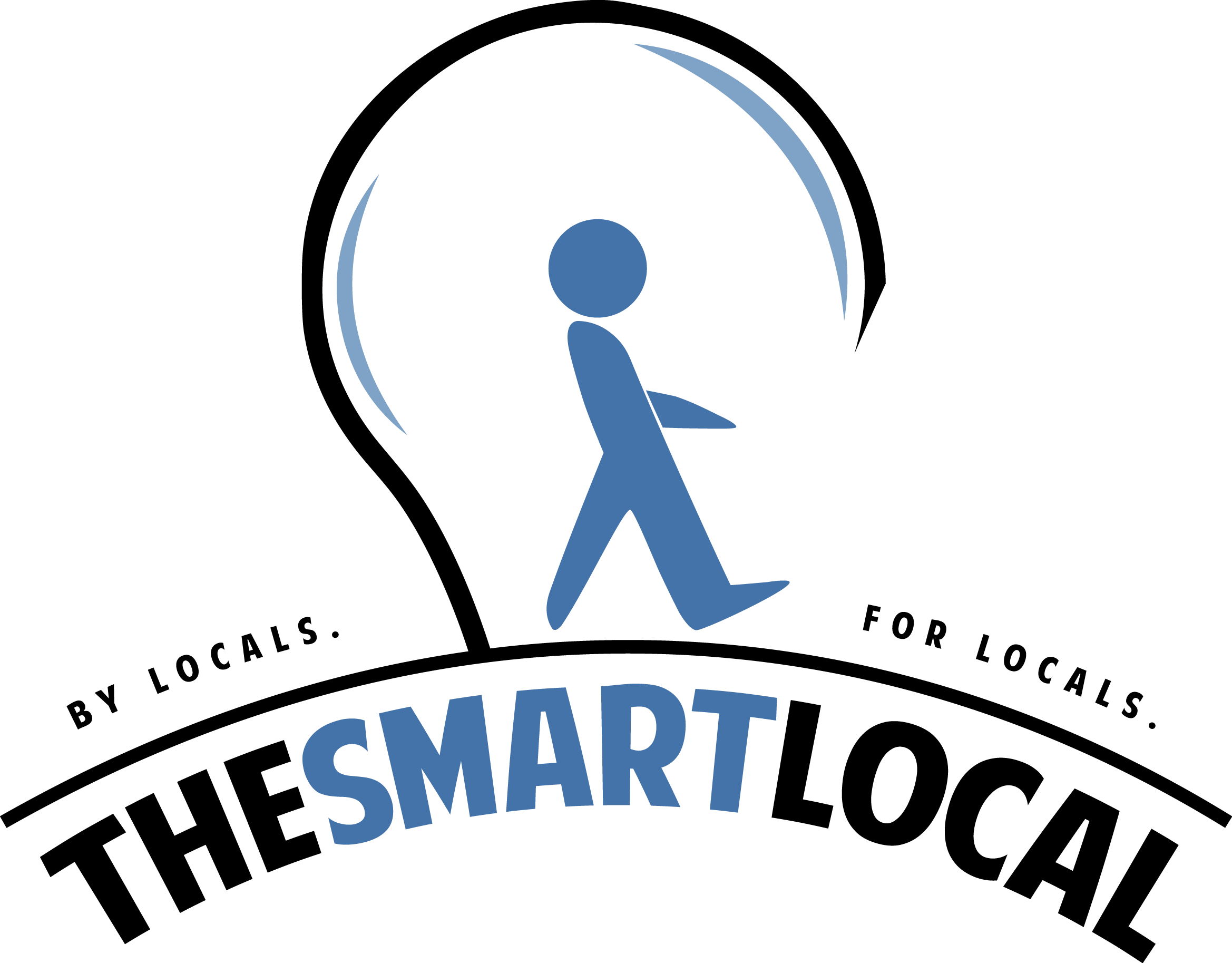 Drop us your email so you won't miss the latest news.