Romantic Korean dramas
---
K-dramas have come a long way from the days of cringey scenes to include out-of-this-world cinematography and enthralling storylines. But the one thing that remains the same is that we can't help but swoon over the attractive leads. From highly-raved new releases such as Crash Landing On You and Itaewon Class to iconic hit dramas like Goblin and Descendants of the Sun, here are 35 romantic Korean dramas you definitely have to add to your list of things to watch. 
---
– Fantasy –
---
1. Doom At Your Service (2021) 
---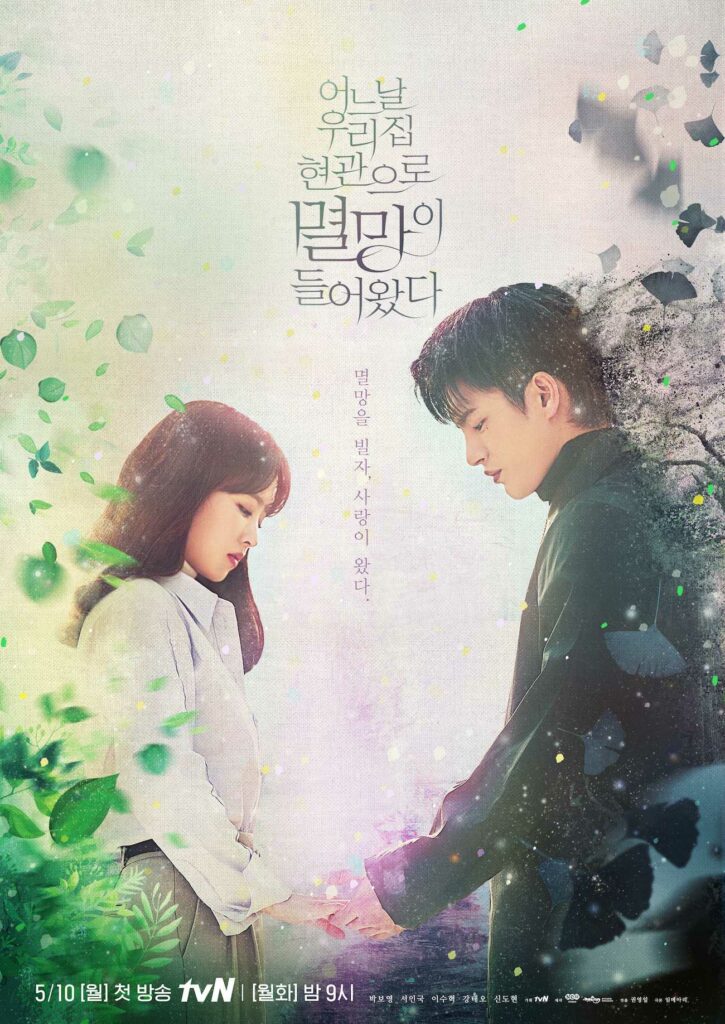 Image credit: tvN
Main Cast: 
Park Bo Young as Tak Dong Kyung

Seo In Guk as Kim Sa Ram / Myul Mang

Lee Soo Hyuk as Cha Joo Ik

Kang Tae Oh as Lee Hyun Gyu

Shin Do Gyun as Na Ji Na / Lee Hyun
Despite facing the tragic death of her parents and having to support her younger brother, Dong Kyung remained positive and diligent. However, her hopeful outlook on life is finally crushed when she gets diagnosed with a terminal illness.
Dong Kyung is devastated as she only has 100 days to live. While thinking about how she should spend her last days, she makes a wish on shooting stars. Little does she know that an immortal being, Myul Mang, would appear on her doorstep to grant her wish – that the world would end – before she dies.
You can find more about our review on the 1st episode here. 
---
2. My Roommate Is A Gumiho (2021)
---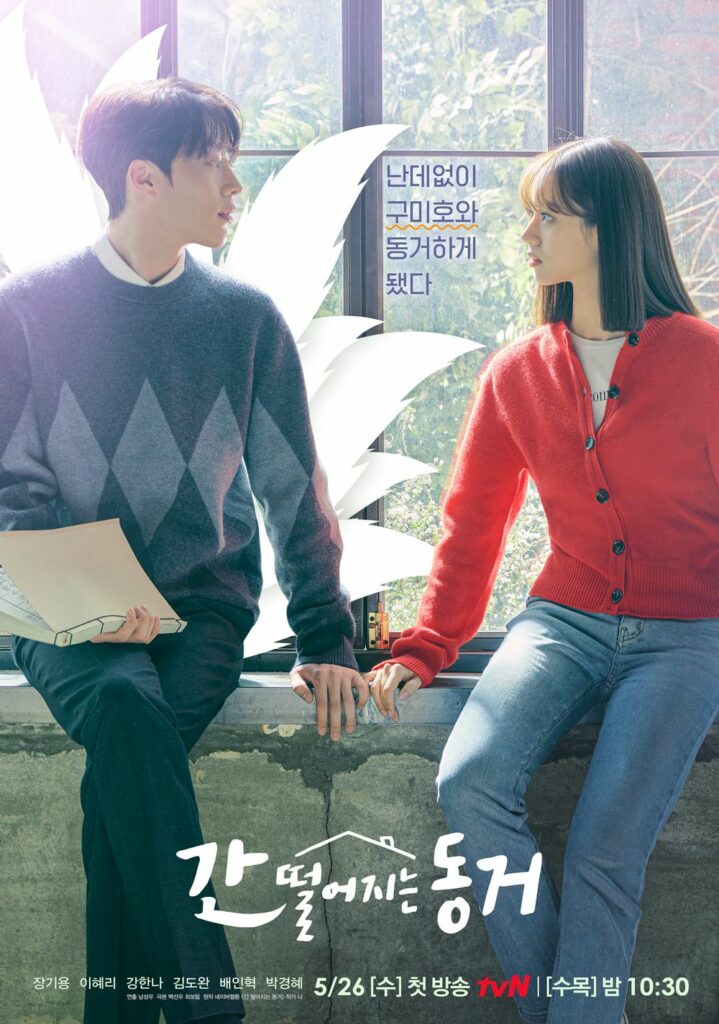 Image credit: tvN
Main Cast:
Jang Ki Yong as Shin Woo Yeo

Lee Hye Ri as Lee Dam

Kim Do Wan as Do Jae Jin

Kang Han Na as Yang Hye Sun
Lee Dam is an ordinary university student, while Shin Woo Yeo is a 999-year-old gumiho, a nine-tailed creature found in Korean folktales.
Woo-yeo is eager to become human, but he has to fulfil a task before he can live as one. He must ensure that his bead accumulates a sufficient amount of "human energy" so that its colour changes from red to blue. 
His plan to become human goes smoothly until he meets Lee Dam. One day, she swallows Woo Yeo's bead by accident. This leaves them with no choice but to live together in order to figure out a method to retrieve the bead safely. 
They are given a year to remove the bead from Lee Dam's body. If they fail to retrieve it within the fixed time span, the bead will disintegrate and ultimately kill her.
You can read our review of My Roommate Is A Gumiho here. 
---
3. Extraordinary You (2019)
---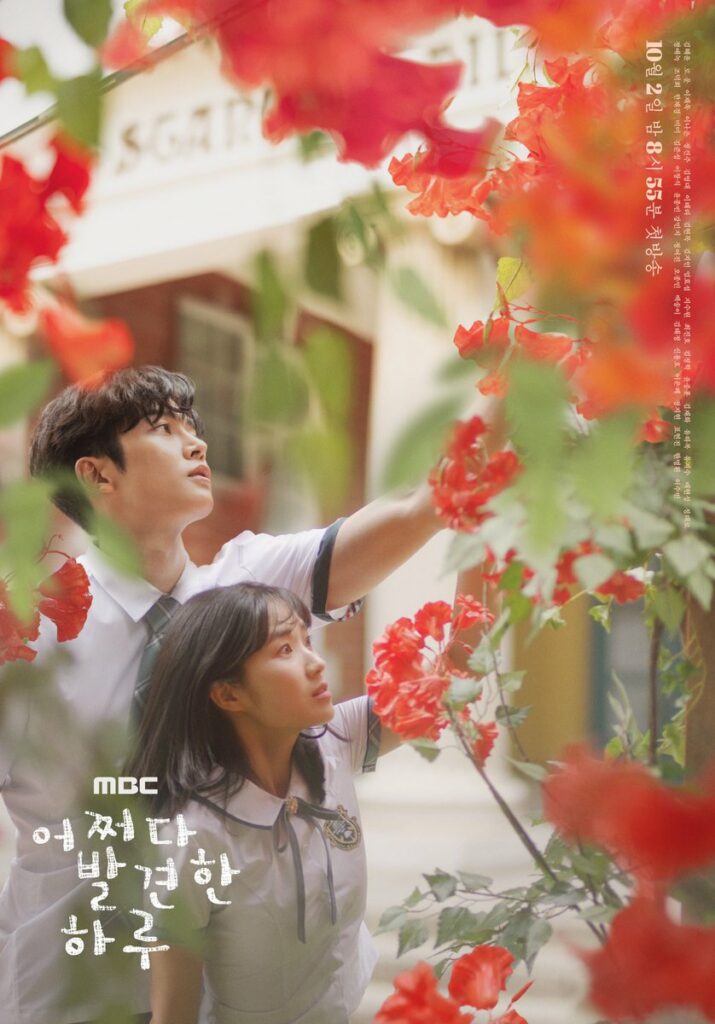 Image credit: MBC
Main Cast:
Kim Hye Yoon as Eun Dan Oh

Rowoon as Ha Ru / Number 13 

Lee Jae Wook as Baek Kyung 
Extraordinary You follows a bunch of high school students who are characters in a comic book called Secret. While playing an extra in the comic book, the female lead of the drama, Eun Dan Oh, realises that they're trapped in a comic and seeks to alter her fate, which has been predestined by the writer. 
The urge to change her plight intensifies as she falls in love with a nameless character, Number 13, and wishes to end things with her scripted partner, Baek Kyung. They soon realise that changing their fates comes at a price. 
---
4. Hotel Del Luna (2019)
---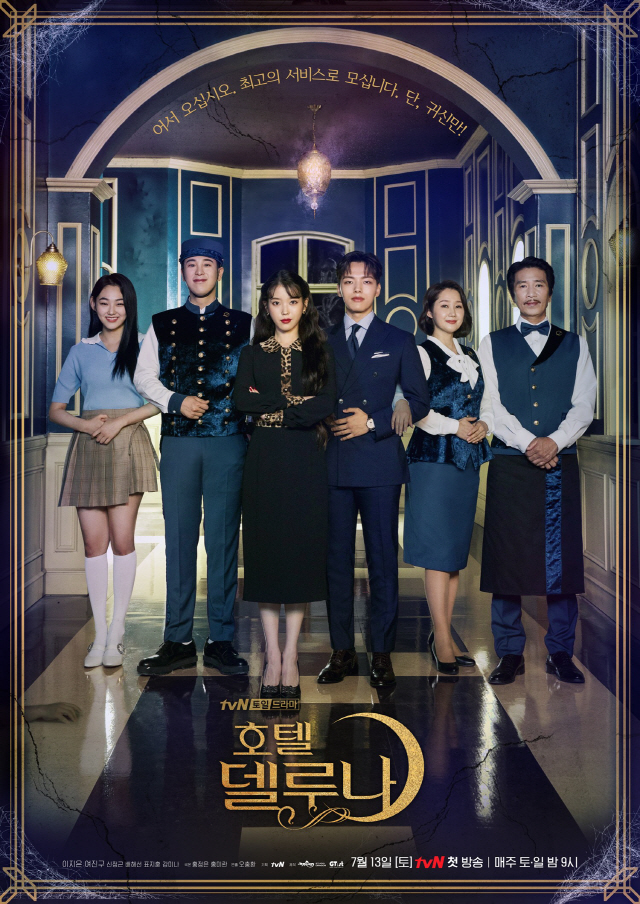 Image credit: tvN
Main Cast:
Lee Ji Eun (IU) as Jang Man Wol

Yeo Jin Goo as Ku Chan Sung
2019 was a pretty great year in K-dramaland, with the release of popular dramas such as Hotel Del Luna, which comes with top-notch cinematography, excellent cast members, and unforgettable OSTs. But that's not all, as the storyline is sure to captivate you as well. 
As punishment for killing the innocent out of anger, Jang Man Wol was cursed with immortality to manage Hotel Del Luna for life, or at least until the curse is lifted. While it looks like your usual grand and fancy hotel, Hotel Del Luna actually serves as a rest stop for lost souls before they move on to the afterlife. 
Although the hotel caters to ghosts and is largely run by their kind, it still requires a human staff to help with day-to-day administrative work such as filing for taxes. And this honour goes to Ku Chan Song, who not only manages the hotel guests, but also acts as a personal assistant to his boss, Man Wol.  
From driving her around in her posh cars to accompanying her to her favourite restaurants, Chan Song has to stay by his boss' side almost 24/7 – it's no wonder a romantic relationship developed over the course of 16 episodes. 
---
5. The Beauty Inside (2018)
---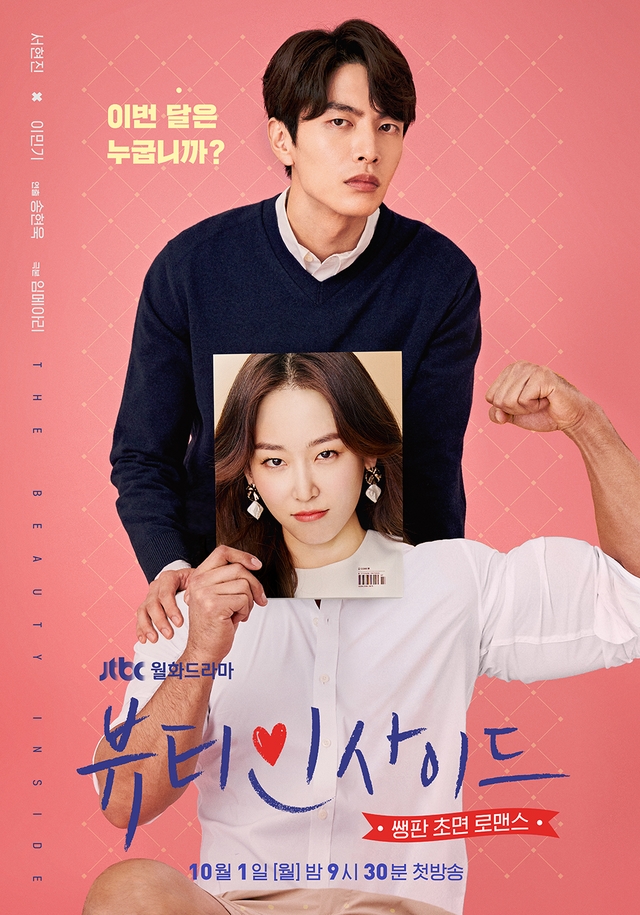 Image credit: JTBC
Main Cast:
Seo Hyun Jin as Han Se Gye

Lee Min Ki as Seo Do Jae
Han Se Gye, a top actress who's well-known for creating trouble, is actually hiding a secret: every month, she turns into a different person for a week, literally. 
On the other hand, Seo Do Jae is an executive director of T-way – a fictional South Korean airline company – who suffers from face blindness. As he recognises her beyond her looks, they're able to connect on a deeper level and eventually fall in love.
---
6. While You Were Sleeping (2017)
---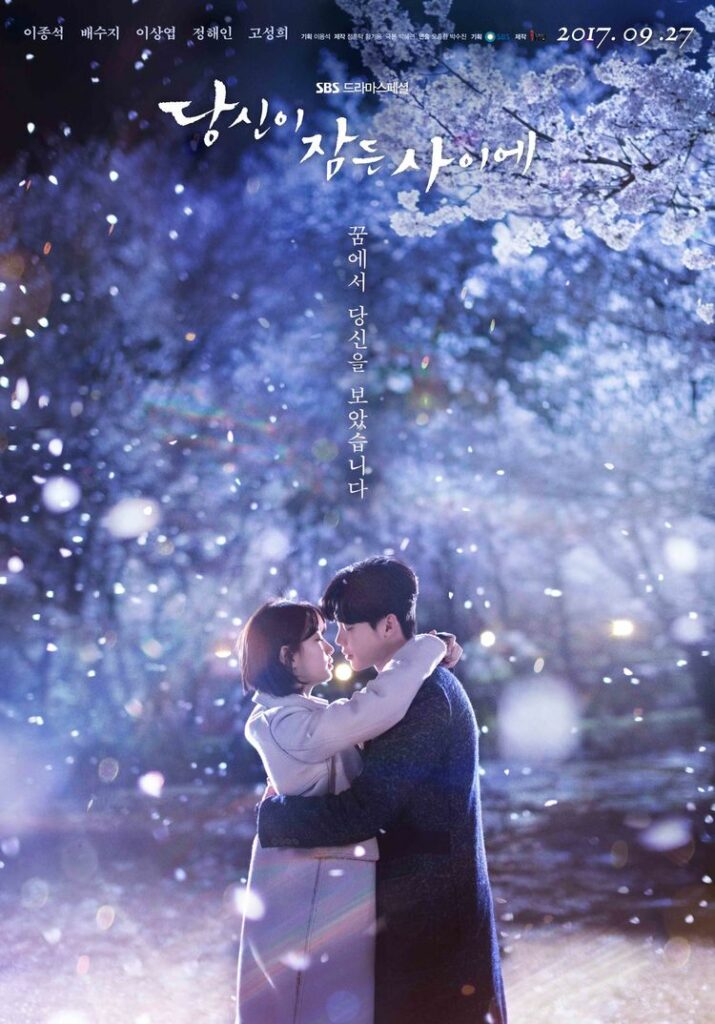 Image credit: SBS
Main Cast:
Lee Jong Suk as Jung Jae Chan

Bae Suzy as Nam Hong Joo 
Those who prefer a bit of suspense and action amidst all the lovey dovey scenes that come with a romance drama should check out While You Were Sleeping. 
Nam Hong Joo dreams about people's deaths, but she doesn't know when these deaths will actually take place. While she goes out of her way to save these people, such as telling a man that he shouldn't smoke because she dreamt of him dropping a lighter onto gasoline, resulting in his death, she rarely succeeds. 
Meanwhile, rookie prosecutor Jung Jae Chan moves in as her neighbour. A series of events unravels and leads to them working together on future cases. But keep a lookout as their working chemistry unknowingly turns into a romantic one. 
---
7. Goblin (2016)
---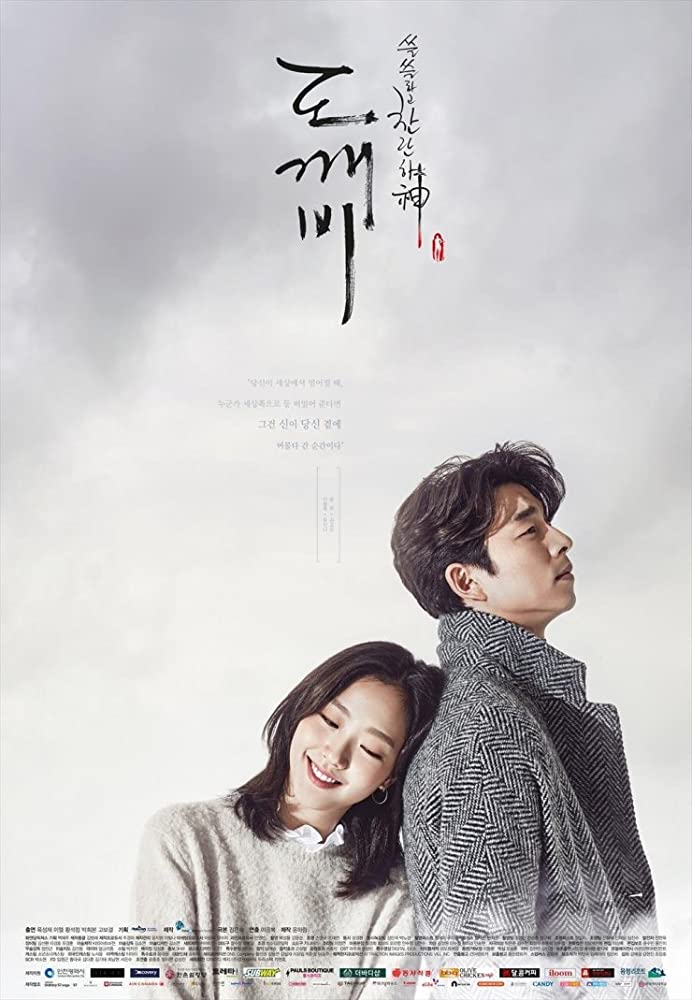 Image credit: IMDb
Main Cast:
Gong Yoo as Goblin (Kim Shin)

Kim Go Eun as Ji Eun Tak

Lee Dong Wook as Grim Reaper (Wang Yeo)

Yoo In Na as Sunny (Kim Sun)

Yook Sung Jae as Yoo Deok Hwa
If there's 1 Korean actor that has stood the test of time, it's Gong Yoo, with his acclaimed acting skills and attractive physique. On top of starring in Train to Busan, the highest-grossing Korean film in 2016, he also finished off the year with yet another unforgettable drama, Goblin. 
This drama follows Kim Shin, a well-respected Goryeo dynasty general who was accused of treason and subsequently executed. To atone for the number of people he has killed on the battlefield, the almighty cursed him with immortality, so that he will experience the pain of seeing his loved ones leaving his side time and time again. 
The only way to undo this curse is to have his destined wife, Ji Eun Tak, remove the sword that's still in his chest. But they realise that they have to do more than that to guarantee a happily ever after.
---
8. Legend Of The Blue Sea (2016)
---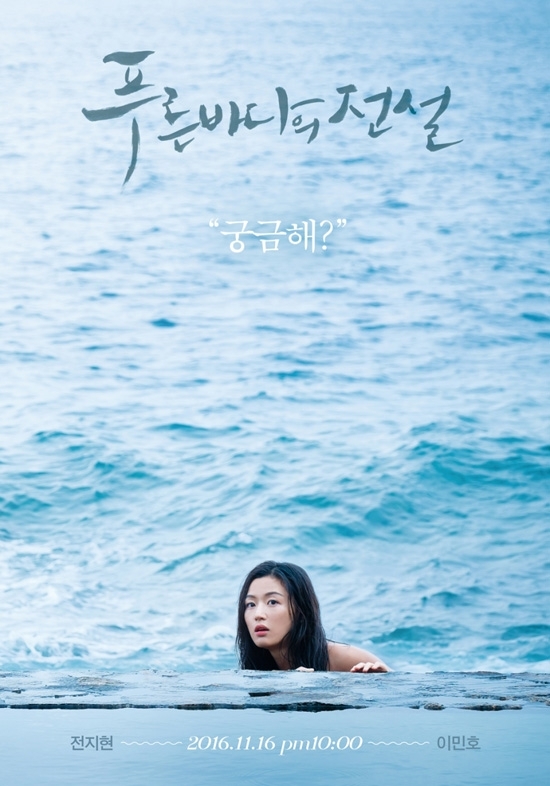 Image credit: IMDb
Main Cast:
Jun Ji Hyun as Shim Cheong

Lee Min Ho as Heo Joon Jae
In this fantasy drama, a pair of ill-fated lovers in the Joseon era find themselves reincarnated and reunited in the present. 
Heo Joon Jae, the heir of a rich businessman-turned-conman, was hiding out in Spain when he came across a mermaid, whose name was inspired by Shim Cheong, a character from a Korean legend.  
As she tries to adapt to a new way of life on land while living with Joon Jae, a romantic relationship starts to take off and they once again have to overcome the same fate which tore them apart in their past lives. 
---
9. My Love From The Star (2013)
---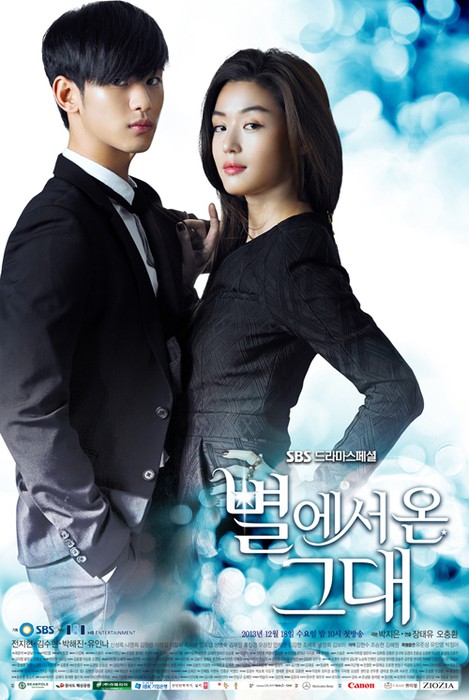 Image credit: SBS
Main Cast:
Jun Ji Hyun as Cheon Song Yi

Kim Soo Hyun as Do Min Joon

Park Hae Jin as Lee Hee Kyung 

Yoo In Na as Yoo Se Min
Romantic dramas are sure to get us feeling all warm and fuzzy, but for those who prefer one that's packed with funny moments, this drama will give you the best of both worlds. 
Do Min Joon is an alien with a flawless appearance and possesses superpowers such as teleportation and enhanced vision, just to name a few. He has been stranded on Earth since the Joseon era as he missed his trip back to space after trying to protect a girl from a mishap. 
Not long before his long-awaited return, his life takes a detour as Cheon Song Yi, a Hallyu star, moves into his apartment building and becomes his neighbour. As feelings start to blossom between both, Min Joon's return is met with delays.
---
– School – 
---
10. Cheer Up (2022) 
---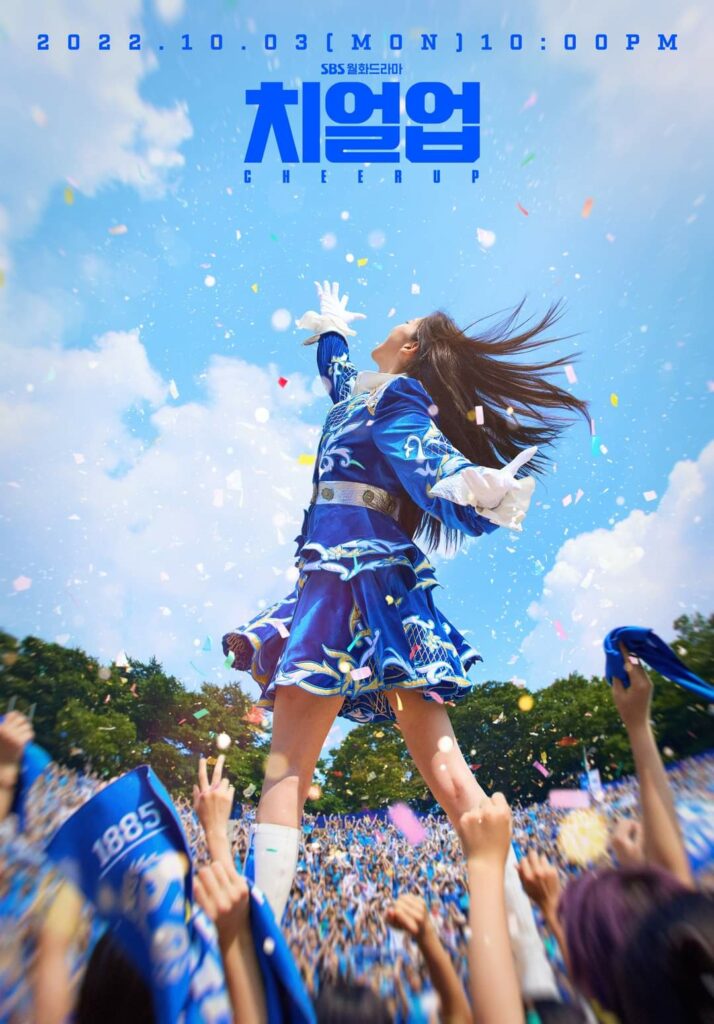 Image credit: SBS 
Main Cast:
Han Ji Hyun as Do Hae Yi

Bae In Hyuk as Park Jung Woo

Kim Hyun Jin as Jin Sun Ho

Jang Gyu Ri as Tae Cho Hee
Cheer Up revolves around a cheer squad in university where romance blooms and friendships are forged.
Do Hae Yi's drive in life is to support her family by making ends meet. Coming from a poor family, Hae Yi is perpetually faced with the reality of financial worries, and she has no choice but to work and study at the same time.
In the midst of her mundane university life, Hae Yi takes a leap of faith and joins the cheer squad in the hopes of earning more money. But little does she know that her time with the cheer members will bring some of the most challenging yet cherished memories.
---
11. Melancholia (2021)
---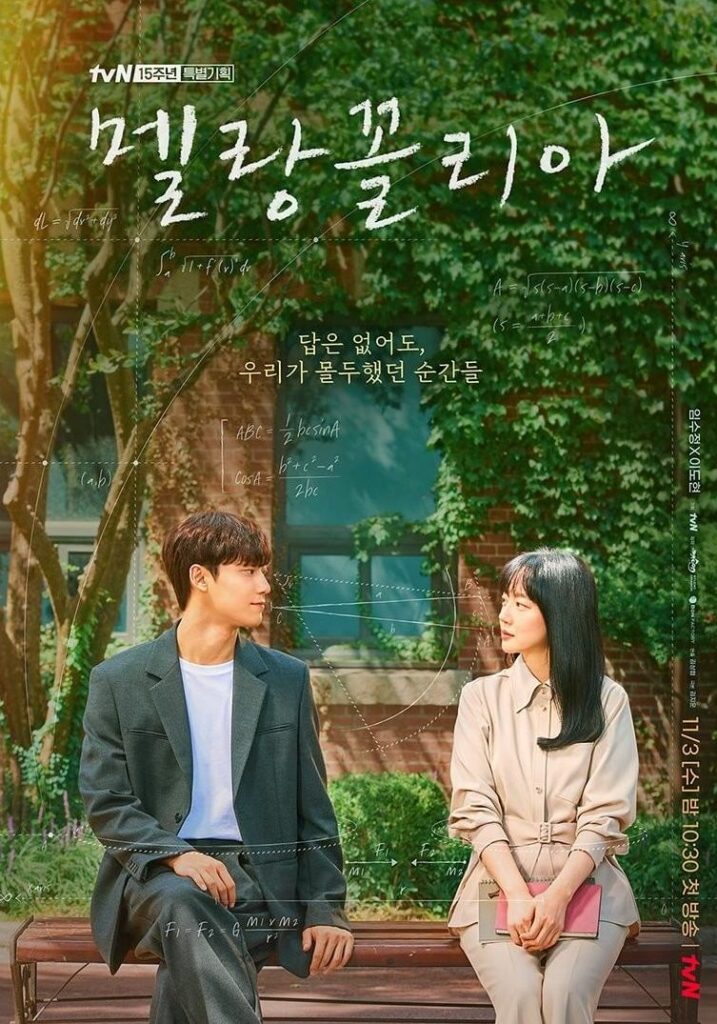 Image credit: tvN
Main Cast: 
Im Soo Jung as Ji Yoon Soo

Lee Do Hyun as Baek Seung Yoo
Seung Yoo is a maths prodigy who sees the world through numbers, but his dream of becoming a brilliant mathematician is shattered due to a traumatic incident. He then meets Yoon Soo, a kind-hearted and competent maths teacher, at a private high school.
Yoon Soo sees potential in her student, and she is determined to groom Seung Yoo by helping him overcome his trauma. 
However, a scandal involving the two protagonists spreads like wildfire within the school. Eventually, Yoon Soo is arrested by the police for interrogation. Amidst the chaos and finger pointing, Seung Yoo promises her that he will shed light on the truth.
Check out our review of Melancholia here. 
---
12. At A Distance, Spring Is Green (2021)
---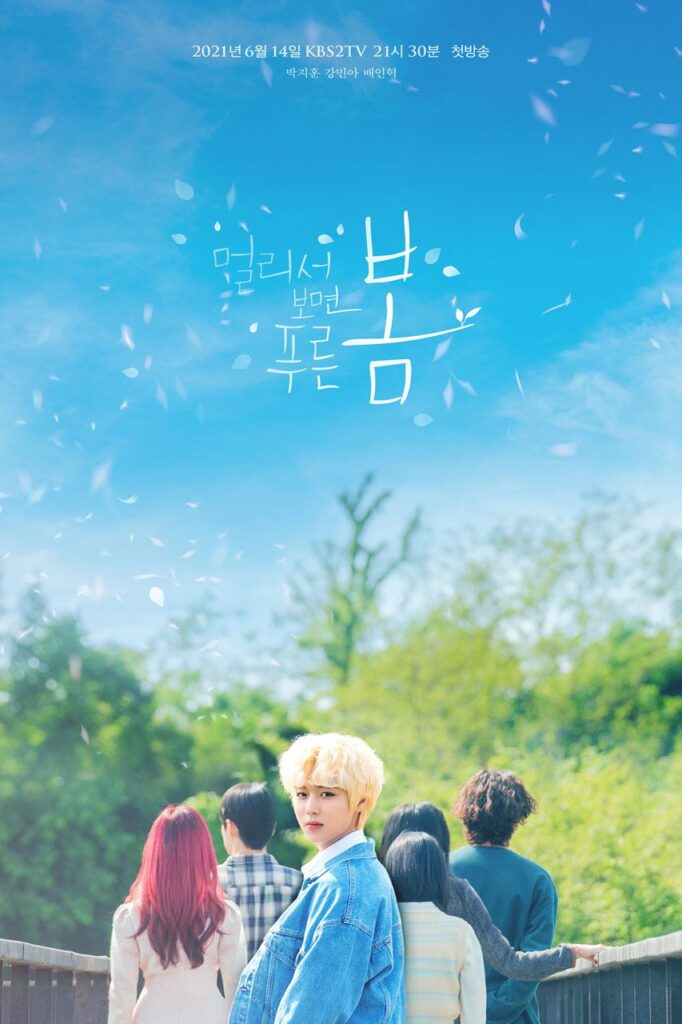 Image credit: KBS2 
Main Cast: 
Park Ji Hoon as Yeo Joon

Kang Min Ah as Kim So Bin

Bae In Hyuk as Nam Soo Hyun
Set in a university, At A Distance, Spring Is Green follows the coming-of-age story of 3 university students.
Yeo Joon has it all – or so it seems. Not only does he come from an affluent family, but he's also popular and sought-after in school. But his picture-perfect life is shadowed by his internal conflicts that remain bottled up until he meets Kim So Bin and Nam Soo Hyun.
Check out our review of At A Distance, Spring Is Green here. 
---
13. Love Alarm (2019)
---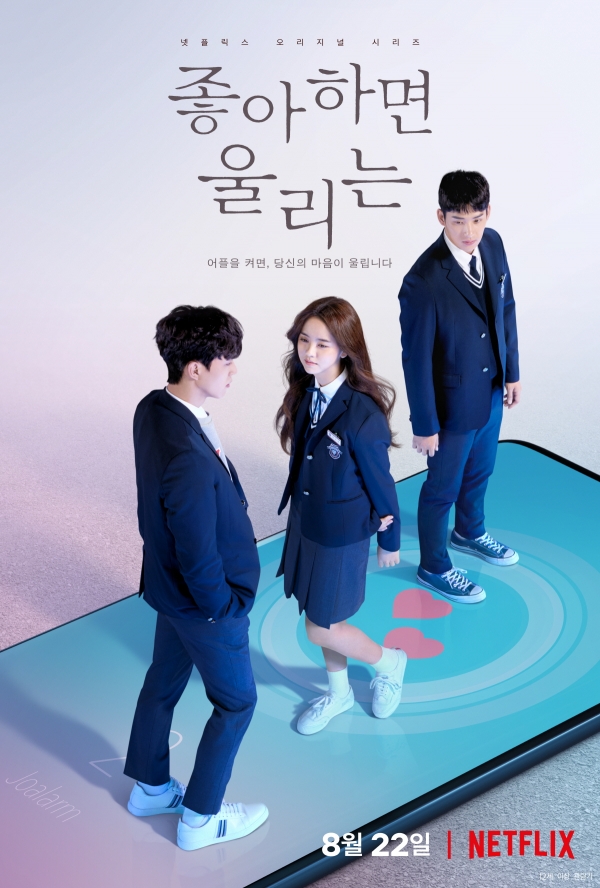 Image credit: Netflix
Main Cast:
Kim So Hyun as Kim Jo Jo

Song Kang as Hwang Sun Oh

Jung Ga Ram as Lee Hye Young 
Joalarm is a mobile app that pings when an admirer is within a 10-metre radius of you. It shows the number of people who're interested in you, but does not reveal any of their personal details. 
The launch of the app sparks a lot of commotion around school, and the leads soon find themselves caught in a complicated love triangle which they have to resolve on their own. 
---
14. At Eighteen (2019)
---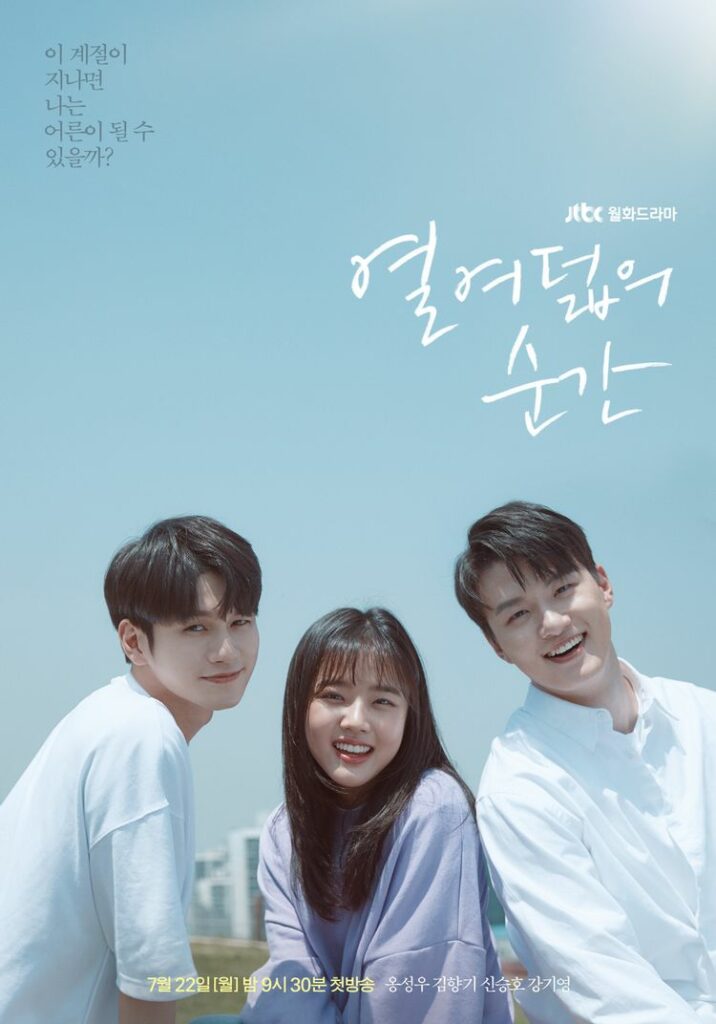 Image credit: JTBC
Main Cast:
Ong Seong Wu as Choi Jun Woo

Kim Hyang Gi as Yu Soo Bin

Shin Seung Ho as Ma Hwi Young
At Eighteen focuses on the day-to-day stories of high school students who are getting ready to transition into adulthood.
Choi Jun Woo never lets his guard down as a result of going through school violence in his previous school. Despite being transferred to a new environment, Jun Woo finds it challenging to assimilate and adapt to his high school life. 
Just when he thought he could live a quiet life, Jun Woo is accused of theft by his classmates. While everyone points fingers at him, Yu Soo Bin sees Jun Woo in a different light as she believes that there's more to him than meets the eye. 
---
15. Weightlifting Fairy Kim Bok Joo (2016)
---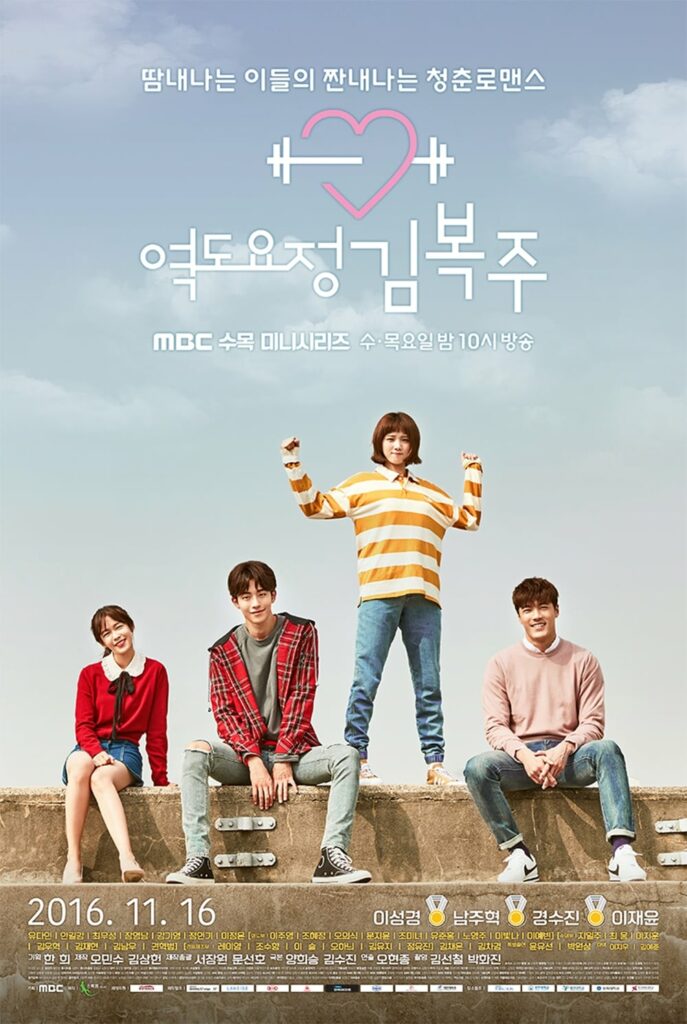 Image credit: MBC 
Main Cast:
Lee Sung Kyung as Kim Bok Joo

Nam Joo Hyuk as Jung Joon Hyung
A collegiate weightlifter, Kim Bok Joo, and a collegiate swimmer, Jung Joon Hyung, used to be childhood friends, but neither of them recognises each other when they meet again at Haneul Sport University.
However, after a few incidents and misunderstandings, the pair reunites and finds love in each other. 
While K-dramas tend to have actors and actresses who adhere to strict K-beauty standards, this drama sets out to break such conventions. Instead of the usual slender figure and sharp jawline, Lee Sung Kyung plays a bulky weightlifter who proves that she's worthy of being loved. 
---
16. Who Are You: School 2015 (2015)
---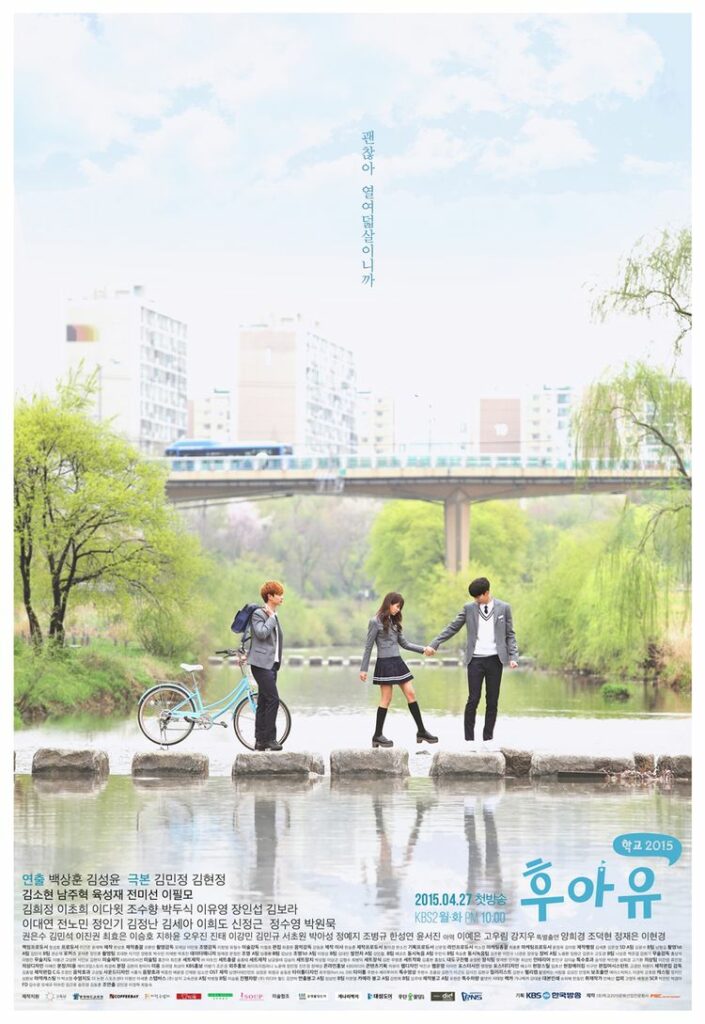 Image credit: KBS2
Main Cast:
Kim So Hyun as Lee Eun Bi / Go Eun Byul 

Nam Joo Hyuk as Han Yi An

Yook Sung Jae as Kong Tae Gwang
Who Are You: School 2015 is the epitome of a school romance with the indispensable love triangle trope and journey to finding one's identity.
Lee Eun Bi and Go Eun Byul are twins, but they live completely different lives after being separated at birth. While Eun Byul attends the most prestigious high school and gets fed and dressed only with the best, Eun Bi grows up in an orphanage and becomes a victim of school violence.
However, Eun Bi sees a ray of hope when her twin sister goes missing out of the blue, and she's forced to live in Eun Byul's shoes. Now that she has stability and popularity, Eun Bi seizes the opportunity to seek revenge for her traumatic school bullying experience. 
As she gets closer to Eun Byul's classmates, Han Yi An and Kong Tae Gwang, she finds herself stuck at a crossroad between friendship and romance.
---
– Historical – 
---
17. Lovers Of The Red Sky (2021) 
---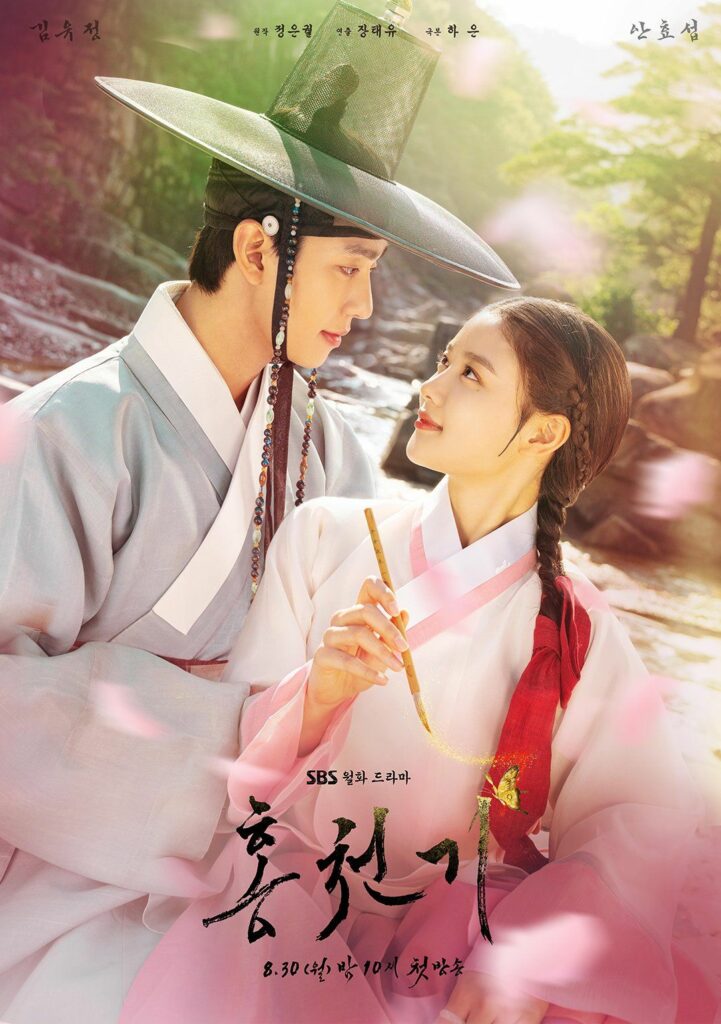 Image credit: SBS
Main Cast: 
Kim Yoo Jung as Hong Chun Gi

Ahn Hyo Seop as Ha Ram

Gong Myung as Prince Yang Myung / Yi Yul

Kwak Si Yang as Prince Joo Hyang / Yi Hu
Set during the Joseon Dynasty, a gifted painter by the name of Hong Chun Gi enrols in the prestigious Royal Academy of Painting. She's not only a talented painter, but also a miracle – she regains her sense of sight despite being born blind. 
Ha Ram, an astrologer whose fate is the complete opposite of Chun Gi, has a special visionary ability despite losing his sight due to an accident. One day, Chun Gi encounters Ha Ram, and he sweeps her off her feet.
However, their relationship is not plain sailing as they become embroiled in a plot involving Prince Yang Myung and Prince Joo Hyang. 
---
18. The King's Affection (2021)
---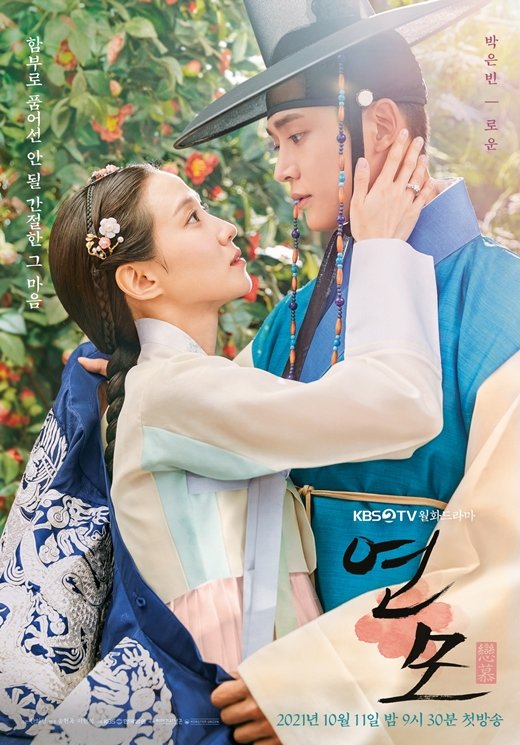 Image credit: @kbsdrama
Main Cast: 
Park Eun Bin as Lee Hwi

Ro Woon as Jung Ji Woon

Nam Yoon Su as Lee Hyun

Choi Byung Chan as Kim Ga On

Bae Yoon Kyung as Shin So Eun
The Crown Prince is devastated when he finds out that his wife is pregnant with twins as they are a symbol of curse to the royal family. The Crown Prince orders the twin girl to be killed, while he spares the twin boy.
Upon hearing the command, the Crown Prince's wife successfully comes up with a discreet plan to save her daughter. 
A few years later, the twin boy – Lee Hwi – falls sick and dies. In order to hide the truth about his death, the twin girl takes his position. She is raised as Prince Lee Hwi, and she conceals her true identity from the public at all costs.
---
19. Rookie Historian Goo Hae Ryeong (2019)
---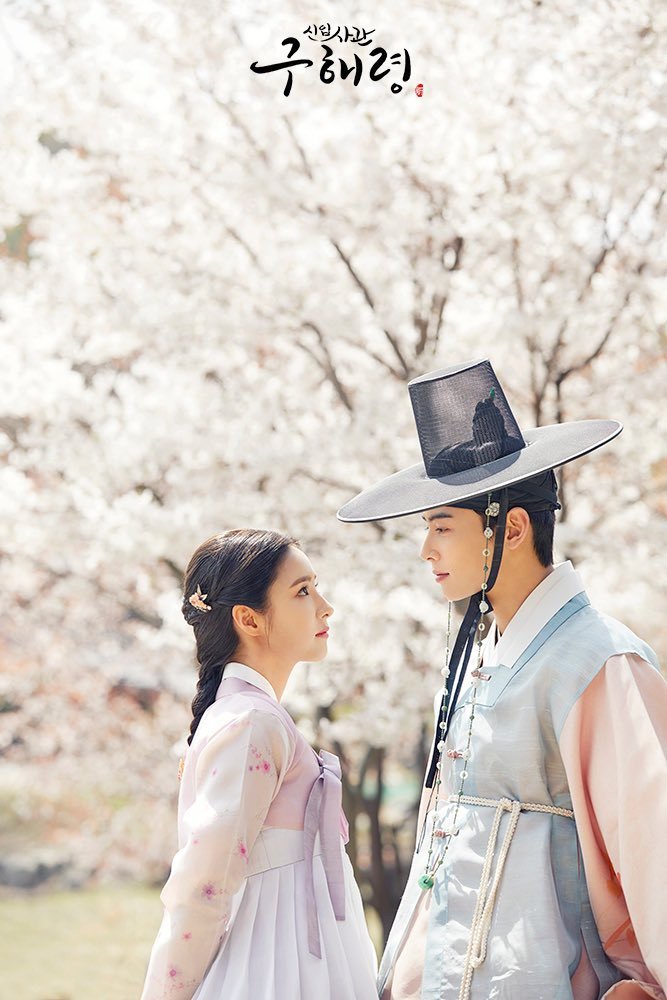 Image credit: MBC
Main Cast:
Shin Se Kyung as Goo Hae Ryung 

Cha Eun Woo as Prince Yi Rim
Rookie Historian Goo Hae Ryeong is set in the 19th century, a period of unyielding Confucianism and strict gender roles.
Goo Hae Ryung has big dreams of becoming a historian, and she doesn't just sit around and wait for her aspirations to come true. Instead, she takes action and fights for opportunities. On the other hand, Prince Yi Rim, who is born into a wealthy and educated family, leads a completely different life from Hae Ryung's turbulent one. 
Upon hearing the news that the government is looking for historians, Hae Ryung steps foot into the royal court in the hopes of getting the job. There, she meets Prince Yi Rim for the first time. Over time, as their relationship develops, she finds out a secret about him that has never been divulged. 
---
20. 100 Days My Prince (2018)
---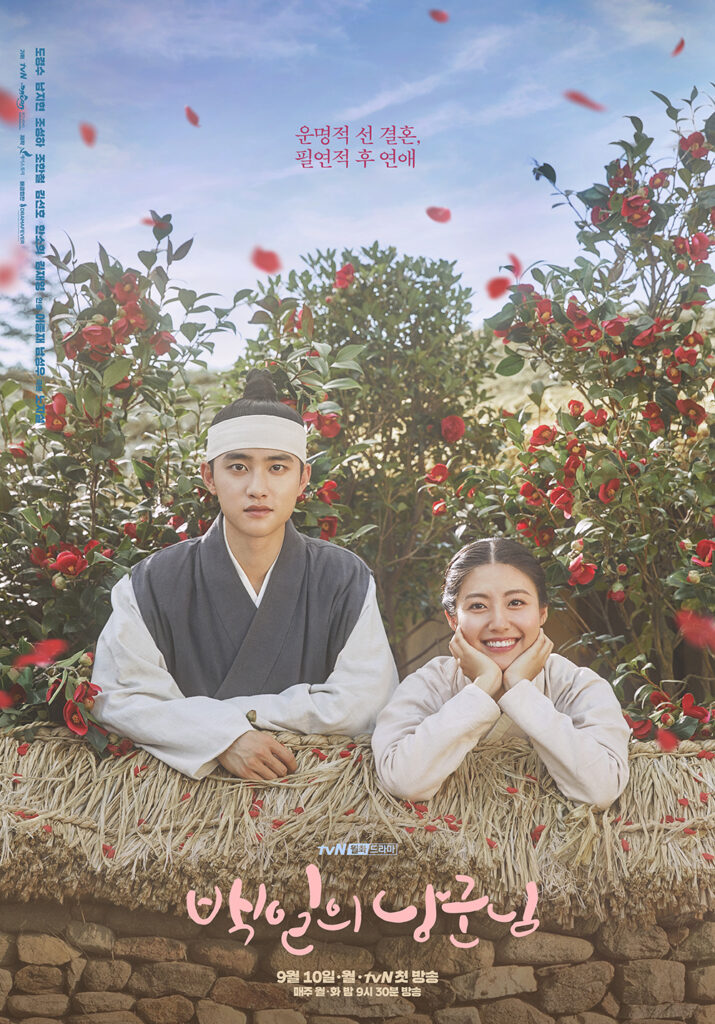 Image credit: tvN
Main Cast:
Do Kyung Soo as Prince Lee Yul / Na Won Deuk

Nam Ji Hyun as Hong Shim / Yoon Yi Seo

Kim Seon Ho as Jung Jae Yoon

Han So Hee as Kim So Hye
On the surface, Prince Lee Yul appears to be indifferent and emotionless with no regard for the people around him. However, he struggles with loneliness as has no one to rely on. After much consideration, Prince Lee Yul enacts a law that requires every citizen to tie the knot before they're 28 years old.
One day, he becomes severely wounded. Hong Shim and her father take him in and care for his injury. Although he gradually regains health, he experiences a temporary loss of memory that causes him to shirk his responsibilities as a Crown Prince for the next 100 days. 
This could be a blessing in disguise as Prince Lee Yul sets out to explore the world freely for the first time in his life. He also falls in love with Hong Shim and asks her to marry him.
---
21. Love in the Moonlight (2016)
---

Image credit: KBS
Main Cast:
Park Bo Gum as Lee Young

Kim You Jung as Hong Ra On
In this historical drama, Hong Ra On crossdresses as a man and makes a living by providing love advice to her clients. While writing a love letter for one of her clients, she comes across the Crown Prince, Lee Young. 
After a series of events, Ra On finds herself passing off as a eunuch-to-be in the palace, and a forbidden love story begins to unfold between the prince and the eunuch.
---
22. Moon Lovers: Scarlet Heart Ryeo (2016)
---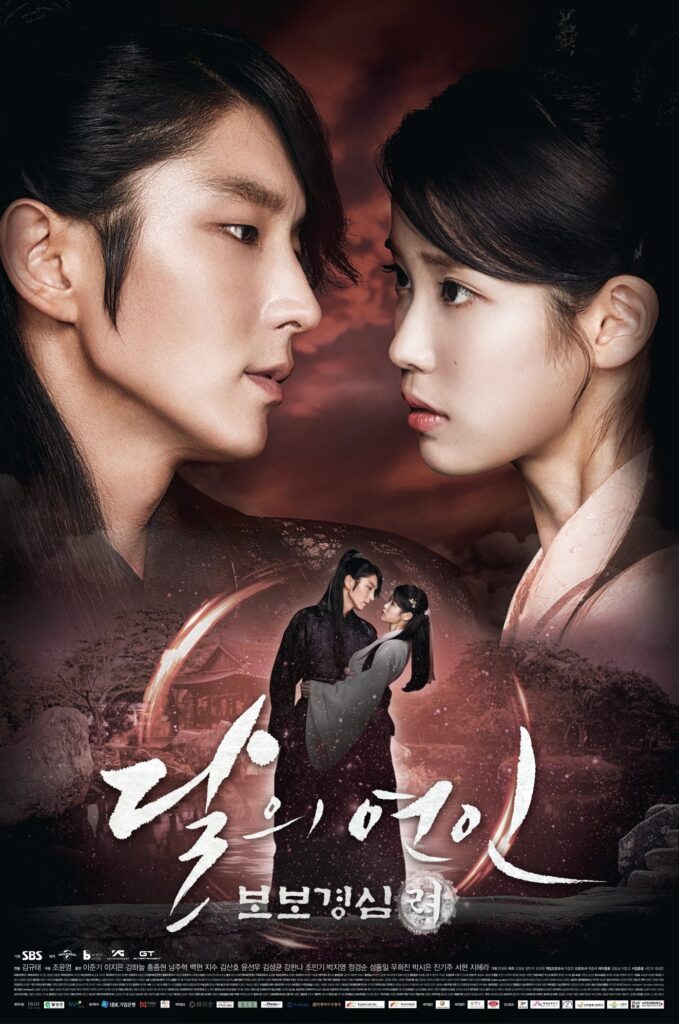 Image credit: SBS
Main Cast:
Lee Joon Gi as Wang So

Lee Ji Eun (IU) as Go Ha Jin / Hae Soo

Kang Ha Neul as Wang Wook 
If you ever wondered why fans were squealing with excitement when Lee Joon Gi made a special cameo in Hotel Del Luna, it's because Joon Gi and IU's relationship goes way back to 2016, when they co-starred in Moon Lovers: Scarlet Heart Ryeo.
When a total solar eclipse happens in the present, Go Ha Jin gets transported back to the Goryeo dynasty, where she takes on the identity of Hae Soo. 
Unlike the 4th prince Wang So, who has people fearing the sight of him, the 8th prince Wang Wook is kind-hearted and caring, which explains why Hae Soo falls in love with him at first. As the plot unfolds, Hae Soo has a change of heart and finds herself caught in the middle as the two princes fight over the throne.
---
– Healing –
---
23. Our Blues (2022) 
---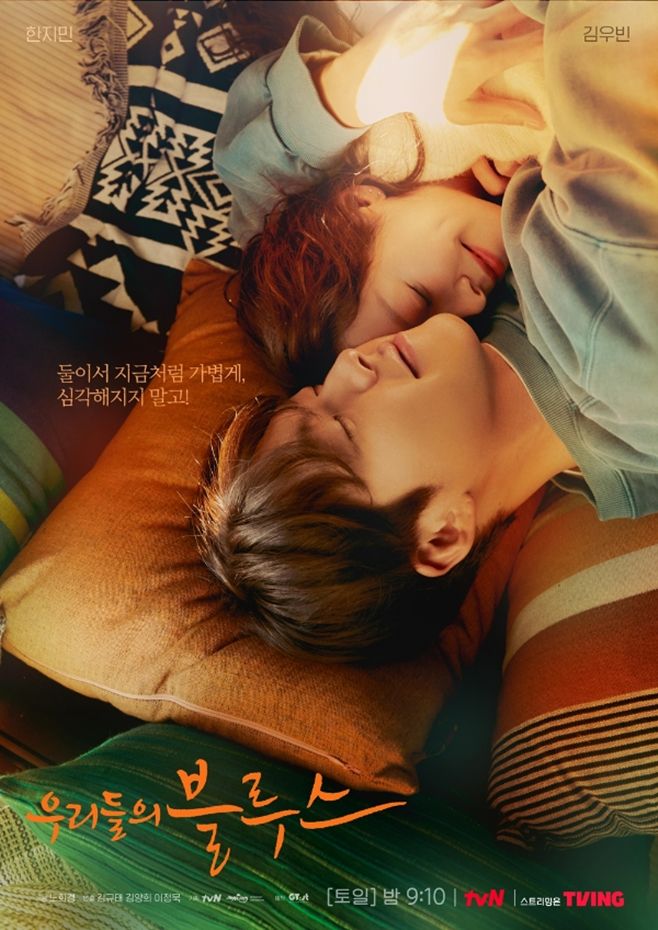 Image credit: tvN 
Main Cast:
Lee Byung Hun as Lee Dong Seok

Shin Min Ah as Min Sun Ah

Kim Woo Bin as Park Jung Joon

Han Ji Min as Lee Young Ok

Cha Seung Won as Choi Han Soo

Lee Jung Eun as Jung Eun Hee
Set in Jeju, Our Blues is a K-drama with an interesting concept as there is no single main character in it. Instead, the story revolves around 6 individuals who come from all walks of life. 
To Min Sun Ah, Jeju is a place of new opportunities and a chance to start afresh after living in the bustling Seoul. Lee Dong Seok, who has spent years selling trucks on the island, finds his repetitive life coming to a halt when he encounters Sun Ah. 
Park Jung Joon, who has grown up in Jeju, sees the island as his home and never intends to leave. He catches feelings for Lee Young Ok, a female diver who spends most of her time in the sea. 
Jung Eun Hee runs a fish store on the island. One day, she crosses path with Choi Han Soo, who used to be the love of her life. After the chance meeting, they face the dilemma of whether they should start over again.
---
24. You Are My Spring (2021)
---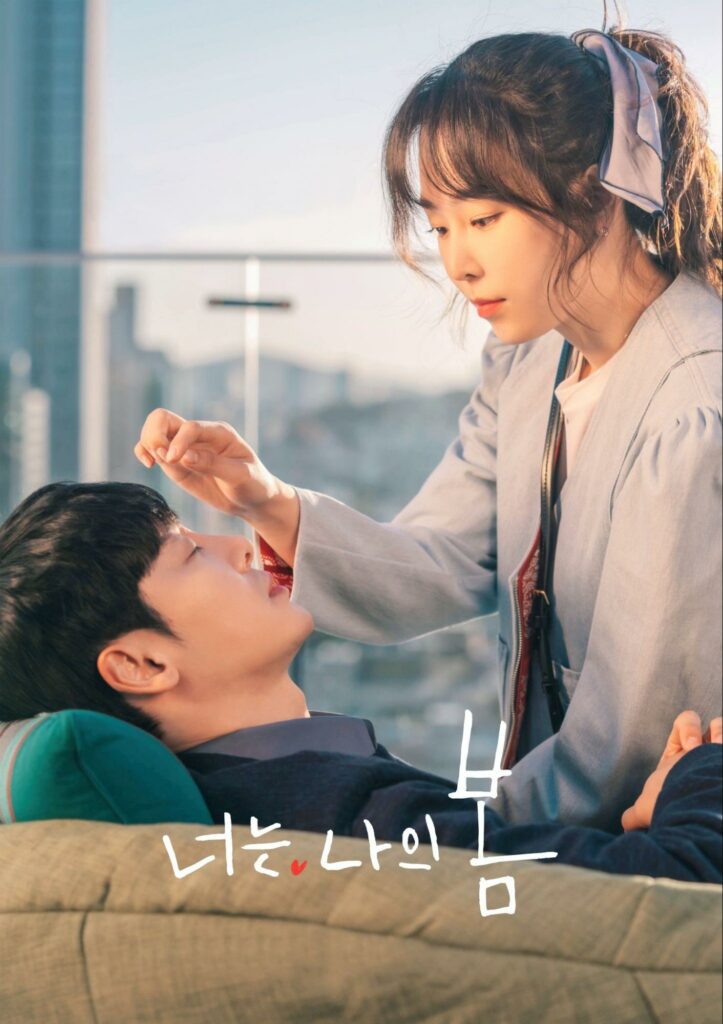 Image credit: tvN 
Main Cast:
Seo Hyun Jin as Kang Da Jung

Kim Dong Wook as Joo Young Do
You Are My Spring is centred on 2 protagonists who learn to grow and heal from their past trauma.
Kang Da Jung is striking the iron while it's hot at her 5-star hotel job to advance her career. Despite her young age and lack of experience, she gets promoted within a short period of time. But growing up, she has never had a healthy relationship with her parents. Even as an adult, she struggles to bridge the familial distance. 
Joo Young Do is a competent psychiatrist who puts the needs of his patients before his own struggles. His pain stems from a place of guilt as he blames himself for not being able to prevent his younger brother's death.
When Da Jung and Young Do get embroiled in a murder case, they unexpectedly learn to comfort and depend on each other. 
---
25. When The Camellia Blooms (2019) 
---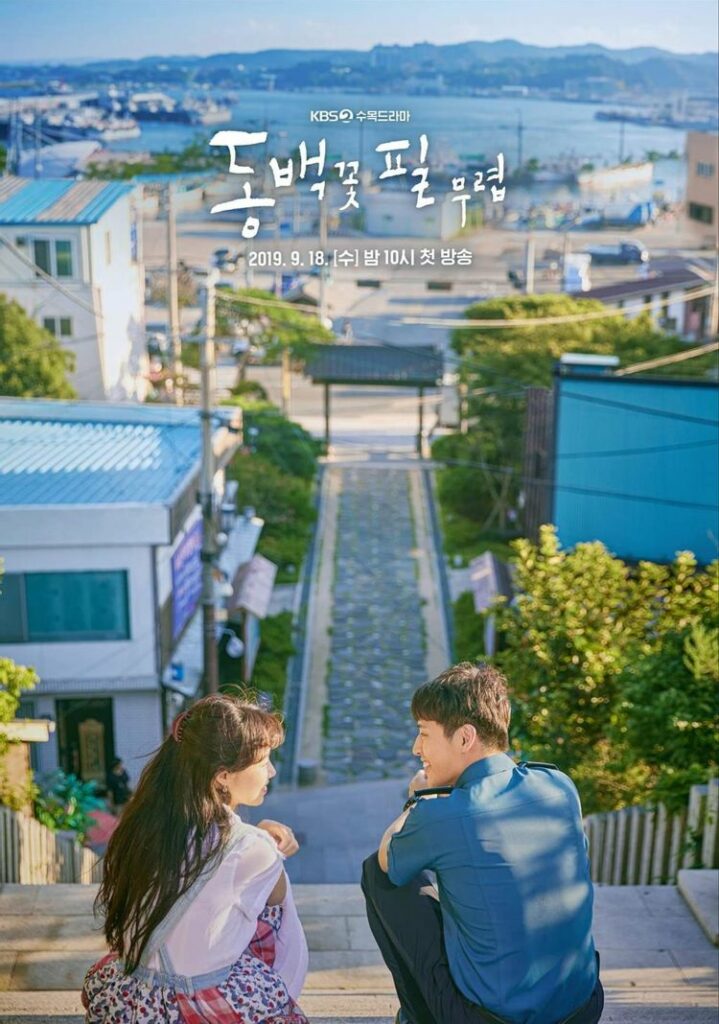 Image credit: KBS2
Main Cast:
Gong Hyo Jin as Oh Dong Baek

Kang Ha Neul as Hwang Yong Shik
Known as one of the most popular 2019 K-dramas, When The Camellia Blooms follows Oh Dong Baek, a single mother raising her child in a small town.
To make ends meet for her son, Dong Baek runs a bar. However, her serene days in the small town come to an end when a serial killer lurks in the neighbourhood. 
---
– Workplace –  
---
26. Dr. Romantic 2 (2020)
---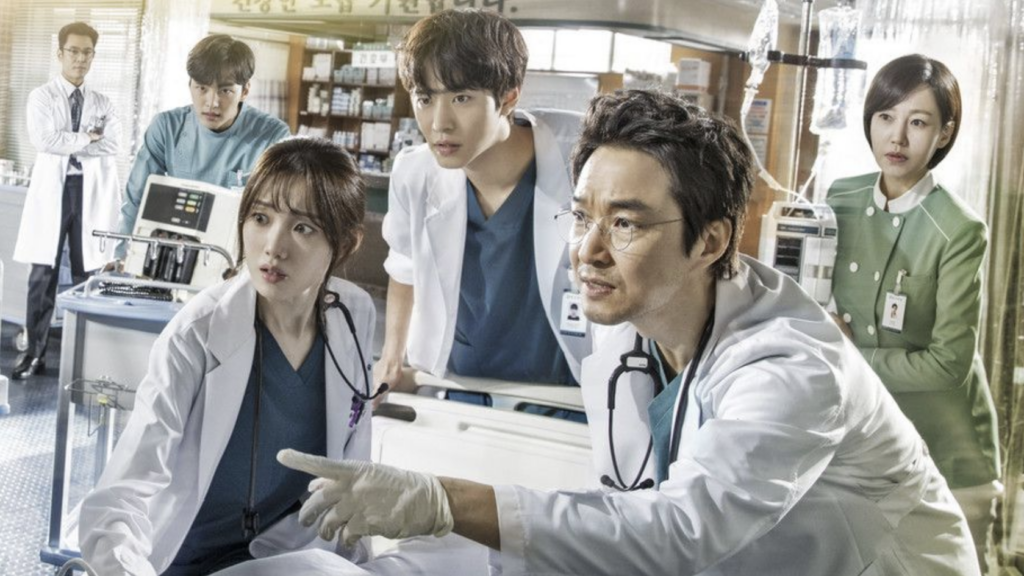 Image credit: SBS
Main Cast:
Han Suk Kyu as Master Kim

Ahn Hyo Seop as Seo Woo Jin

Lee Sung Kyung as Cha Eun Jae
A sequel to 2016's Dr Romantic, this drama follows the story of Master Kim, who heads the medical team at Doldam Hospital, a countryside hospital with minimal medical facilities and staff. 
In need of an extra helping hand around the hospital, he heads to Geosan University Hospital in search of a general surgeon and comes across Seo Woo Jin, a doctor disliked by his colleagues for whistleblowing his senior's misconduct. 
Woo Jin takes up Master Kim's offer and heads to Doldam Hospital, only to meet Cha Eun Jae, a top medical school graduate who was recently suspended from her duties at Geosan University Hospital. 
Follow this medical team led by Master Kim as they serve in the frontline to help patients caught in life and death situations. 
---
27. Itaewon Class (2020)
---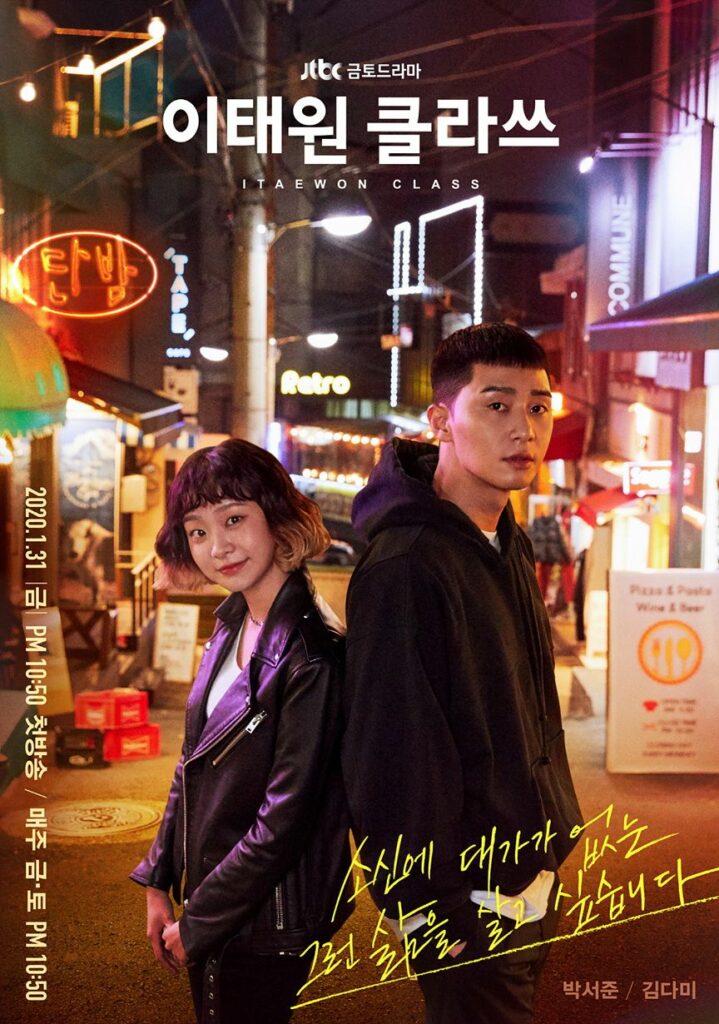 Image credit: JTBC
Main Cast:
Park Seo Joon as Park Sae-Ro-Yi

Kim Da Mi as Jo Yi Seo

Yoo Jae Myung as Jang Dae Hee

Kwon Na Ra as Oh Soo Ah
Park Sae-Ro-Yi is an upright man who can't stand injustice. When he lands himself behind bars after throwing punches at an ex-schoolmate for causing his father's death, he's determined to build his life back up by opening a bar in Itaewon upon his release. 
Follow Park Sae-Ro-Yi and his friends as they navigate their way through obstacles in life to eventually run a successful business. 
---
28. Her Private Life (2019)
---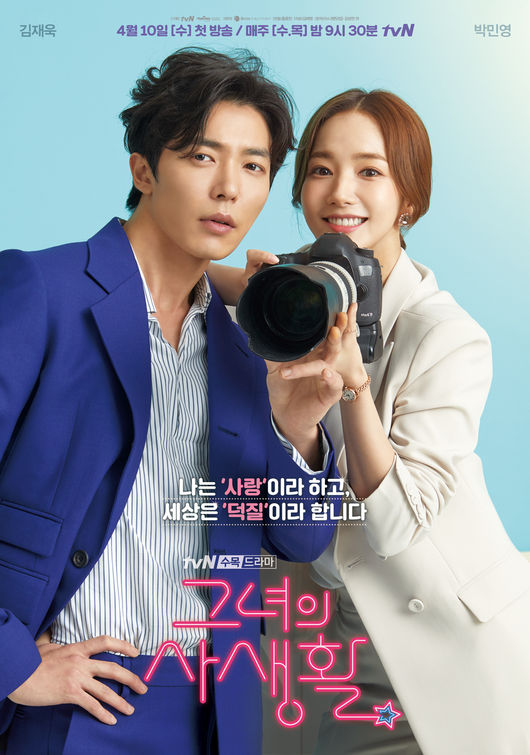 Image credit: tvN
Main Cast:
Park Min Young as Sung Deok Mi

Kim Jae Wook as Ryan Gold

Jung Jae Won as Cha Shi An 
Sung Deok Mi is a jack of all trades. Outside of her full-time job as a curator at an art museum, she's also a fansite manager. 
When the director of the art museum gets embroiled in an embezzlement scandal, Ryan Gold – a well-known artist – takes up the newly-vacated role. When Deok Mi gets caught in a dating scandal with her idol, Cha Shi An, she and Ryan decide to fake-date to keep reporters away. 
---
29. Touch Your Heart (2019)
---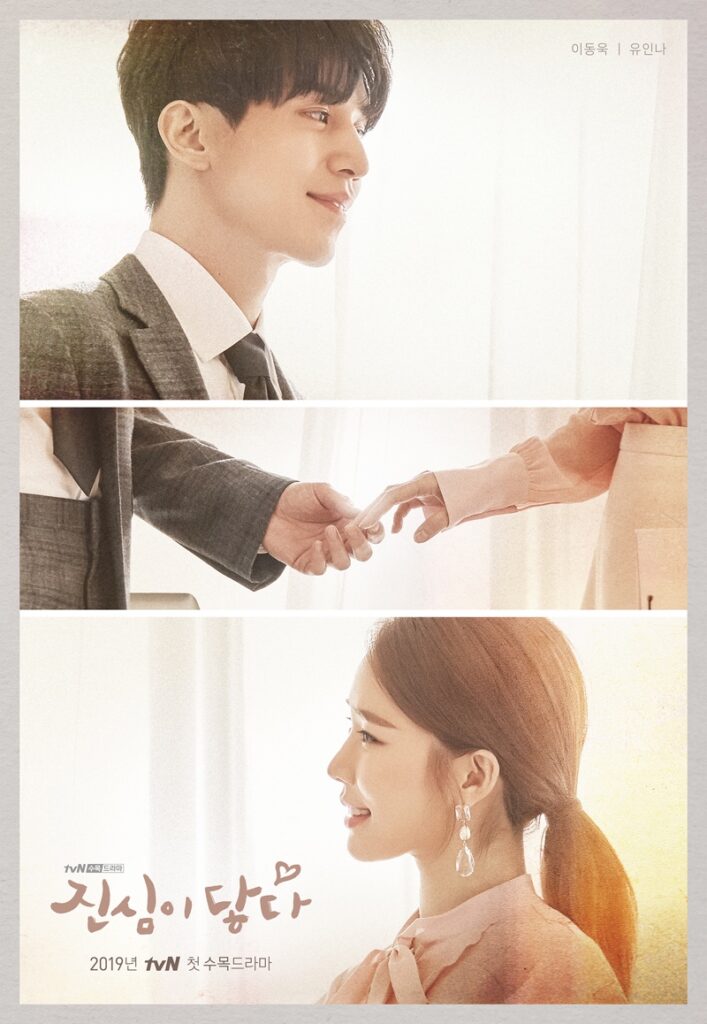 Image credit: tvN
Main Cast:
Yoo In Na as Oh Yoon Seo

Lee Dong Wook as Kwon Jung Rok
Viewers of Goblin couldn't help but feel heartbroken for both Lee Dong Wook and Yoo In Na as their ill-fated onscreen relationship didn't have a happy ending at the end of the drama. But here's a piece of good news – their fate might take a turn for the better in Touch Your Heart.
Once a top actress, Oh Yoon Seo gets caught up in a drug scandal and finds herself not landing any roles for two years. In an attempt to stand out and get herself a role in an upcoming drama, she agrees to join a law firm to gain experience and becomes Kwon Jung Rok's secretary. 
Although office relationships are highly discouraged in real-life, you can't help but root for Lee Dong Wook and Yoo In Na's characters – they just look so good together. 
---
30. What's Wrong With Secretary Kim (2018)
---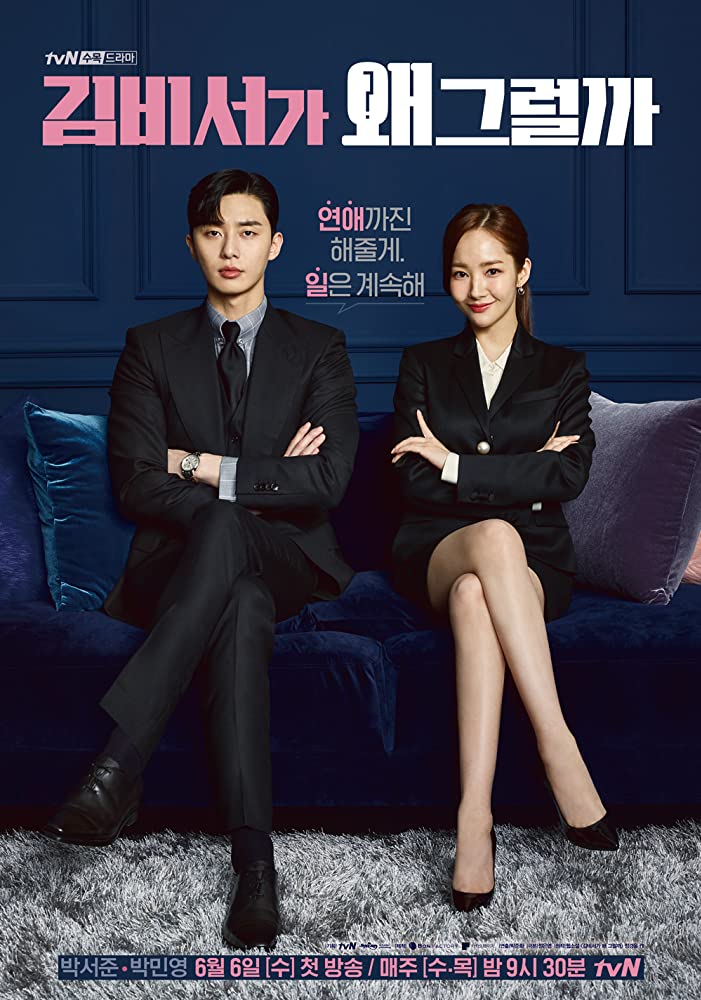 Image credit: tvN
Main Cast:
Park Seo Joon as Lee Young Joon

Park Min Young as Kim Mi So 
Lee Young Joon is a successful but arrogant vice-president of his family-run business. But when his highly competent secretary, Kim Mi So, decides to call it quits, he finds it hard to fathom why she would choose to leave the side of a perfect man like him.
While most dramas require you to be emotionally invested, this light-hearted romantic drama is a perfect feel-good option for those in need of a break. 
---
31. Clean With Passion For Now (2018)
---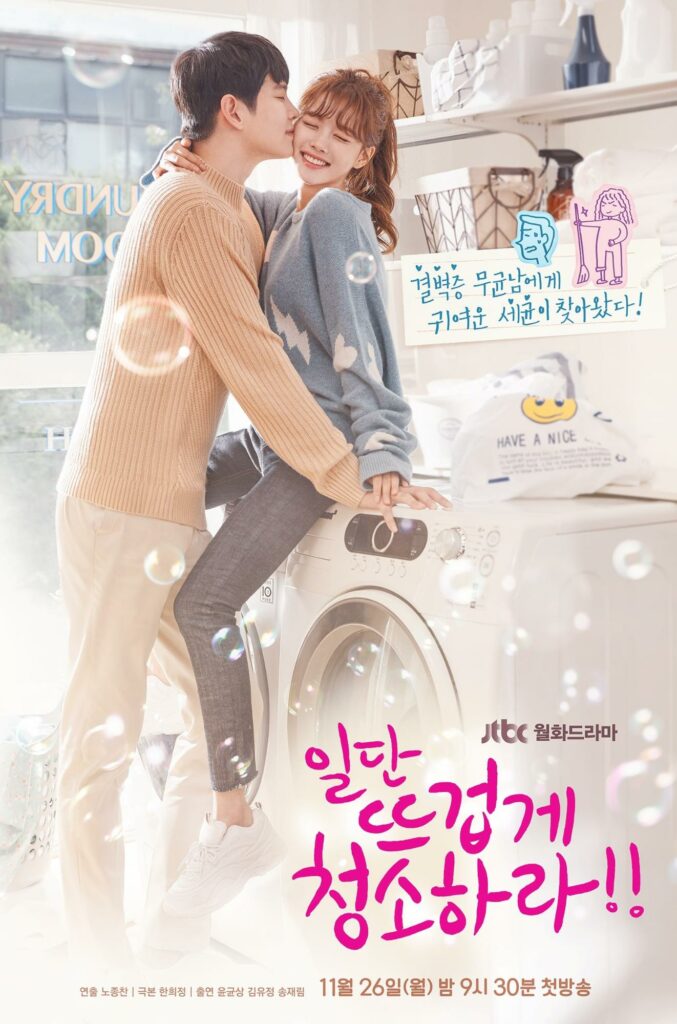 Image credit: JTBC
Main Cast:
Kim Yoo Jung as Gil Oh Sol

Yoon Kyun Sang as Jang Seon Kyul
Gil Oh Sol works for a cleaning company run by Jang Seon Kyul, who happens to suffer from an obsessive cleaning disorder. 
As both characters are very different when it comes to the standards of their personal hygiene, this often leads to onscreen squabbles that are sure to keep you invested to see how their relationship eventually unfolds. 
---
32. Strong Woman Do Bong Soon (2017)
---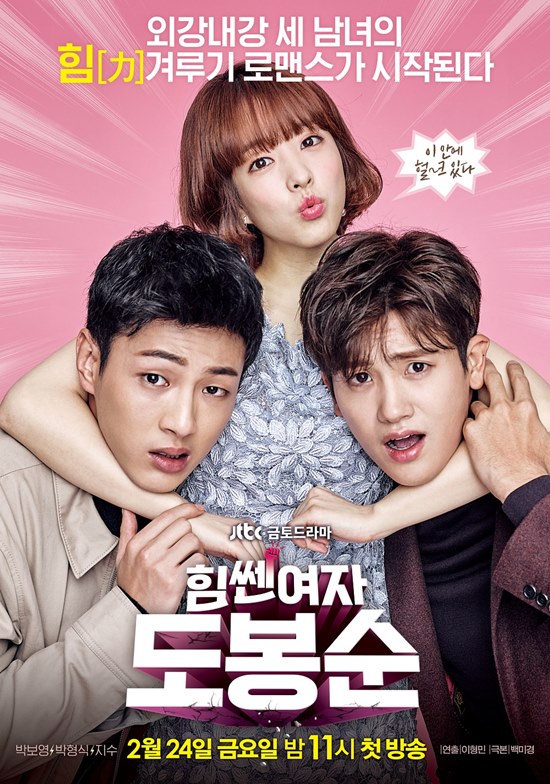 Image credit: JTBC
Main Cast:
Park Bo Young as Do Bong Soon

Park Hyung Sik as An Min Hyuk

Ji Soo as In Kook Doo
Do Bong Soon in Strong Woman Do Bong Soon is not only outgoing but also physically strong with her inherited superhuman strength. 
One day, she comes across a group of thugs and easily deals with them without breaking a sweat. The scene is witnessed by Ahn Min Hyuk, the boss of a gaming company known as Ainsoft. He's impressed by her fighting skills and decides to hire her as his bodyguard since he's often exposed to threats. 
---
33. Oh My Ghost (2015)
---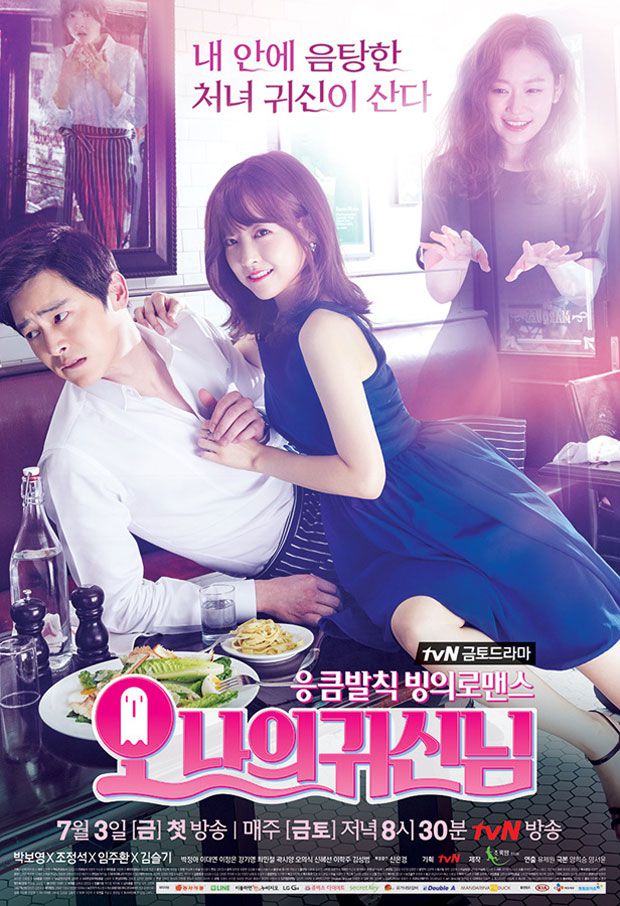 Image credit: IMDb
Main Cast:
Park Bo Young as Na Bong Sun

Jo Jung Suk as Kang Sun Woo

Kim Seul Gi as Shin Soon Ae 
While most dramas involving ghosts or anything supernatural tend to be spooky, Oh My Ghost is nothing of that sort. Instead, you can expect this romantic drama to leave you crying and laughing. 
Na Bong Sun works as an assistant chef at a restaurant owned by Kang Sun Woo, who is also the head chef. She's usually quiet and reserved, but this changes when she gets possessed by the lusty ghost of Shin Soon Ae. 
Soon Ae's daring and outgoing personality catches Sun Woo's attention, and he begins to feel an attraction towards the possessed Bong Sun. Be sure to watch till the end to find out who Sun Woo's heart belongs to – the possessed or the real Bong Sun. 
---
– Army –
---
34. Crash Landing On You (2019)
---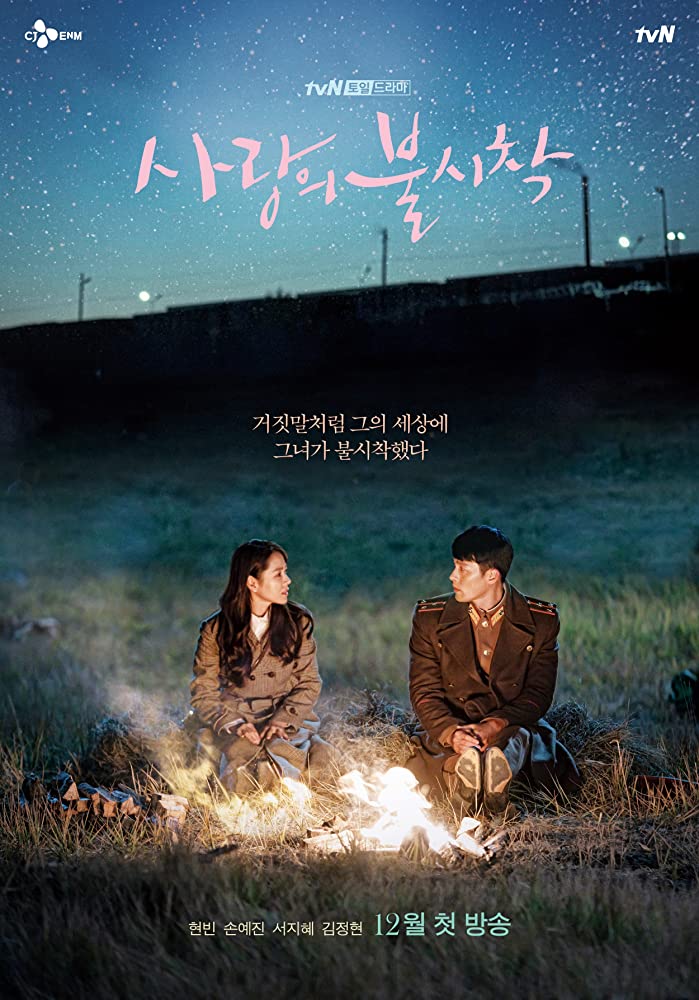 Image credit: IMDb
Main Cast: 
Hyun Bin as Ri Jeong Hyeok

Son Ye Jin as Yoon Se Ri

Kim Jung Hyun as Gu Seong Joon

Seo Ji Hye as Seo Dan 
This 2019 drama, also known as CLOY for short, needs no further introduction as it's one of the most raved-about Korean dramas to date. 
The leads' encounter may seem absurd: Yoon Se Ri, an heiress from one of South Korea's largest chaebols (conglomerates), lands in the North and meets Ri Jeong Hyeok – a North Korean military personnel – after her paragliding trip went wrong. But it's exactly these impossible circumstances that keeps viewers coming back for more.   
---
35. Descendants Of The Sun (2016)
---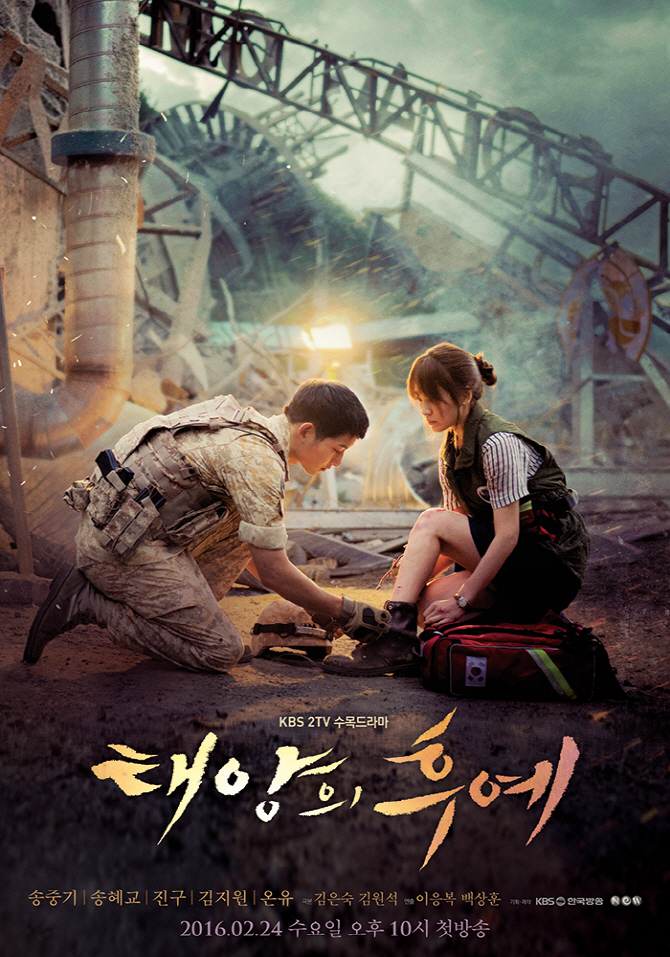 Image credit: KBS
Main Cast:
Song Joong Ki as Yoo Si Jin

Song Hye Kyo as Kang Mo Yeon

Jin Goo as Seo Dae Young

Kim Ji Won as Yoon Myung Ju
Well, you know what they say about fiction being better than reality right? Descendants Of The Sun, better known as DOTS, is a 2016 hit drama which resulted in the union of the Song-Song couple a year later. Their split in 2019 came as a shock to many, but let's not focus on reality for now.
Yoo Si Jin, a captain of the special forces, and a doctor, Kang Mo Yeon, had a brief encounter at a hospital before being mobilised on the same overseas peacekeeping mission. 
Falling in love may be easy, but keeping the relationship going with the conflicting nature of their jobs – one having to load a gun to kill enemy forces and the other having to wield scalpel to save lives – is what they have to overcome. 
---
Romantic Korean dramas that will give you the butterflies 
---
Don't let anyone tell you that you're spending too much time watching television, because there's really no reason not to when there are so many good romantic K-dramas out there. Plus, no matter what themes you're into – be it the army, workplace, or school – there's bound to be at least one drama that's up your alley. 
Also check out:
---
Cover image adapted from: MBC, tvN, tvN
This article was written by Samantha Chew on 23rd September 2020 and updated by Yoo Kyung Cha on 3rd March 2023.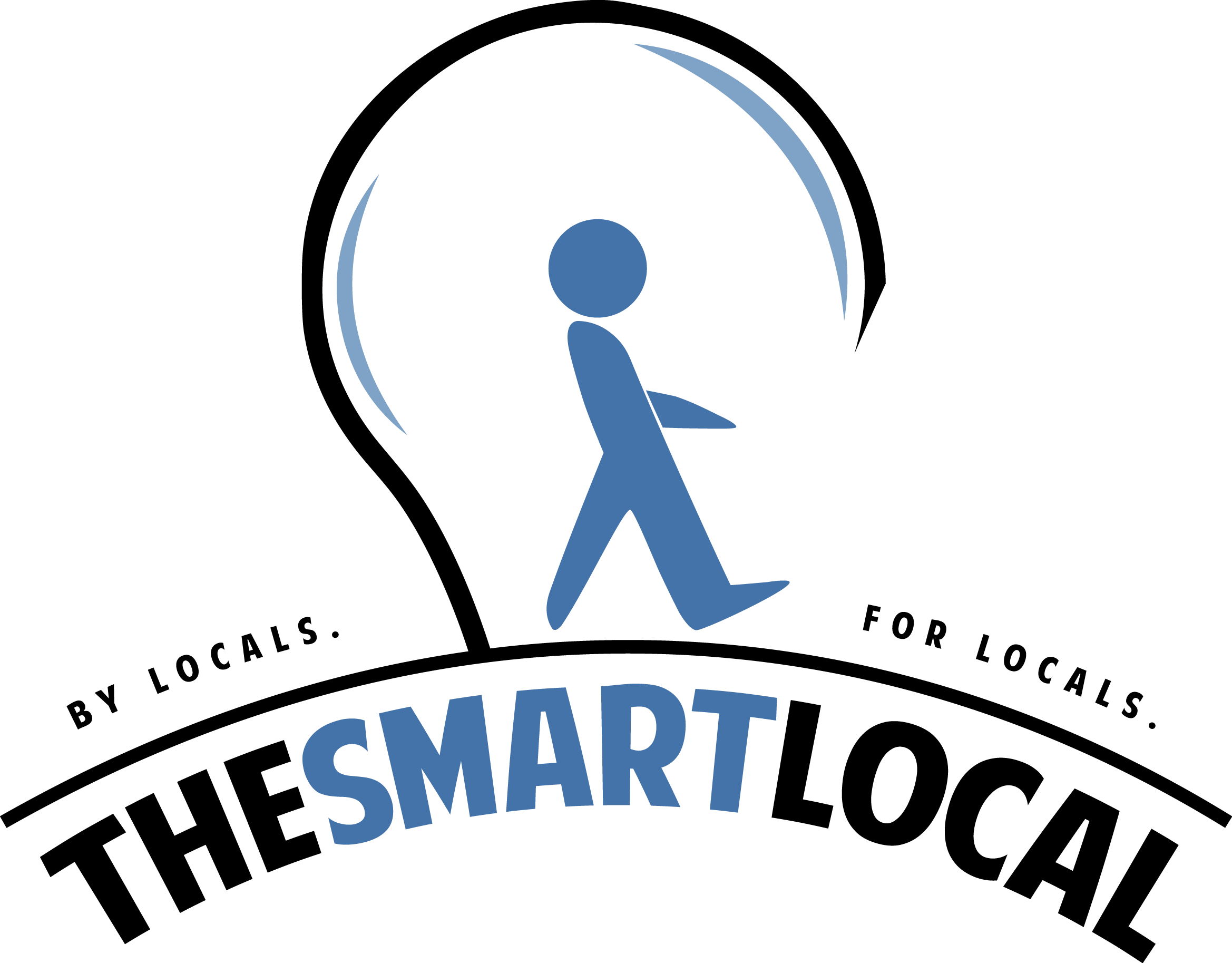 Drop us your email so you won't miss the latest news.