Song Joong Ki in Singapore
---
On 7th Dec 2022, fans of Song Joong Ki in Singapore – and lucky members of the media – got to catch a glimpse of the Reborn Rich actor as part of a press conference held by streaming platform Viu. It was clear that the Song Joong Ki was as suave as Vincenzo, and he impressed the audience with his fluent English.  
---
Back in Singapore for the 8th time
---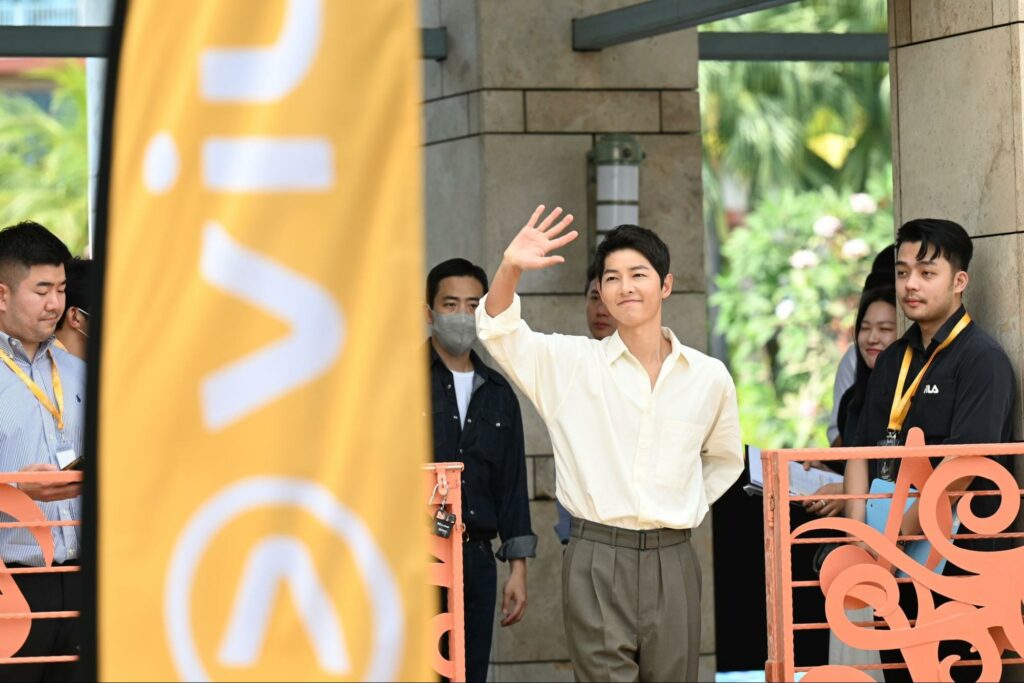 Image credit: Viu Singapore
Here to promote his latest drama Reborn Rich, the actor shared that this is his 8th time in Singapore. Song Joong Ki said that he got to play golf on Sentosa Island earlier in the day, which was something he'd wanted to do for a long time. 
And like many other Korean celebrities, he's been yearning to try out black pepper crab. Luckily, his wish was fulfilled thanks to a personal chef. 
---
Challenges he faced while playing dual roles 
---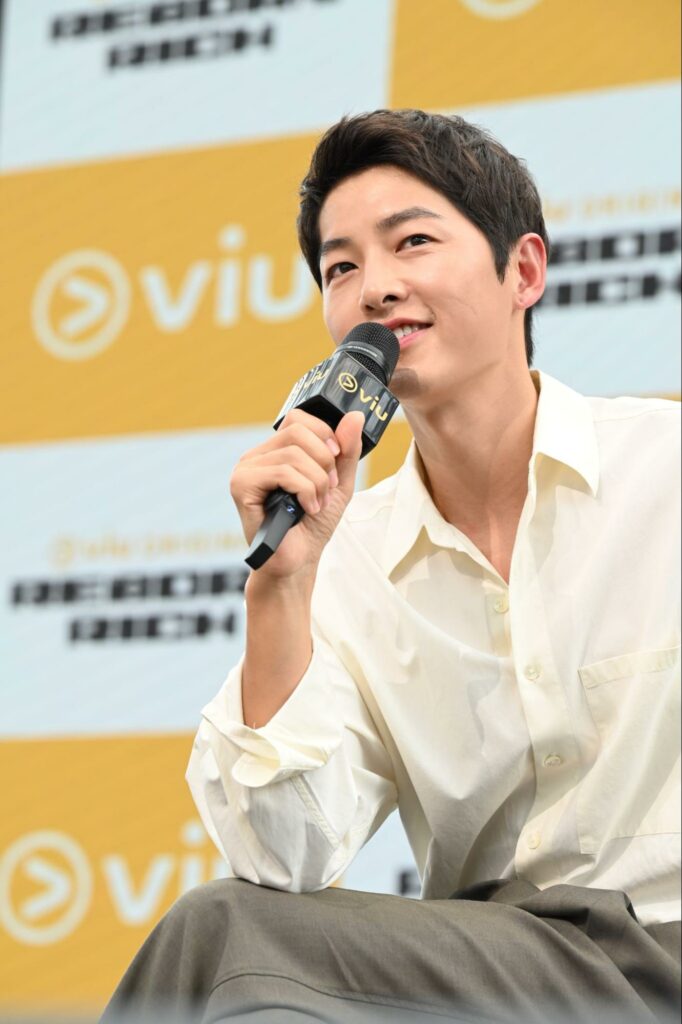 Image credit: Viu Singapore
The series scored impressive ratings of 19.449%, fast overtaking Extraordinary Attorney Woo, which had highest ratings of 17.534%. In other words, the hype for Reborn Rich is real. But the success was hard-earned as the actor struggled to play dual roles – Hyun Woo and Do Joon.
In addition, the actor shared that Reborn Rich took the longest time to film among all the projects he has been a part of.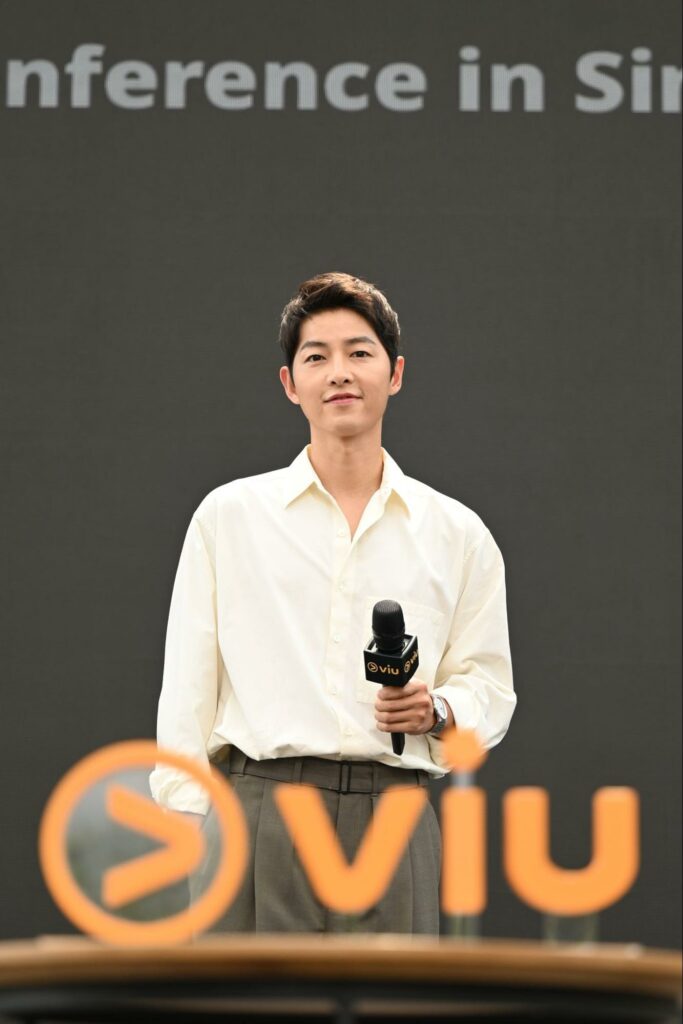 Image credit: Viu Singapore
Song Joong Ki admitted that having to take on 2 roles came with its unique challenges. Though it was confusing to express the emotions and contrasting lives of each character in Reborn Rich, he quickly found a solution in the midst of filming: see these 2 characters as 1. 
When asked which character he prefers, he said that Hyun Woo made a greater impact on him. Although he had to play Hyun Woo for only 2 episodes, he found himself obsessing over the character, his life, and his emotions. 
---
What would Song Joong Ki do if he were… reborn rich? 
---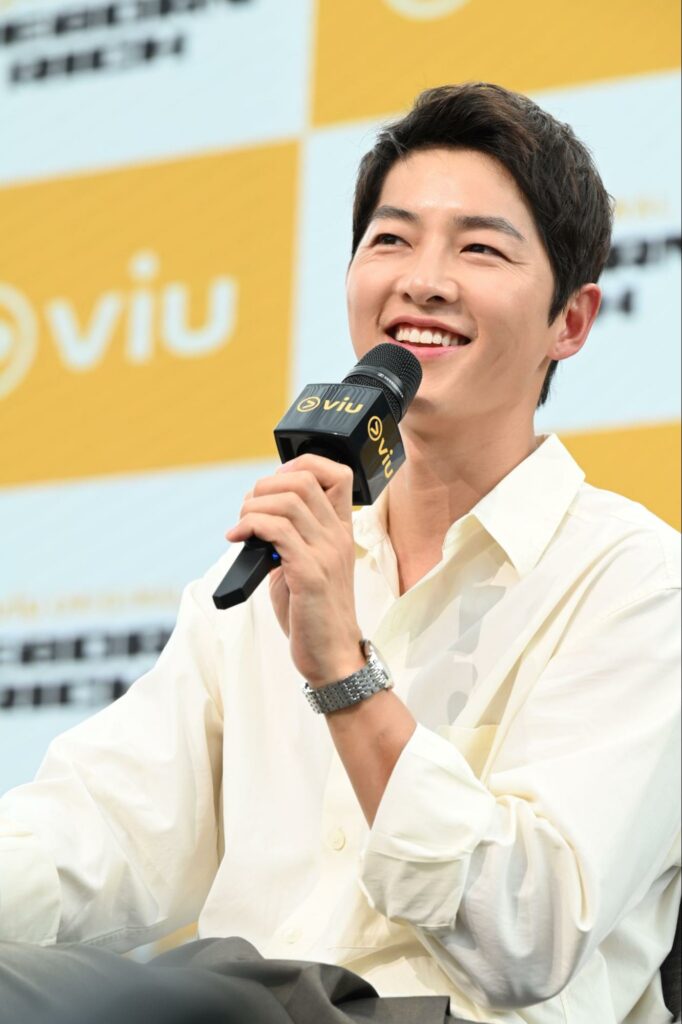 Image credit: Viu Singapore
When asked what he would do with all the money he'd get if he were reborn into a rich family, the actor took a while to ponder the question before concluding that he doesn't want to be born into an affluent family.
Song Joong Ki said that while money is important, it is often a source of familial conflicts. He also stressed that while money is important, it shouldn't be the #1 priority, and he's currently satisfied with his current life.
The actor also gave us a glimpse into his middle and high school years by revealing that he was from all-boys middle and high schools. Hence, he could only meet girls in university, to which he confessed that he was elated to be surrounded by girls. 
As a student, the actor said that he was an ordinary guy and described himself as "silent" and "boring". To our surprise, he said that he was unlike Do Joon in Reborn Rich, who's portrayed as a popular oppa on the university campus. 
---
A little teaser on his next project
---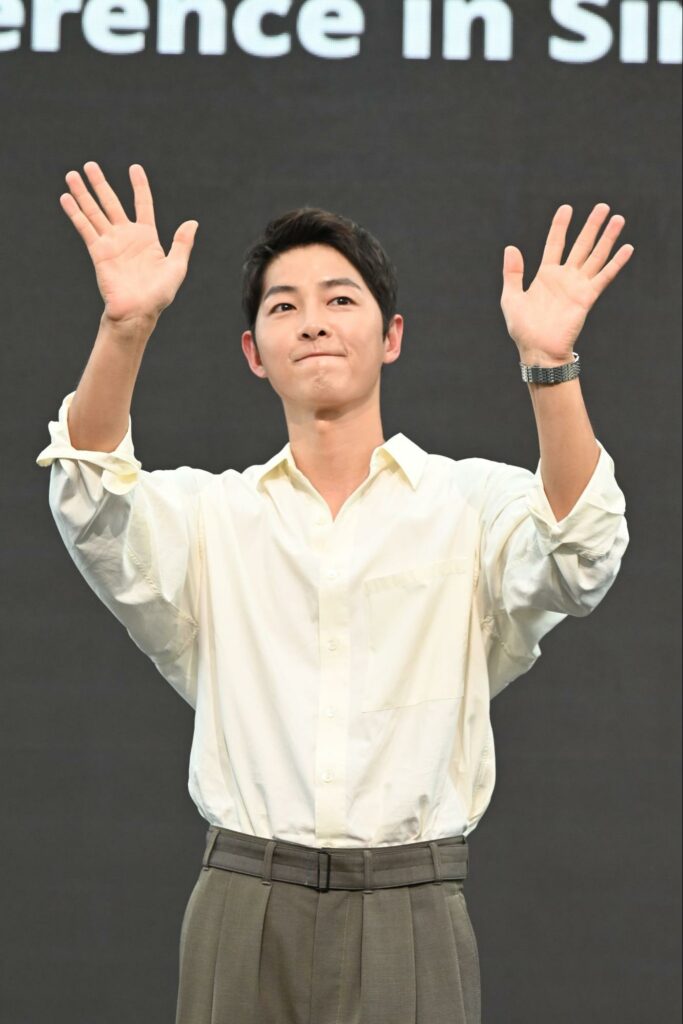 Image credit: Viu Singapore
It was easy to tell that Song Joong Ki has great respect for his fellow actors and actresses, including Lee Sung Min, Shin Hyun Been, and Jo Han Chul.
The actor expressed how happy he was to work with Jo Han Chul for the 2nd time following their great chemistry in Vincenzo. And guess what, they're going to collab for the 3rd time in the near future. While we have to wait for more details on his next project, we're confident that the results will be impressive. 
---
His gentlemanly nature & fluent English 
---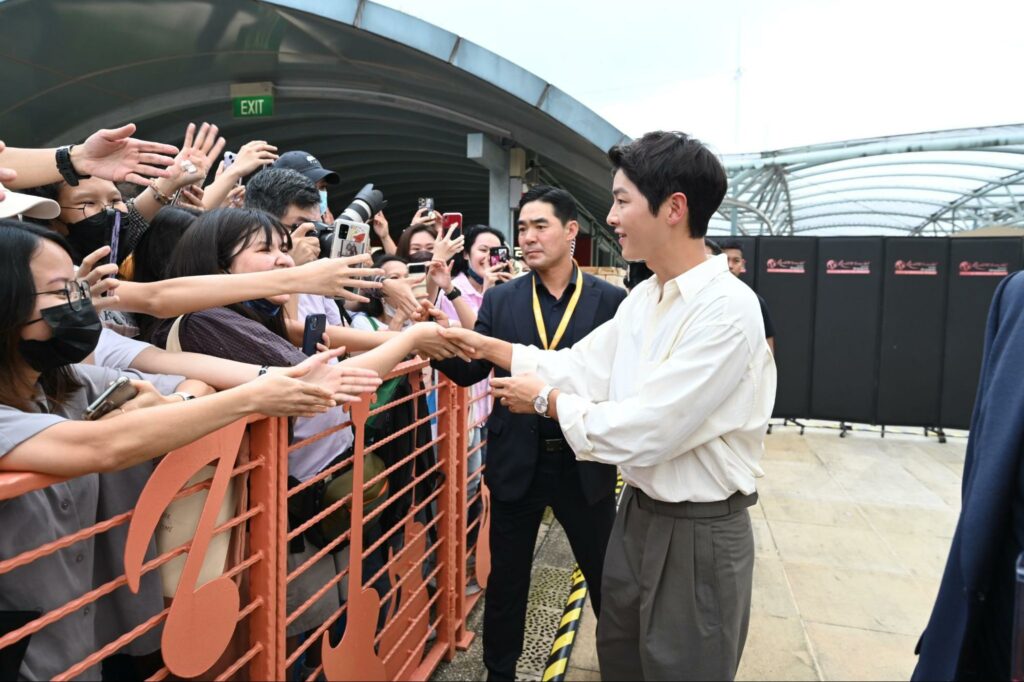 Image credit: Viu Singapore
We were thoroughly impressed by the actor's genuine appreciation for his fans and reporters present during the press conference. On several occasions, he took the time to express his gratitude to the reporters who flew in from all over the world, including Hong Kong, Thailand, Indonesia, and the Philippines. 
He also went the extra mile to greet his fans after the press conference. Despite the sultry summer weather and unrelenting humidity, his warm smile was unceasing. It's little wonder why Song Joong Ki has so many loyal fans.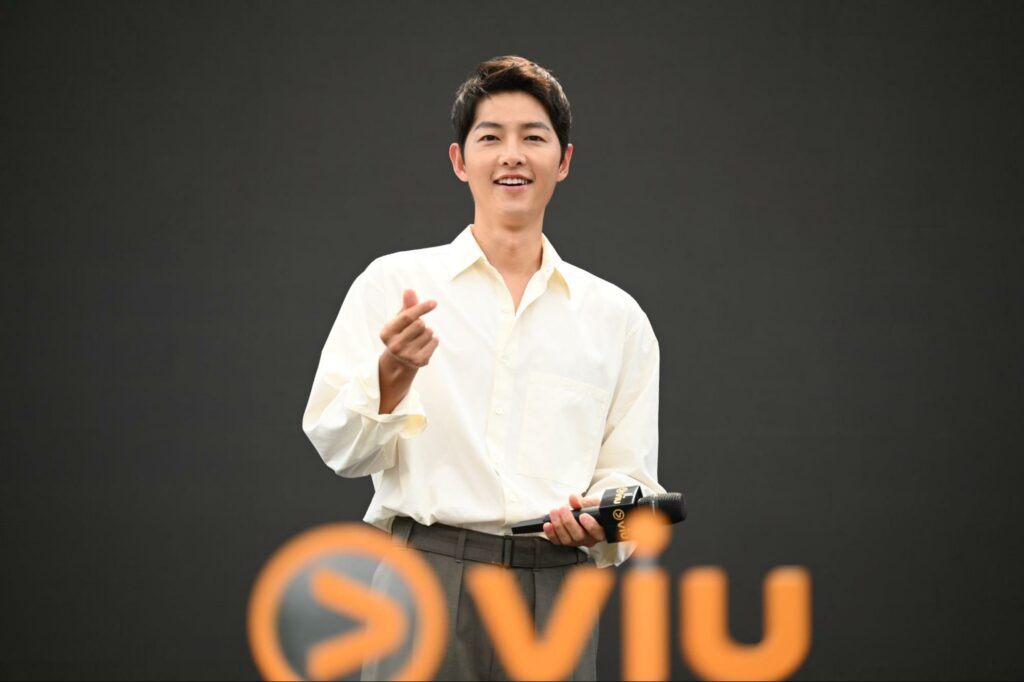 Image credit: Viu Singapore
It was heartwarming to see that the actor made the effort to communicate in English despite having a translator by his side. He was able to exchange playful remarks with the audience, and even said that he loves it when he gets comments on his good looks. 
---
Song Joong Ki press conference in Singapore 2022 
---
No thanks to the unrelenting Covid-19 pandemic, it almost feels like a dream to meet Song Joong Ki in person and get to hear him speak about his latest drama. If you enjoyed the actor's past dramas such as Vincenzo, perhaps it's time you check out Reborn Rich on Viu.
Also check out:
---
Cover image adapted from: Viu Singapore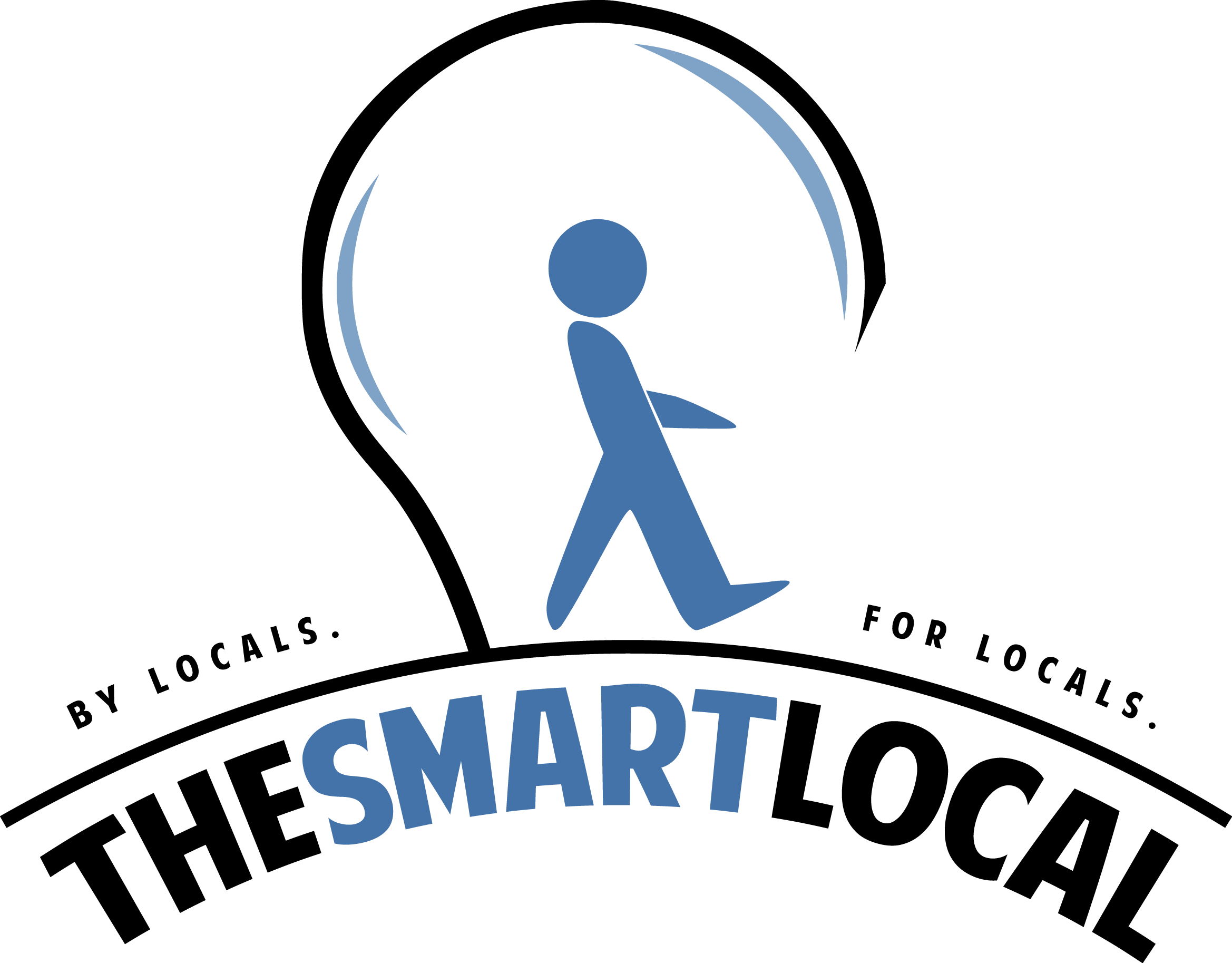 Drop us your email so you won't miss the latest news.