Cimer Spa
---
Jjimjilbang are bathhouses that play a big part in Korea's wellness culture, and they are known for sauna facilities that are rejuvenating and invigorating. Cimer Spa provides an upgraded version of jjimjilbang, with infinity pools, virtual spa rooms, and much more. With over 20 unique facilities, this spa in Incheon is not to be missed.
---
Modern European interior
---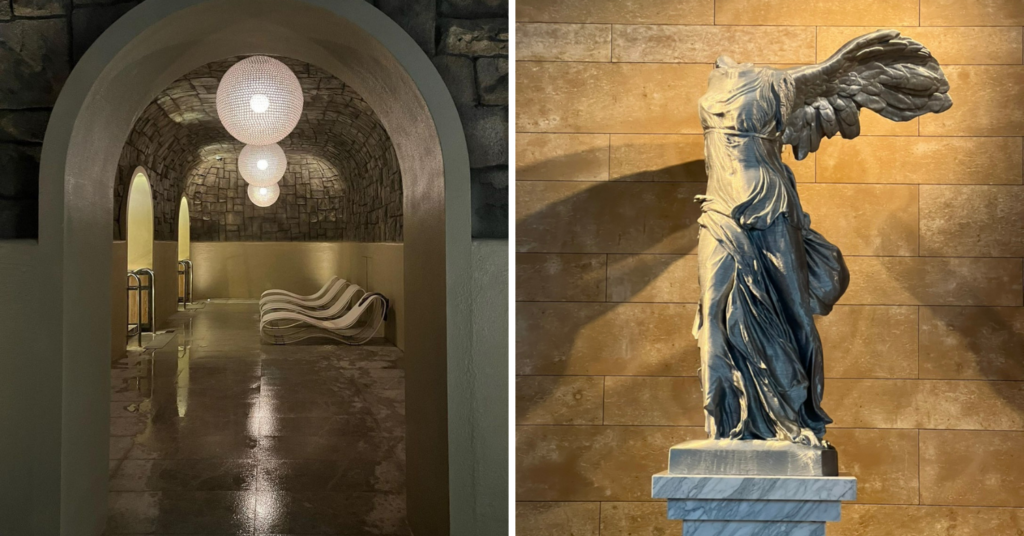 European-inspired decor.
Image adapted from: @about_pearl_,  꼬막 
Upon stepping into Cimer Spa, you'll notice that its interior has many European elements. Statement pieces such as artistic sculptures are displayed around the area, adding to the modern and classy interior design.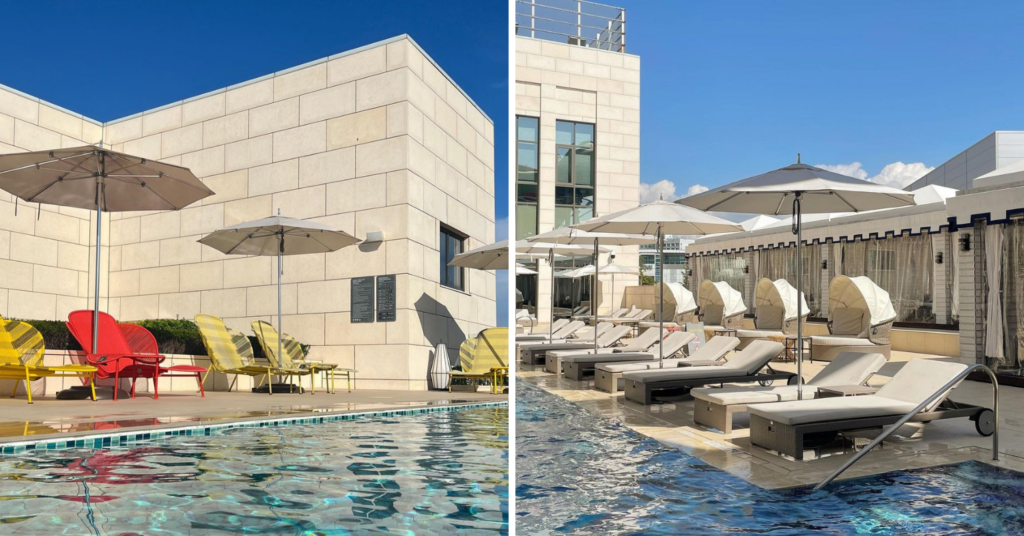 Image adapted from: @nuitsdete__, @holidaycho
Even the furniture complements the theme of the place, with harmonious colour schemes that will make you feel like you're in Italy.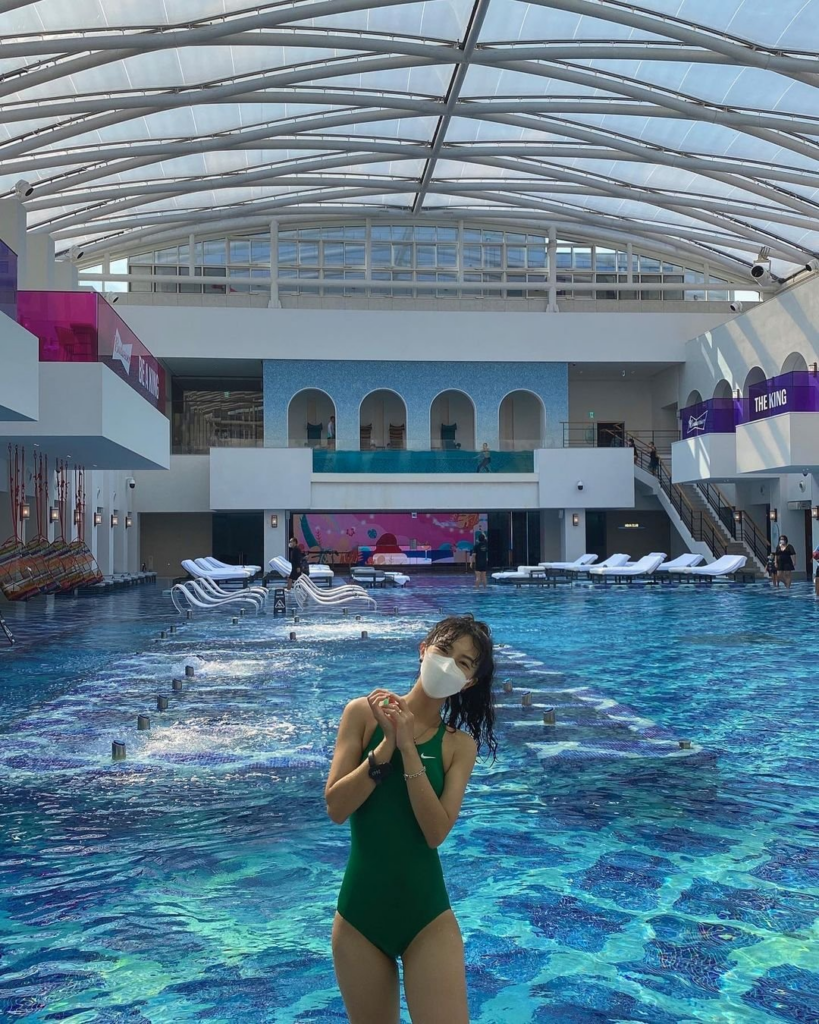 Cimer Spa's water plaza.
Image credit: 데일리호텔
Take photos by the water plaza, which has been modelled after the Piazza San Marco in Venice. The area is brightened with plenty of natural sunlight, and there are many sunbeds on which you can unwind. At night, the plaza is illuminated in purple lights, bringing a whole new atmosphere to the space.
---
8 unique pools
---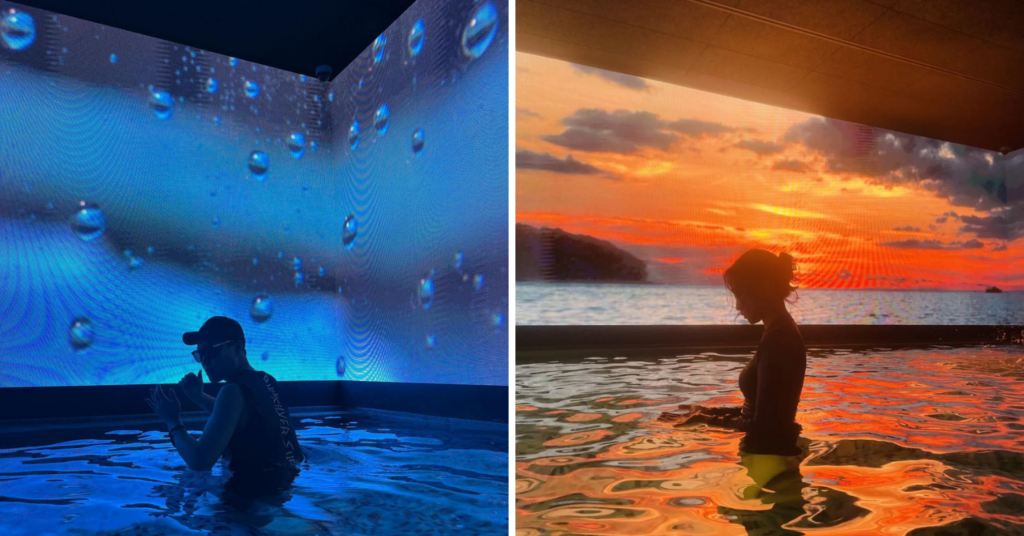 The virtual spa with LED screens.
Image adapted from: @min_yonglee, @byunbyun_48
Cimer Spa has indoor and outdoor pools, and each pool has a feature that makes it unique. Check out their virtual spa pool, which has LED screens installed on 3 walls, looping aesthetic videos. The virtual spa is one of the highlights of Cimer Spa, so make sure to stop by.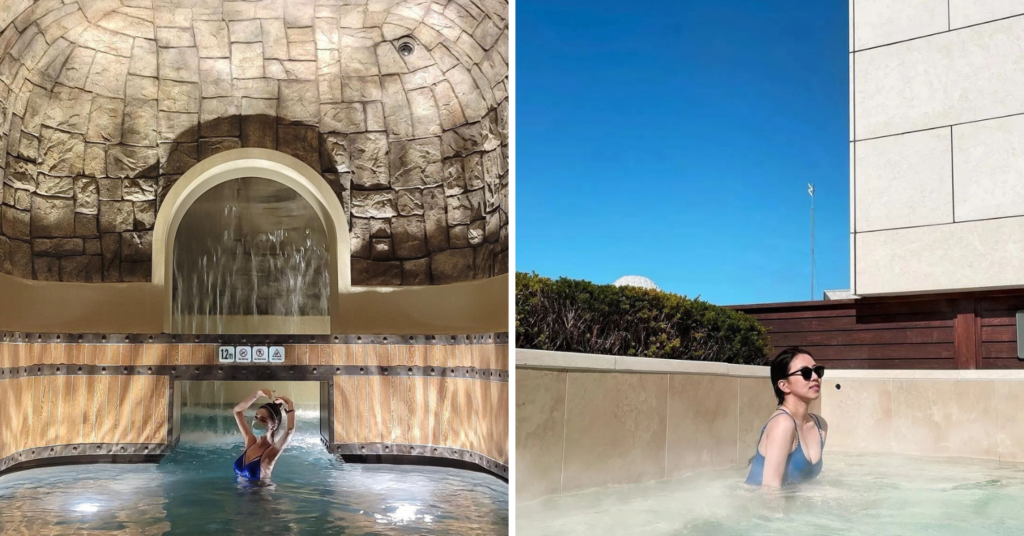 Cave spa pool and the outdoor spa.
Image adapted from: @riyu_plan, @pcitycimer
Their cave spa pool is especially designed to resemble a cave. The dim lighting and the high ceiling will immerse you in its calming atmosphere and you'll feel like time has come to a pause. If you prefer open spaces, have a soak in their heated outdoor spas as you bask under the skies.

Outdoor infinity pool.
Image credit: seo
There are 2 infinity pools at Cimer Spa. The indoor infinity pool overlooks the water plaza, while the outdoor infinity pool offers an unobstructed view of Incheon city. As Cimer Spa is located near Incheon airport, you'll be able to watch plane landings from the outdoor infinity pool – a visual treat.
---
Twelve luxurious sauna facilities
---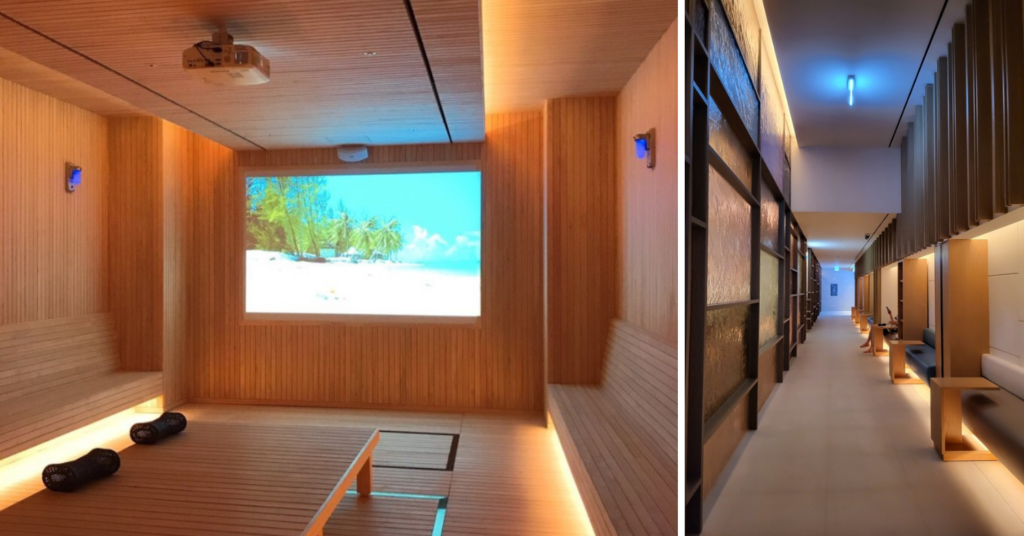 Sun Tree room.
Image adapted from: 찌이, 마티나 Martina
For those who prefer to remain dry, Cimer Spa has many other facilities for you to try out as well. The Sun Tree room has walls made of wood imported from Fukuoka, Japan. This creates a relaxing space where you can take a power nap.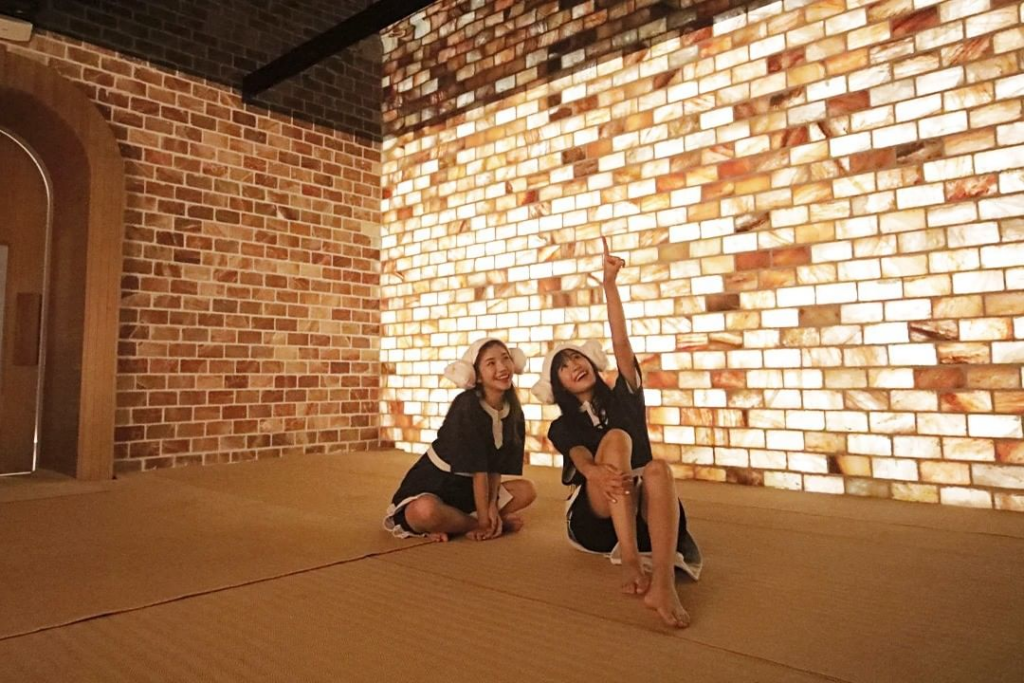 Salt room.
Image credit: @pcitycimer
If you're looking to sweat it out, visit the Salt room or the Amethyst room. Kept at a temperature of 65ºC, both rooms are meant to help you detoxify and revitalise your body. Be sure to not stay too long in the saunas to avoid getting heatstroke. A duration of around 15 minutes should be sufficient.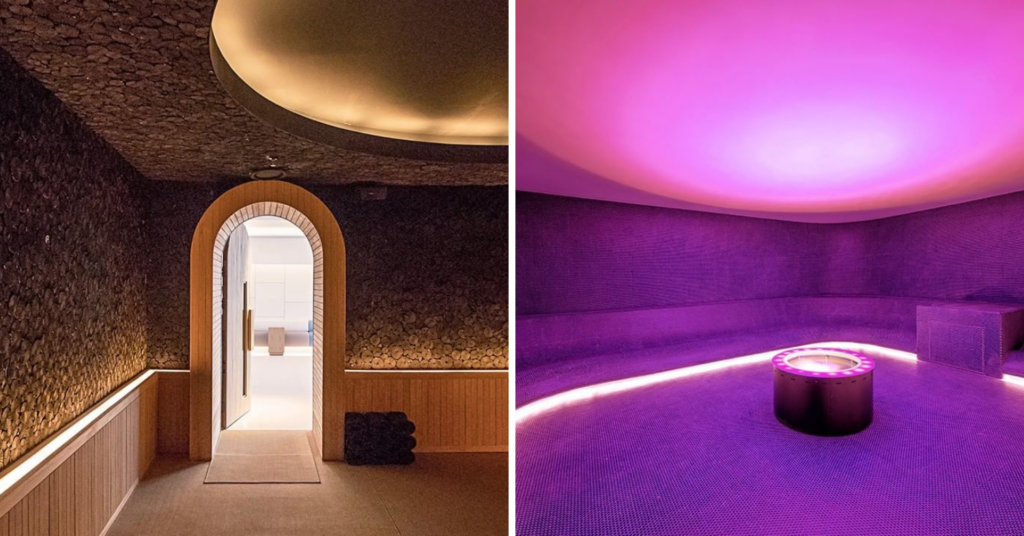 Amethyst room and Wave Dream room.
Image credit: @pcitycimer, @pcitycimer
Another facility that relies on visual elements to provide a relaxing experience is the Wave Dream room. Using a projector to cast wave-like mood lighting on the ceiling, the Wave Dream room is the perfect place to meditate.
---
Getting to Cimer Spa
---
Cimer Spa is conveniently located in Paradise City, a well-known hotel resort. It is 2 hours away from Seoul by public transport, and a short walk away from the nearest bus stop.
How to get there:
Take

Subway Line 4 to Incheon Airport Terminal 1

.

Walk towards the tourist information office and turn left at

Bus Stop 35205

.

Board

Bus No. 303

and

alight after 1 stop

.

Walk for 10 minutes

, and you'll arrive at Cimer Spa.
Admission: KRW50,000 (~USD38.63)/adult, KRW40,000 (~USD30.91)/child
Address: 186 Yeongjonghaeannam-ro 321beon-gil, Jung-gu, Incheon
Opening hours: 10am-9pm, Daily
Contact: 032-729-7700 | Cimer Spa Instagram
Also check out:
---
Cover image adapted from: @pcitycimer, @pcitycimer, @soojoo_trip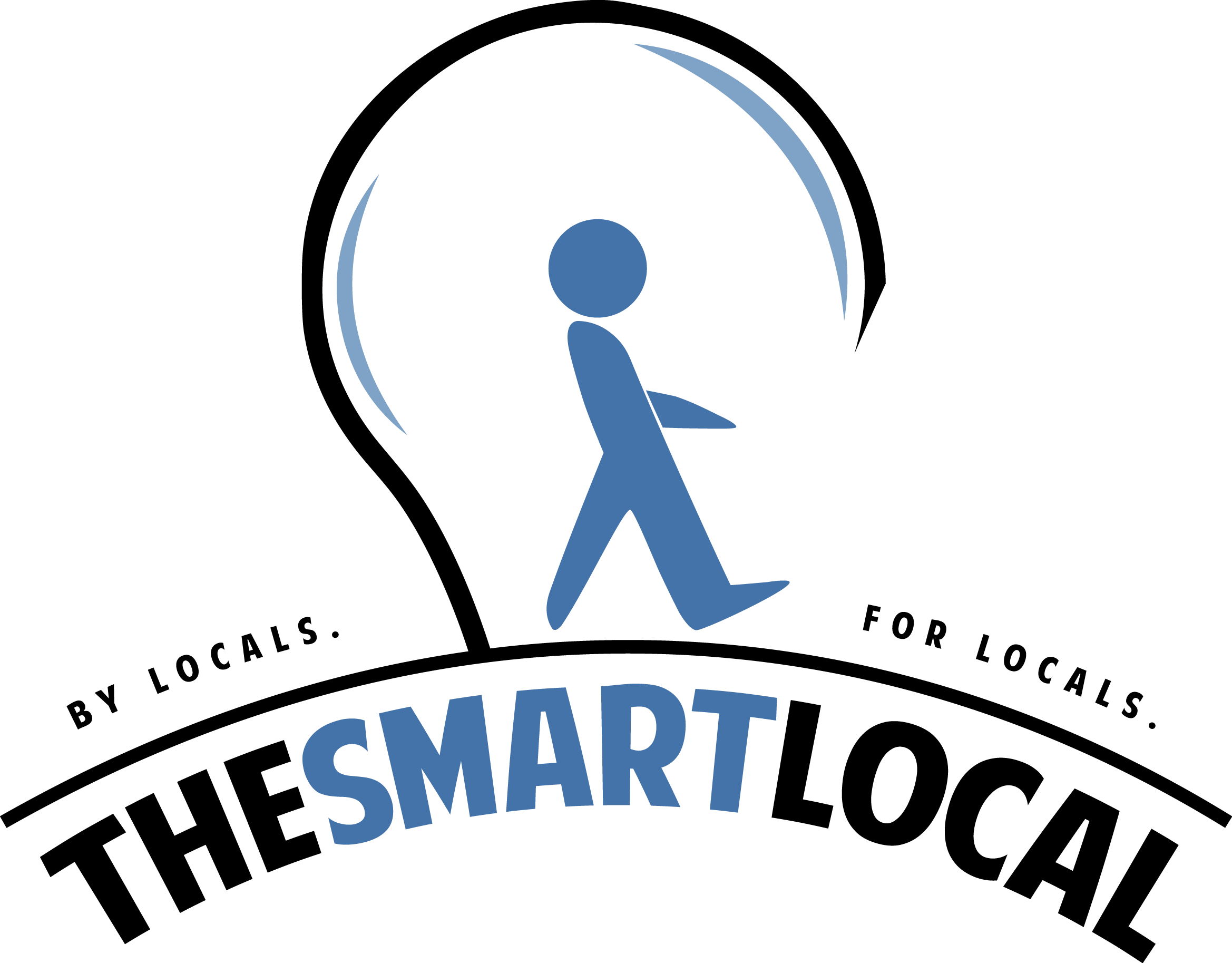 Drop us your email so you won't miss the latest news.