Things to do in Suwon
---
While there may be plenty to see and do in South Korea's capital city, there are just as many hidden gems outside of Seoul. The city of Suwon, which is just an hour's drive away from Seoul, contains plenty of exciting activities for those who want to explore beyond the capital – revel in a shopping paradise, learn about Korea's cultural goods, or stuff yourselves with Korean food in front of a historical wonder. Here are 7 things to do in Suwon for your next day trip out of Seoul.
---
1. Roam around Suwon Hwaseong Fortress
---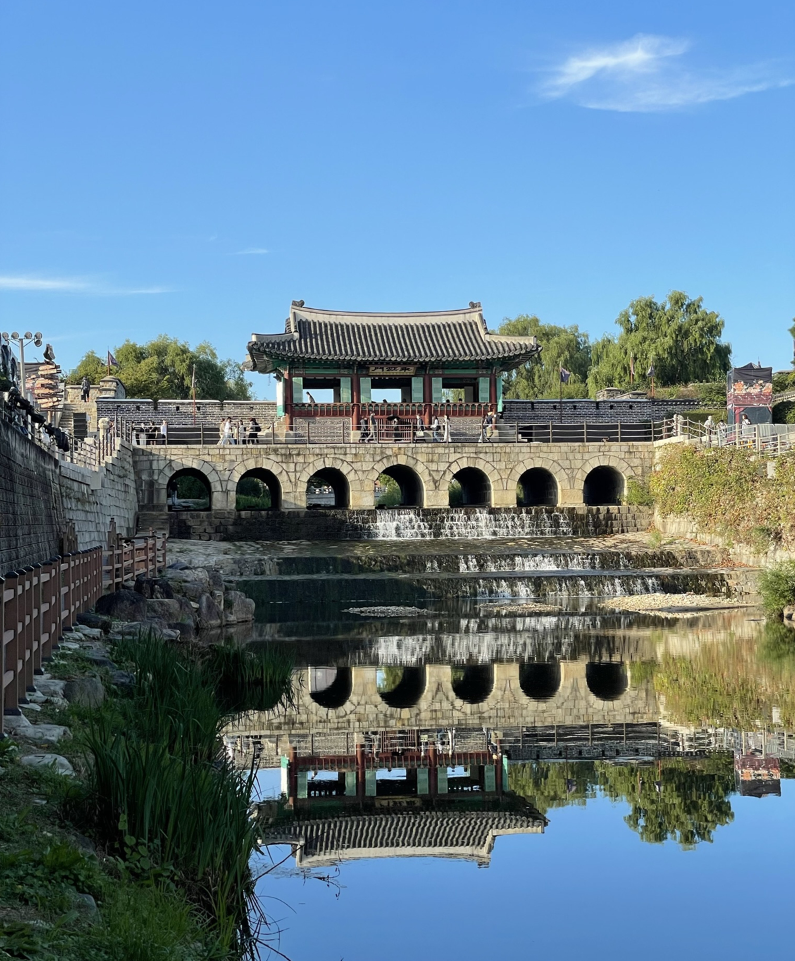 Image adapted from: 소망 김기사
Designated as a UNESCO World Heritage Site in 1997, Suwon Hwaseong Fortress is a cherished historical site that captures the vestiges of a past era in South Korea. 
The structure was built by King Jeongjo and was originally meant to serve as a political base as well as a tomb for his father. Despite the fact that this impressive structure was constructed during the Joseon Dynasty, it still manages to stand tall now.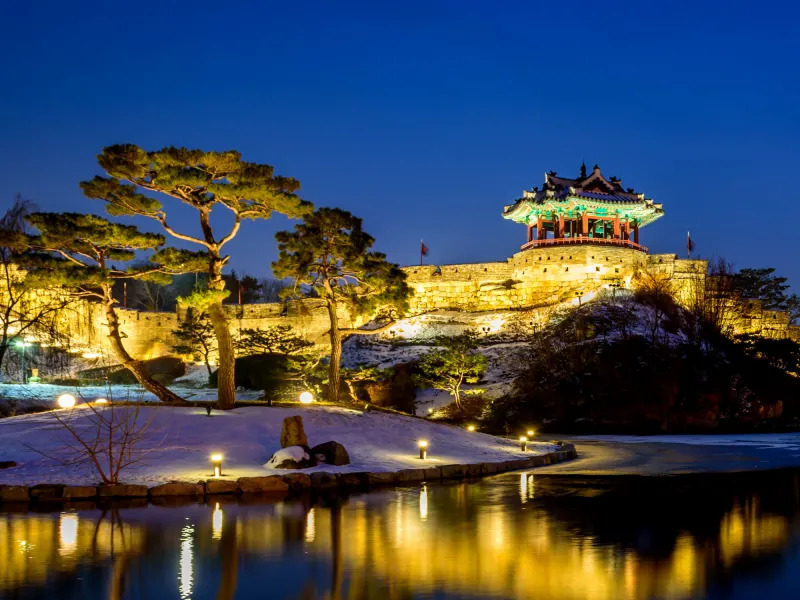 Image adapted from: Veltra
Suwon Hwaseong Fortress is a grand 5.74km long – for context, that is over the length of 100 Olympic-sized swimming pools! This structure is all the more impressive at night when the entire fortress is illuminated by lights.  
Admission: KRW1,000 (~USD0.76) per person
Address: 320-2 Yeonghwa-dong, Jangan-gu, Suwon-si, Gyeonggi-do, South Korea
Opening hours: 9am to 6pm, Daily (Closed at 5pm from November to February)
Contact: 31-228-4672 | [email protected]
---
2. Ride a hot air balloon with Flying Suwon
---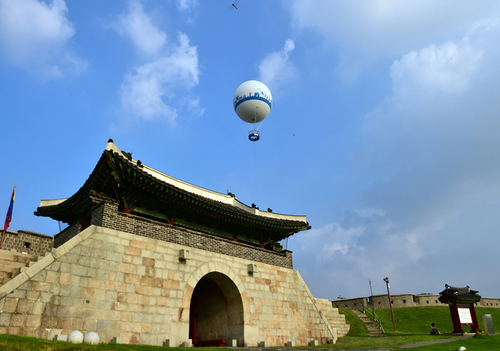 Image credit: Seoul Pass 
Through Flying Suwon, soak in a bird's-eye view of Suwon Hwaseong Fortress, as well as the entire city of Suwon. This hot air balloon brings you up to a staggering 150m above ground, and you will be flying for approximately 10 minutes – enough time to take a few photos with your friends. Despite sounding like this experience will cost you an arm and a leg, Flying Suwon's fees are relatively reasonable, at KRW20,000 (~USD15.27) per adult.
Address: 255-4 Ji-dong, Paldal-gu, Suwon-si, Gyeonggi-do, South Korea
Opening hours: Mon-Fri 12pm-9pm | Sat & Sun 10.30am-9.30pm
Contact: 031-247-1300
---
3. Buy everything you need at Lotte Department Store Suwon
---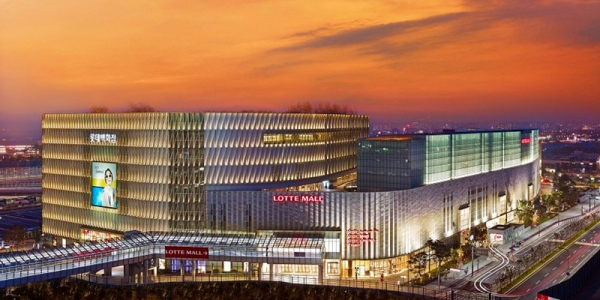 Image credit: 롯데백화점 수원점 
Shop till you drop at Lotte Department Store Suwon. As one of the largest chain department stores in South Korea, this Lotte branch in Suwon boasts many brands, both domestic and international, selling a variety of cosmetics, cute fashion accessories, stunning clothing, and even household appliances. 
The mall also has its own in-house brands, such as Lotte cinema, which is one of the largest movie theatre chains in Korea, as well as Lotte mart, one of Korea's leading discount stores with a large variety of products. The mall has everything you need in one place. 
Shop from Basement 1 to the 7th floor or visit the rooftop garden when you want a break. Alternatively, there is a large food hall on the 7th floor, so you'll never run out of things to do or shop fo. 
Address: 134 Sehwa-ro, Gwonseon-gu, Suwon-si, Gyeonggi-do, South Korea
Opening hours: 10.30am-10pm, Daily
Contact: 31-8067-4000
---
4. Shop and play in AK Plaza Department Store
---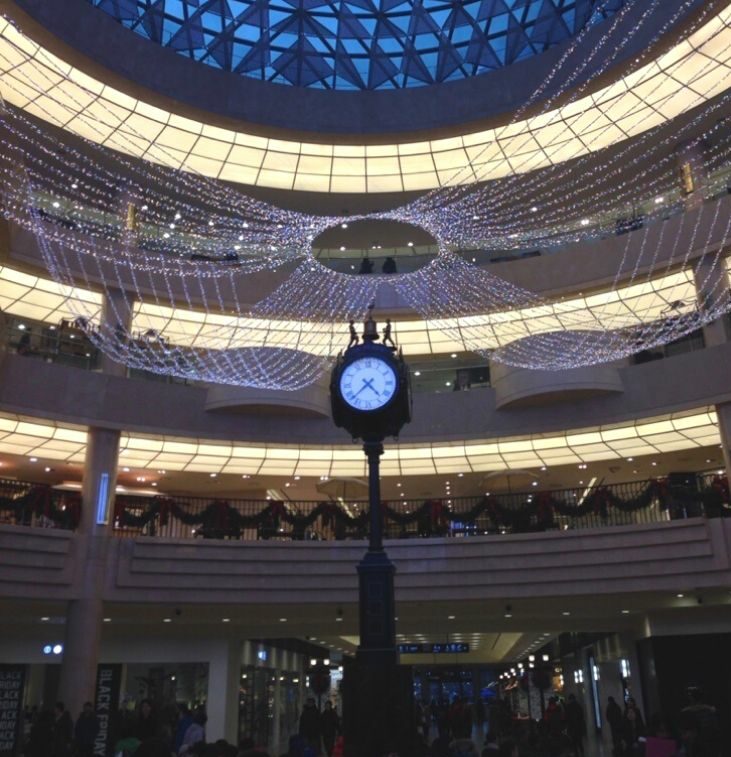 Image adapted from: let's talk
AK Plaza Department Store, also known as AK Town, is located right next to the Suwon Station as well as the Lotte Department Store Suwon. This retailtainment mall has received rave reviews from both tourists and locals alike, garnering over 5,600 reviews on Google, and still earning an impressive average rating of 4.2 out of 5 stars. 
The shopping centre spans 7 storeys – Basement 1 to Level 6 – and is home to a vast array of brands, selling international luxury goods, formal to casual wear, baby clothes and more. The top floor also holds a cinema, dining hall, and gallery among others.
Address: 924, Deogyeong-daero, Paldal-gu, Suwon-si, Gyeonggi-do, South Korea
Opening hours: Mon-Thu 10.30am-10pm | Fri-Sun 10.30am-8.30pm
Contact: 1661-1114
---
5. Admire Galleria Department Store Gwanggyo's stunning architecture
---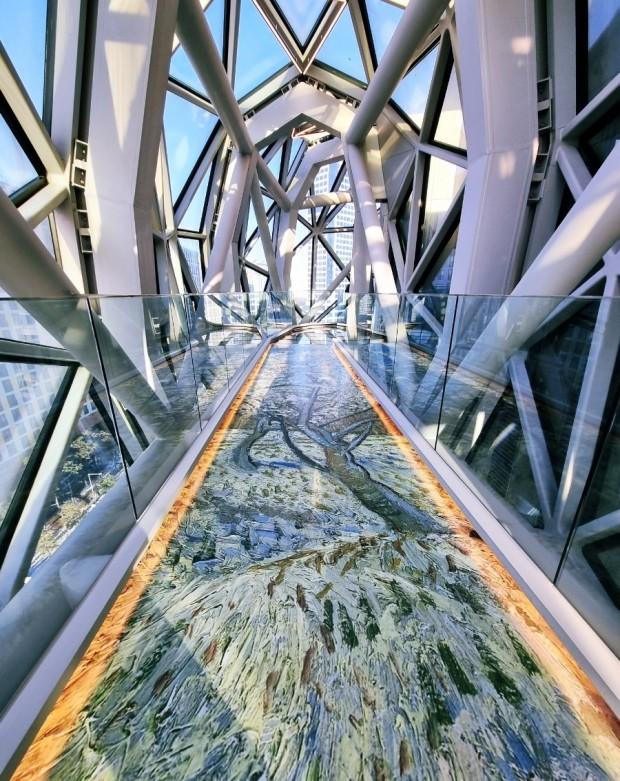 Image credit: 3월의 꼬모 
Designed by the firm of the world-renowned Dutch architect Rem Koolhaas, Galleria Department Store Gwanggyo is a one-of-a-kind shopping mall that is an architectural wonder, boasting a stunning stone exterior lined with glass. 
You can traverse from one floor to another through the glass loop passageway circling the department store, taking in city views from every angle.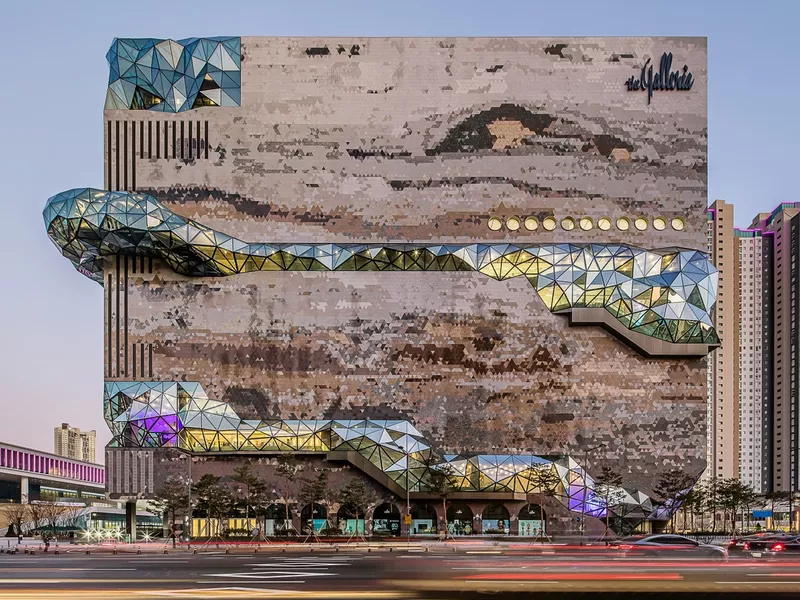 Image credit: OMA
This shopping mall houses a wide variety of items, from cosmetics to electronic goods. It also has a roof garden and cultural centre on the top floor, as well as several YouTube studios and a food court.
Address: 124 Gwanggyojungang-ro, Yeongtong-gu, Suwon-si, Gyeonggi-do, South Korea
Opening hours: Mon-Thu 10.30am-10pm | Fri-Sun 10.30am-8.30pm
Contact: 31-5174-7114
---
6. Explore Suwon Nammun Market
---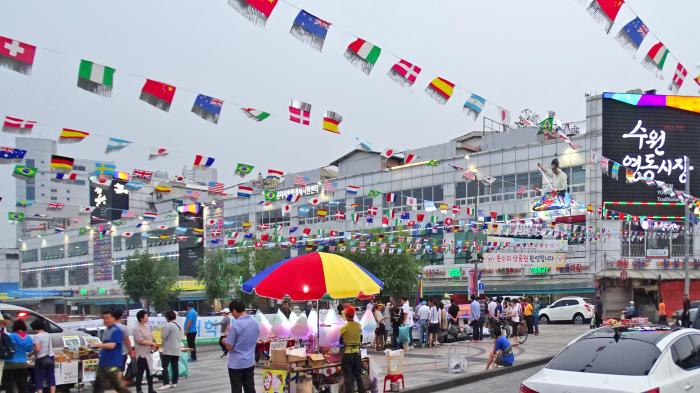 Image credit: Look&Walk 
Suwon Nammun Market is an area in Suwon comprising multiple smaller markets. It is an astoundingly large coalition of the Gucheon-dong Tools Arcade, Nammun Gate Rodeo Market, Nammun Gate Fashion 1st Street, Motgol General Market, Minarikwang Market, Citizen's Arcade, Yeong-dong Market, Ji-dong Market, and Paldalmun Gate Market.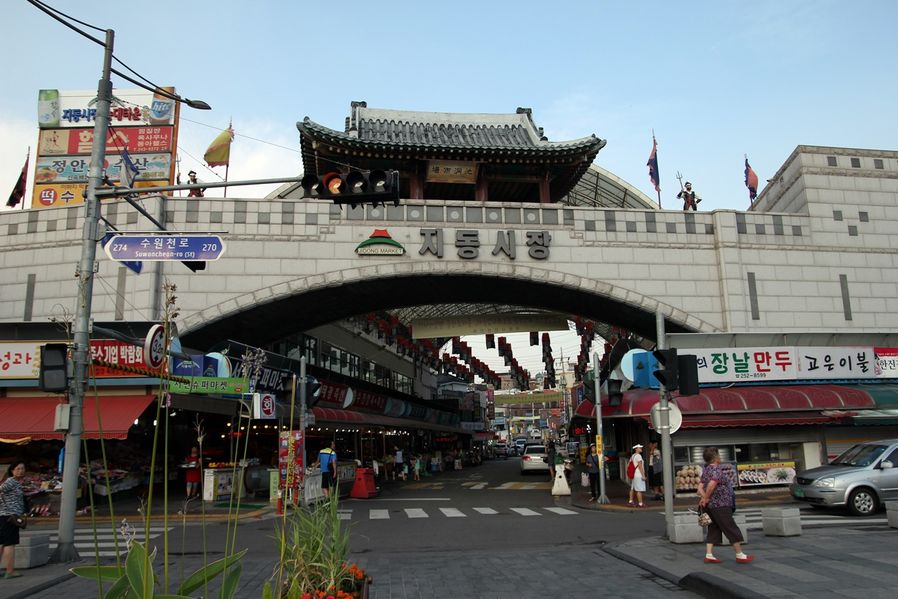 Image credit: Wikimapia
Each of the markets has a speciality that it is renowned for. For example, in Yeongdong Market, around a third of the stores sell hanbok (Korean traditional clothing), whereas Jidong Market is known for its Sundae (Korean blood sausages) Town. Meanwhile, Motgol Market is famed for its delicious side dishes. You'll lose track of time just jumping from one market to another. 
While each market has different things to offer, they are all located around Paldalmun, and are within walking distance of each other, so it's a good idea to start exploring from this spot.
Address: 780 Jeongjo-ro, Paldal-gu, Suwon-si, Gyeonggi-do, South Korea
---
7. Have a feast at Suwon Chicken Street
---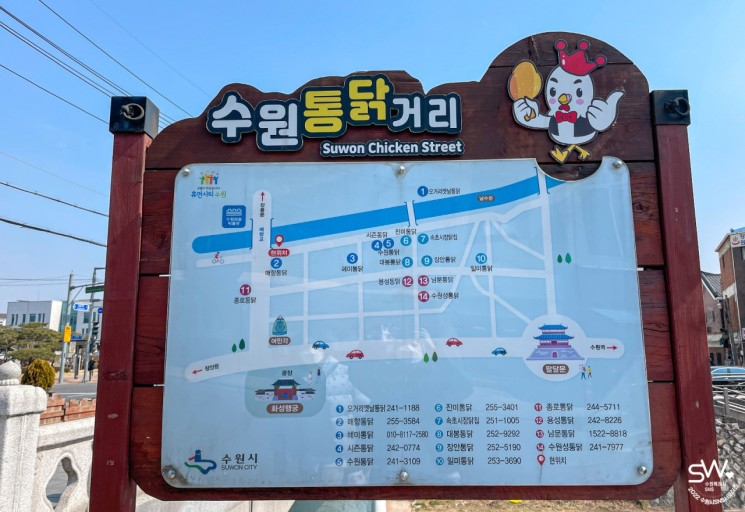 Image credit: 수원시청 
Satisfy all your cravings for Korean fried chicken at Suwon Chicken Street located in Paldalmun Gate Market. Countless fried chicken stores are clustered around the area, each with its own take to the classic dish. Pick one that best tickles your tastebuds or go on a Suwon Chicken Street tour and try as many stores as your belly can take.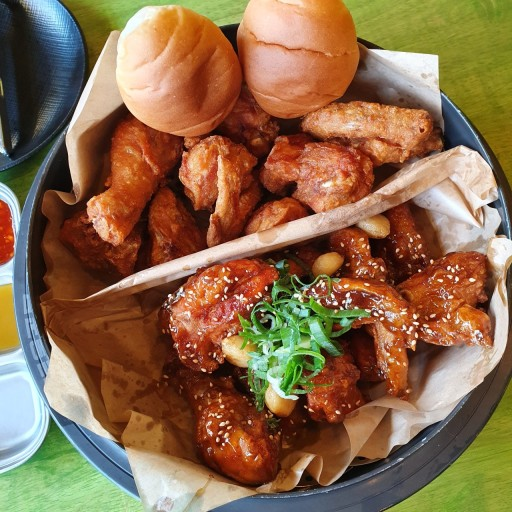 Image credit: 로제타
One of the more famous restaurants on the street is Nammun Tongdak. Having appeared in numerous programmes aired on major broadcasting companies such as SBS, MBC, and KBS, the restaurant sees long lines snaking from the entrance to the back of the building. It's known for the delicious sauce drizzled atop crunchy chicken.
Address: 50, Paldallo 1-ga, Paldal-gu, Suwon-si, Gyeonggi-do, South Korea
Opening hours: Sat-Wed 12pm-10pm | Thu-Fri 12pm-11pm
Contact: 1522-8818 | [email protected]
---
Things to do in Suwon
---
As an amalgam of ancient history and modern architecture, Suwon has plenty to offer. So, the next time you plan to explore Seoul and want to squeeze in a day trip, you can expand your sights to this area as well. You might just find that there are plenty of exciting activities awaiting you outside of the usual, crowded tourist hotspots. 
Also check out:
---
Cover image adapted from: 3월의 꼬모, Seoul Pass, Veltra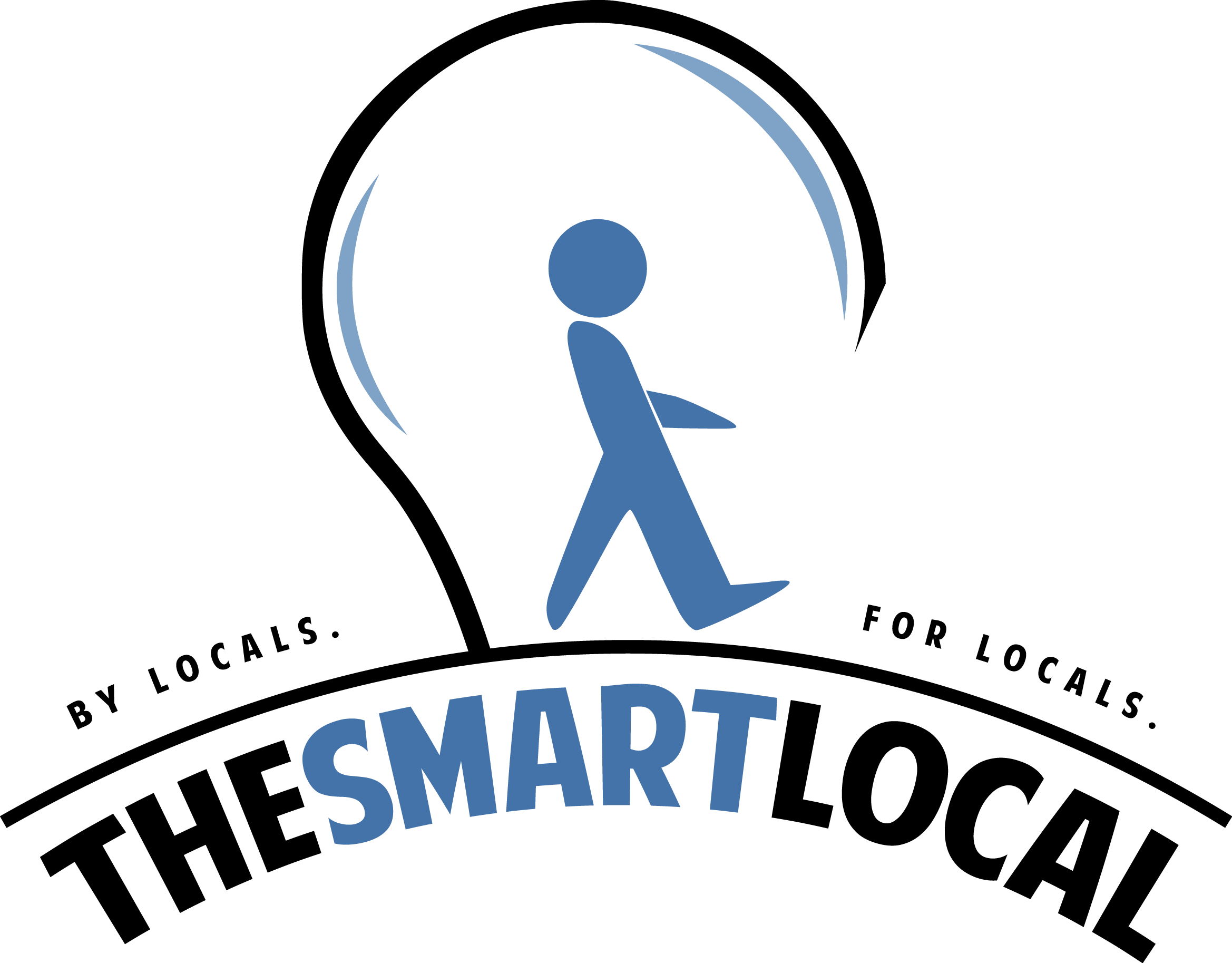 Drop us your email so you won't miss the latest news.