Cherry blossom festivals
---
South Korea is always beautiful during spring. But did you know that there are many different kinds of cherry blossoms, as well as festivals that celebrate them, all across the country? As one of the most beloved seasons approaches, we've made a list of 8 of the more notable cherry blossom festivals in South Korea, where you can enjoy street food, traditional & modern performances, and of course, gorgeous cherry blossoms.
---
1. Jeju Cherry Blossom Festival
---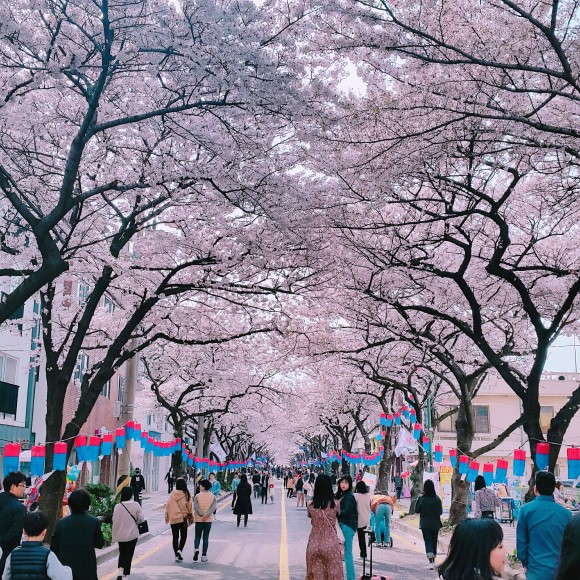 Image credit: 큰지음
Jeju is one of South Korea's most favoured tourist destinations. With cherry blossoms forecasted to bloom from 20th March onwards, it is one of the cities where you can enjoy these beautiful flowers in full bloom early on in the season. 
These blossoms generally peak 4 to 7 days after they start blooming. They have a short lifespan, lasting only around 2 weeks, so make sure not to miss this narrow window! 
This year, the Jeju Cherry Blossom Festival itself will only be held from 31st March to 2nd April.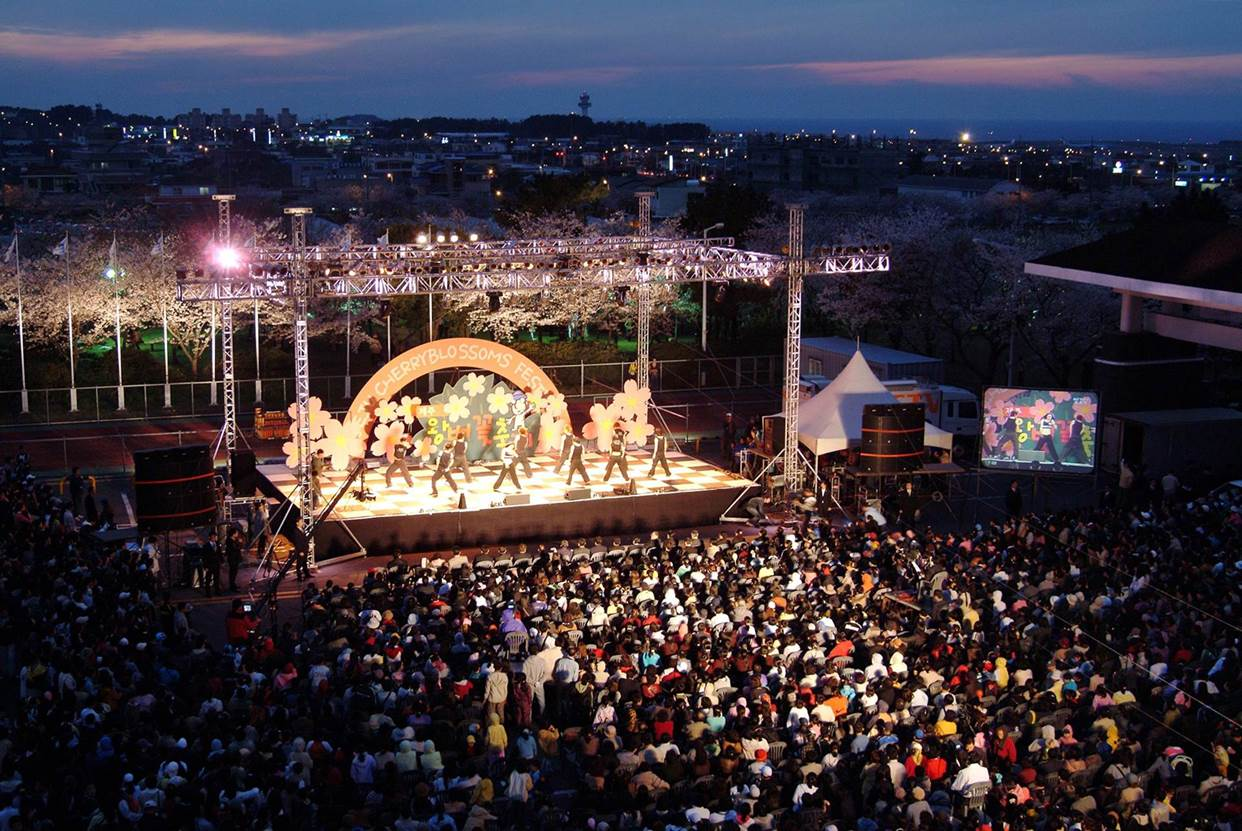 Image credit: Visit Jeju
You definitely won't want to miss out on the festivities here – there are small crafts available for children, food vendors, singing competitions, as well as traditional music and modern dance performances. Additionally, with decorations hung up to commemorate the arrival of spring, the place makes for a stunning sight.
Most of the events and activities are held in areas with a large abundance of these gorgeous flowers, including Jeonnong-ro, the entrance to Jeju National University, Jeju Sports Complex, and the village of Jangjeon-ri in Aewol-eup.
Jeju National University
Address: 102 Jejudaehang-ro, Jeju-si, Jeju-do, South Korea
Jeju Sports Complex
Address: 1163-4 Orail-dong, Cheju, Jeju-do, South Korea
---
2. Jinhae Gunhangje Cherry Blossom Festival
---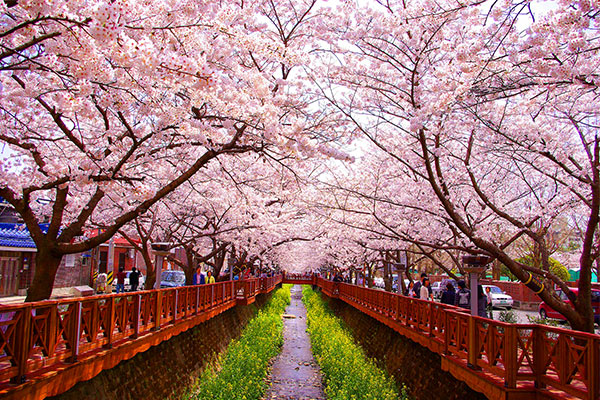 Image credit: Trazy
Following closely behind Jeju, the cherry blossoms in Jinhae Gunhangje are predicted to bloom from 21st March onwards. This year, the festival will be held from 25th March to 3rd April. 
Arguably the largest and most renowned cherry blossom viewing spot in South Korea, it is estimated that there are over 350,000 cherry blossom trees around the festival areas.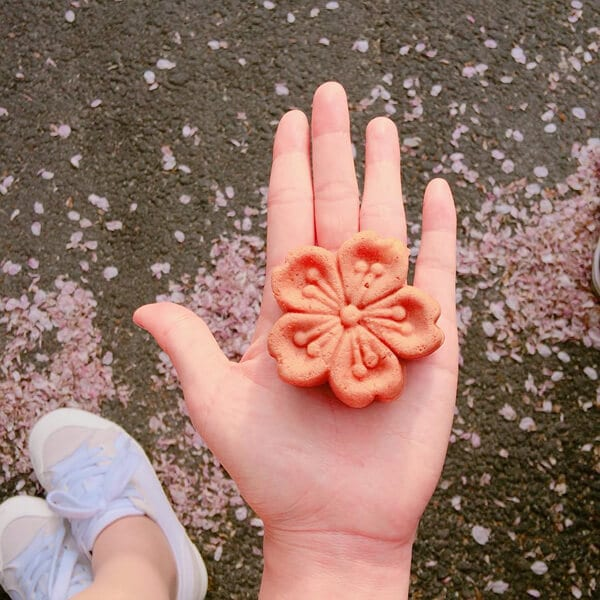 Image credit: Trazy
There are plenty of food and activities to be enjoyed at the festival, and you can munch on cherry blossom-shaped bread while watching the art and cultural performances. 
Alternatively, catch a glimpse of showcases from The Republic of Korea Naval Academy and the Command of Naval Base. These are exclusively available during the celebrations, and include a military band performance, military unit opening events, and military parades.
The Jinhae Gunhangje Cherry Blossom Festival has many impressive spots. At Gyeonghwa Station, take a walk down an 800m-long railway lined with cherry blossoms. This captivating location has even been listed on CNN's 50 Beautiful Places to Visit in Korea.

Image credit: Trazy
Additionally, don't miss out on taking pictures at the Yeojwacheon Stream. The Romance Bridge, where the K-drama That Winter, the Wind Blows was filmed, makes for the perfect backdrop with its 1.5km-long flower stream. It is breathtaking during the day as well as at night, when colourful umbrellas and lanterns are set up. 
Gyeonghwa Station
Address: 850-3 Gyeonghwa-dong, Jinhae, Gyeongsangnam-do, South Korea
Yeojwacheon Stream
Address: Yeomyeong-ro, Jinhae-gu, Changwon-si, Gyeongsangnam-do, South Korea
---
3. Hwagae Cherry Blossom Festival
---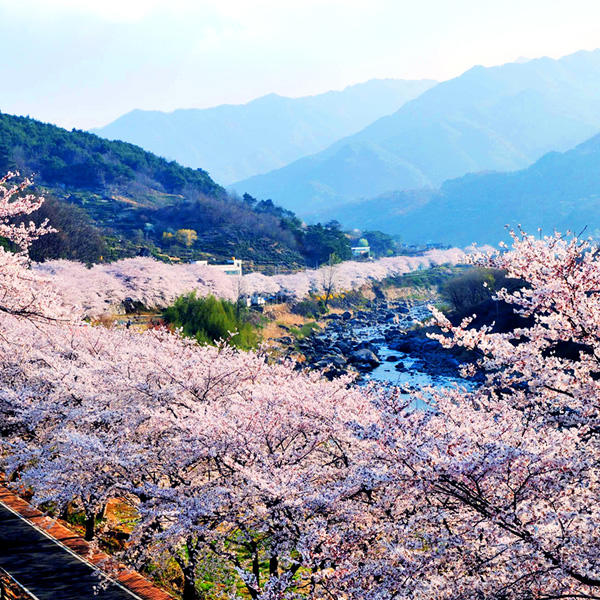 Image credit: 11st 
The cherry blossoms in the nearby Hwagae district are also expected to bloom on 21st March, while the Hwagae Cherry Blossom Festival is generally held on the final 3 days of March. 
Every 1st April, 200 cherry blossoms trees bloom along the aptly named Simni Cherry Blossom Road, which is a 4km-long path that connects Ssanggyesa Temple and Hwagaejangteo Market.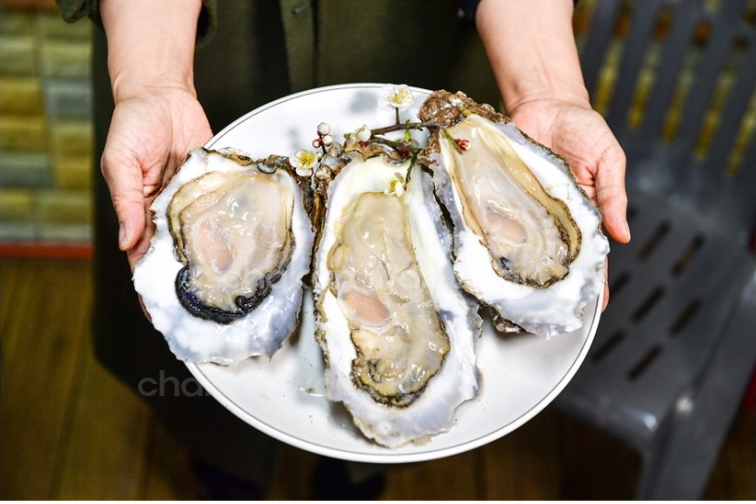 Image adapted from: 차칸울프 
While you're there, try some of the food unique to the area, such as the beotgul (cherry blossom oyster). Have these huge freshwater oysters raw or cooked; they usually come topped with chilli sauce.
Alternatively, opt for their seasonal special – cherry blossom ice cream, which consists of ice cream topped with cherry blossom syrup.
Simni Cherry Blossom Road
Address: Samsin-ri, Hwagae-myeon, Hadong-gun, Gyeongsangnam-do, South Korea
---
4. Gyeongju Cherry Blossom Festival
---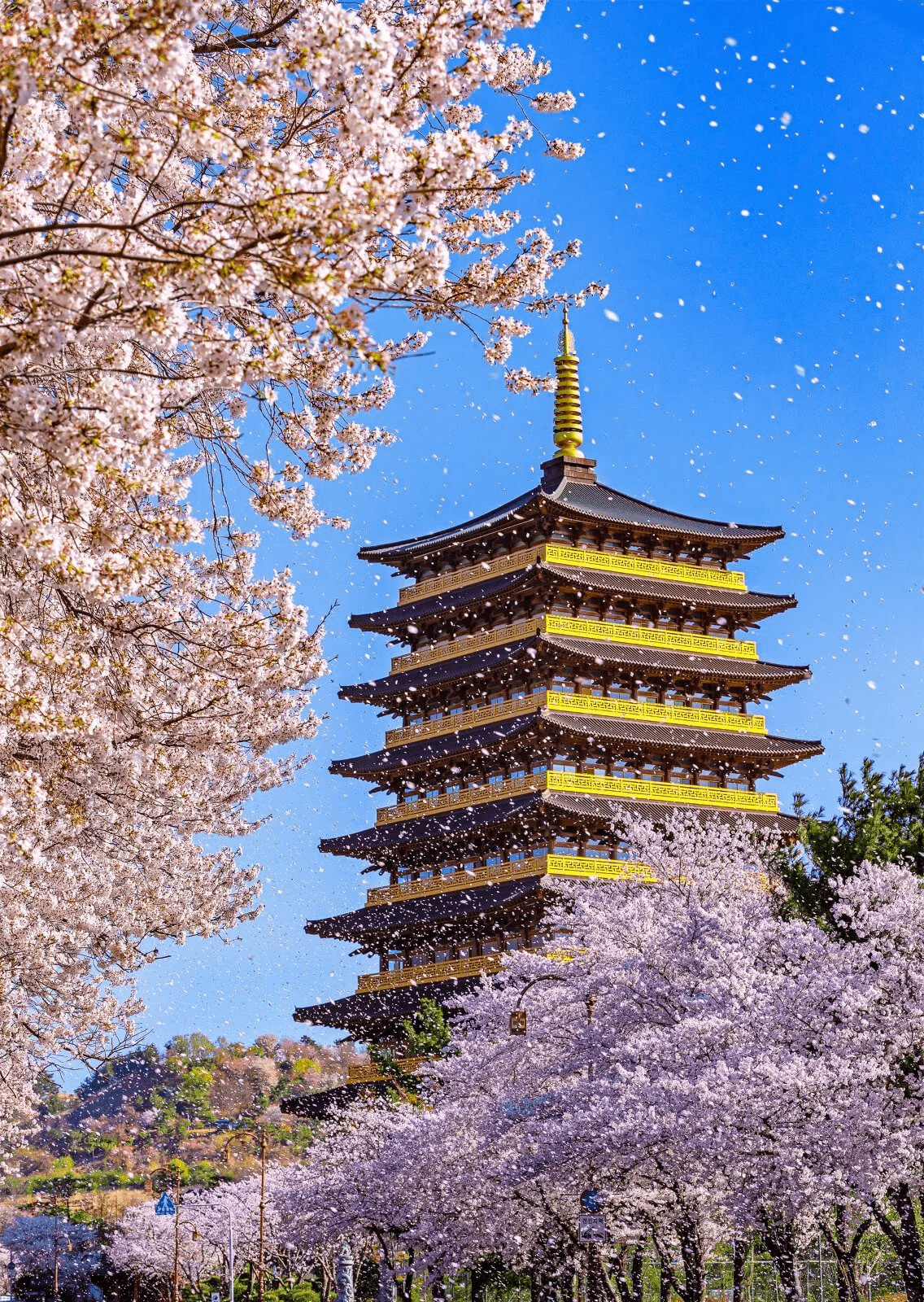 Image credit: Travel stained 
Cherry blossoms in Gyeongju are predicted to bloom from 24th March onwards. The Gyeongju Cherry Blossom Festival is located in a UNESCO World Heritage Site, the Gyeongju Historic Areas, and runs from 31st March to 2nd April.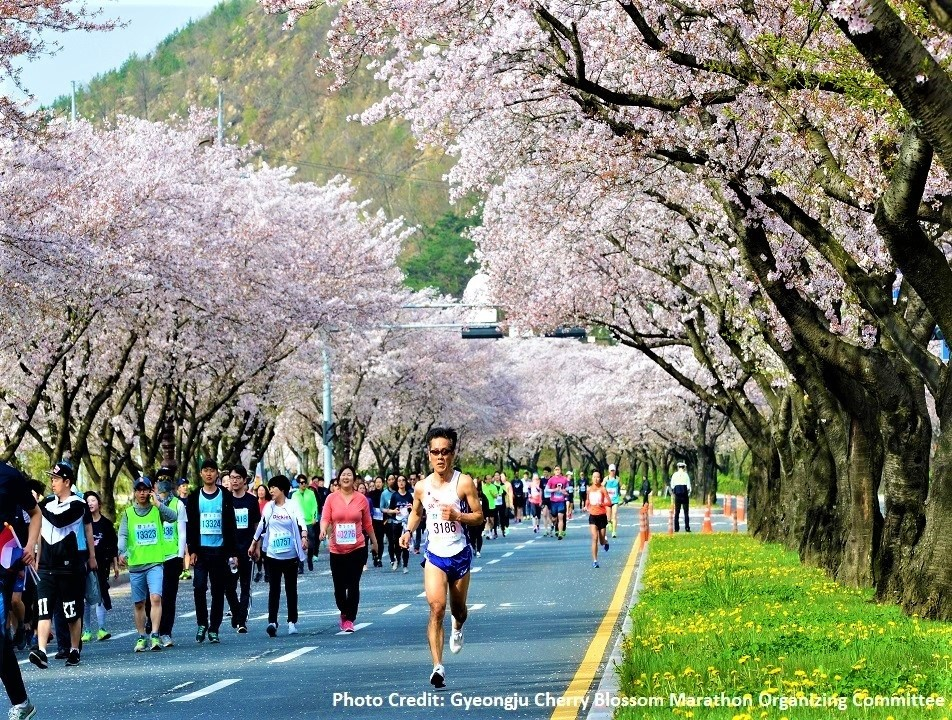 Image credit: travelwander 
Gyeongju also hosts a popular annual marathon during this period, and it will be held on 1st April this year. Participants will race through breathtaking stretches of cherry blossom trees and historical sites near Bomun Lake. 
Sign up for a full (42.19km) or half (21.09km) marathon. Alternatively, take on the 5km or 10km routes should you wish to go for a lighter workout while admiring the idyllic cherry blossoms. 
Gyeongju Cherry Blossom Festival
Address: Daereungwon Doldam-gil, Gyerim-ro, Gyeongju-si, Gyeongsangbuk-do, South Korea
Opening hours: 1pm-10pm, Daily
Contact: 054-777-5952
Marathon (start & end point)
Address: 157-8 Cheongun-dong, Gyeongju-si, Gyeongsangbuk-do
---
5. Cheongpunghoban Cherry Blossom Festival
---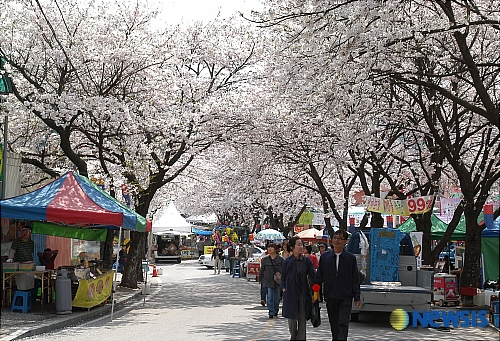 Image credit: Naver News 
Held annually in the region of Jecheon since 1997, the Cheongpunghoban Cherry Blossom Festival has been a long-standing event in South Korea. While cherry blossoms in Jecheon will begin to bloom from around 30th March, festivities will be held between 5th-14th April, with main activities taking place between 6th and 8th April.
Booths for food and small crafts will line the 13km-long Cheongpungho Cherry Blossom Road, from the entrance of Cheongpungho Lake to the site of Cheongpungmyeon. Expect days filled with plenty of festival activities and fun if you're dropping by.

Image credit: 충청매일 
In addition to the usual cherry blossoms in spring, the area is known for other blooms such as azaleas, forsythias, as well as white cherry blossom trees. 
During this festival, there will also be various cultural events, including regional, agricultural, and speciality product markets, eatery markets, concerts, experiences, contests, and exhibitions. 
Address: 2048 Cheongpungho-ro, Cheongpung-myeon, Jecheon, Chungcheongbuk-do, South Korea
---
6. Yeouido Cherry Blossom Festival
---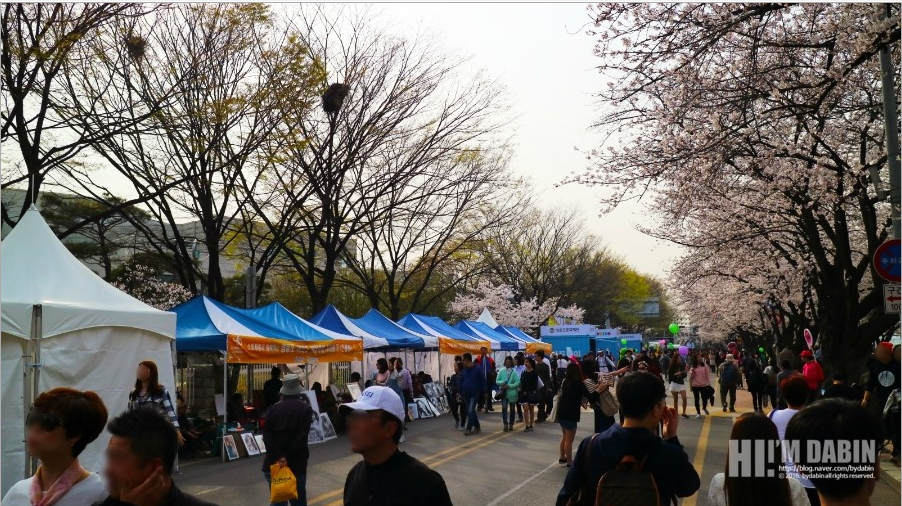 Image credit: dabin
Yeouido Cherry Blossom Festival, which is also known as Yeongdeungpo Yeouido Spring Flower Festival, is one of the more well-known cherry blossom celebrations right in Seoul. It boasts a 1.8km-long path lined with cherry blossom trees, which are even prettier at night when they are lit up in various coloured lights.
Seoul's cherry blossoms are expected to start blooming on 28th March. While the organisers have yet to confirm the dates, the past years' festivals were normally held in early April.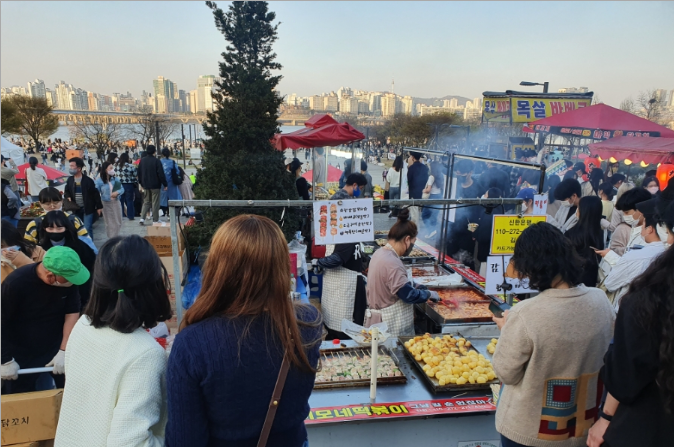 Image credit: 황금먼지
We recommend having a picnic by the Han river as there will be tons of food vendors, street performances, as well as cultural exhibits, all amidst the majestic blooming of pink cherry blossom trees. 
View this post on Instagram
Address: Yeouiseo-ro, Yeongdeungpo-gu, Seoul, South Korea
---
7. Seokchon Lake Cherry Blossom Festival
---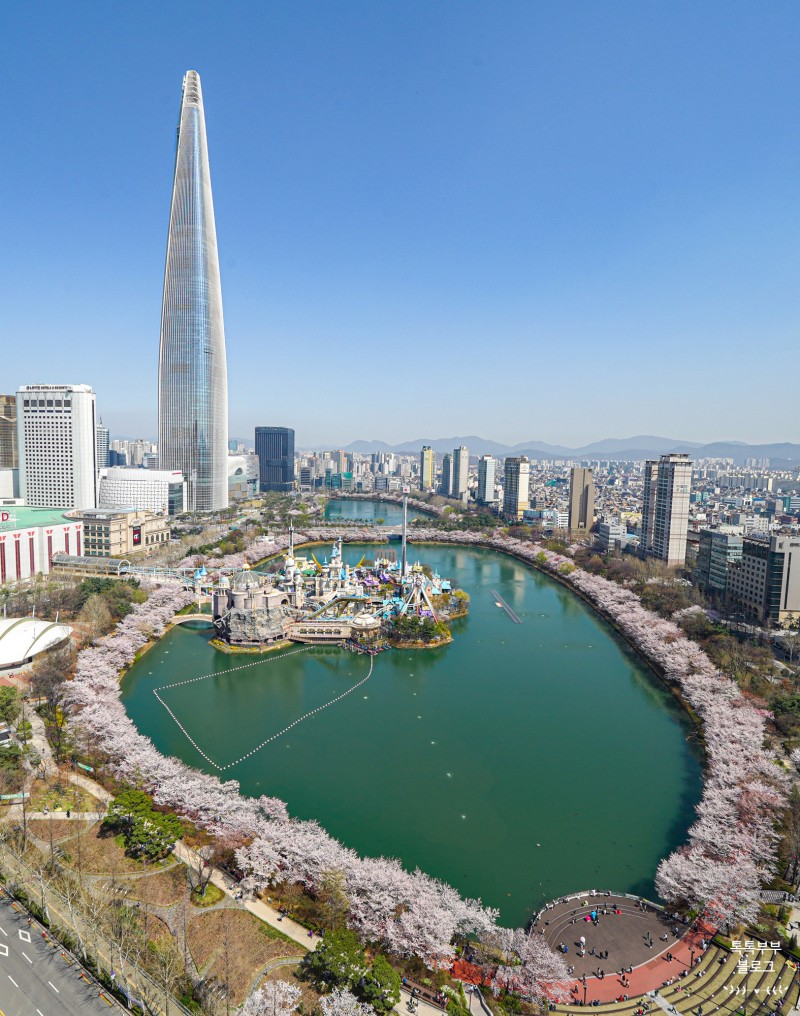 Image credit: 톡톡부부
Seokchon Lake Cherry Blossom Festival is another spring celebration held in South Korea's capital, around the Seokchon Lake area. For those who are unaware, Seokchon Lake and its surrounding areas house one of Korea's most famous theme parks – Lotte World.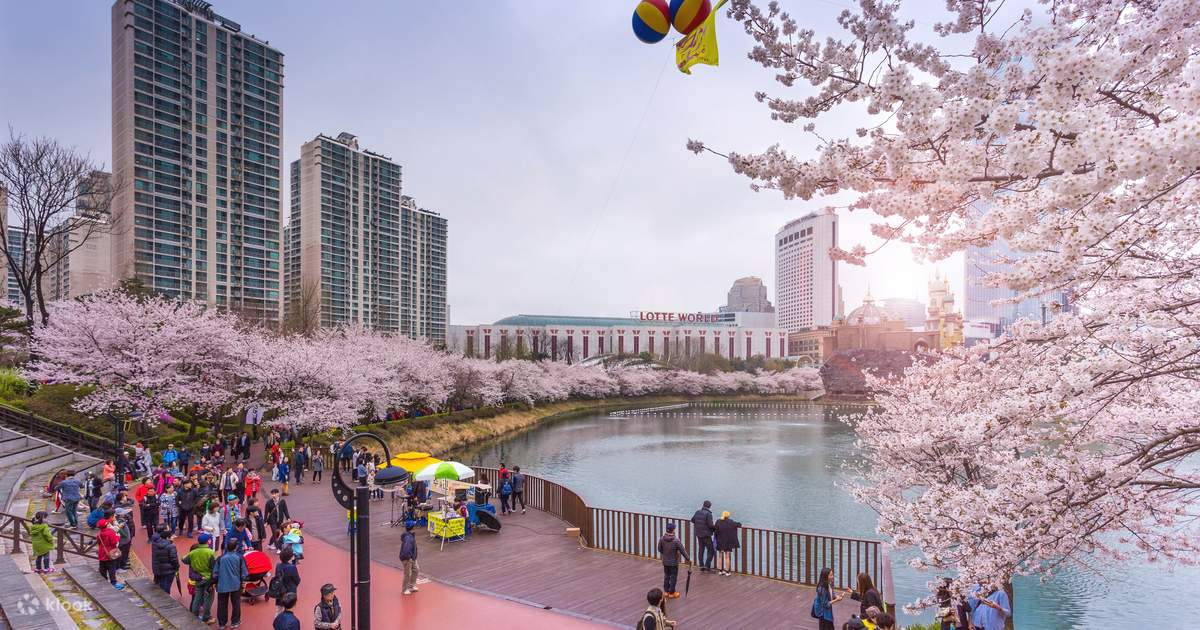 Image credit: Klook 
Just like the Yeouido Cherry Blossom Festival, the cherry blossoms in this area will begin blooming around 28th March, and while the exact dates of the celebration are yet to be determined, it will possibly happen around early April as well.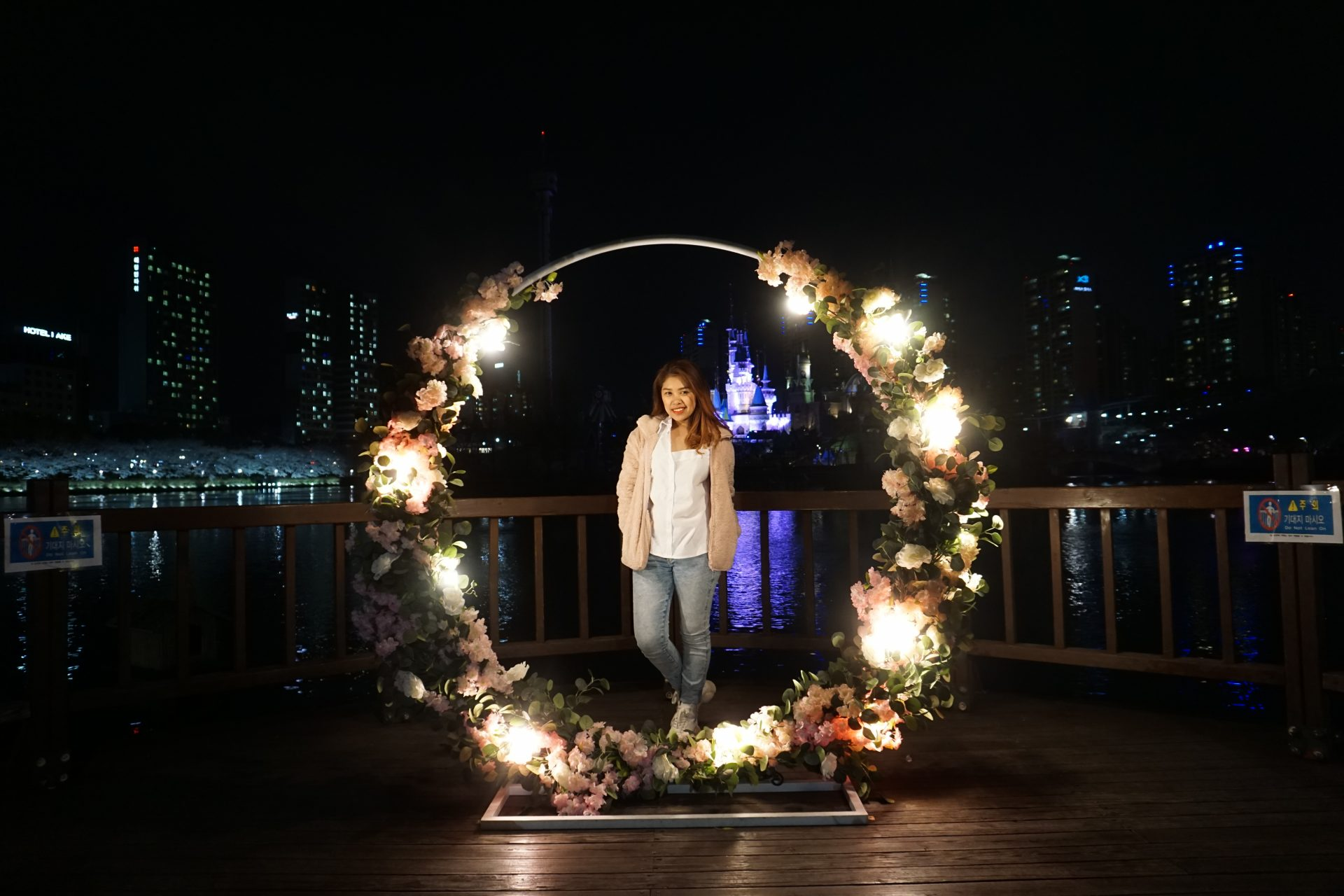 Image credit: koreabyme 
During the festival, there are various activities for you to enjoy – including music performances, singing contests, a cherry blossom market, food trucks, pop-up exhibits, as well as flower and art installations.
Address: Jamsil 6(yuk)-dong, Songpa-gu, Seoul, South Korea
---
8. Gyeongpo Cherry Blossom Festival
---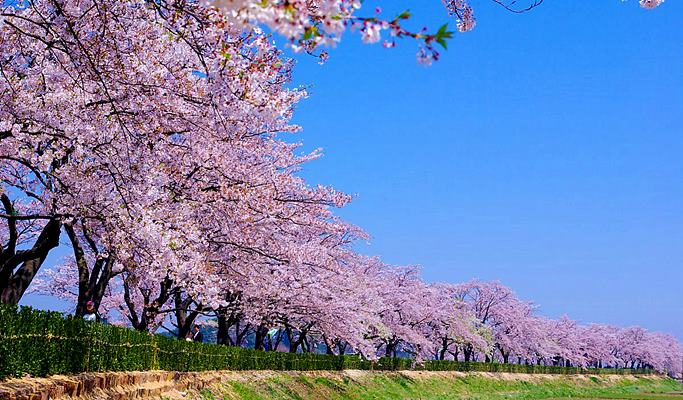 Image credit: Trazy 
Although Gyeongpo is located in the rural northeast part of Korea, it is still a largely popular place to visit, famous for its beaches, lake, and spring festivities. 
This festival's dates have yet to be confirmed as well, but past years have seen it held during the early to mid-April period. If you're not dropping by for the festival, you can always still visit the district for its beautiful cherry blossoms, which will begin blooming around 31st March.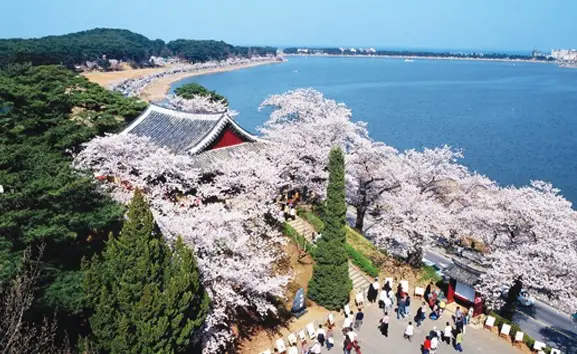 Image credit: Hiexpat Korea 
There is a 4.3km-long trail around Gyeongpo. However, some notable spots include Gyeongpo Lake, Gyeongpodae Pavilion, as well as Gyeongpo Beach. Playing host to impressive flower exhibitions and cultural performances, this event is definitely something you shouldn't miss. 
Gyeongpodae Pavilion
Address: 365 Gyeongpo-ro, Gangneung-si, Gangwon-do, South Korea
Gyeongpo Beach
Address: 514, Changhae-ro, Gangneung-si, Gangwon-do, South Korea
---
Cherry blossom festivals
---
Of course, this is but an introduction to some of the cherry blossom festivals around Korea. While there are smaller celebrations such as the one in Hyeonchungwon and the Seomjin River Cherry Blossom Festival, we have covered the more notable ones with the most activities that are must-visits to soak in the festivities of the seaason.
Also check out:
---
Cover image adapted from:Travel stained, 충청매일, Trazy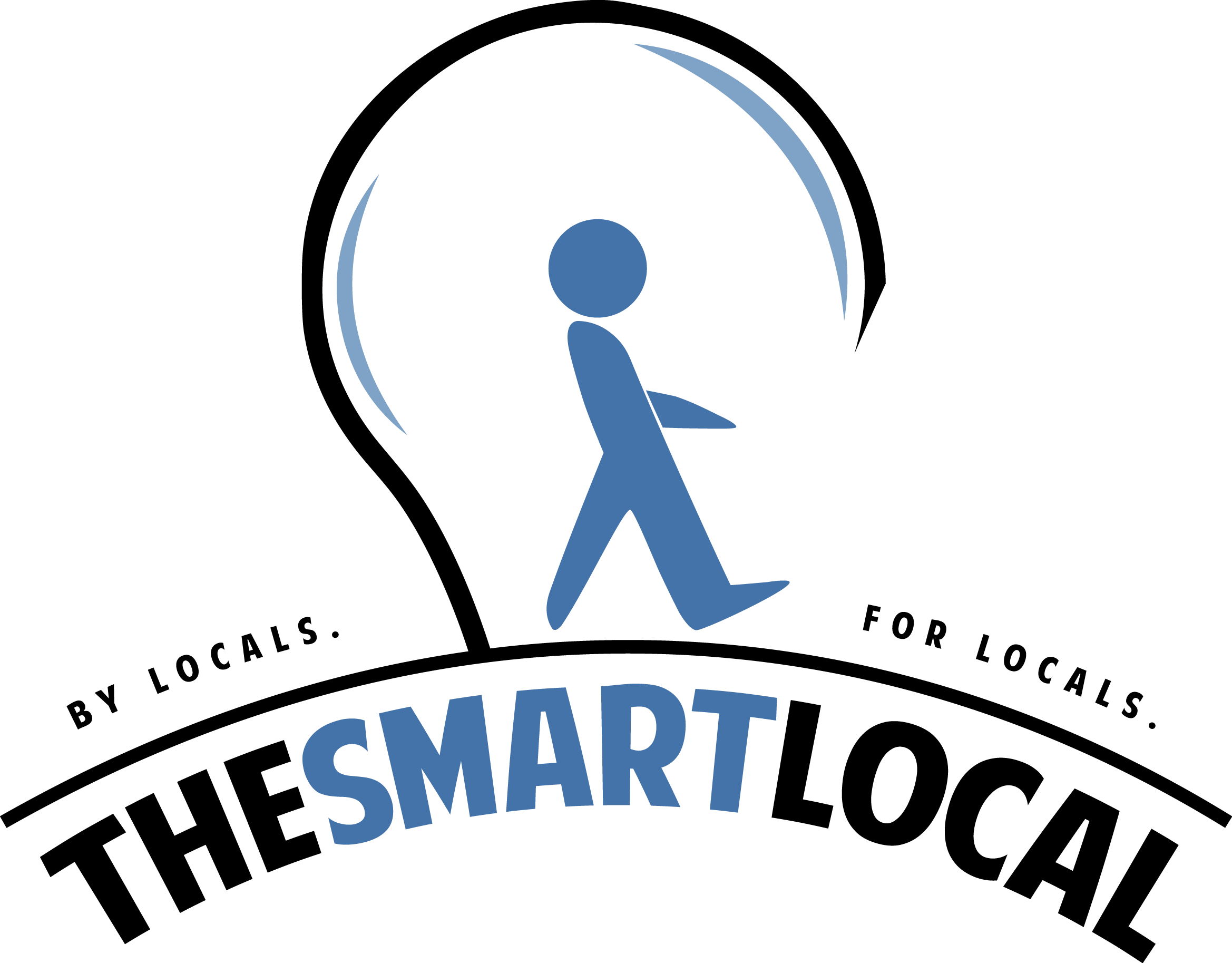 Drop us your email so you won't miss the latest news.