Happy Bear Day
---
Famous shopping streets such as Hongdae and Myeongdong are well-known internationally, but the less-explored Hapjeong is just as worthy of your time. These days, it's full of interesting shops and cute cafes that are popular with trendy insiders, and one such example is Happy Bear Day, which sells cute desserts that you can't bear to eat.
---
Colourful kidcore facade & interior
---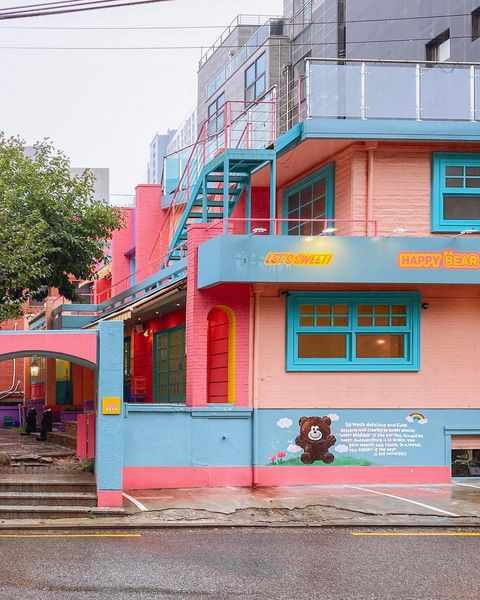 Image adapted from: @as_it_is__
Even from far, you can easily spot Happy Bear Day due to its bright and colourful facade, which highkey gives us Barbie dollhouse vibes.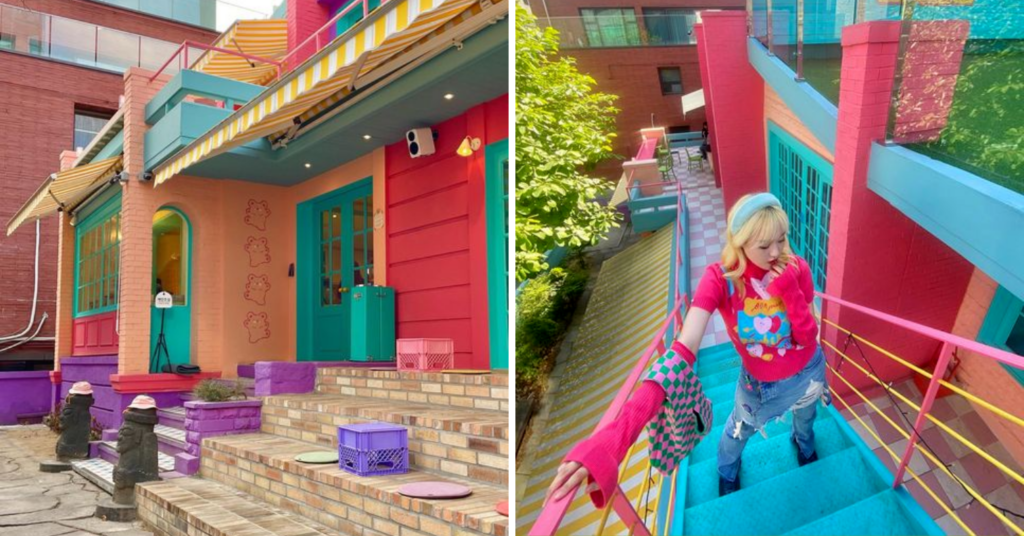 Image adapted from: @_mins_j, @jun_jaeiii
From the entrance to its rooftop, every corner of the cafe can be a great photo spot, so go ham with your OOTD shots here.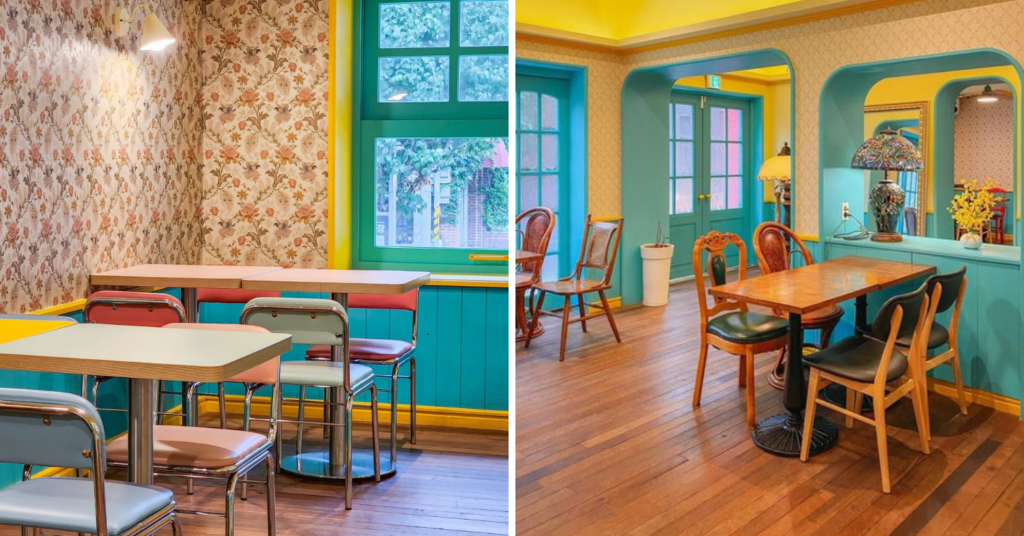 Image adapted from: @hae.dal.byul, @as_it_is__
Inside, the cafe is just as colourful – but with a retro twist. Printed wallpaper, pseudo three-centred arch doorways, old-school furniture, and a teal-and-yellow colour scheme make the place look distinctly 50s-inspired.
---
Bear-shaped cookies & cute cakes
---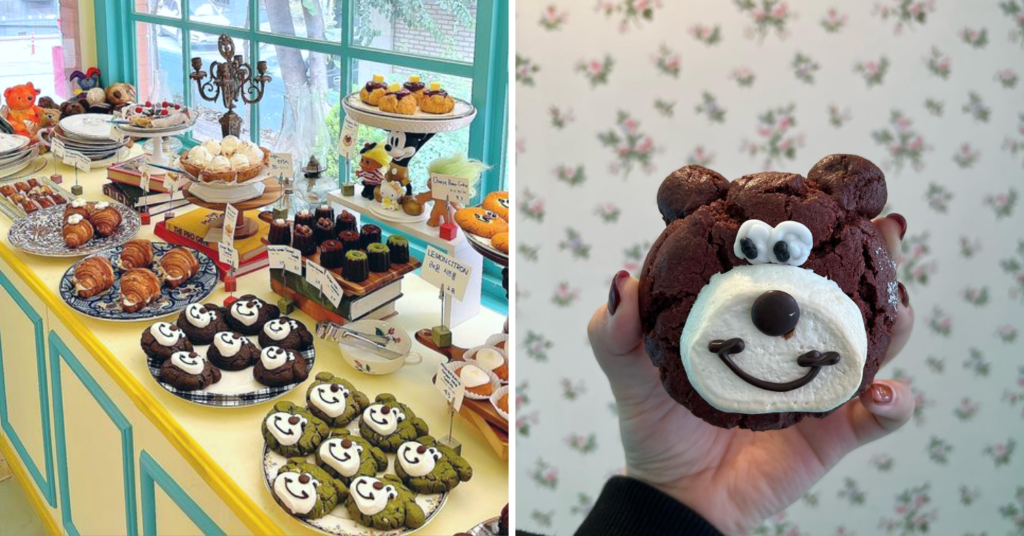 Image adapted from: @lee_es84, @_haaa_y
Happy Bear Day is a dessert cafe selling cutesy desserts such as bear-shaped cookies and cakes frosted to look like adorable little critters. Its bear cookies cost KRW4,300 (~USD3.02) each and come in flavours such as Cheese, Macadamia Green Tea, Oreo S'more, and classic Chocolate.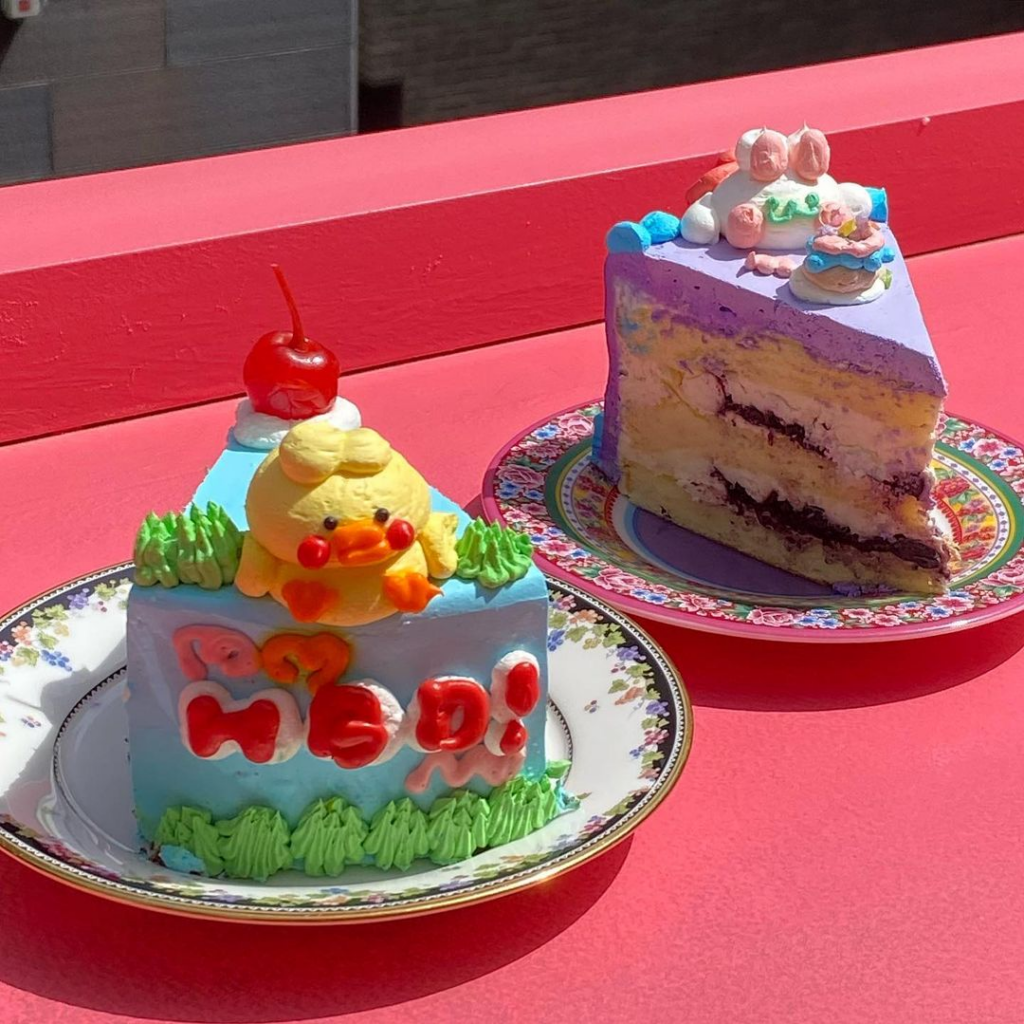 Choco Oreo Cake and Blueberry Cheese Cake.
Image credit: @omemeoll
One of their bestselling cakes is the Choco Oreo Cake (KRW7,500, ~USD5.27), a spongy chocolate cake layered with Oreo cream and adorned with a yellow duck made of frosting.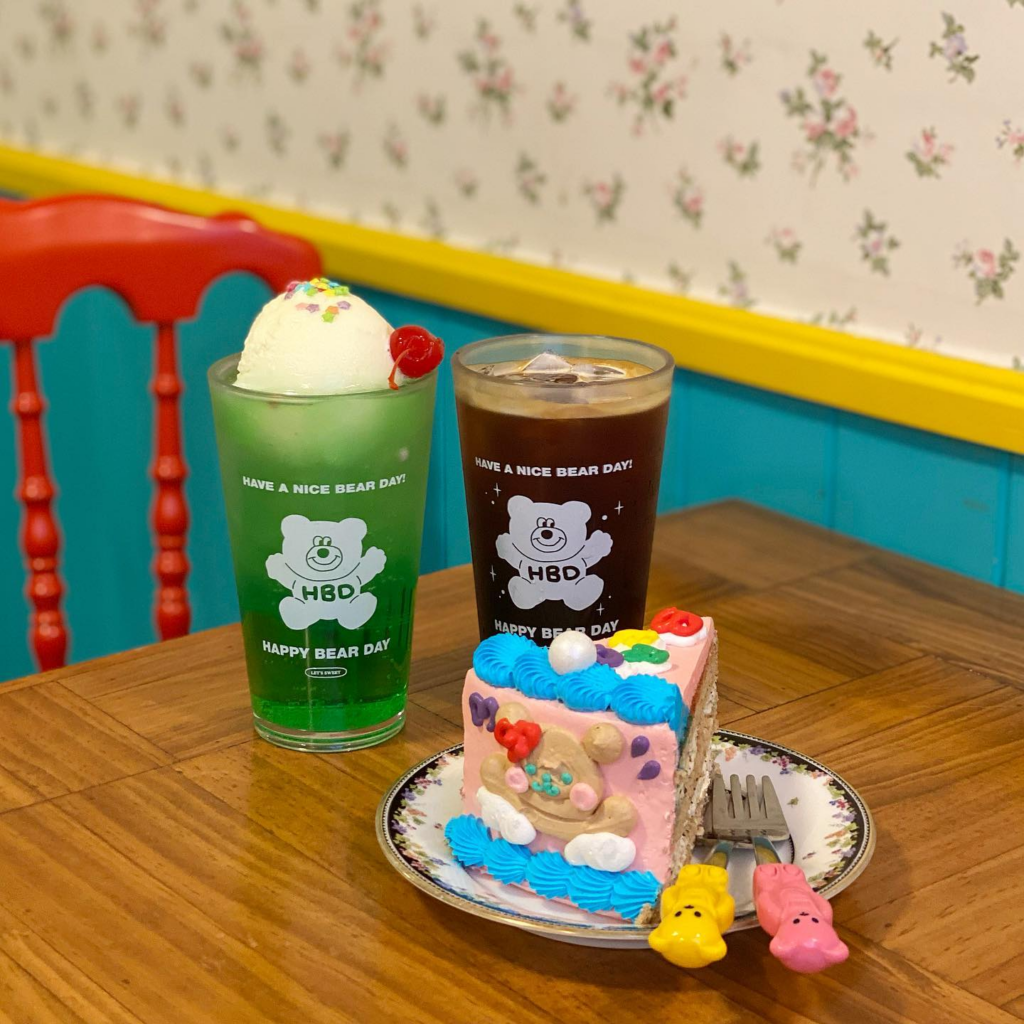 Image credit: @_____uc___
Alternatively, get the Earl Grey Cake (KRW7,500, ~USD5.27) and a glass of refreshing Cream Melon Soda (KRW6,500, ~USD4.57), which is a melon-flavoured soda topped with vanilla ice cream.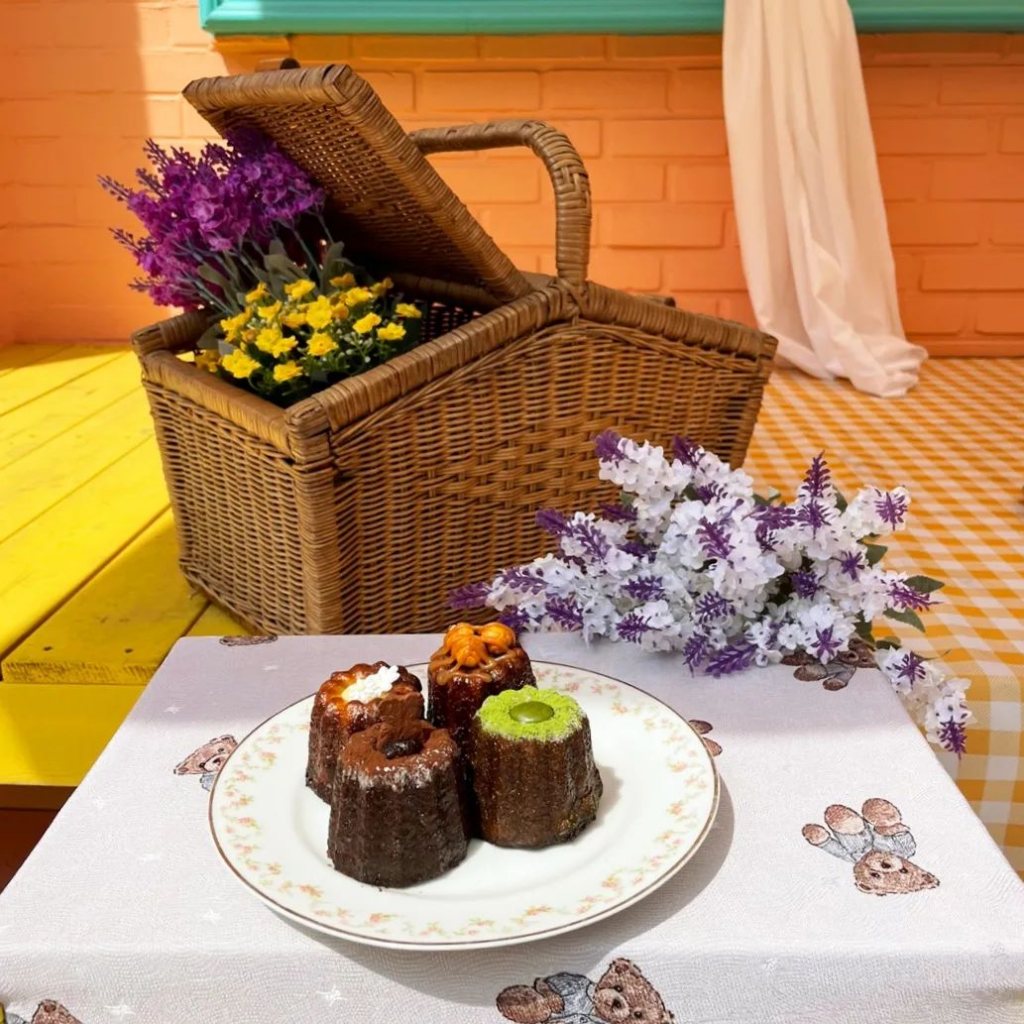 Image credit: @happybearday.cafe
They also have other pastries such as croissants and canelé in classic flavours including Vanilla, Matcha, Caramel and Chocolate.
---
Whole cakes with custom designs
---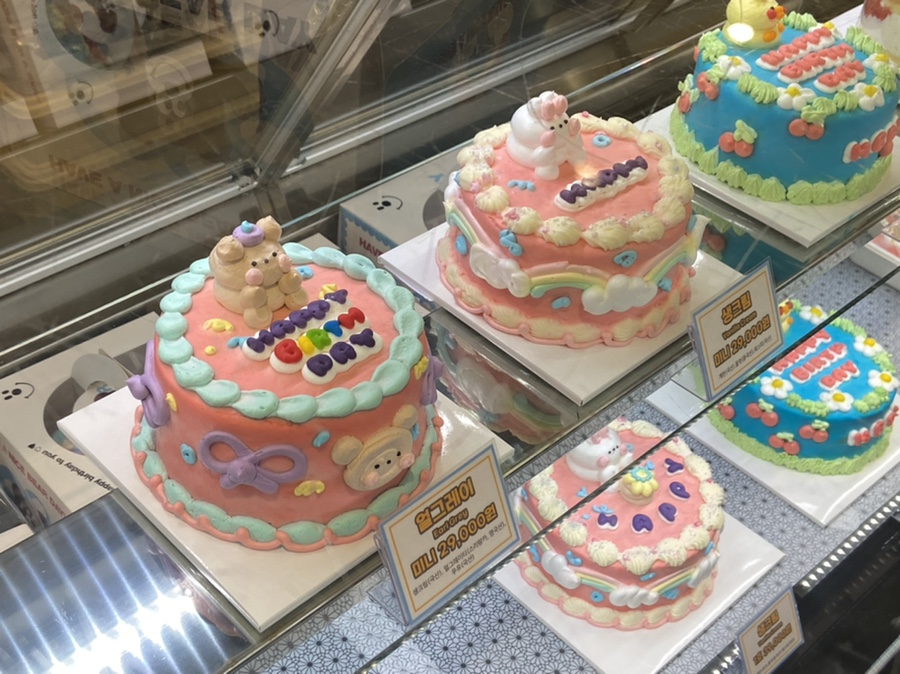 Image adapted from: 구구달달
Happy Bear Day's cakes are sold whole as well, and if you contact them in advance, you can even get them to create a custom design for you.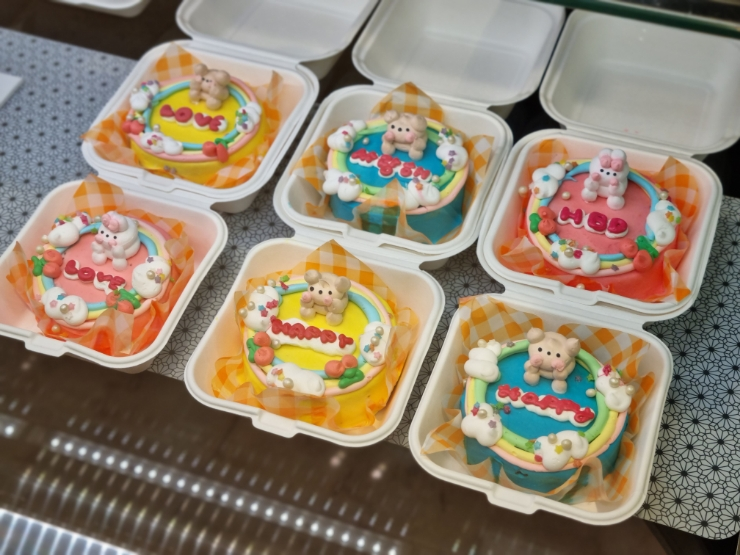 Image adapted from: 브라운라이스
The cakes are available in various sizes, from small lunchbox cakes to large ones that can feed a whole class.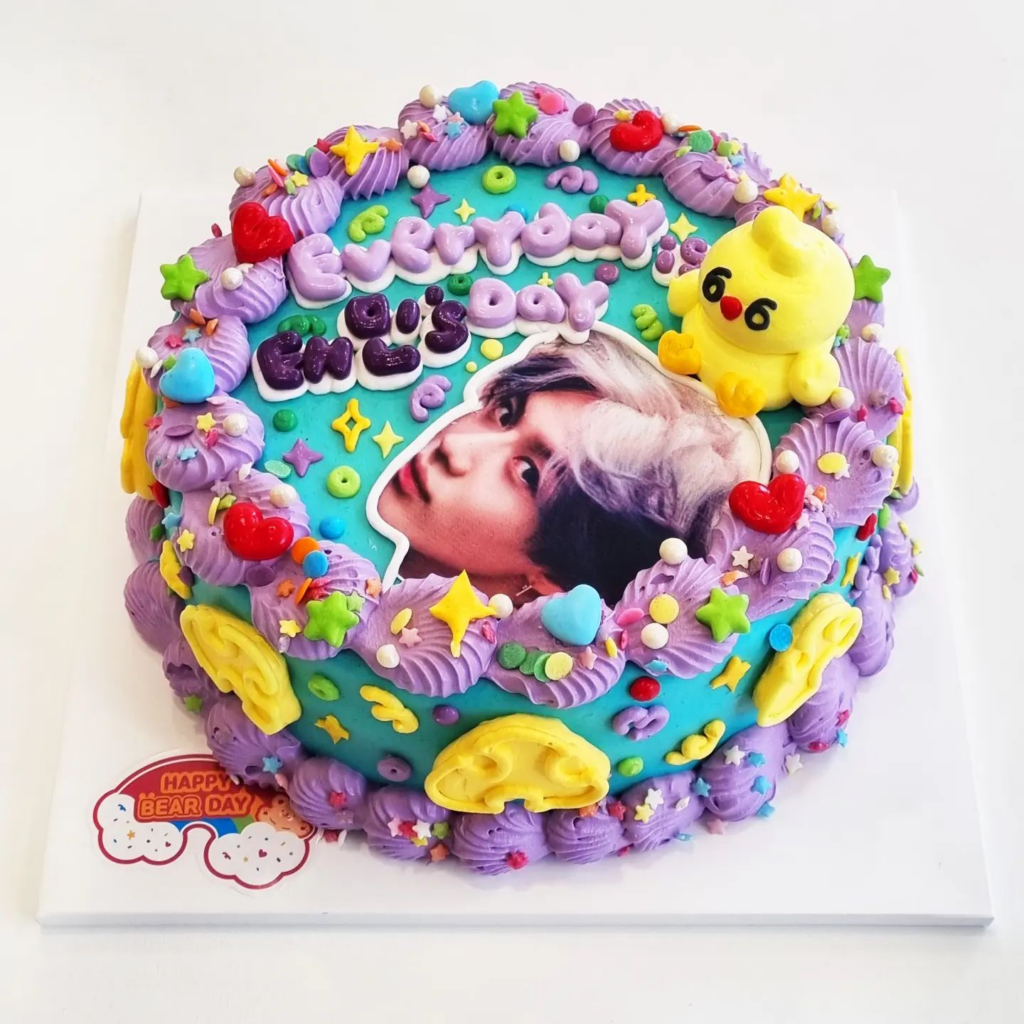 Image credit: @happybearday.cake
Happy Bear Day's cake customisation allows you to add photos and letterings depending on the size of the cake.
Cake pricelist:
Price

Blueberry Cheese Cake

Other flavours

Bento cake

KRW18,000 (~USD12.65) 

KRW18,000 (~USD12.65) 

Mini cake

KRW30,000 (~USD21.09) 

KRW29,000 (~USD20.39) 

Size 1

KRW40,000 (~USD28.12) 

KRW39,000 (~USD27.42) 

Size 2

KRW50,000 (~USD35.16) 

KRW49,000 (~USD34.45) 

Size 3

KRW60,000 (~USD42.19) 

KRW59,000 (~USD41.49) 
To make orders, text them at 010-2477-2211, send a message via Naver, or visit the store in person.
---
Getting to Happy Bear Day Hapjeong
---
There are 2 Happy Bear Day cafes and 6 Happy Bear Day cake stores. The cafes are located in Sangsu-dong and Hapjeong, though the latter seems to be more popular. The cake stores are located in Hyundai Department Stores Yeouido, Cheonho and Pangyo, and Lotte Department Stores Geondae, Myeongdon and Jamsil.
How to get to Happy Bear Day Hapjeong:
Take Line 2 to Hapjeong Station

and leave by

Exit 3.
Walk straight

for 150m then

slide right

into the alley.

Walk straight

for 90m then

turn right

and you'll arrive at Happy Bear Day Hapjeong branch.
Address: 16-6 Yanghwa-ro 12-gil, Seogyo-dong, Mapo-gu, Seoul
Opening hours: 10.30am-8pm, Daily
Contact: 02-772-3064 | Instagram
Also check out:
---
Cover image adapted from: @_mins_j, @happybearday.cafe, @ddan.git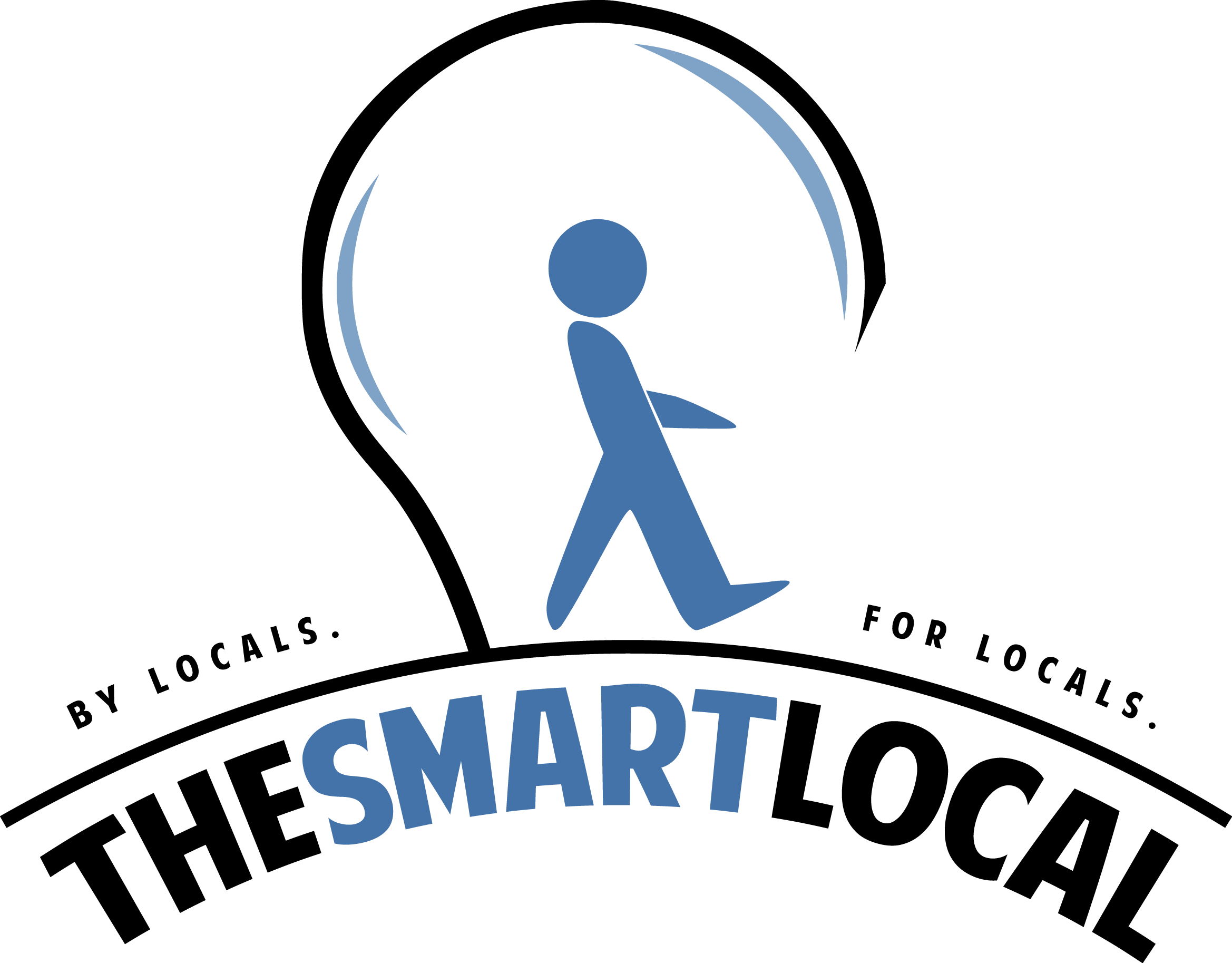 Drop us your email so you won't miss the latest news.