Ssang-Gom Dabang
---
With how integral technology is in our lives, it can be hard to fathom a time where music was played from cassette tapes, and the internet was a new-fangled fad. But if you want to experience what Korea looked like in the analog age, drop by Ssang-gom Dabang, a retro-themed cafe that will give you all the old-school vibes.
---
Travel back in time with authentic retro decor
---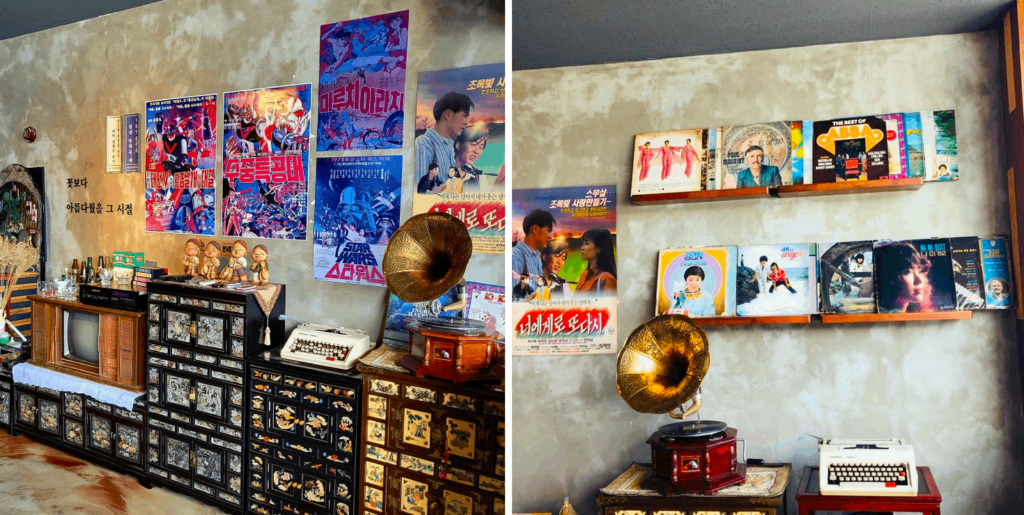 Image adapted from: @_xxeun_ via Instagram, 곰지안 via Naver 
Stepping into Ssang-gom Dabang is like travelling back in time. Its walls are decorated with posters of old-school movies and LP (long play) records that your parents or grandparents remember using. The posters and LP casings are also slightly faded to add a touch of authenticity.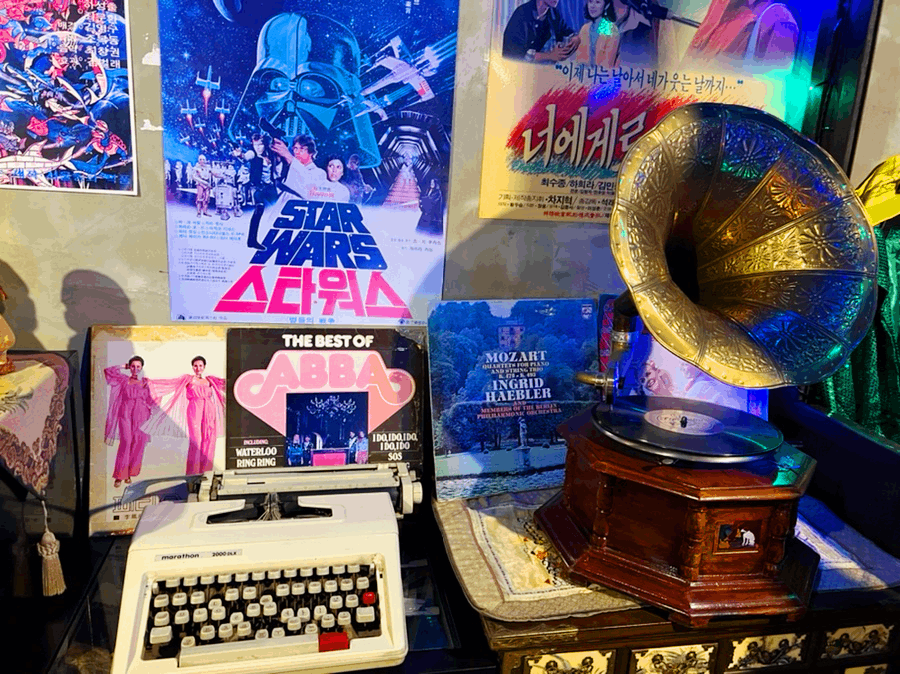 Image adapted from: 곰곰한 라이언 via Naver
Along with the wall decorations, the cafe also displays antiques such as gramophones, rotary phones, and typewriters.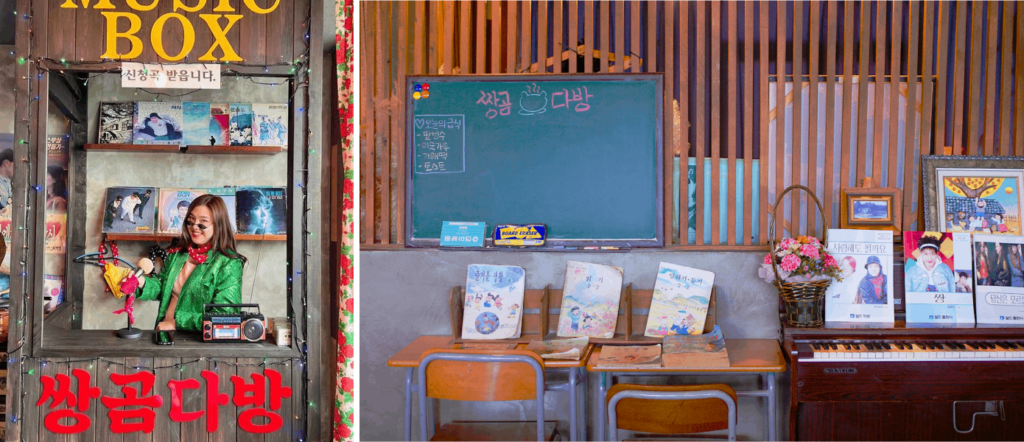 Image adapted from: @geon_yeong via Instagram, 휘루 via Naver
Music booths, old-school classroom furniture, and paraphernalia decorate the cafe, turning almost every spot in the cafe into a photo-op.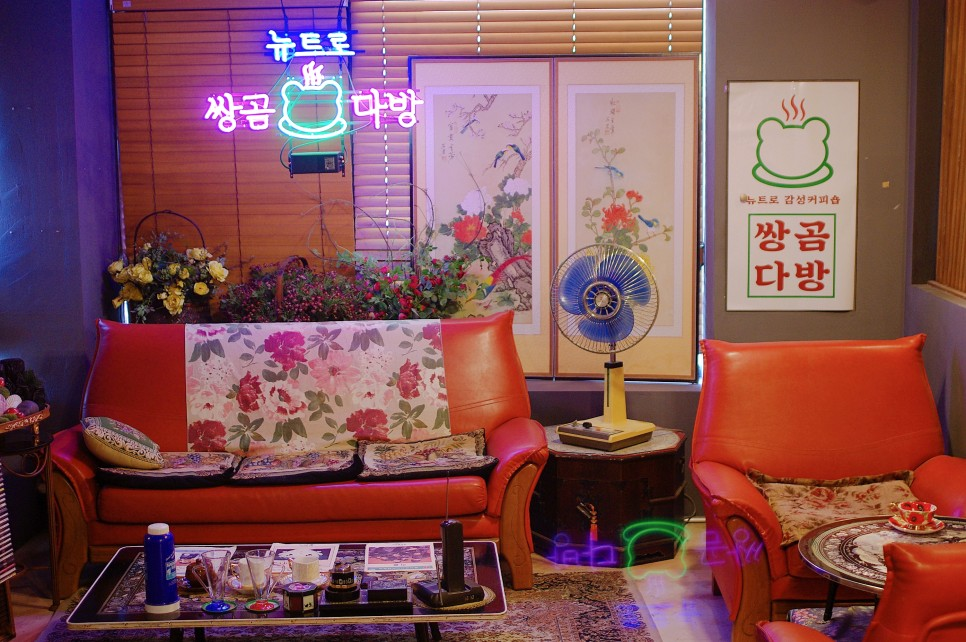 Image credit: 휘루 via Naver
The cafe's crowning photo zone is named the Love Room. It is a space filled with antique furniture and items that make it indistinguishable from living rooms from our grandparents' era.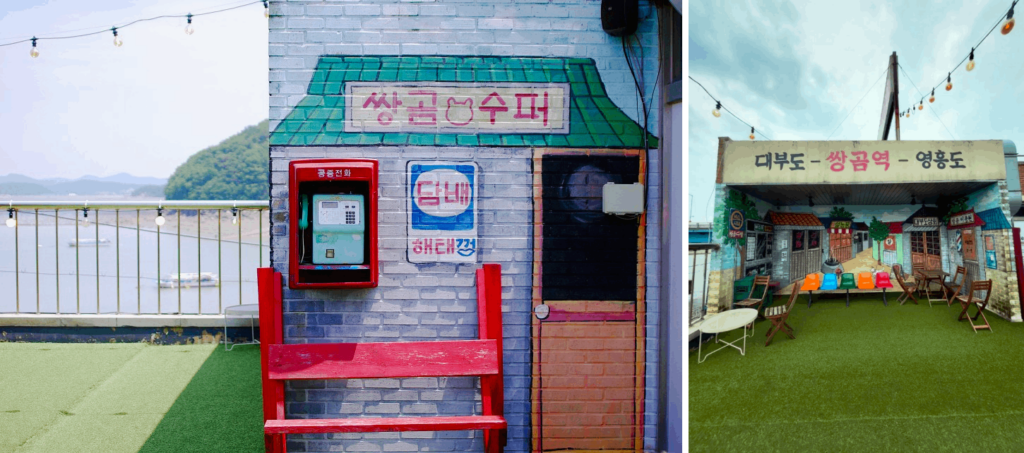 Image adapted from: 휘루 via Naver, 미소 via Naver
Even the cafe's exterior is decorated as retro sets, such as a prepaid telephone booth and a bus stop-esque hangout area.
---
Korean school uniforms & ahjumma clothes provided
---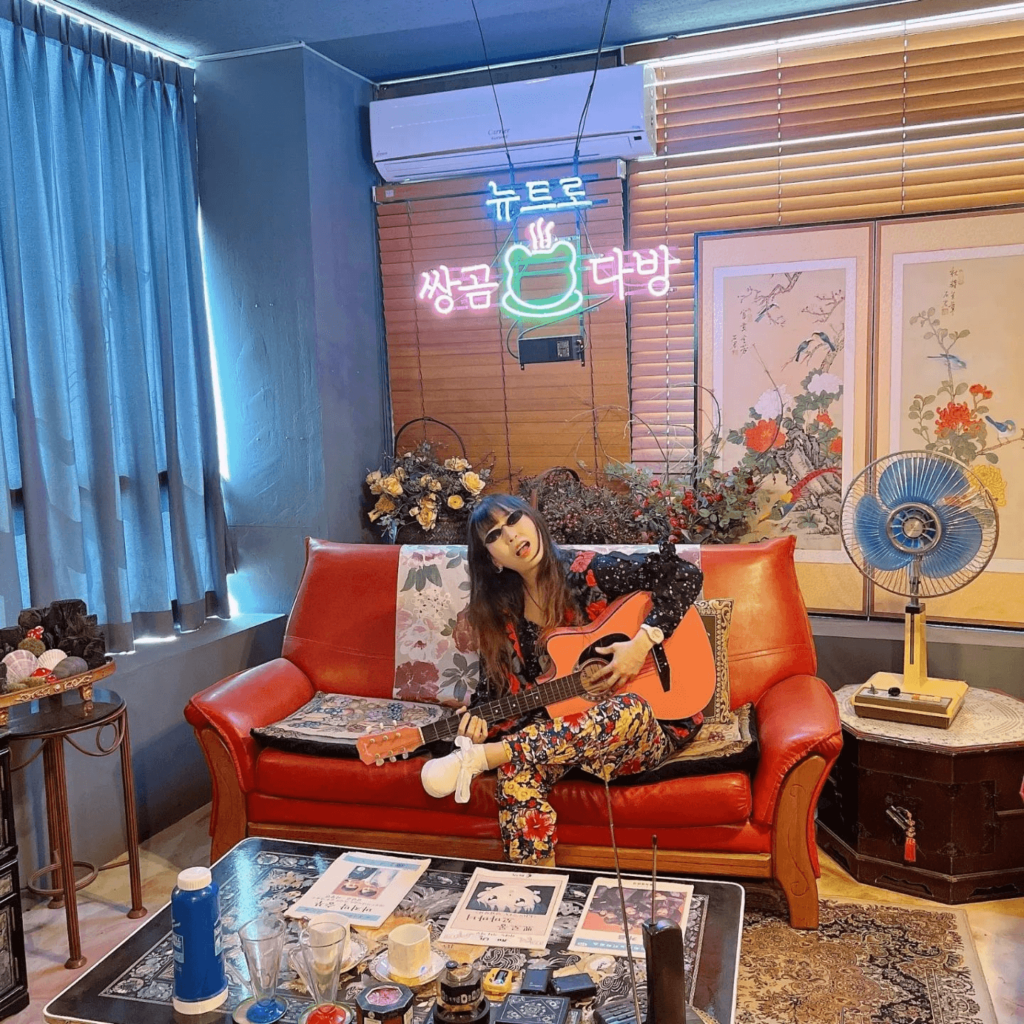 Image credit: @sangeun_1901 via Instagram 
Ssang-gom Dabang sets itself apart from other retro-themed cafes by going the extra mile to provide various props and costumes for customers' use, so that the photos you take here will have that added dose of authenticity and fun.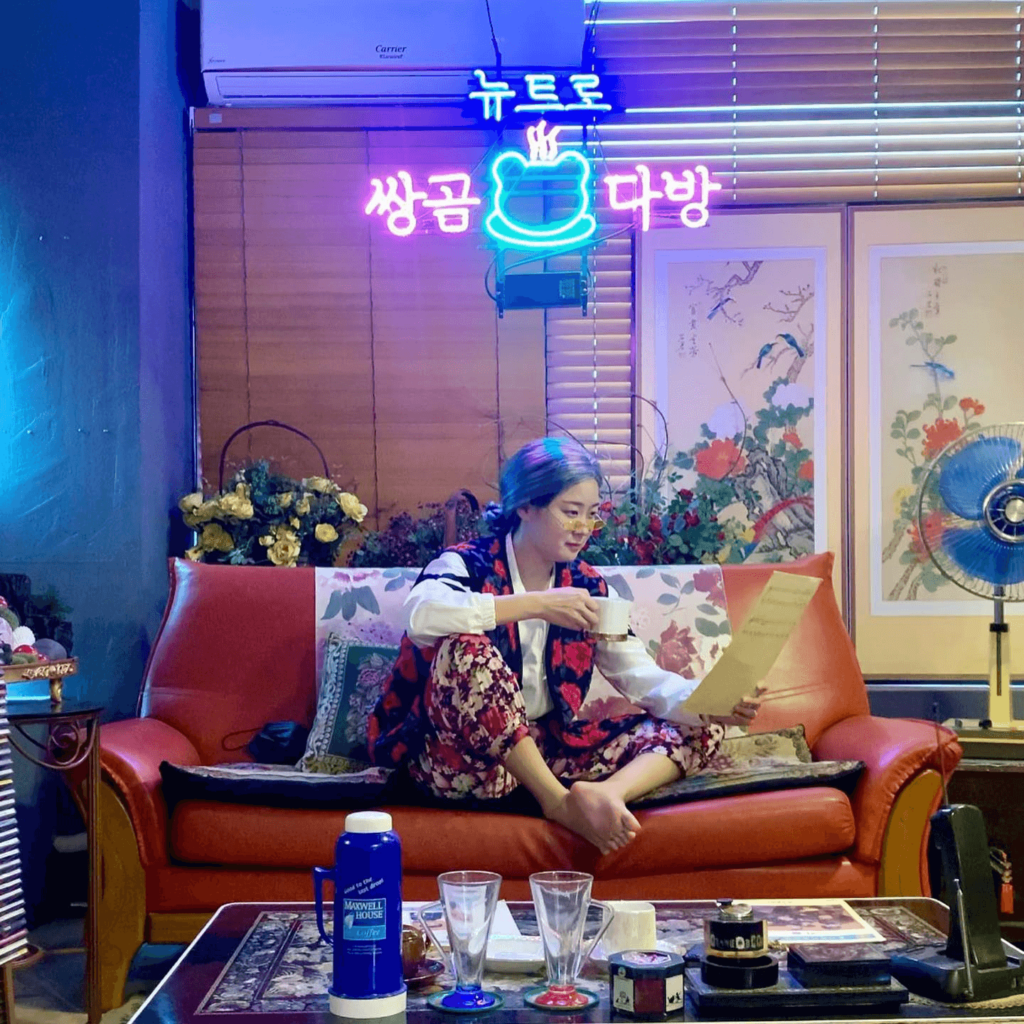 Image credit: @i_izuiw via Instagram 
With the flowery ahjumma-style clothes such as vests and pants, as well as grey wigs provided, you can cosplay as your great-grandparents too.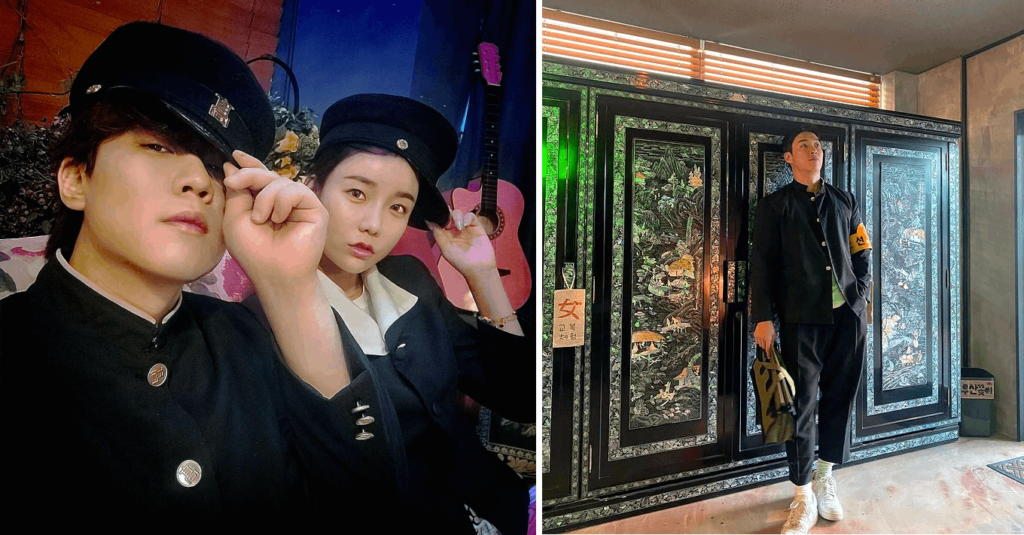 Image adapted from: @cheol1205 via Instagram, @beauty_beast_sungjin via Instagram 
There are also retro school uniforms, complete with black buttoned vests, military-like hats, and student armbands. 
---
Retro-themed desserts
---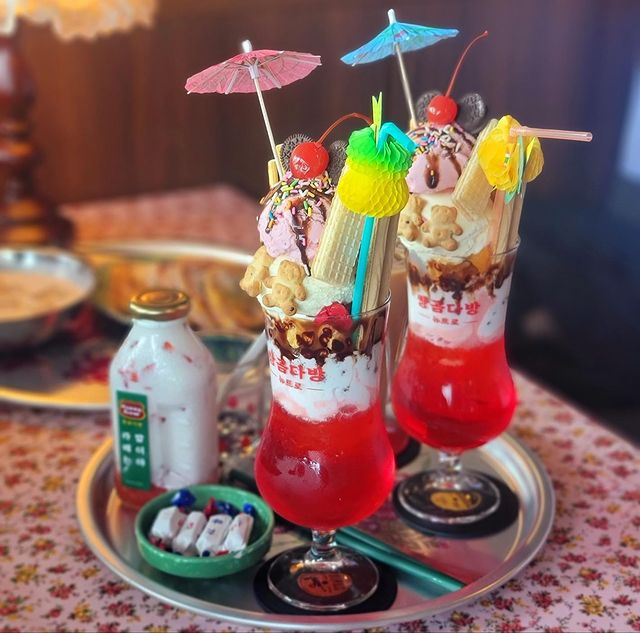 Image credit: @lovely_chae1130 via Instagram 
Aside from the visually pleasing decor, Ssang-gom Dabang puts the same effort into making their food and desserts a treat for the eyes as well as your tastebuds. 
Their Parfait (KRW9,500, ~USD6.90) has nicely separated layers, and is topped with various biscuit treats, and a small parasol for a touch of summer vibes.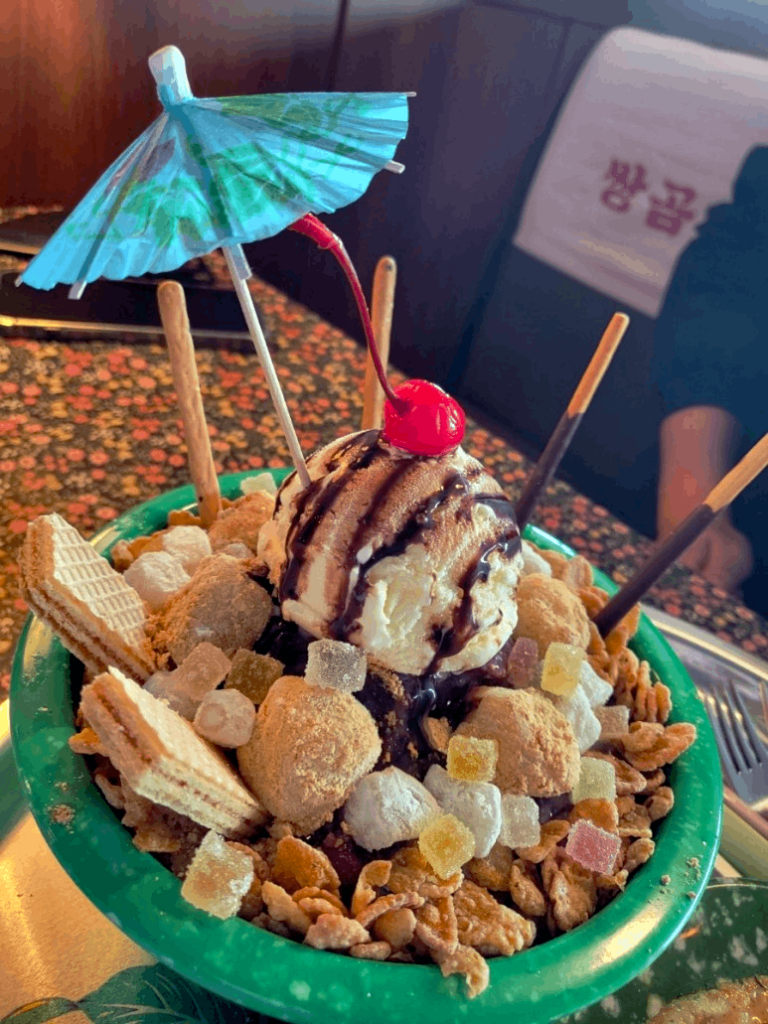 Image adapted from: 미소 via Naver 
Their Red Bean Bingsu (KRW15,000, ~USD10.80) is an extravagant treat with injeolmi and wafers. Pepero sticks decorate the bingsu for a lavish, retro-meets-present dessert experience.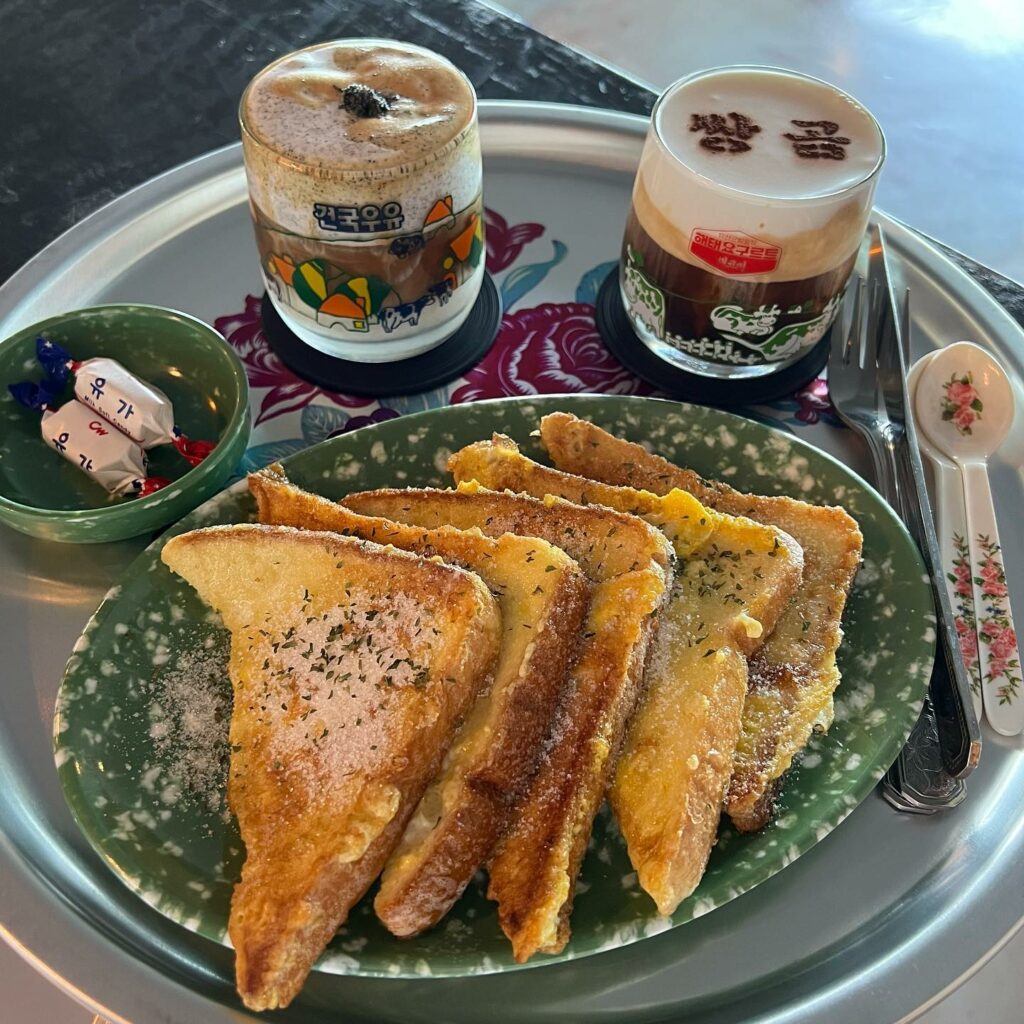 Image credit: @ssanggomdabang via Instagram
Various Naver bloggers also recommend their Sugar French Toast (KRW6,500, ~USD4.70) if you prefer less icy desserts.
If you aren't hungry enough for a full meal, the cafe also sells old-school snacks that older Koreans grew up with.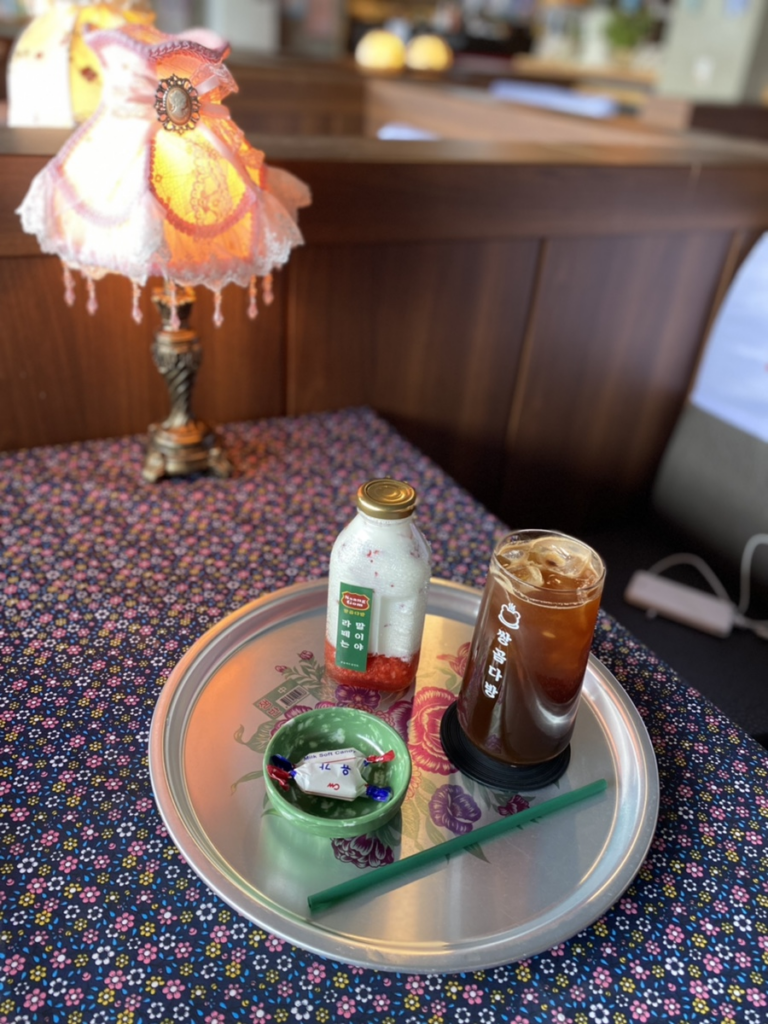 Image credit: 묭이 via Naver
Drinks wise, try their Ssang-gom Berry Latte (KRW8,000, ~USD5.80), which comes with real strawberries, or go for the trusty Iced Americano (KRW6,000, ~USD4.30) for a classic beverage option. 
---
Getting to Ssang-gom Dabang 
---
While Korea is known for its modernity and high standards of living, it's nice to have places such as Ssang-gom Dabang to go to, with nostalgic decor that lets us have a taste of how life looked like a few decades ago. 
How to get there:
Take Seoul Subway Line 4 to Oido Station. 

Take bus 790 for 7 stops and alight at Seonjae Bridge Station. 

Cross the 2 zebra crossings and walk along

Seonjae-ro 34-beon gil

towards the coast for around 5-10 minutes. You should see a 7-11 on your left.

Ssang-gom Cafe will be on the 2nd floor of the building right ahead of you.
Address: 64 Seonjae-ro 34beon-gil, Yeongheung-myeon, Ongjin-Gun, Incheon
Opening hours: Mon-Fri 10.30am-6pm | Sat-Sun 10.30am-7pm (Closed on Wednesdays)
Contact: 070-8228-7881
Note that the interior of Ssang-gom Dabang is a no-kids zone, and families with children are only allowed on their outside patio area.
For more old-school cafes and restaurants, visit Yangji Dabang, Cha-teul, and Songam Inn. Alternatively, check out Dae-oh Bookstore, which is known as the oldest bookstore in Seoul. For those who want a tinge of trendy in retro, Ling Ling cafe is worth a visit too. Otherwise, check out this list of 8 things to do in Seoul at night.
---
Cover image adapted from: @k.woo_y via Instagram, @ssanggomdabang via Instagram, @k.woo_y via Instagram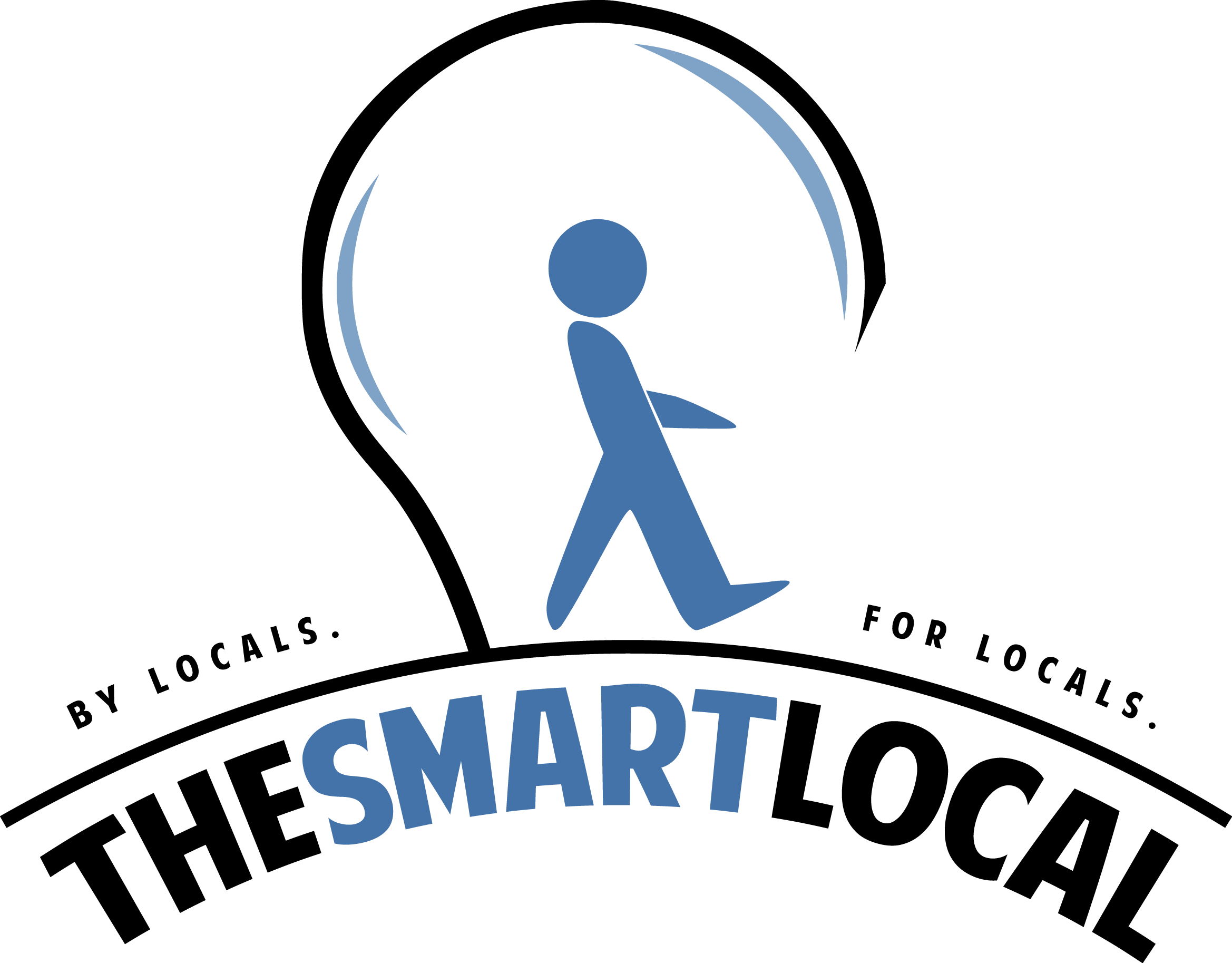 Drop us your email so you won't miss the latest news.