Guide to solo travelling in South Korea
---
Travelling alone to a foreign country requires a lot of courage and there are many things you'll have to know before embarking on your trip. Here's a guide to solo travelling in South Korea, so you can fully enjoy your stay in the country with less to worry about. 
---
1. Book accommodations in bustling areas
---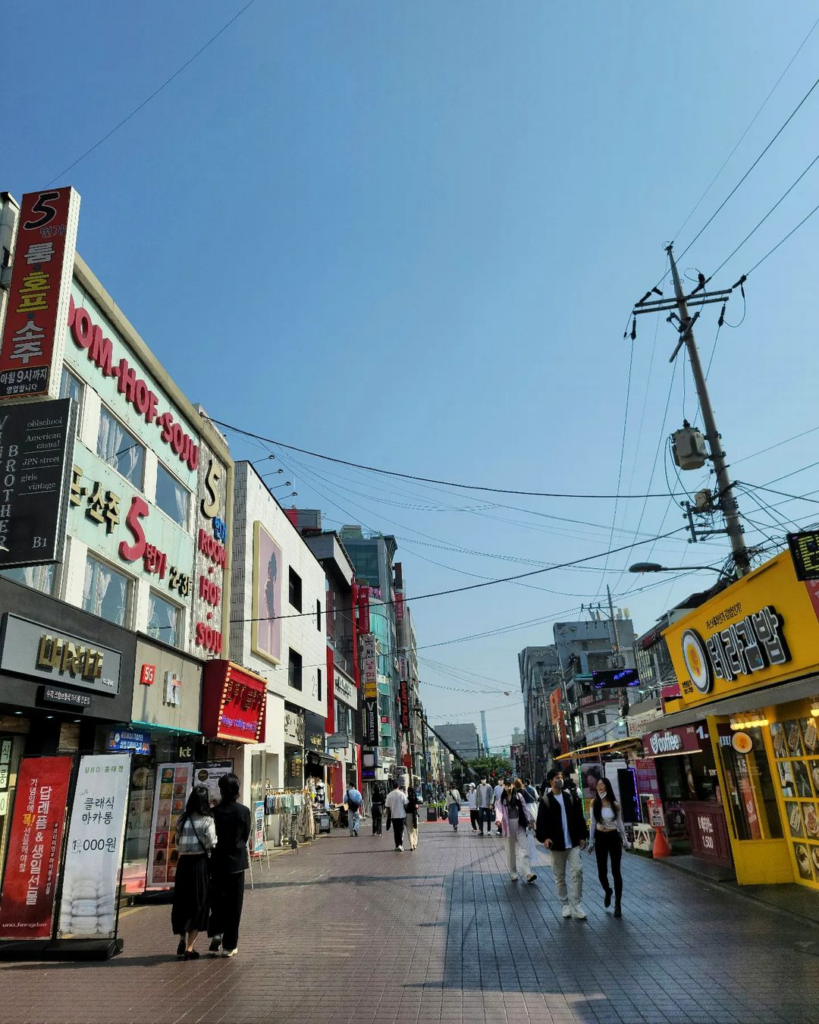 Image credit: @kim0925_ via Instagram 
Although South Korea is a relatively safe country with low crime rates, safety should never be taken for granted. It's better to be safe than sorry when looking for accommodation.
We recommend checking out places in the bustling areas such as Myeongdong and Hongdae. Accommodation in these areas tend to be on the slightly pricier end, but there are plenty of shopping districts and restaurants in close vicinity.
Avoid staying at places that are hidden in alleys or are too far from the train stations and bus stops as they are not the safest for tourists. 
---
2. Stay at female-only hostels
---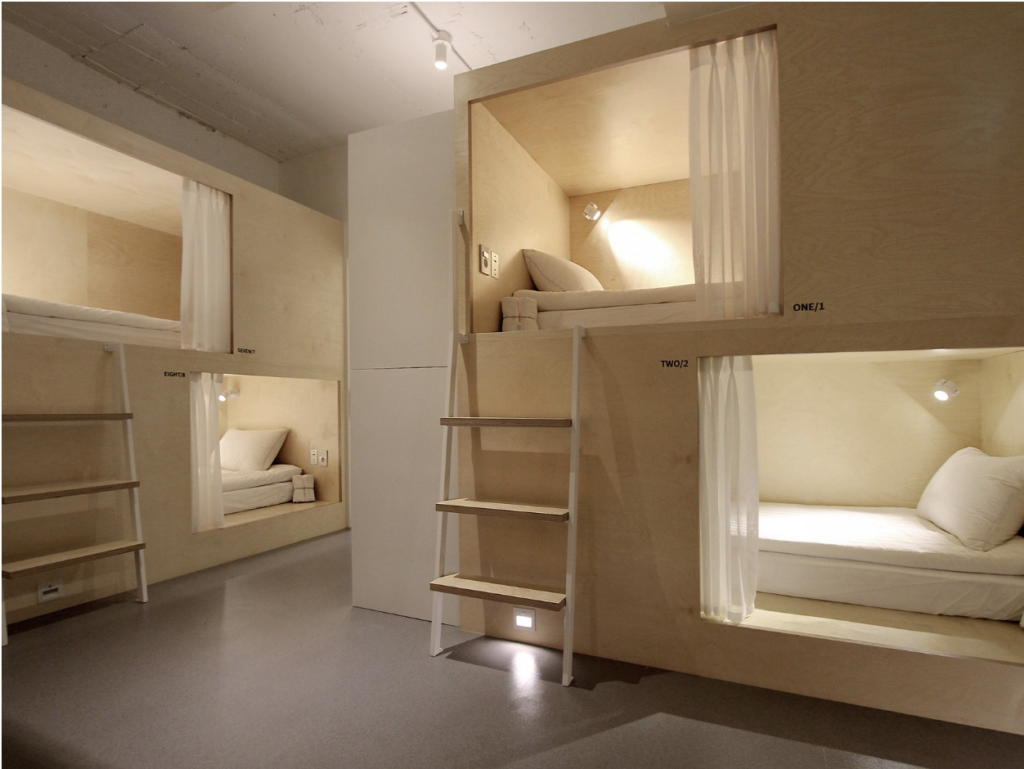 Image credit: Hostel Haru
Females travelling solo may want to consider opting for female-only hostels. Living in a female-only hostel allows you to meet people from all walks of life, and who knows, you may even make a new female friend.
However, if you are uncomfortable sharing a room with other travellers, we strongly encourage you to opt for the next option instead.
---
3. When to opt for goshiwon
---
A goshiwon may be a wise choice if you are tight on budget and would prefer more affordable accommodation options.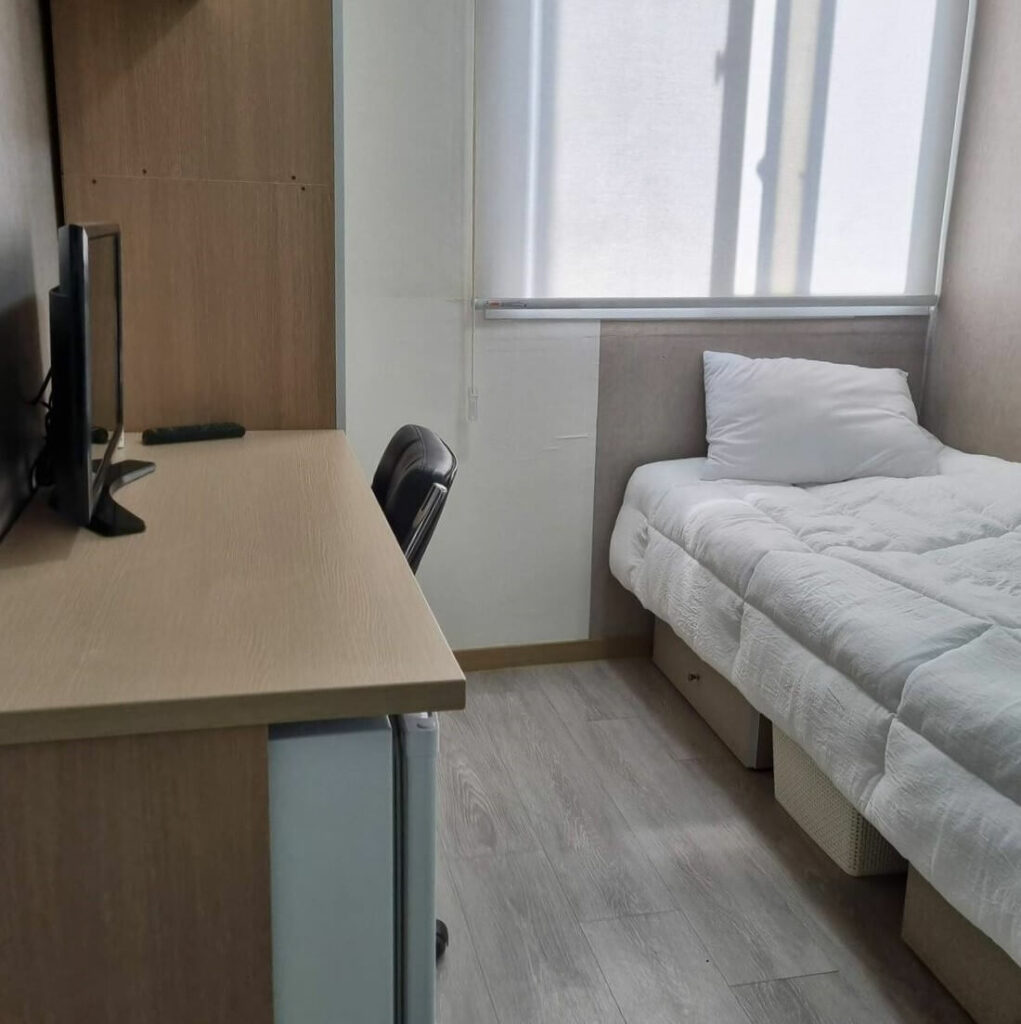 Image credit: 순구 via Airbnb
A goshiwon is an off-campus dormitory and the cheapest form of accommodation available in Korea. You don't have to be a student to rent a goshiwon room.
Note that the rooms are usually small, and oftentimes, you'll have to share a common bathroom with other occupants. 
---
3. When to stay at hanok guest houses
---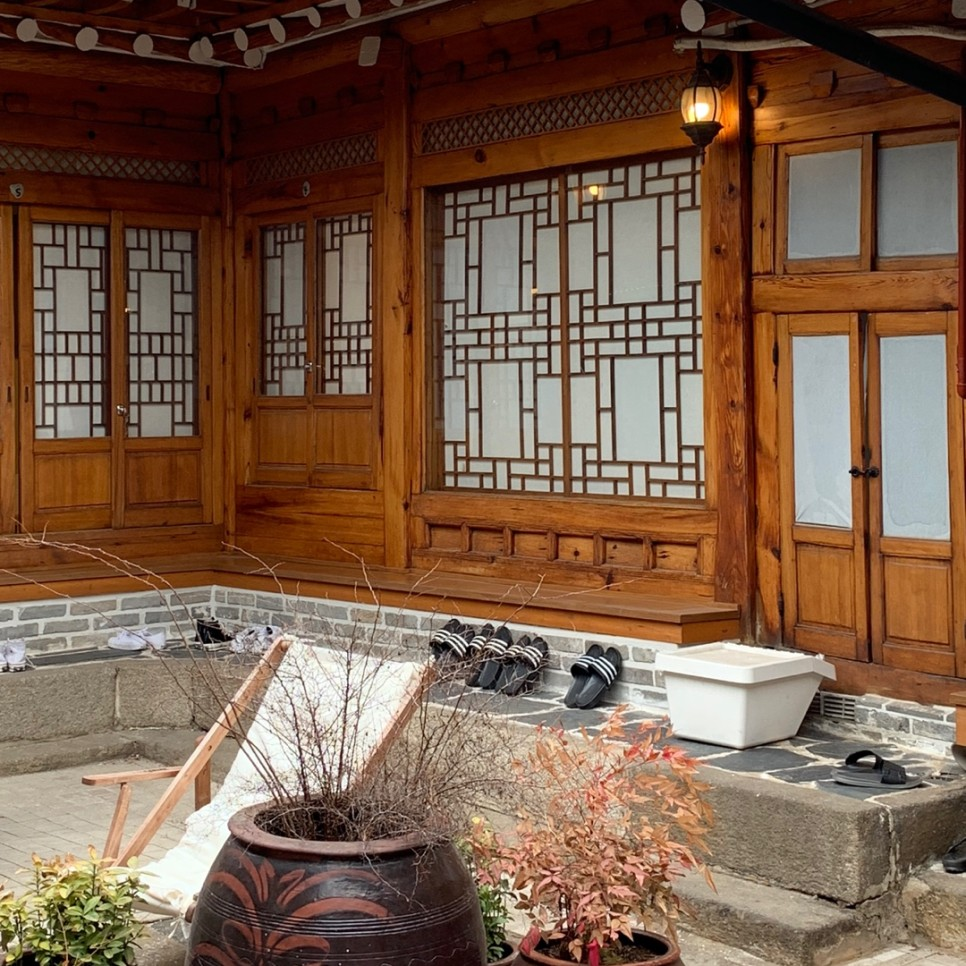 Image credit: FUTURE via Naver
If you're in Korea and want to experience traditional Korean culture, definitely try staying at a hanok (traditional Korean house) guest house.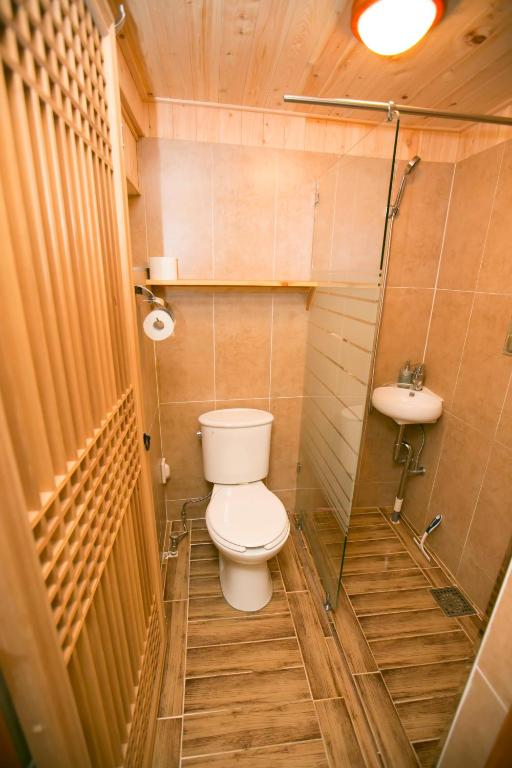 Image credit: Booking.com
These hanok guest houses are revamped and outfitted with air-conditioning and modern toilets to let you have a comfortable stay.
Staying at a hanok guest house is also great for solo travellers who want to meet new people and learn more about different cultures too. 
---
4. Get a duffel bag for extra storage & convenience
---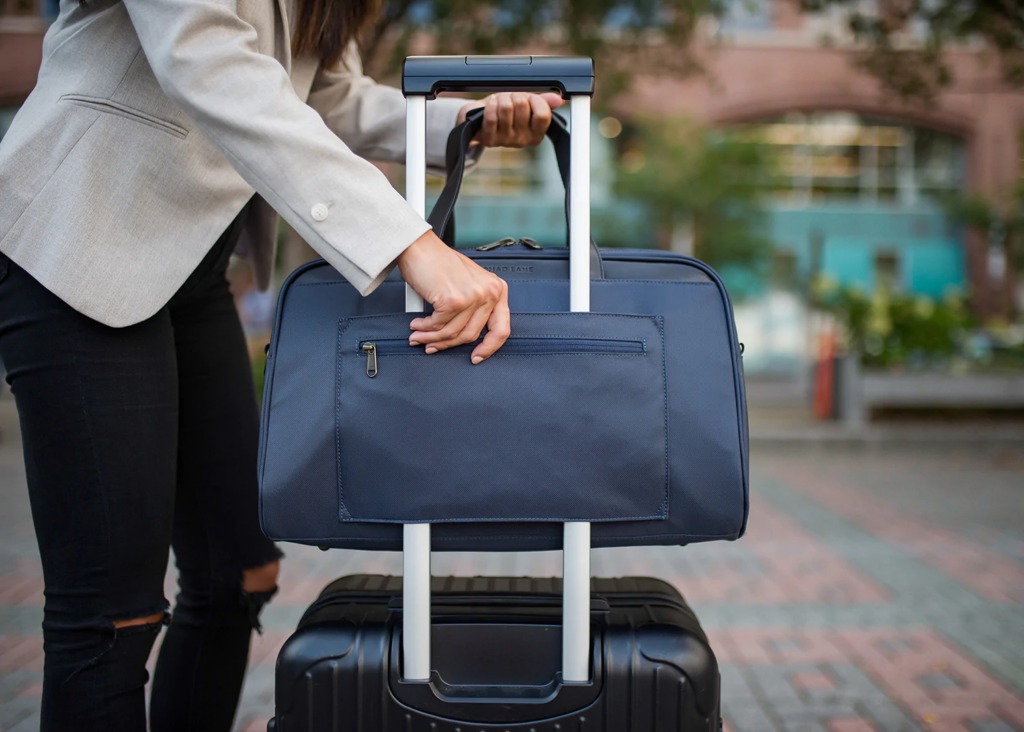 Image credit: Nomad Lane
Travelling alone means that no one will be there to carry your luggage. 
A duffel bag will come in handy if you are going on short trips to other cities as it serves as a great alternative to carriers.
Keep your hands free by getting a duffel bag that can be slotted into the handle of your luggage. This makes it more convenient for you to navigate around the bustling city without having to worry about accidentally leaving something behind because your hands are full.
---
5. Invest in a selfie stick with a tripod stand
---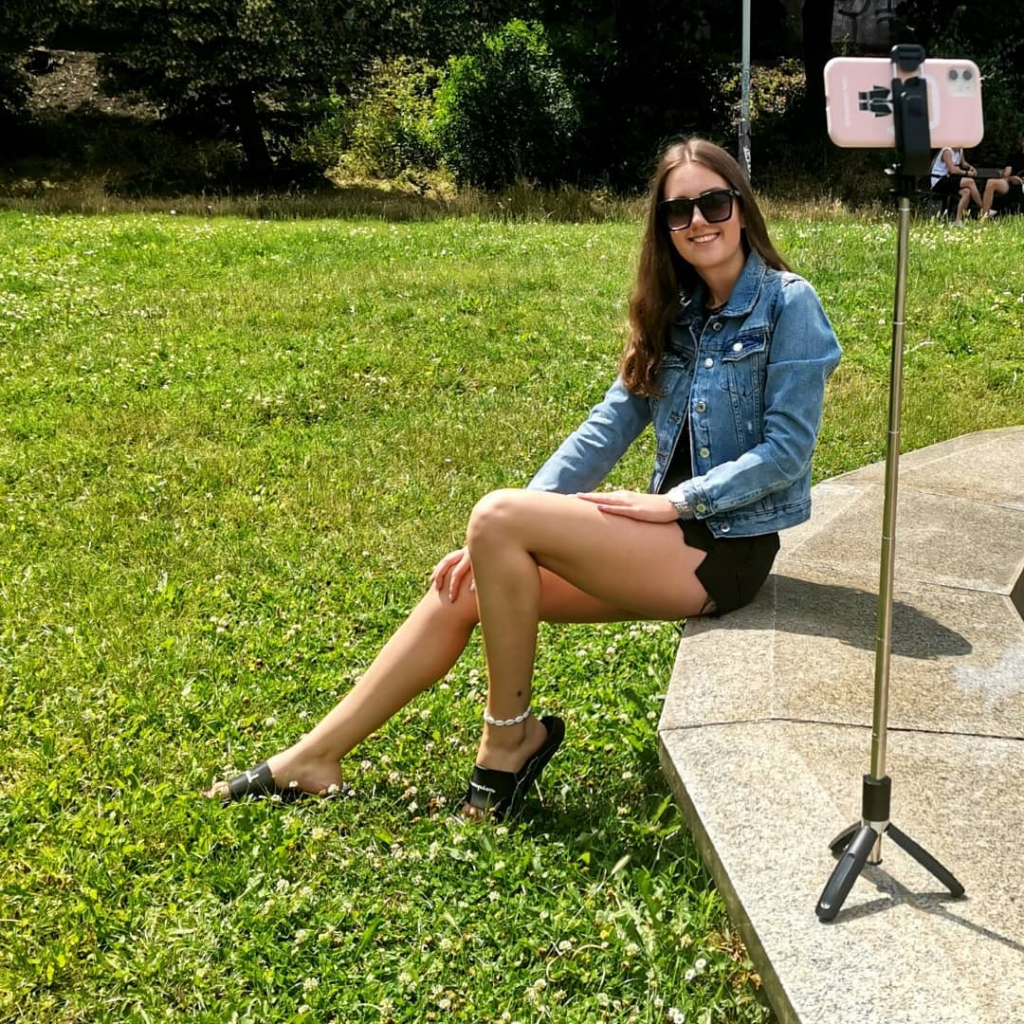 Image credit: @fotoveci via Instagram 
Due to the language barrier, it can be intimidating to approach the locals to ask them to help you take photos. But fret not, when there's a will, there's a way. 
Investing in a selfie stick that comes with a tripod stand will be a game changer when it comes to taking photos beyond selfies. Most of these selfie sticks come with a Bluetooth shutter, which means you can snap away until you get the perfect shot without the help of strangers. 
---
6. Utilise lockers for your shopping bags
---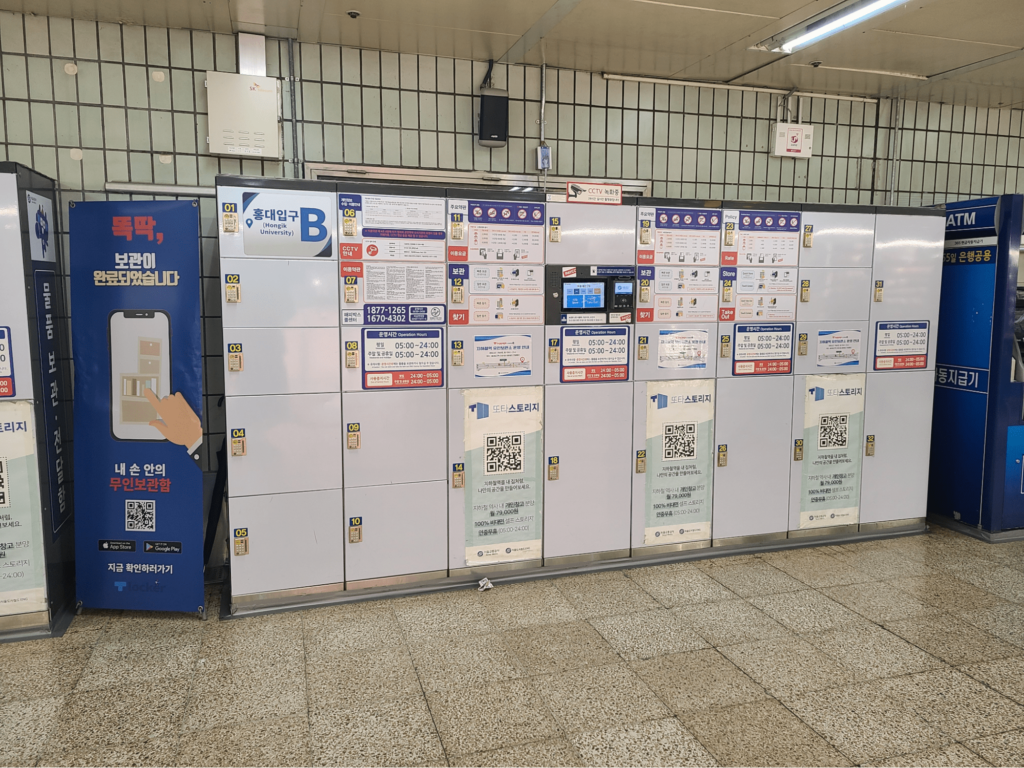 Image credit: 채구리 via Naver
It can be a hassle to carry all your shopping bags while you're busy shopping till you drop.
Locker rental services are common in Korea and you can find them at train stations near popular shopping areas, such as Hongdae and the Express Bus Terminal Underground Shopping Mall.
The rental prices of these lockers are affordable, and it can go as low as KRW2,000 (~USD1.43) for a 4-hour rental.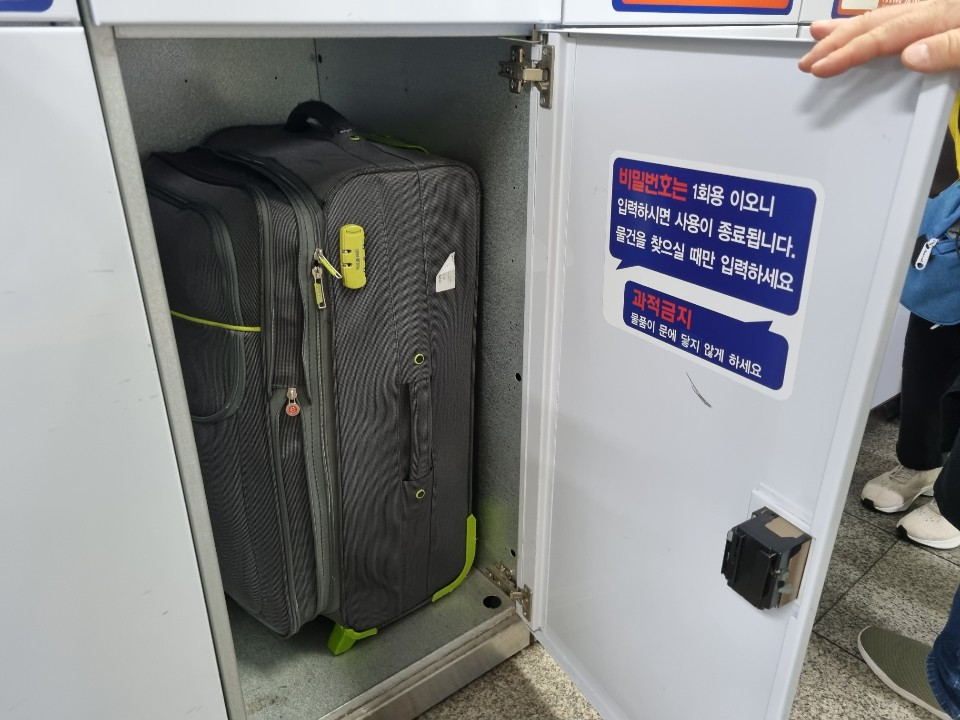 Image credit: 라메 via Naver 
There are 3 locker sizes to choose from. Typically, the small compartment is more than sufficient to hold your shopping bags. But if you need more space to store your luggage, you can opt for the medium or large compartments.
Note that the lockers found at different train stations may have different sizes, so we encourage you to check the size chart carefully before making your payment.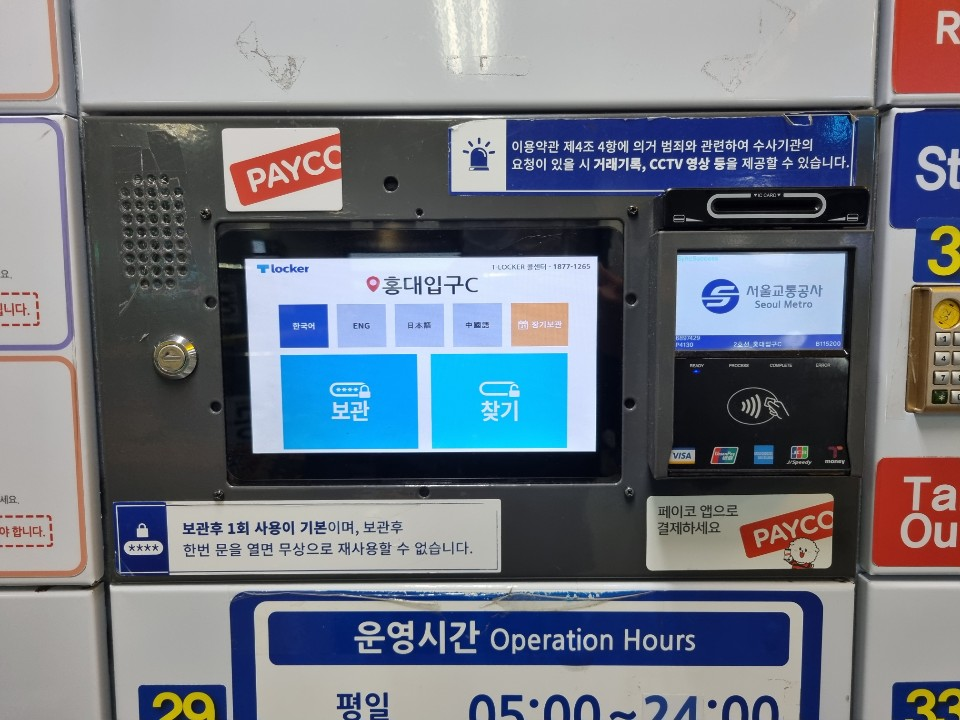 Image adapted from: 라메 via Naver 
You can make payment using your credit card or T-money card (transportation card in Korea). It's useful to note that not all places accept cash as a form of payment.
---
7. Download Papago to communicate with the locals
---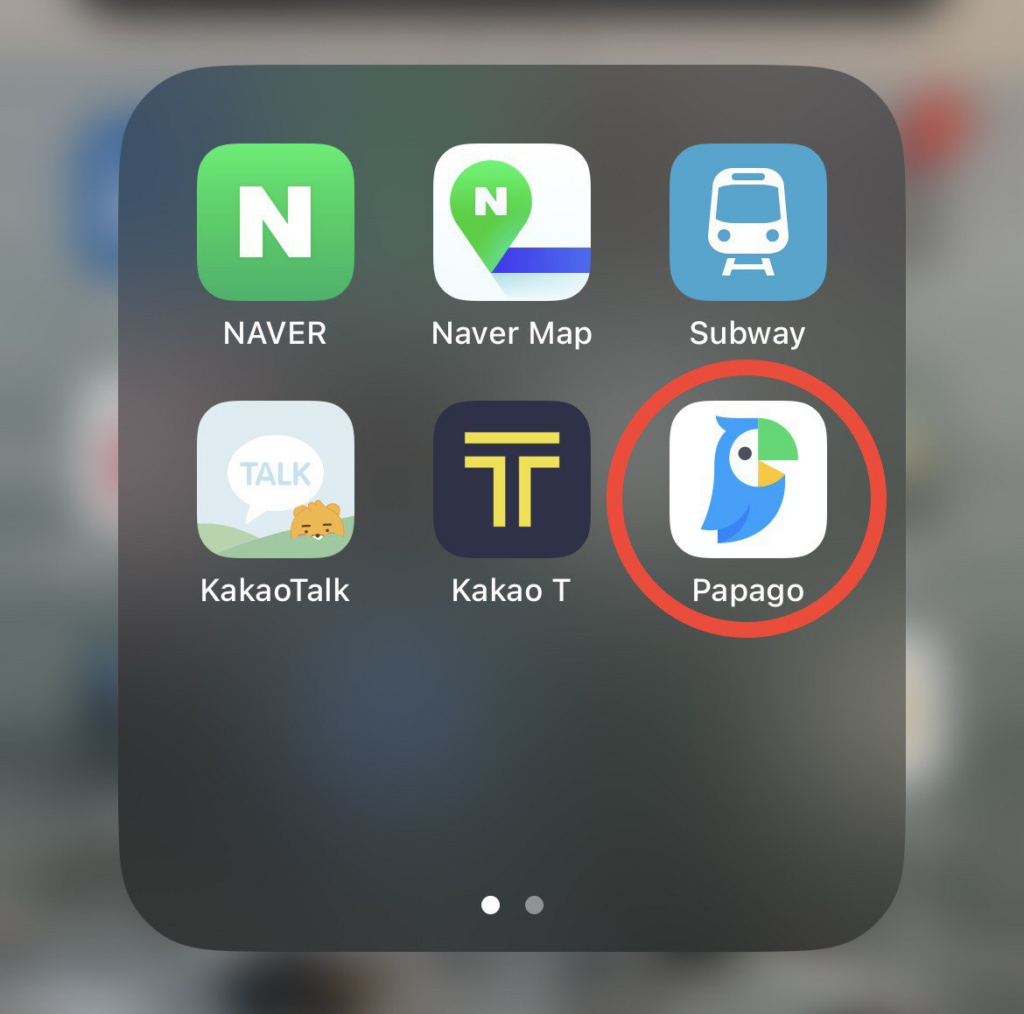 Image credit: Clara Quek
Travelling alone in South Korea without knowing how to speak Korean can be daunting. But it will be less so when you download Naver Papago, an AI Translator app on Apple App Store or Google Play Store.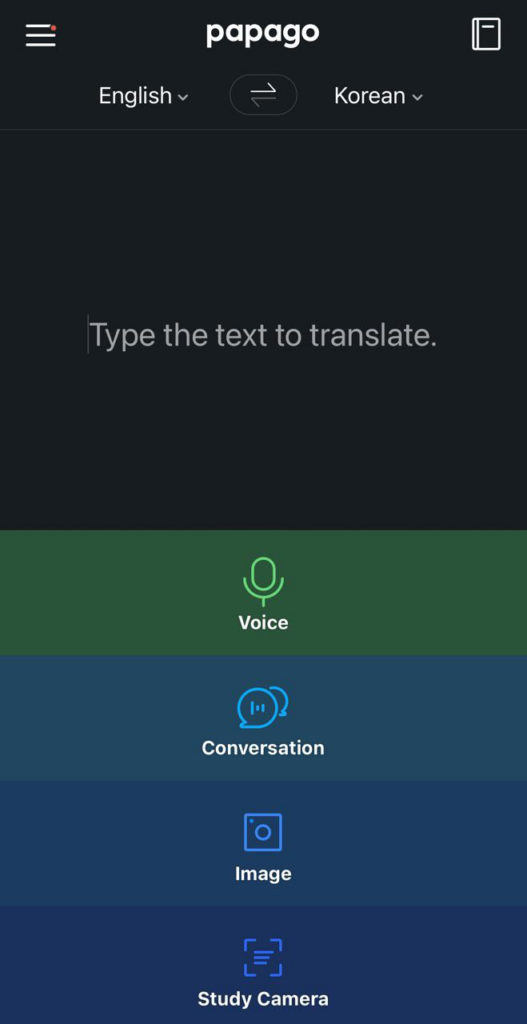 Image adapted from: Papago
Besides language translation, the Korean words and phrases come accompanied with romanisation to help you pronounce them correctly.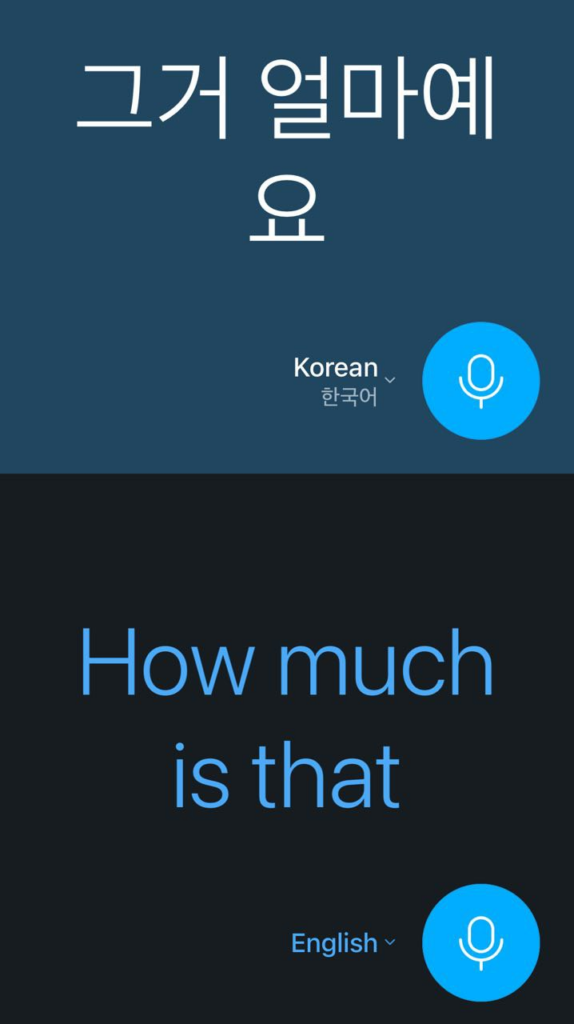 Image adapted from: Papago
Use the conversation function to effectively communicate with the locals. The app will automatically translate whatever you've said into Korean, and vice versa, it helps to translate what the locals said to a language of your preference.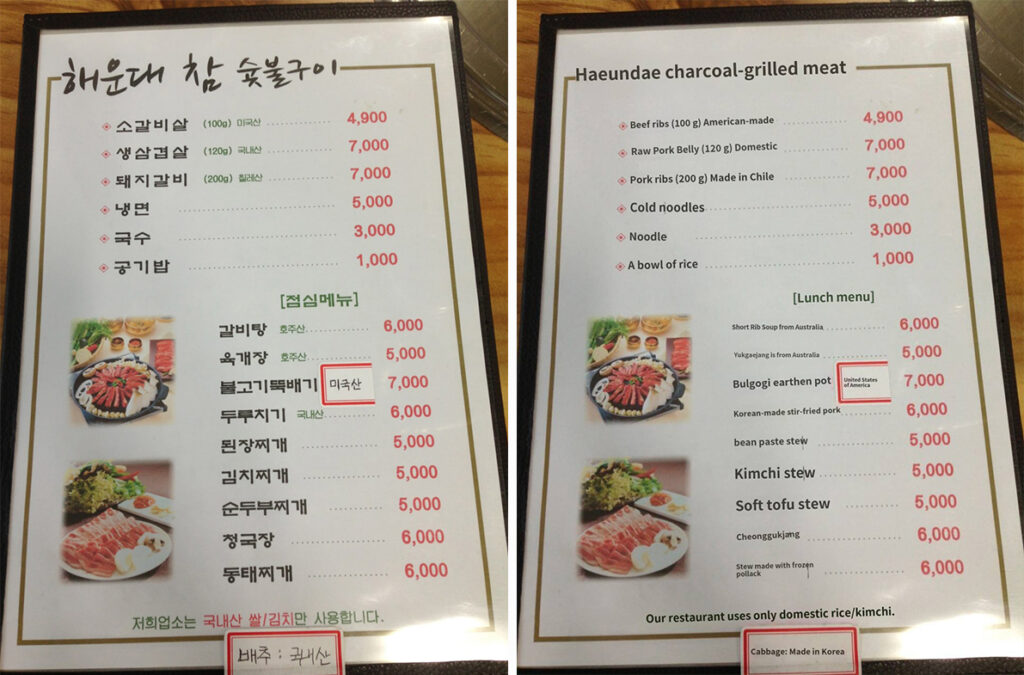 Image adapted from: TigerMum
Another useful function of the app would be the image translation feature, where you can translate the words on an image. This will be extremely useful when you have to order a meal from a Korean menu.
---
8. Take buses & trains as cheaper alternatives
---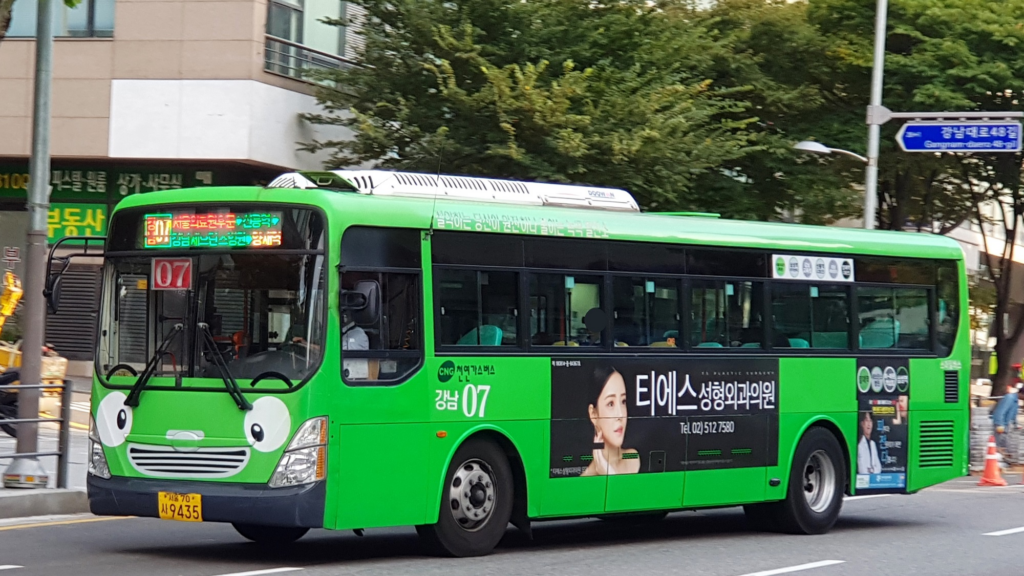 Image credit: 명풍 via Naver
It's a no-brainer that taxis are the more expensive option when it comes to public transportation in Korea. Bus and train fares are not only cheaper, but you can also get discounted fees when you transfer between bus or train rides. 
Taxis are also difficult to flag down during peak hours. If you are in a rush, taking the bus or train save you more time because of their regular schedules. 
---
9. What to do when you lose your belongings
---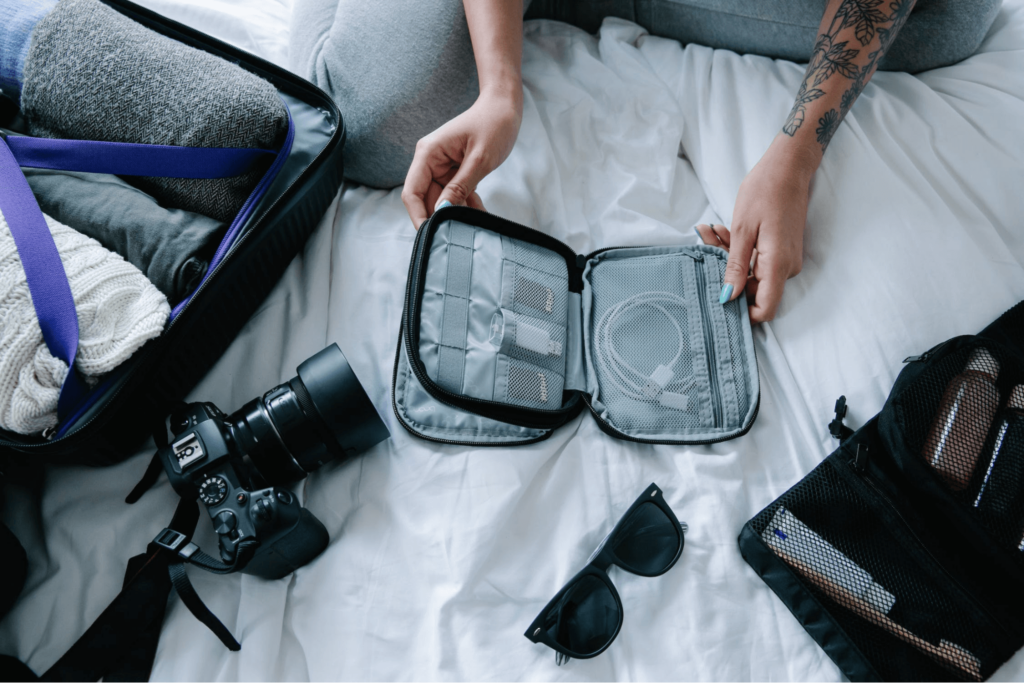 Image credit: Timur Weber via Pexels 
Losing your belongings in a foreign country is a nightmare, especially when you are travelling alone.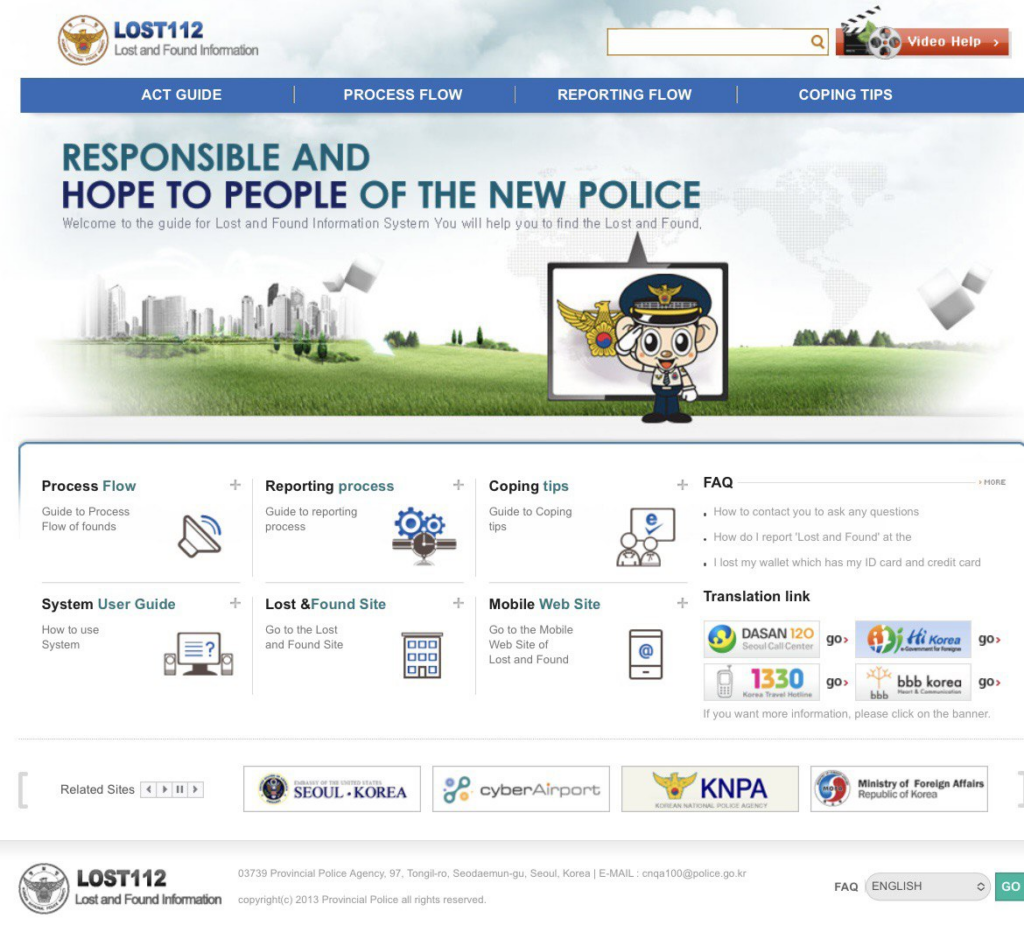 Image adapted from: LOST112
Stay calm and use this lost and found website to look for your lost belongings. If you happen to find someone else's stuff, you can report them here as well.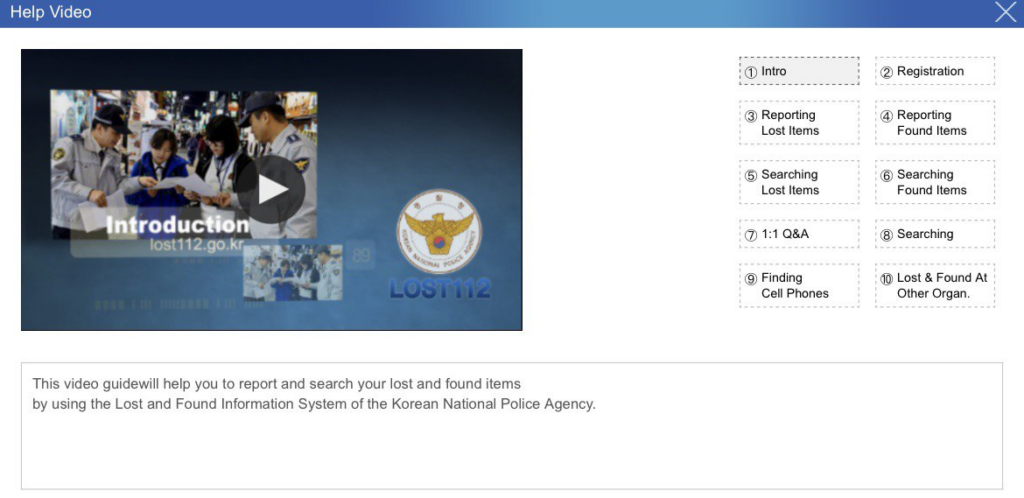 Image adapted from: LOST112
Watch the video for clearer instructions and guidelines on what you should do when you lose or find something during your stay in Korea.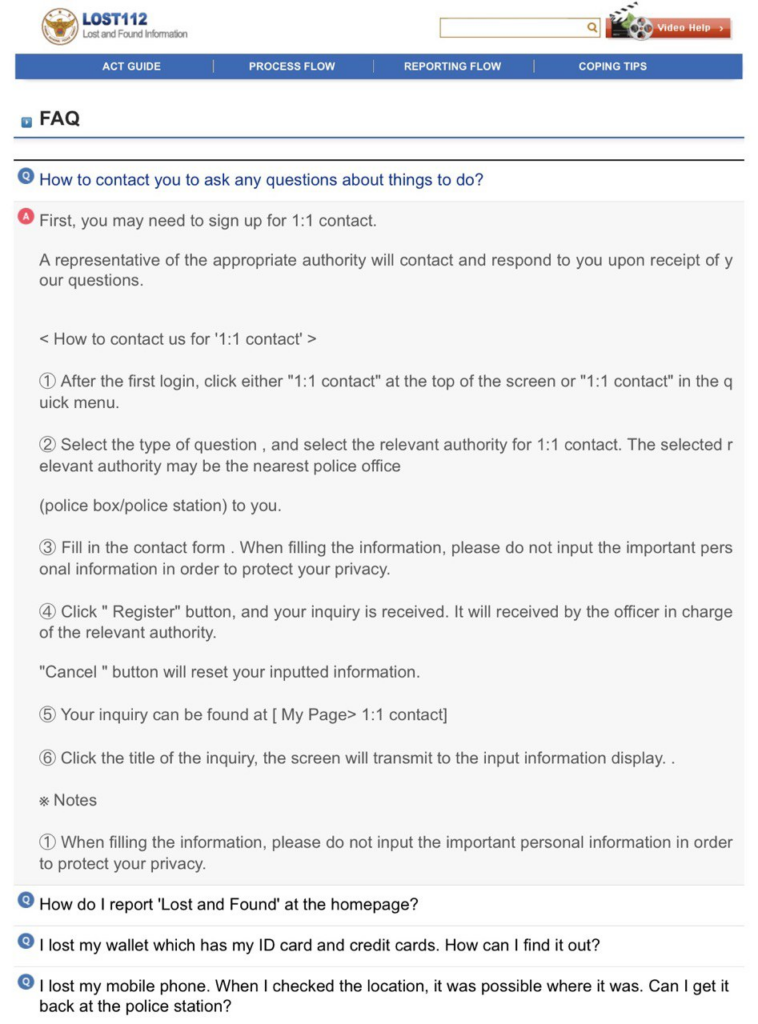 Image adapted from: LOST112
The Frequently Asked Questions section of the site is conveniently available in English.
---
10. Travelling to other cities alone
---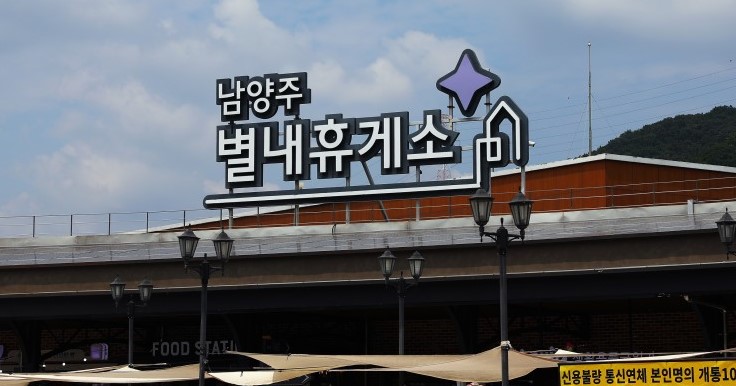 Image adapted from: 아임힐링 via Naver 
Intercity buses often stop at rest stops for approximately 15 minutes during parts of the journey for you to take a quick toilet break.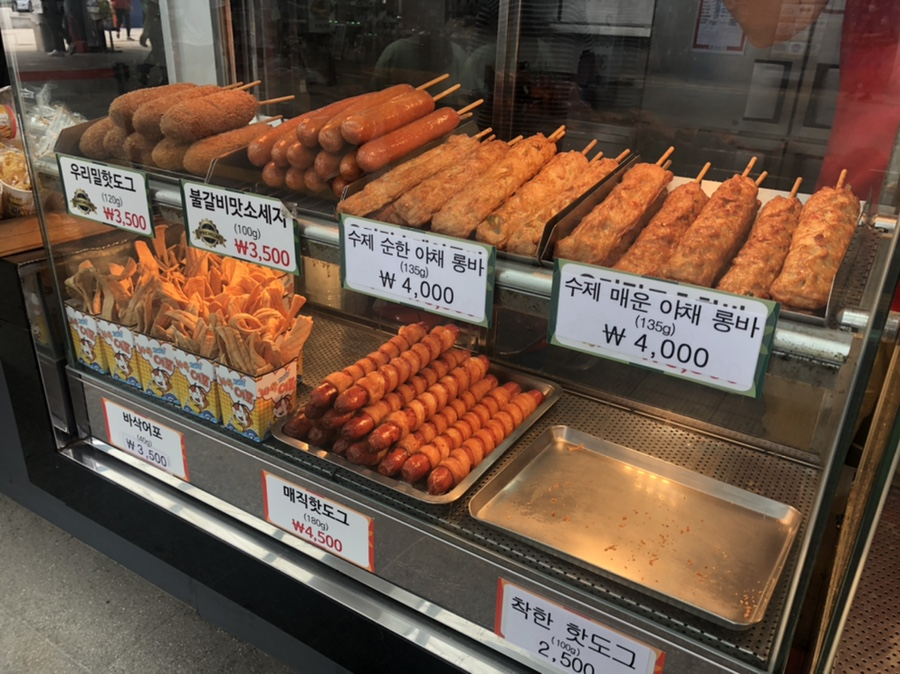 Image credit: 돌멩이 via Naver 
Use this time to go to the bathroom, or if you're feeling peckish, get yourself some popular snacks such as corndogs and walnut-flavoured cakes.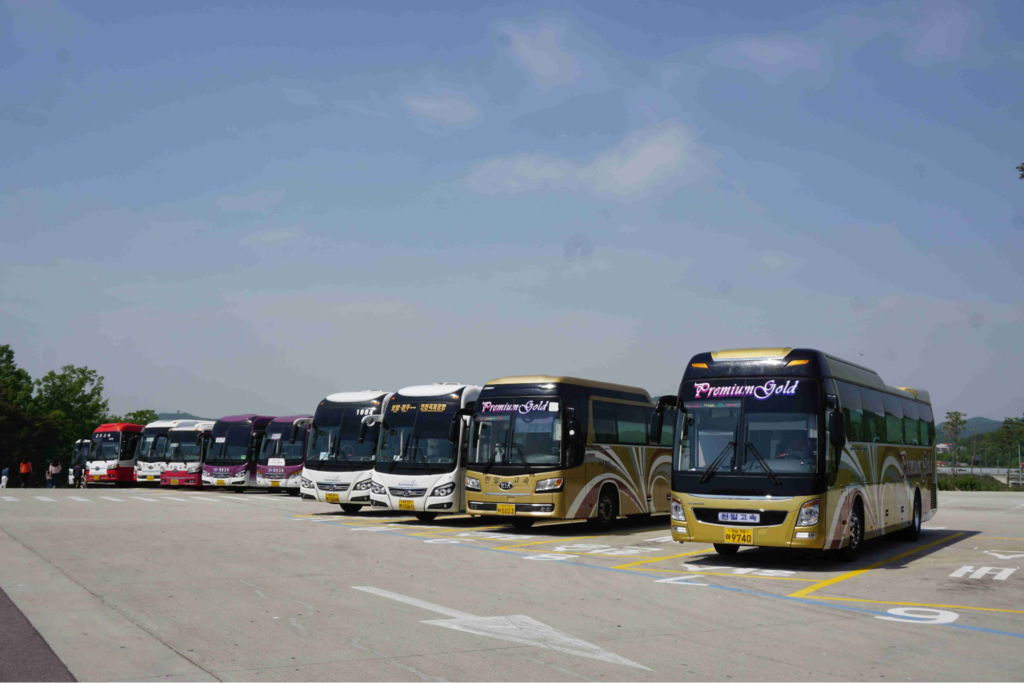 Image credit: BUS STUDIO via Naver 
Pro-tip: Take a picture of the bus plate number of your bus so that you won't board the wrong coach; you'll find that there are many similar-looking buses at the rest stops, which can get confusing for travellers who are not as observant. 
Also make sure that you time yourself well, with ample buffer time as the bused will not wait for you if you don't make it back on time. 
---
11. SIM card versus Wi-Fi egg
---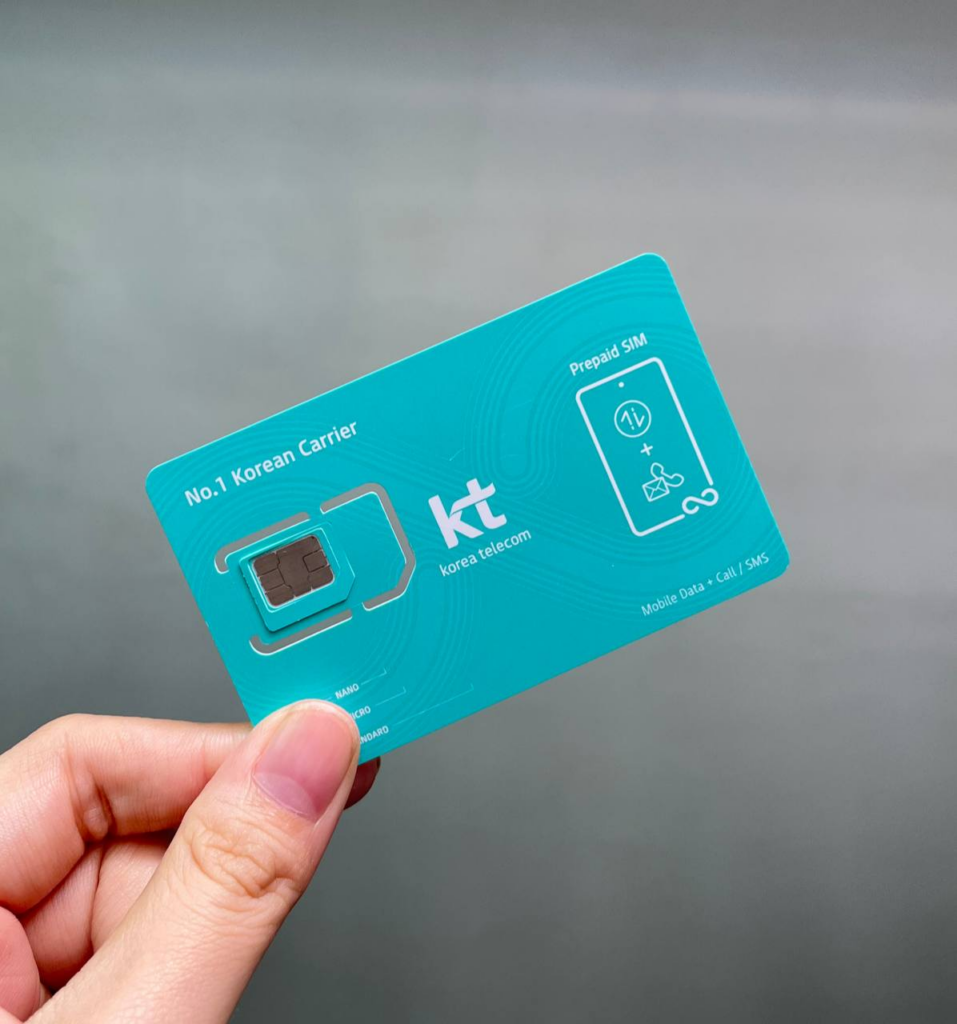 Image credit: Clara Quek
If you are deciding between getting a SIM card or a Wi-Fi egg, we recommend you get the former. It is more convenient as there's no need to charge yet another device overnight. Plus, you don't have to worry about losing it, then having to replace it. 
Getting a SIM card with a local number is not compulsory, but we recommend that you opt for one as it will be useful when you're making reservations or ordering food delivery. 
---
12. Have fun alone at a Korean coin karaoke
---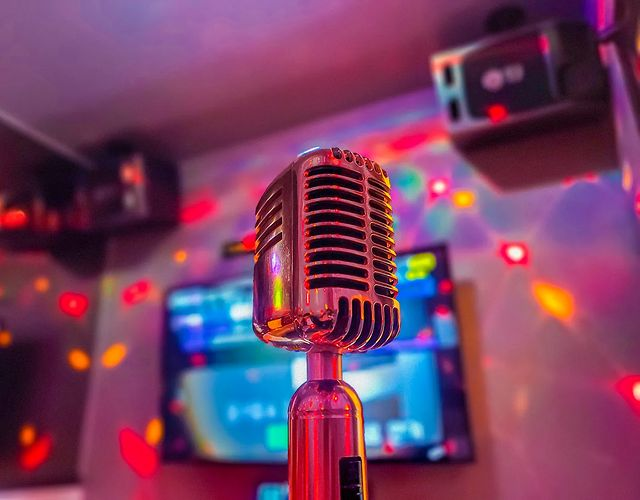 Image credit: @ldb_cl via Instagram 
Going to karaoke is not only for big groups of friends. In Korea, it's an activity enjoyed alone as a way to destress or put your bathroom singing skills to test. 
Singing at a coin noraebang (coin karaoke) is the perfect activity for solo travellers when you have time to kill or simply want to have fun.
---
13. 1-person meal options on delivery apps
---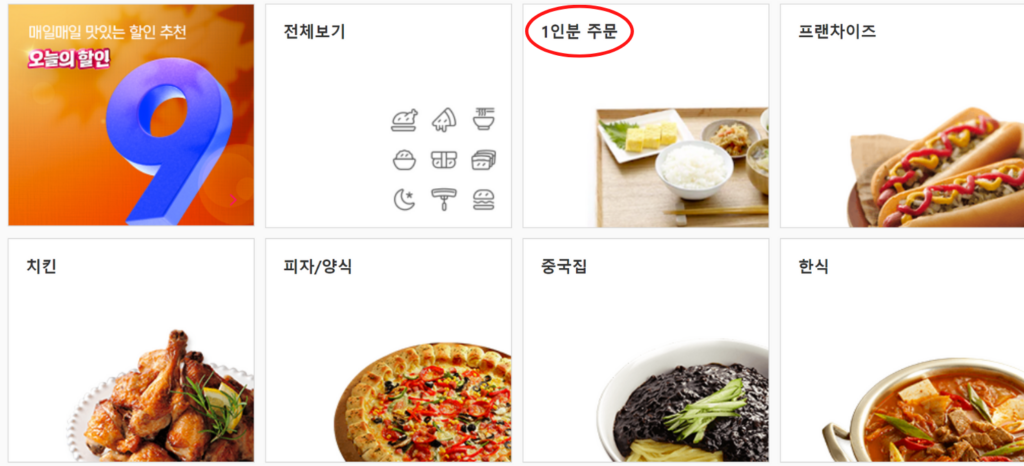 Image adapted from: 요기요
If you are craving for a late-night snack or dessert, you can get them delivered to you by ordering via delivery apps.
Most delivery apps impose a minimum order of approximately KRW15,000 (~USD10.76) per order, but it can be difficult to hit that amount if you're ordering just a single serving. 
So you'll want to download a delivery app such as Yogiyo, which lets you order a 1-person serving meal without having to hit the minimum order amount. Simply look out for the category that says "1인분 주문", which literally translates to 1-person serving order.
---
14. Minimum 2 pax for BBQ
---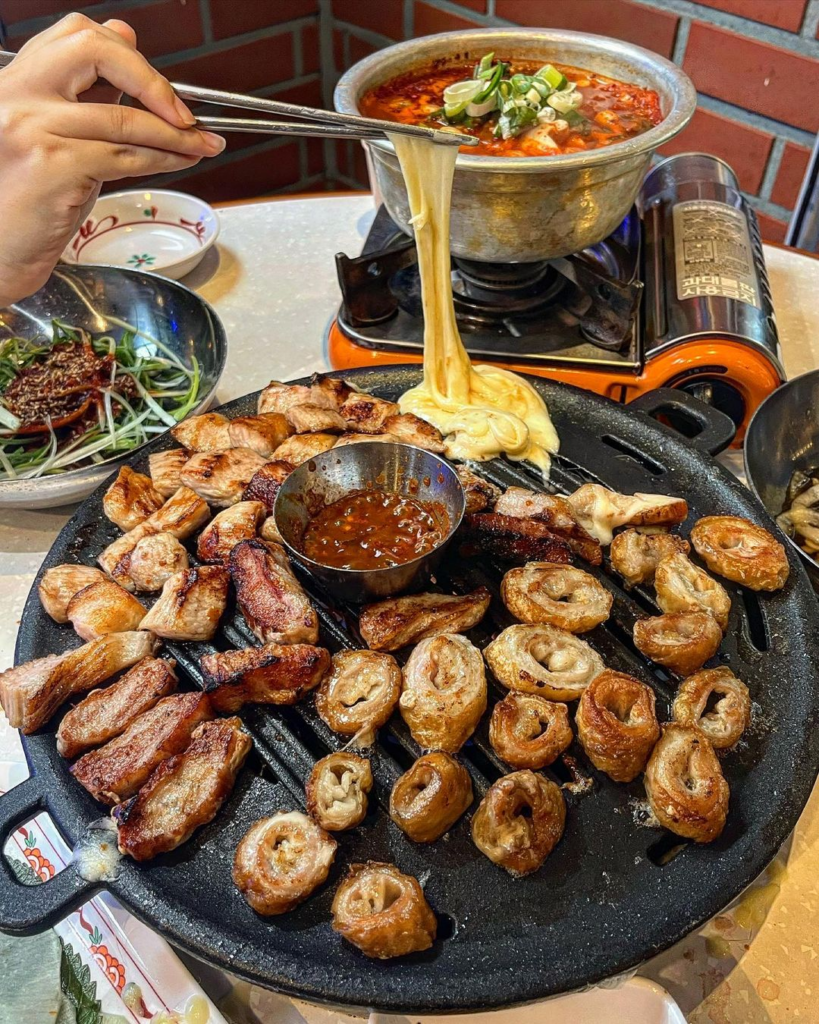 Image credit: @food_diary_travel via Instagram 
Korean barbecue is a must-eat when you visit Korea. However, most of the restaurants do not accept solo diners as they tend to prioritise bigger groups of customers.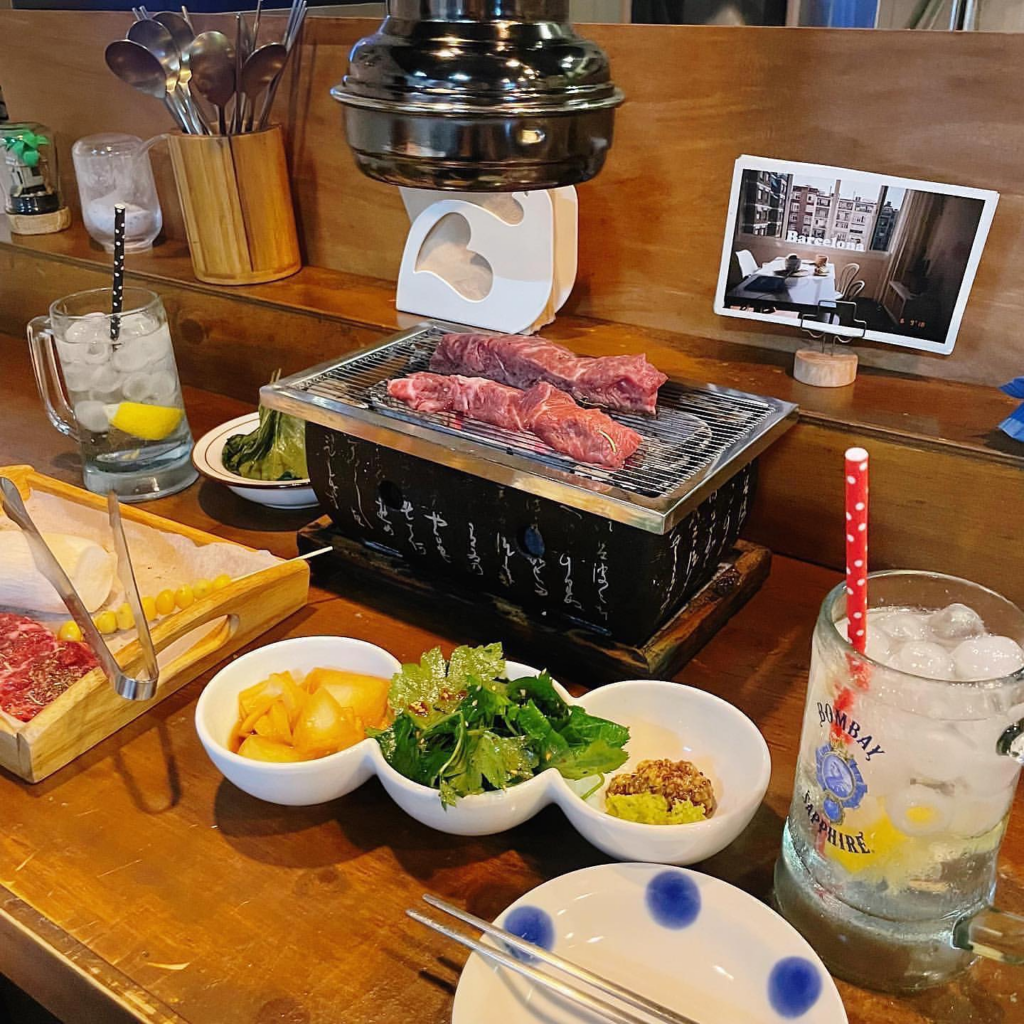 Image credit: @hongo4624 via Instagram 
On the bright side, there are BBQ restaurants that specifically cater to solo diners; you may even get a personal table and grill when you eat at these restaurants. 
---
– Places to eat at, as a solo traveller –
---
15. Fast food restaurants
---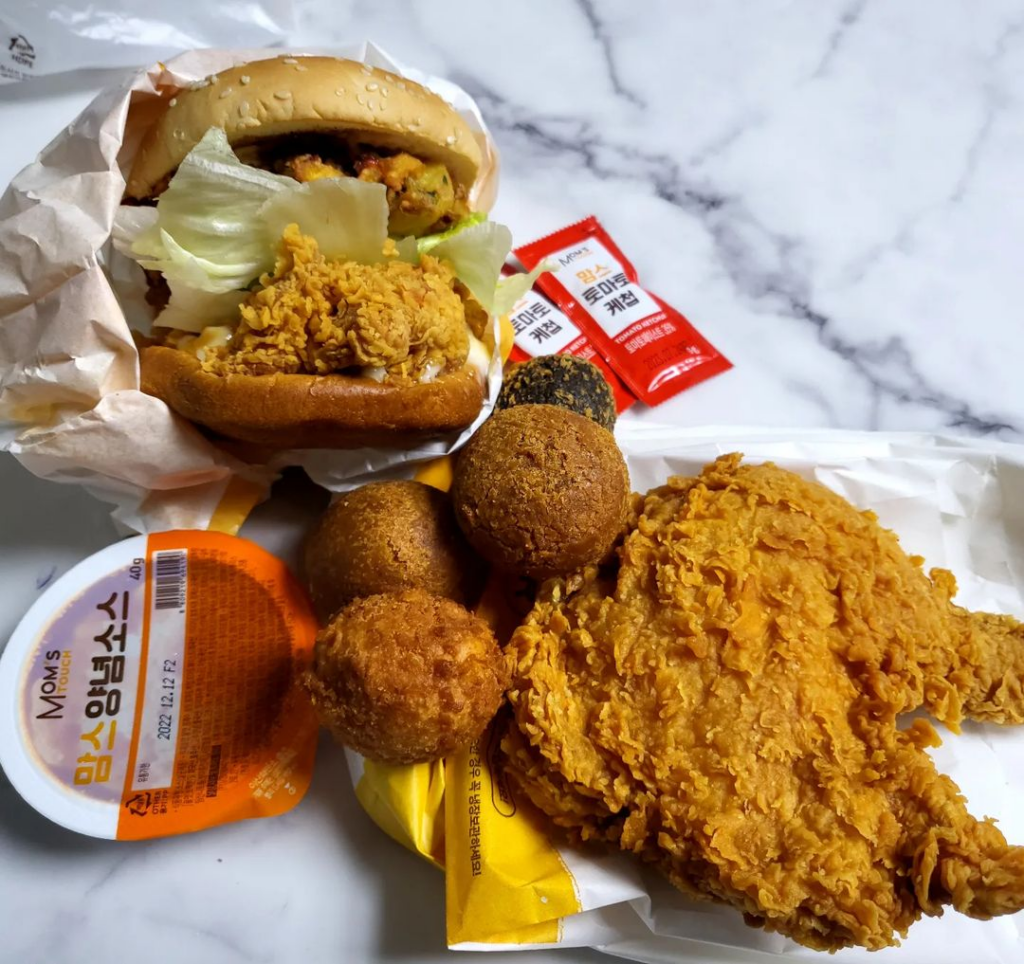 Mom's Touch.
Image credit: @il_dan_muk_ja_ via Instagram 
Eating alone in a foreign country can be a little overwhelming. Although most restaurants in Korea don't mind solo diners, some places may prefer to serve bigger groups of people instead. 
The most convenient places to eat at, as a solo traveller, are none other than fast food restaurants. 
In Korea, there are many fast food restaurants to choose from. Ranging from local ones such as Mom's Touch and No Brand Burger to famous ones such as McDonald's and Shake Shack, the list is never-ending. 
Better still, self-ordering kiosks that have English menus are usually available at these fast food restaurants, so you won't have to worry about the language barrier too. 
---
16. Korean eateries
---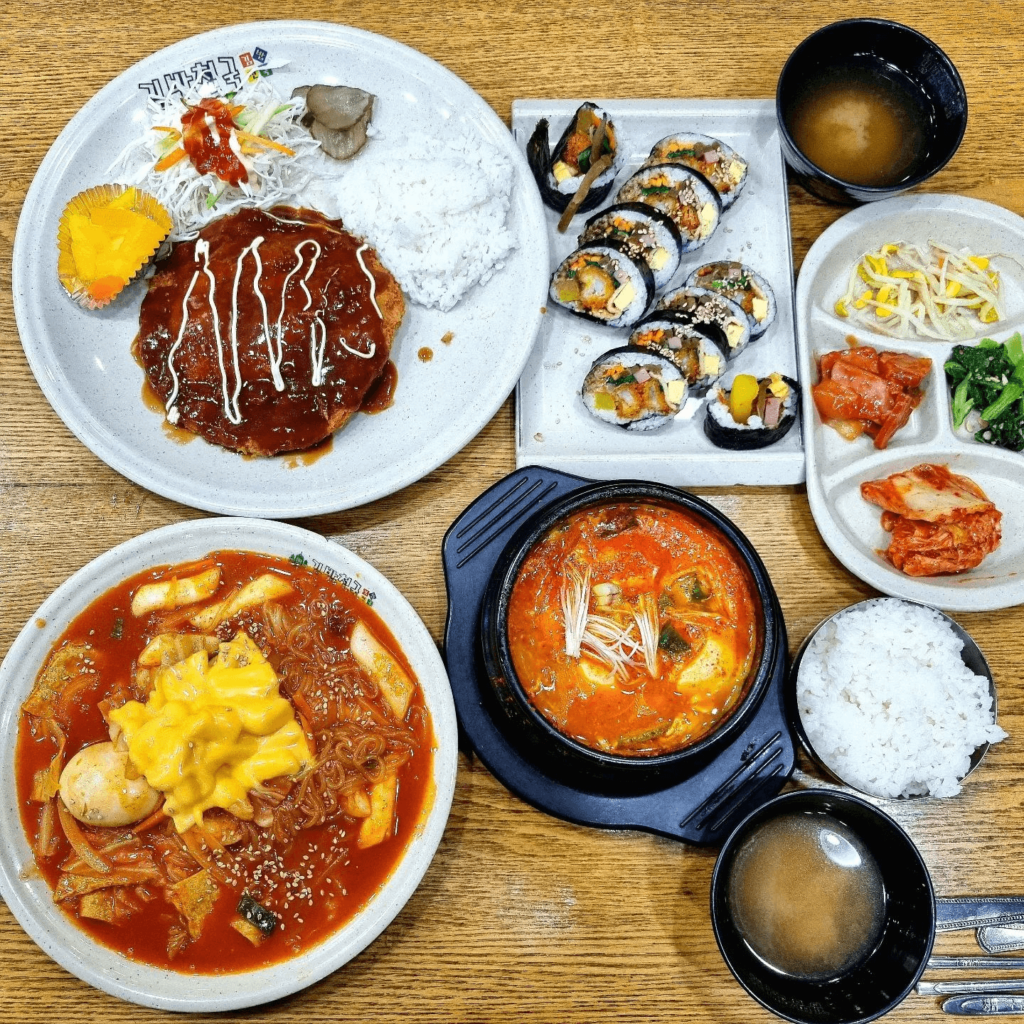 Kimbap Heaven.
Image credit: @mukshin_2 via Instagram 
Korean eateries are also known as "분식 식당" (bunsik sikdang). They sell inexpensive food such as kimbap, donkatsu (pork cutlet), tteokbokki (spicy rice cake), and fried rice. 
You can get a roll of kimbap for as low as KRW2,000 (~USD1.43), and a bowl of ramyeon at only KRW3,000 (~USD2.15).
The most famous bunsik sikdang in Korea would be the Kimbap Heaven eatery, which has numerous franchise outlets all over the country.
---
17. Solo-diner restaurants
---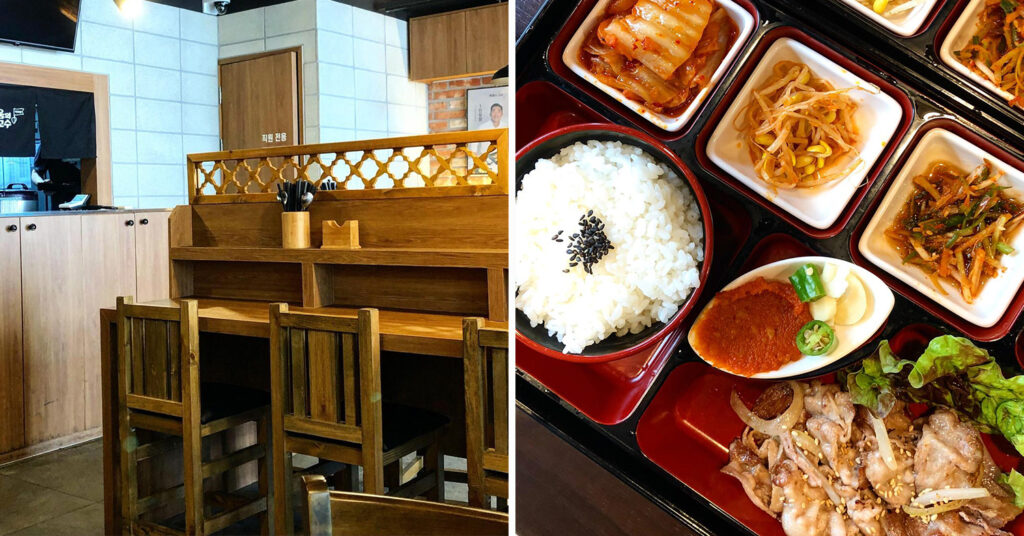 Image adapted from: @yum_muksta via Instagram, @yum_muksta via Instagram 
Solo-diner restaurants that serve 1-person set meals or bento sets will be the go-to for solo travellers to South Korea.
The set meals usually include food items such as boiled pork and braised pig trotters that commonly come in larger serving sizes.
Since these restaurants target solo diners, you can often find solo-dining capsules or bar seats that cater to people eating alone.
---
18. Street food
---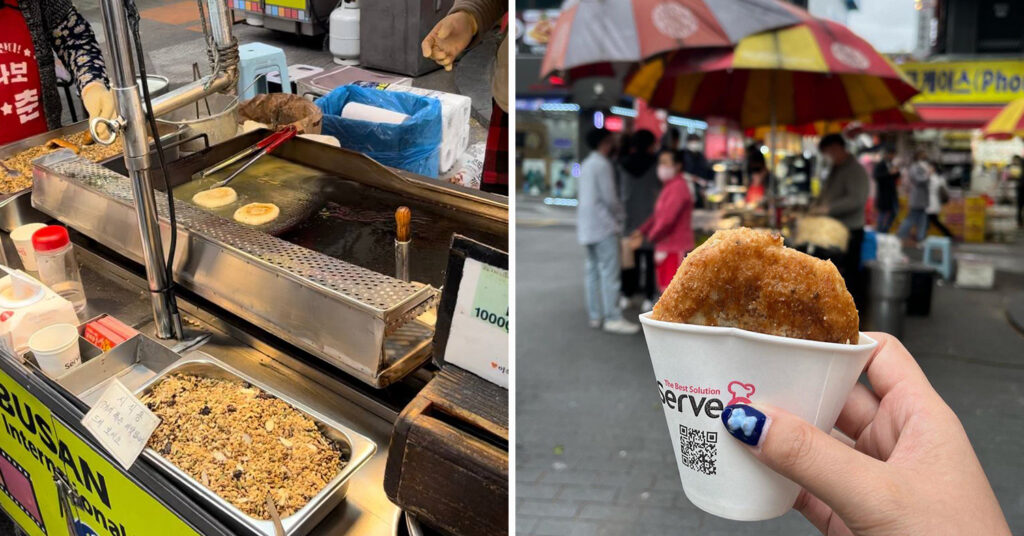 Image adapted from: Clara Quek, Clara Quek
The street food scene in Korea is amazing. From snacks such as hotteok (sweet Korean pancakes) to meals such as kalguksu (knife-cut noodles), you can probably find everything you need to fulfil your cravings when you hit up a food street. 
Note that not all street food tents or carts have tables and chairs for you to sit and dine at, but you are free to stand and eat while walking around the market. 
---
19. Traditional markets
---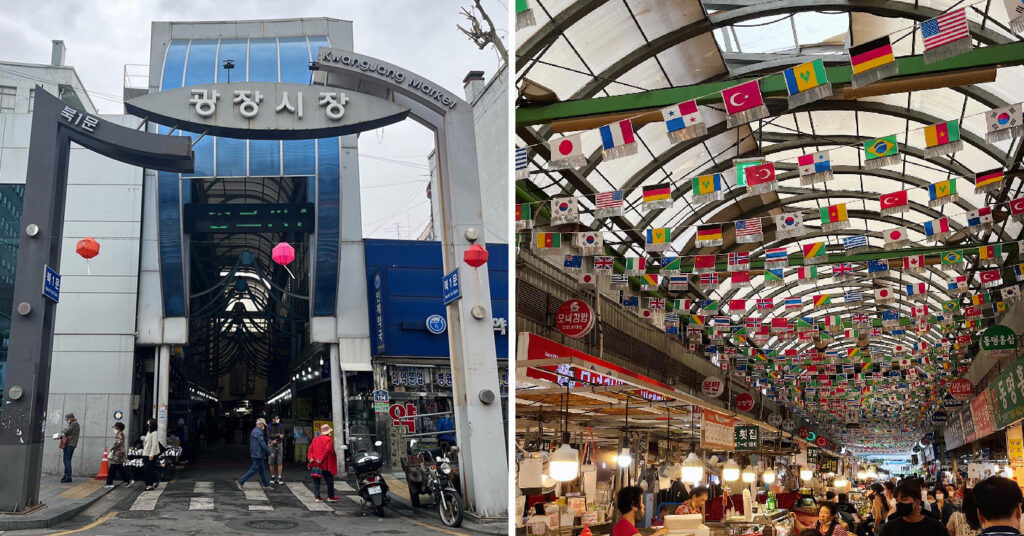 Image adapted from: Clara Quek, @ichbinsoyeon via Instagram 
Going to traditional markets allows you to eat the most authentic Korean food and dine alone without feeling embarrassed.

Image credit: @hyein._.v via Instagram 
Most of the food sold at the markets come in 1-person portions, so you can try a variety of dishes at the market too.
Find local cuisines such as bibimbap (Korean mixed rice with vegetables), and unconventional foods such as sannakji (live octopus sashimi) and yukhoe (seasoned raw beef).
Visit the Gwangjang Market for their famous kkwabaegi (twisted donuts) and bindaetteok (mung bean pancakes). Not to be dramatic, but they are life-changing. 
---
20. Convenience stores
---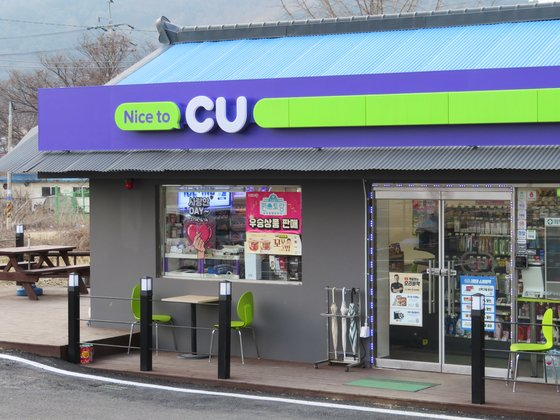 Image credit: 전소장 via Naver  
Most convenience stores in Korea have tables and seats inside or outside the premises, so you can have a quick meal there whenever you have food cravings or are feeling a little peckish. 
Recreate the iconic Mark's Meal while you're there, or get cup noodles and light snacks such as the triangle kimbap and fish bars. You can also find interesting prepacked Korean food such as grilled intestines at the convenience stores too. 
---
Solo travelling guide for those who believe the world is your oyster
---
If you are planning to travel alone to South Korea, bookmark this guide for easy access to the tips that will make your trip a memorable one.
For more travelling tips, also check out our South Korea public transportation guide, Han River Park guide, Mangwon guide, jimjilbang guide, and this list of 11 things to do in Jeju.
---
Cover image adapted from: Clara Quek, 순구 via Airbnb, 채구리 via Naver, 은비까비 via Naver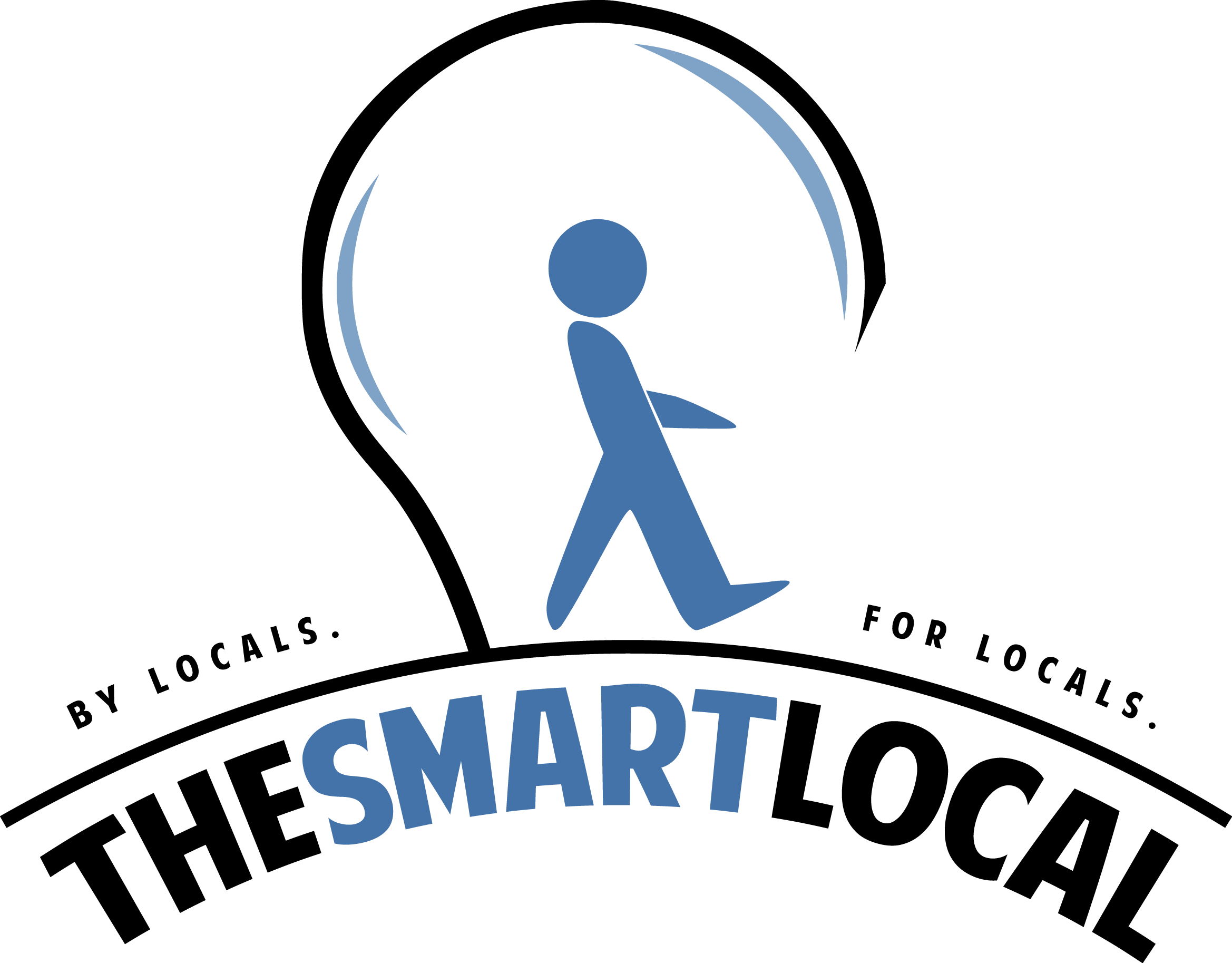 Drop us your email so you won't miss the latest news.