SlowButBetter
---
In a time and age where speed and efficiency drive everything we do, taking things slow sometimes might seem like a luxury or rare occurence. Hidden away in a quiet corner of Daegu, SlowButBetter provides a space that's great for those who want to disconnect from the rat race and just take it slow, but better – pun intended. 
---
Spacious & aesthetic interior
---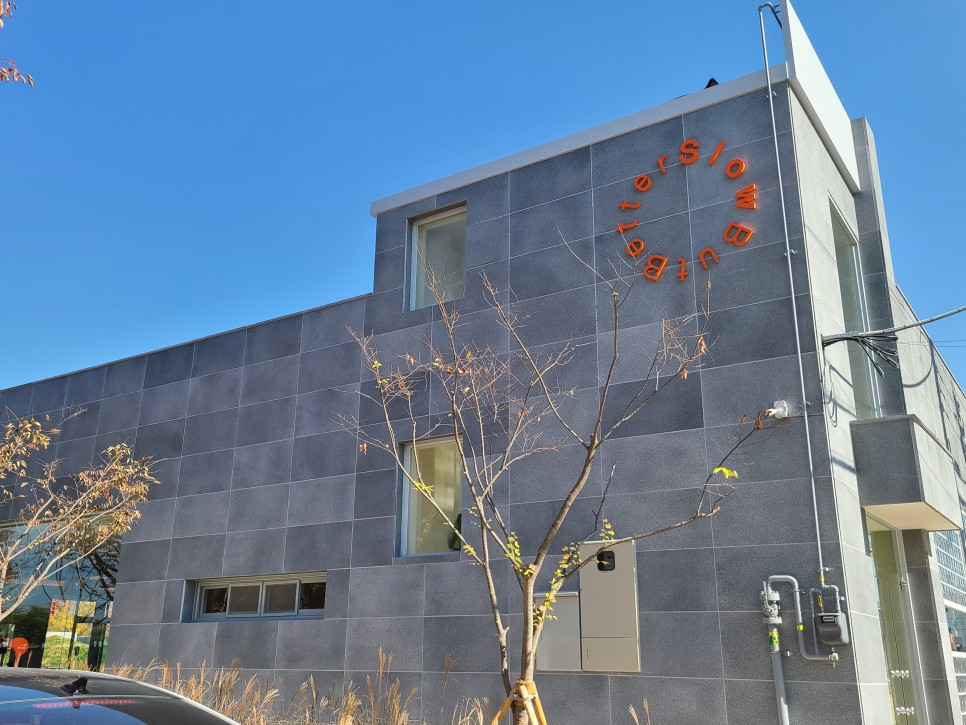 Image credit: 윤서야놀자 via Naver
The problem with popular cafes is that once everyone knows about it, it might be rather difficult to get decent seats to enjoy the space. But it's unlikely you'll face such a problem at SlowButBetter, since it boasts an expansive space.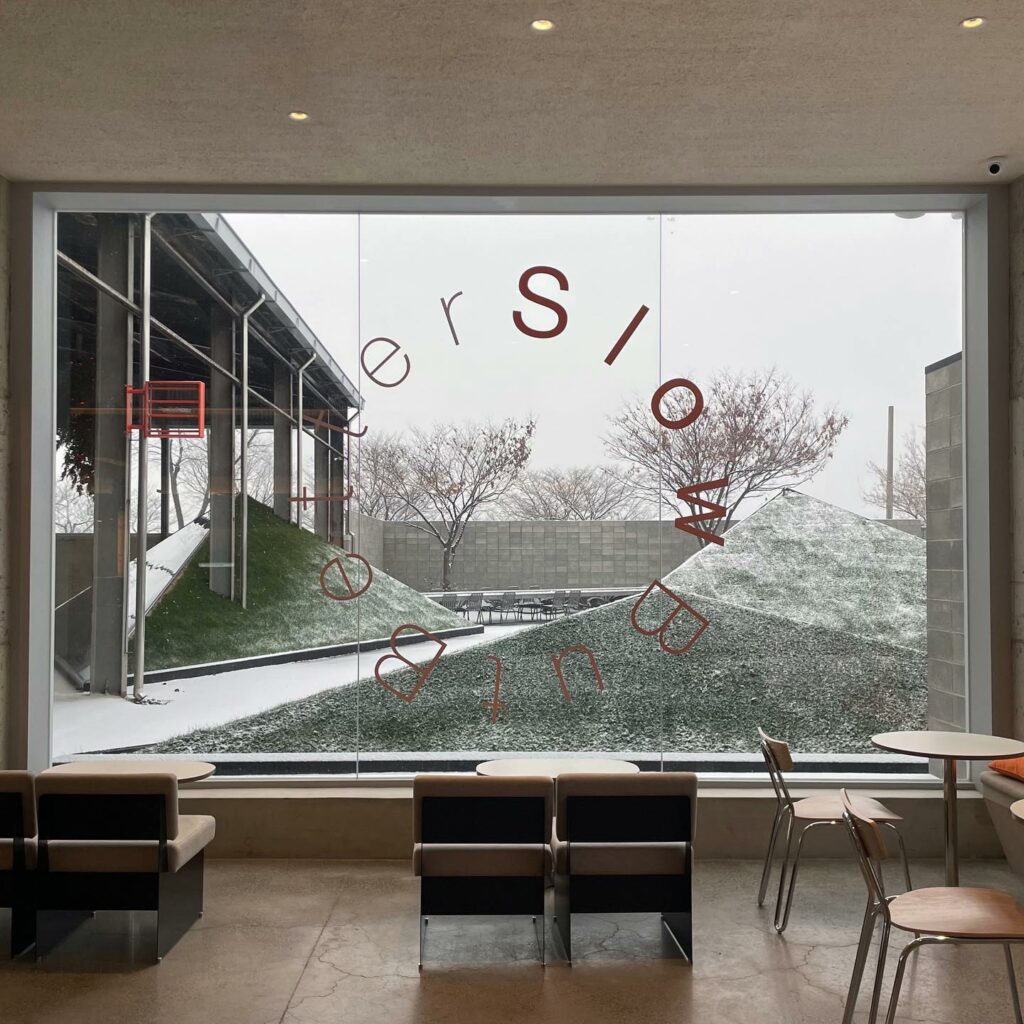 Image credit: @slow_but_better_official via Instagram 
The cafe's warehouse-sized compound has exposed concrete walls with simple patterns and designs for a simple and modern look. The furniture is also of a similar colour theme, comprising neutral hues that are easy on the eyes.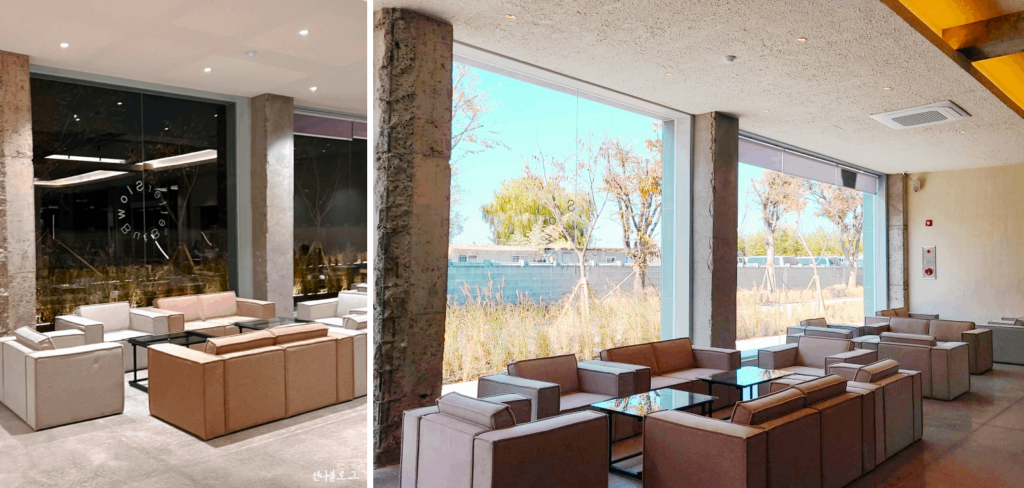 Image adapted from: 션니 via Naver, 윤서야놀자 via Naver
Besides the aesthetically pleasing interior, the cafe also values comfort as you'll find soft sofa seats instead of hardbacked chairs and stools here.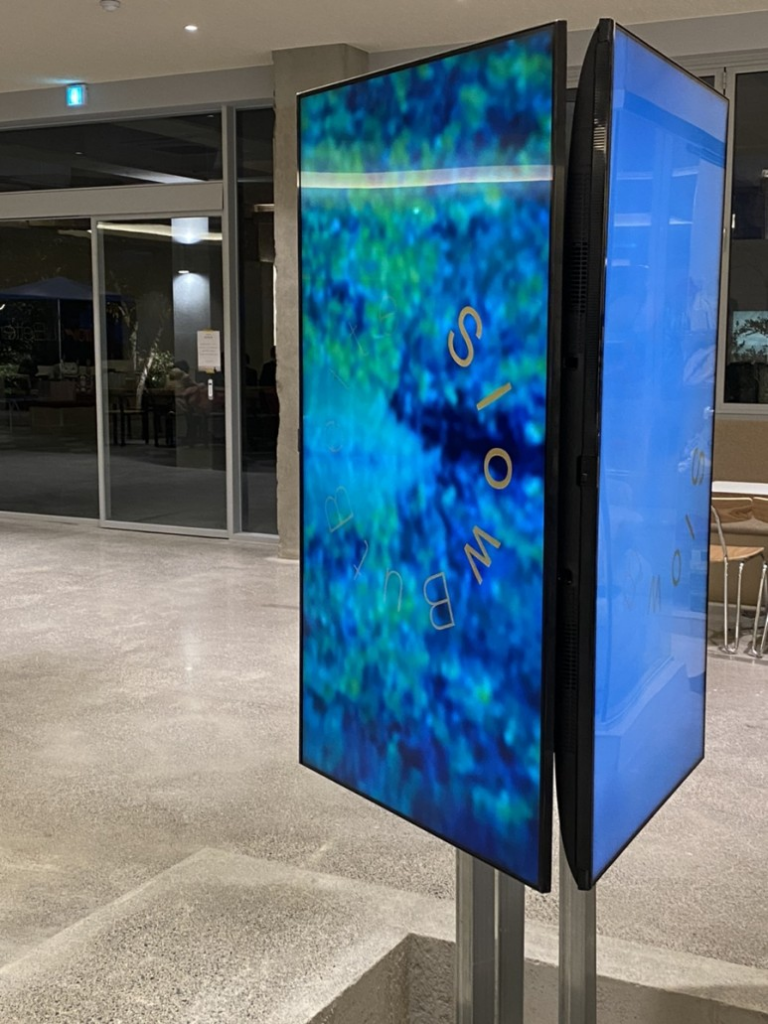 Image credit: 일럽지밍 via Naver
To top off the indoor visual treat, there are digital art displays in the space that stand out with their vibrant colours.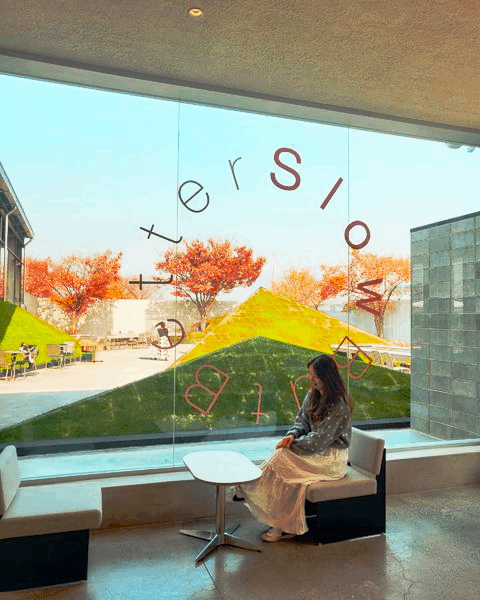 Image adapted from: @alsghk821 via Instagram
The floor-to-ceiling glass windows also let in tons of natural light, so you can bet that the photos you take here will look gorgeous. 
---
Beautiful outdoor area
---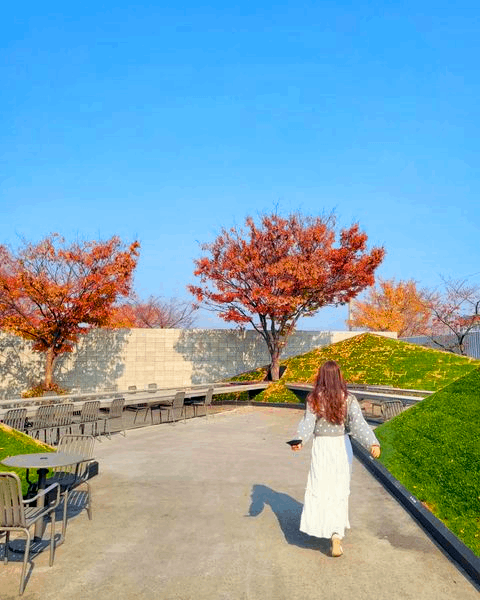 Image adapted from: @alghk821 via Instagram 
The outdoor of the cafe feels almost like an artistic rendition of a garden. With a few towering trees surrounded by grassy pyramids and contrasted by the smooth concrete tables and walls, it's almost a modern-meets-nature sight that is just marvellous to look at.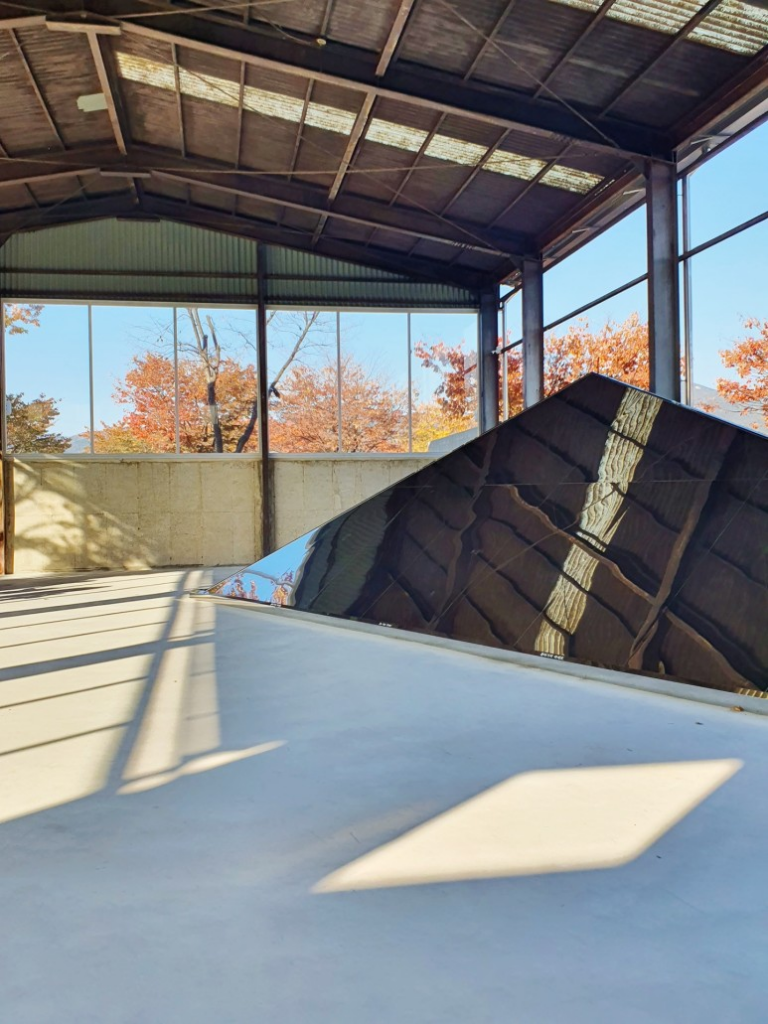 Image credit: 딜라잇 via Naver
In the sheltered area, there are giant, prism-like structures with smooth mirrors that pose a contrast to their grassy counterparts.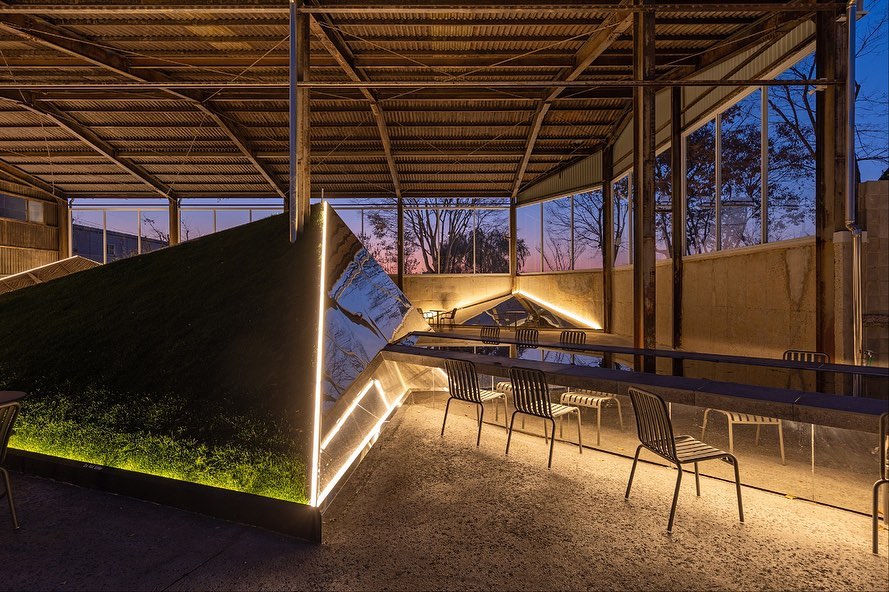 Image credit: @slow_but_better_official via Instagram 
At night, the mirror pyramids light up around their edges, and the reflections make it hard to distinguish which pyramids are made of grass and which ones' exteriors are mirrors.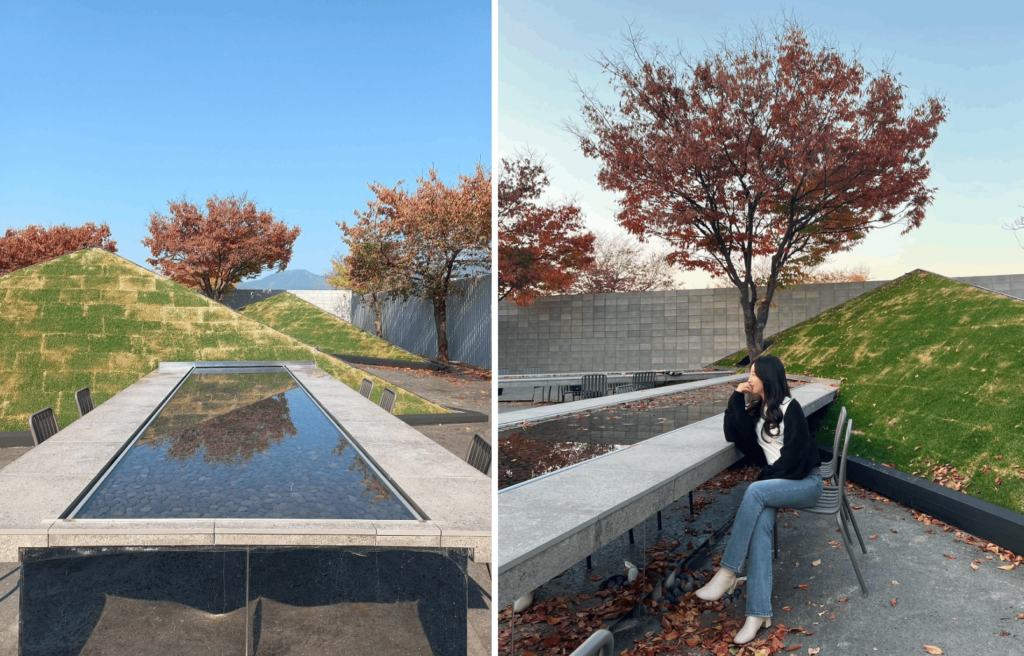 Image adapted from: 션니 via Naver, 도도정 via Naver
Protruding out of the grass-covered pyramids are long tables with rectangular ponds in their centre. It's one of the more unique tables we've seen in cafes, without a doubt. Still, it's probably not a good idea to play with the water, though.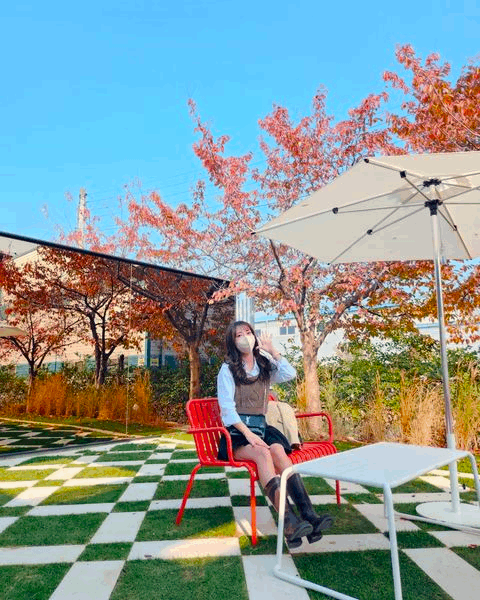 Image adapted from: @93_hnk via Instagram
On the other side of the cafe, there is a smaller outdoor area with chequered grass patterns. The seats are simply designed benches and there are large parasols you can sit under to stay out of the sun.
---
Must-try desserts
---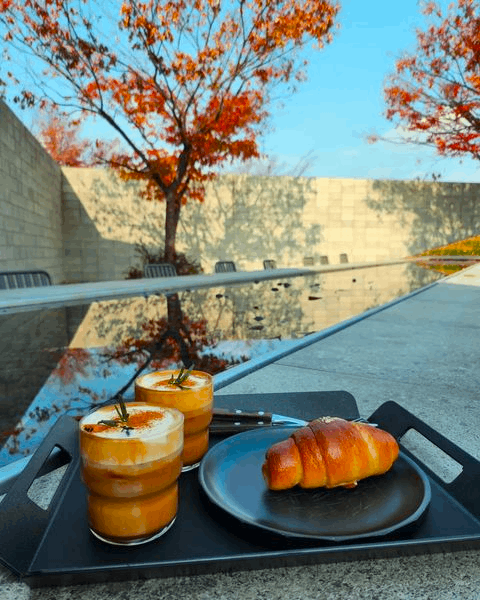 Image adapted from: @93_hnk via Instagram 
Of course, the perfect thing to go with visually pleasing cafe grounds are delicious cafe foods. SlowButBetter definitely delivers in this aspect, with its menu of unique drinks that are sure to tickle your taste buds.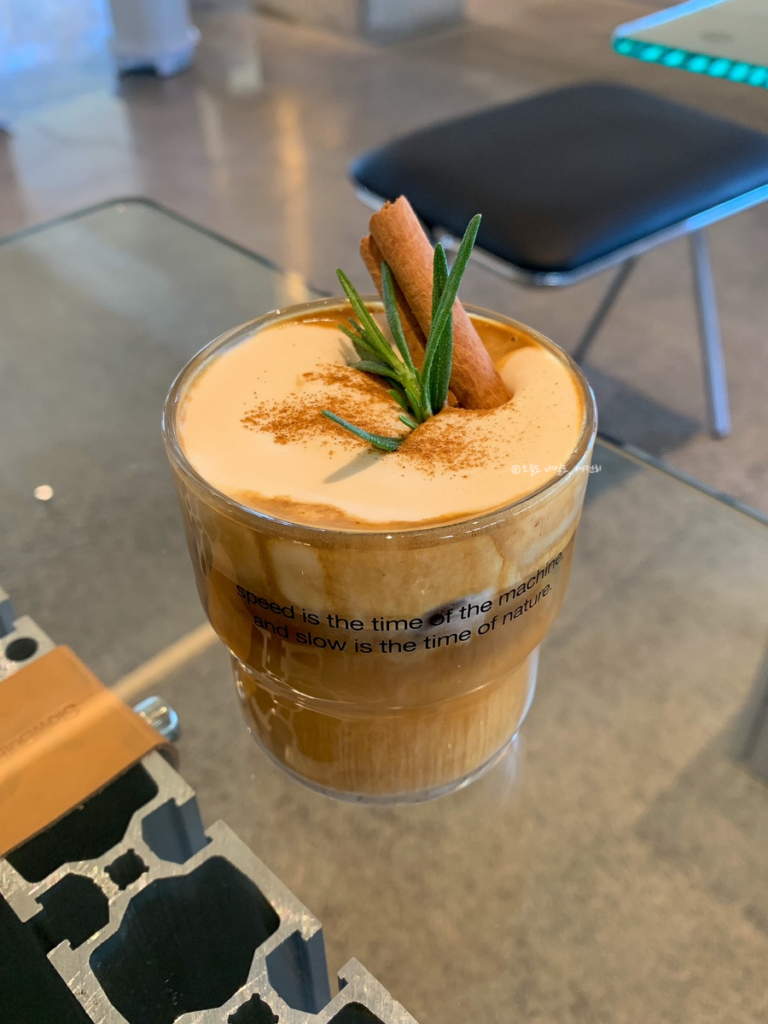 Image credit: 또니 via Naver
One of their signature drinks is the Caramel Latte (KRW6,500, ~USD5). With thick cream dusted with cinnamon and topped with a wafer biscuit, it's a treat for those who love sweet coffee drinks.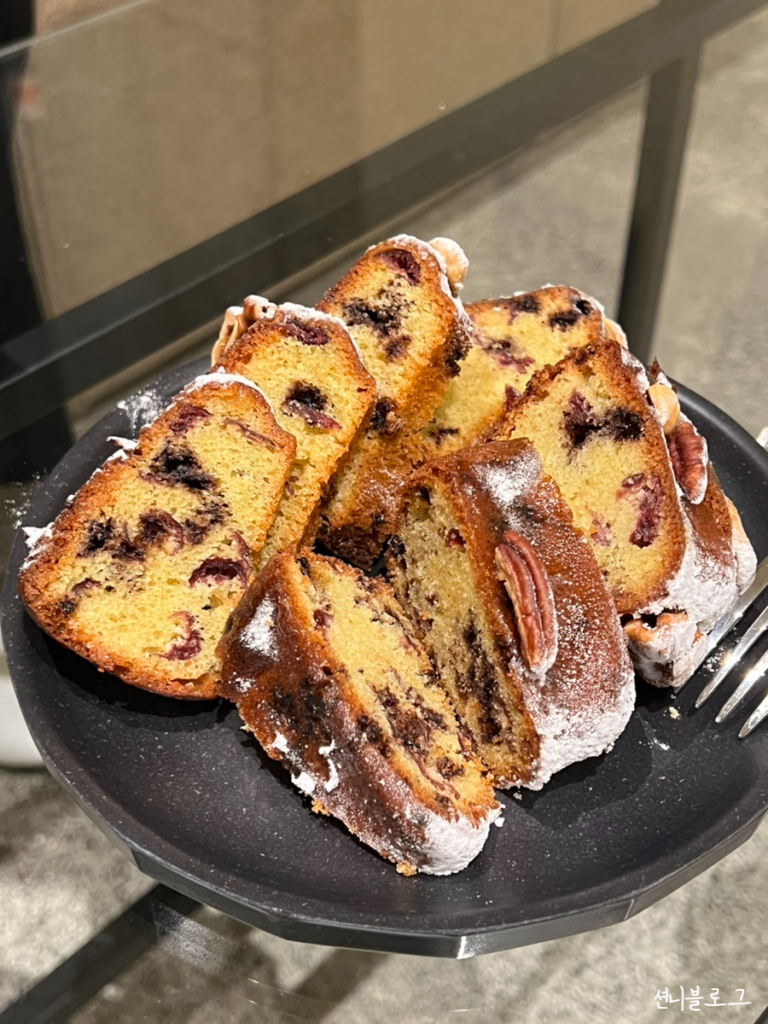 Image credit: 션니 via Naver
Give their Cranberry Chocolate Chip Pound Cake (KRW12,000, ~USD9 for half a cake) a try as well. This deliciously soft cake with berries and a crisp exterior dusted with sugar seems like a great complement to the well-crafted coffees you'll get here. 

Image adapted from: 도도정 via Naver, 또니 via Naver
Their Iced Americano (KRW5,000, ~USD3.80) is a drip coffee that is brewed using the cafe's own custom blend.
---
Getting to SlowButBetter
---
When it comes to visual appeal and aesthetic, SlowButBetter definitely brings something fresh to the table with their artistic decor. Whether you're a cafe connoisseur or just a casual cafe-hopper, you'll want to add this outlet to your itinerary.
How to get there:
SlowButBetter is a short 10-minute walk from Yonggye Station on Line 1 of the Daegu Subway.
Exit the station from Exit 1 and turn right at the 1st junction.

Continue down the path and turn right at the T-junction at Sinpyeong-ro.
SlowButBetter is on your left across the road.
Address: 113 Sinpyeong-ro, Dong-gu, Daegu
Opening hours: Tue-Sun 10.30am-10pm (Closed on Mondays)
Contact: 0507-1305-9611 
For more cafes with unique concepts, check out Angelinus Island, Happy Bear Day, cafe and bar Nakwon Station, and Gwehdo. After getting your caffeine fix, visit Daae-oh Bookstore, the oldest bookstore in Seoul.
---
Cover image adapted from: Naver, @alghk821 via Instagram, @93_hnk via Instagram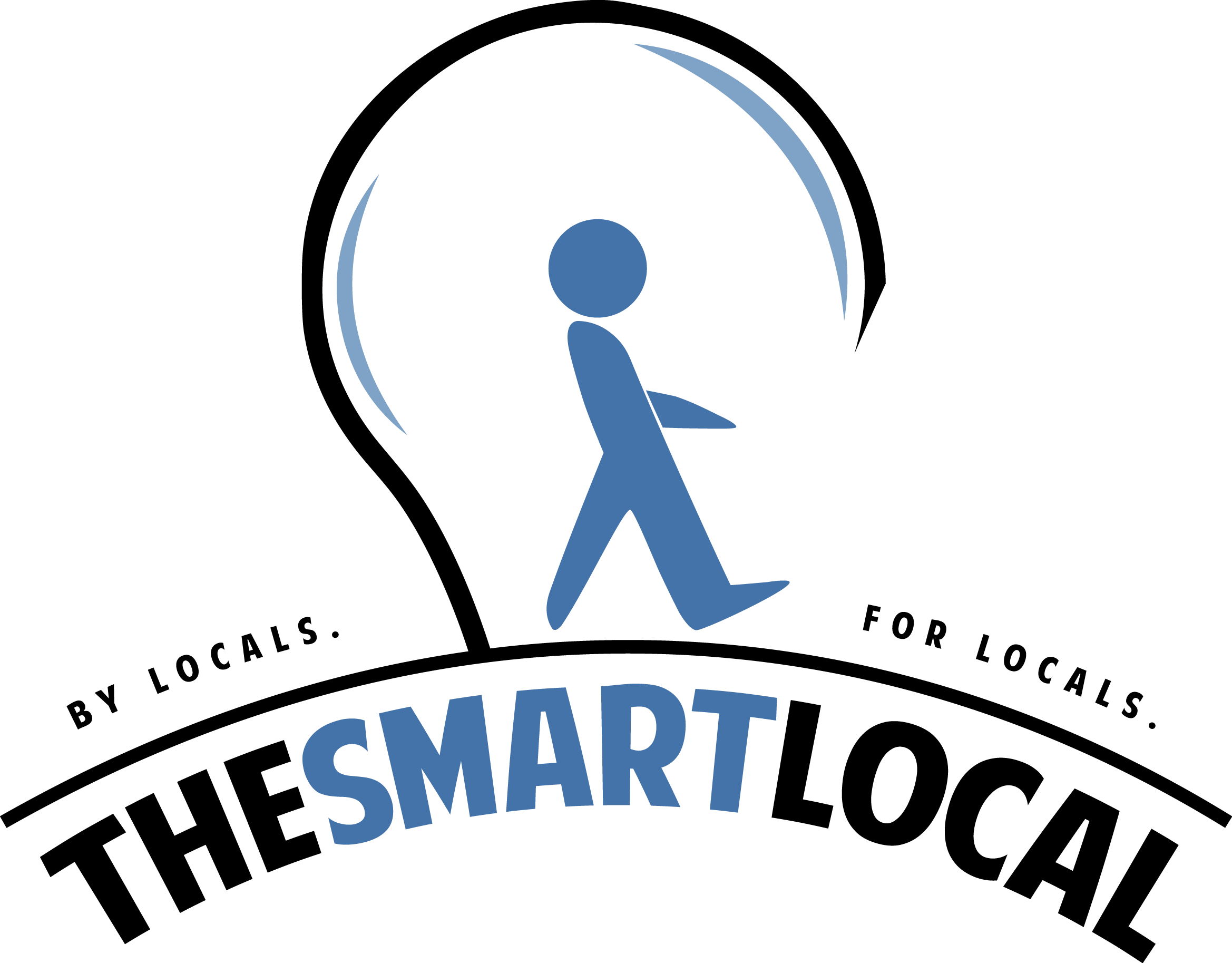 Drop us your email so you won't miss the latest news.