Dojjaebigol Sky Valley
---
The coast of the East Sea in South Korea has no shortage of areas from which you can appreciate the sea. But at Dojjaebigol Sky Valley, you will not only get to enjoy the same, you'll be seeing East Sea from a unique perspective with its goblin-themed decorations and high-element activities.
---
Sky valley with a 87m-long slide
---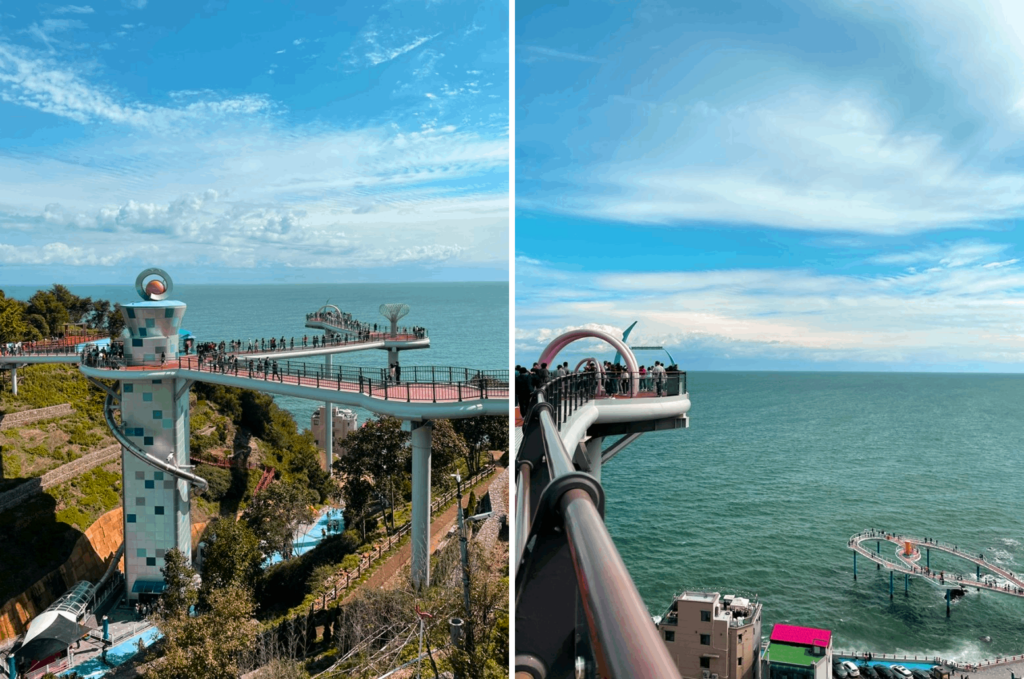 Image adapted from: 영원 via Naver, 영원 via Naver  
Dojjaebigol Sky Valley features a boardwalk 59m above sea level. The vantage point makes the village and people below look tiny, yet the sea remains as vast and endless as it was on ground level.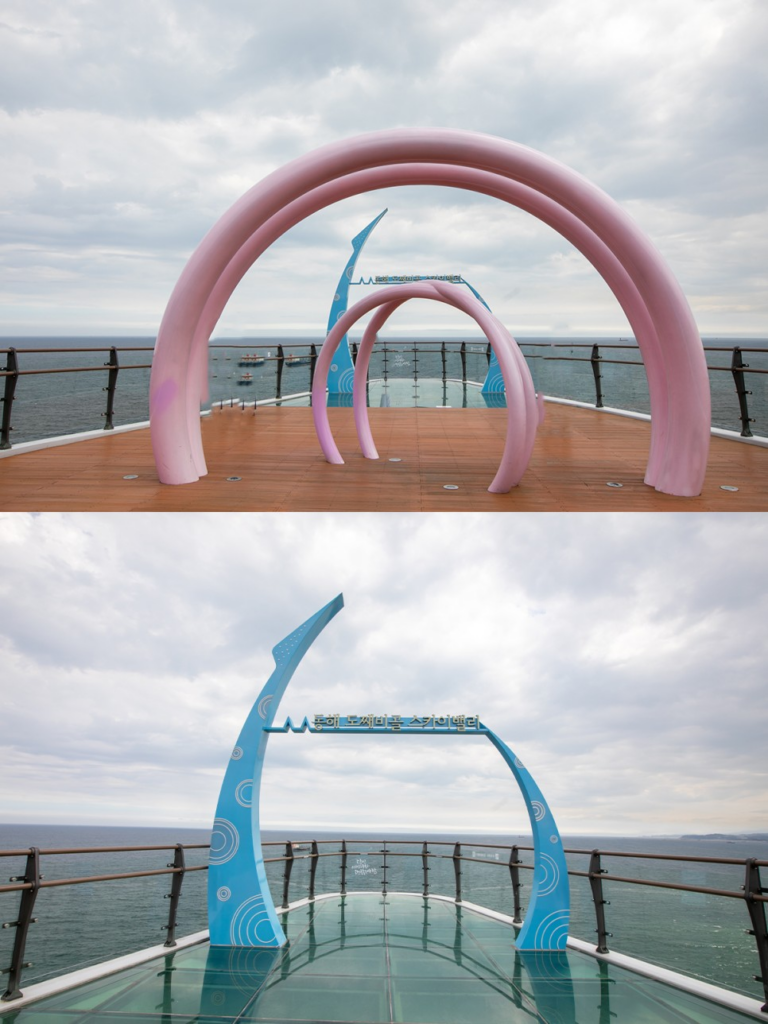 Image credit: 티케 via Naver  
The scenic views of the Sky Valley also make for great backdrops for photos. You'll find goblin-horn-looking sculptures and photozones at the areas with the best views, which is the part of the boardwalk that faces the horizon.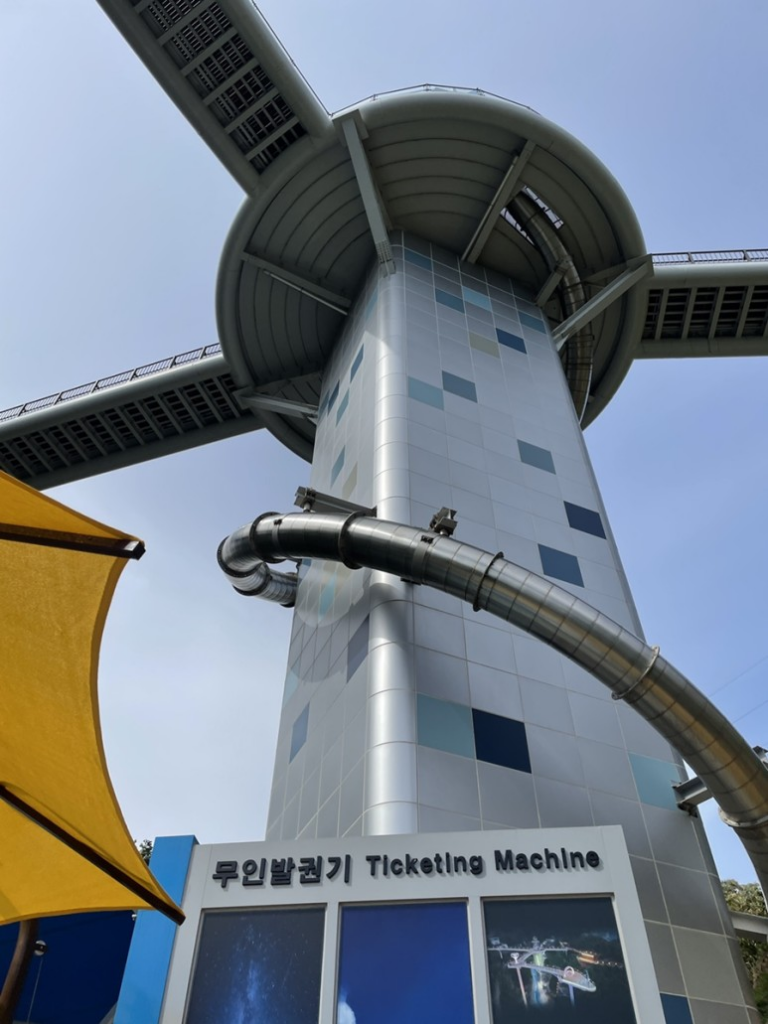 Image credit: 영원 via Naver
Once you're done appreciating the sights, head back down to ground level via their 87m-long giant slide for KRW3000 (~USD2.20). Definitely much more interesting and less tiring than the stairs.
Entry to Sky Valley is KRW2,000 (~USD1.50) per adult and KRW1,600 (~USD1.17) per child.
---
Cycle on a tightrope suspended in midair
---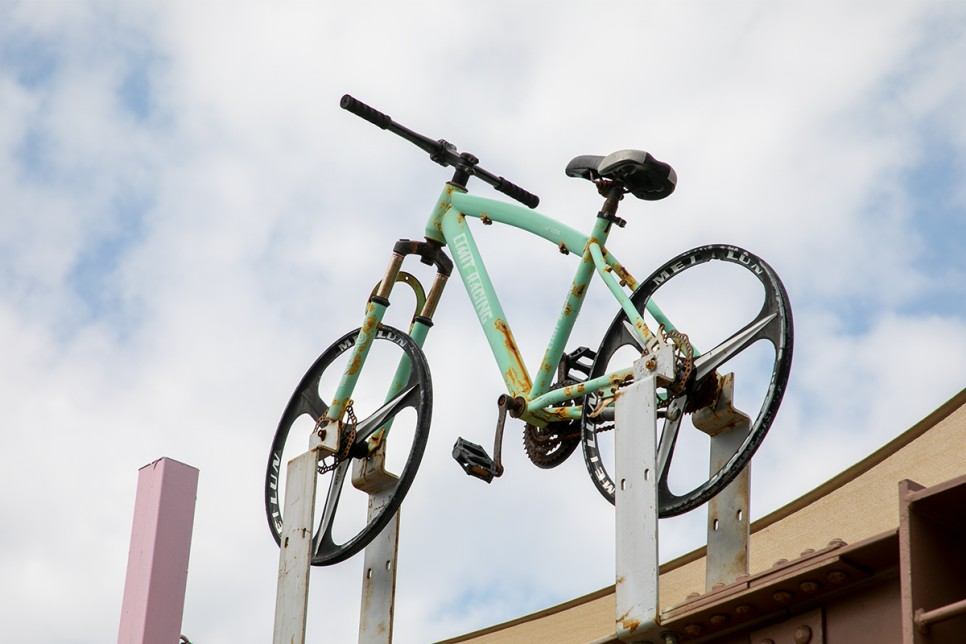 Image credit: 티케 via Naver
Thrill-seekers who are heading to the Sky Valley should definitely check out Sky Cycle. This activity lets you ride a bike while suspended in the sky.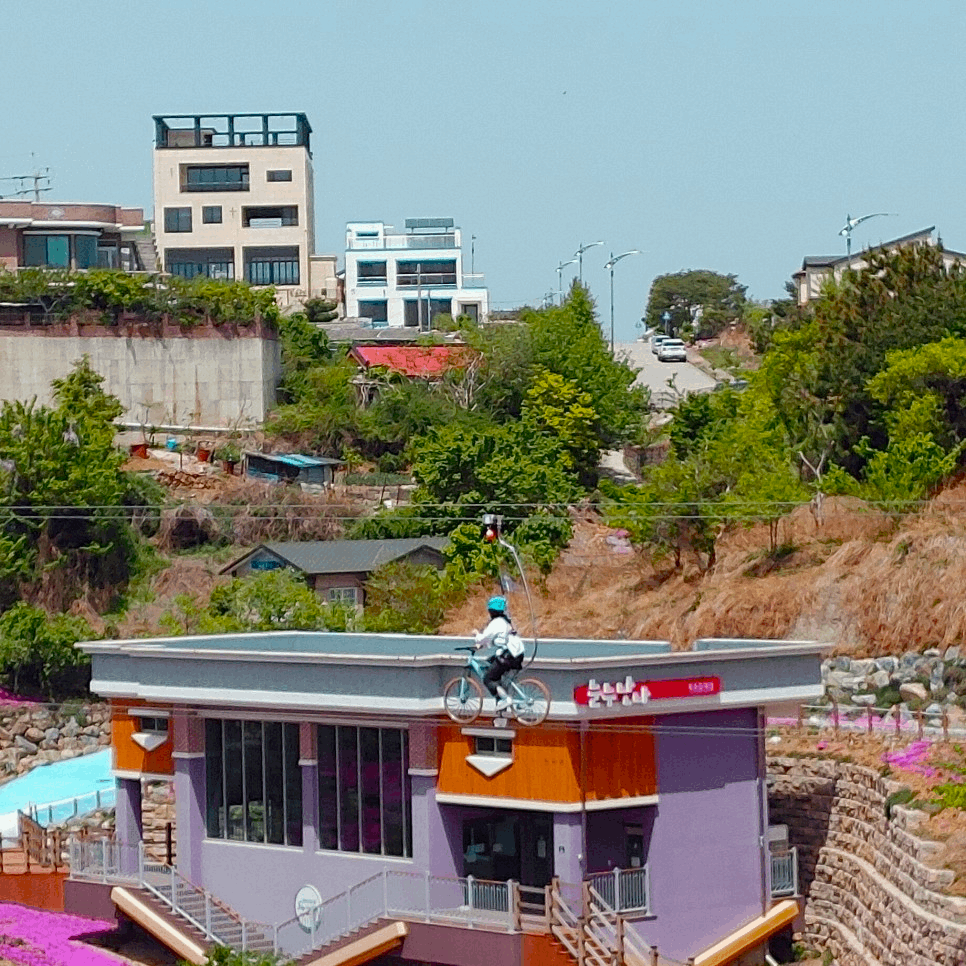 Image adapted from: jujubooks via Naver
Okay, it's not so much riding a bike "in the sky"; the bike is specially modified to fit on a tightrope. So riding on it feels like you're riding a bike midair. A round-trip ride across their platforms that are roughly 179m apart costs KRW15,000 (~USD11).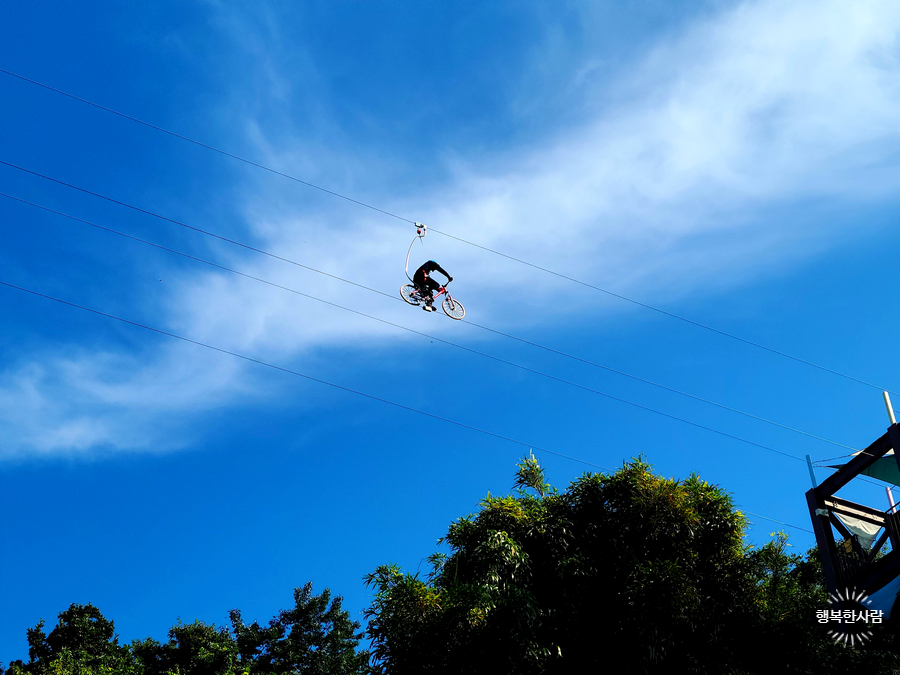 Image credit: 행복한 사람 via Naver
Talk about living out your Cirque Du Soleil dreams. But do note that you need to be minimally 140cm-tall to do this activity. 
---
Goblin sculptures & murals
---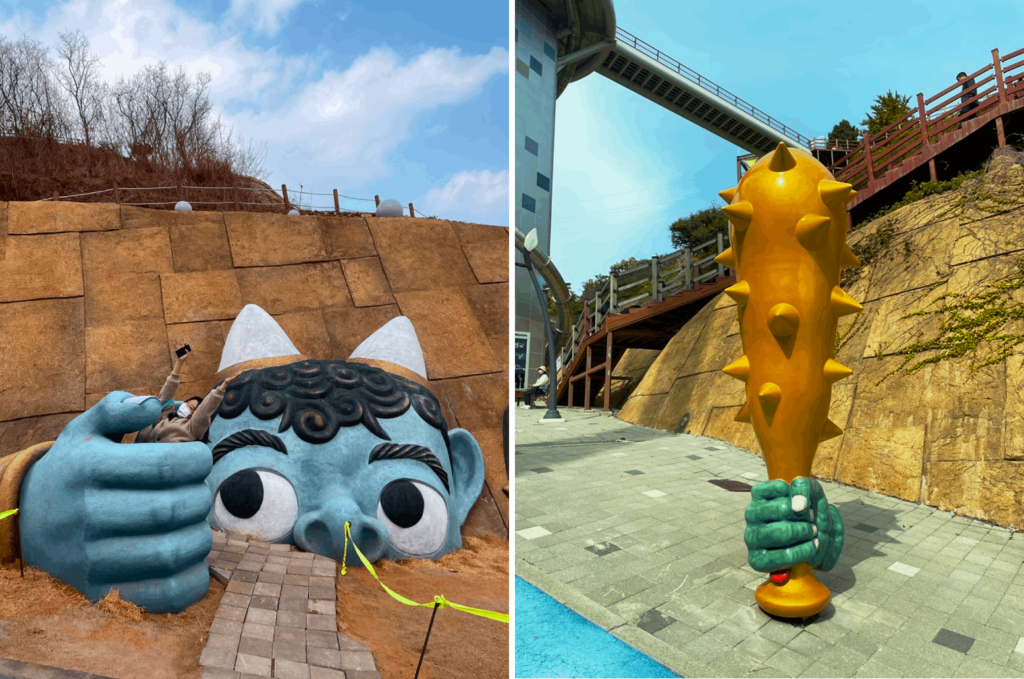 Image adapted from: 조꿀미 via Naver, 영원 via Naver
After your thirst for heights and thrills are (hopefully) satisfied, explore the area and the various goblin-themed decorations littered all across Sky Valley. The Korean goblin (dokkaebi) is prevalent in Korean culture, and these Sky Valley decorations are a celebration of that.
The first one right next to the Sky Valley slide is a giant goblin peeking out from the floor with his hand out. There other sculpture is a golden goblin bat called the 도까비 방망이 (dokkaebi bangmangi) that's functionally similar to a wand in western cultures.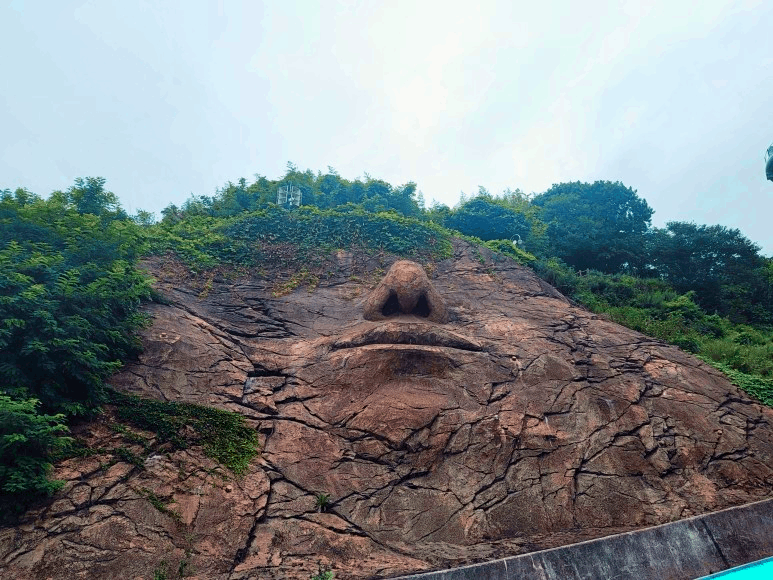 Image credit: 누리 via Naver
On your way down, keep a lookout for the goblin face etched onto the side of the mountain. It looks like a goblin version of Mount Rushmore.


Image credit: 골목대장 via Naver, 누리 via Naver
There's also a large goblin mural on the path that leads down to sea level on the hill, as well as a bench decorated with an outline of a baby goblin. The bench is also designed such that it resembles the goblin's fangs.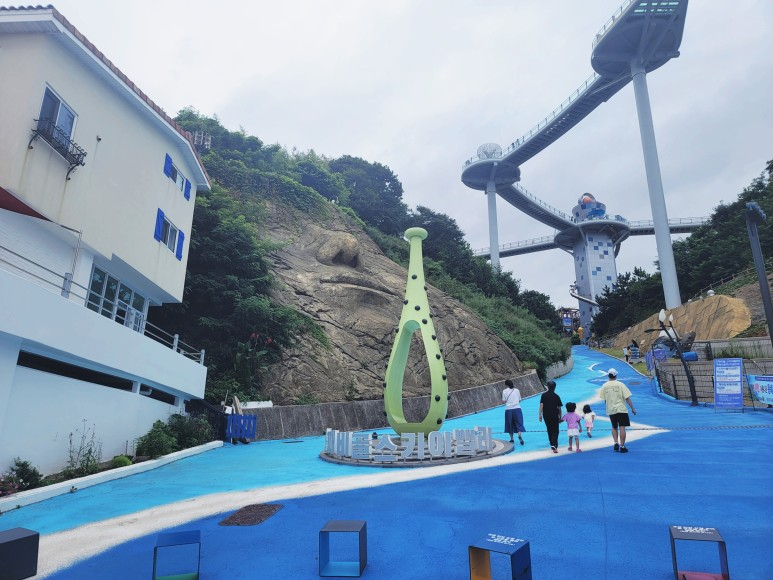 Image credit: 누리 via Naver 
You might also notice that the main Sky Valley sculpture right in the centre of the area is designed after a dokkaebi bangmangi to remind everyone of the thematic inspiration behind this area's decorations.
---
Haerang Observatory
---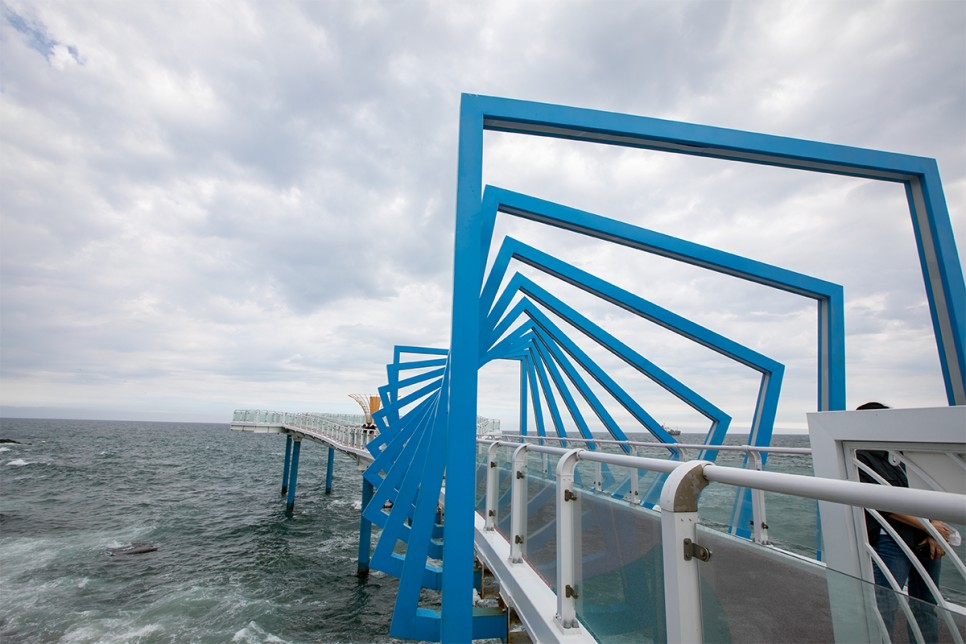 Image credit: 티케 via Naver
Hit up the Haerang Observatory to appreciate the East Sea in all of its grandeur. It is a boardwalk that extends rather far into the East Sea so you can take some sick photos, as well as enjoy the refreshing sea breeze along the way.
The observatory's entrance is graced by a series of squares arranged to make you feel like you're walking through a portal into a new dimension.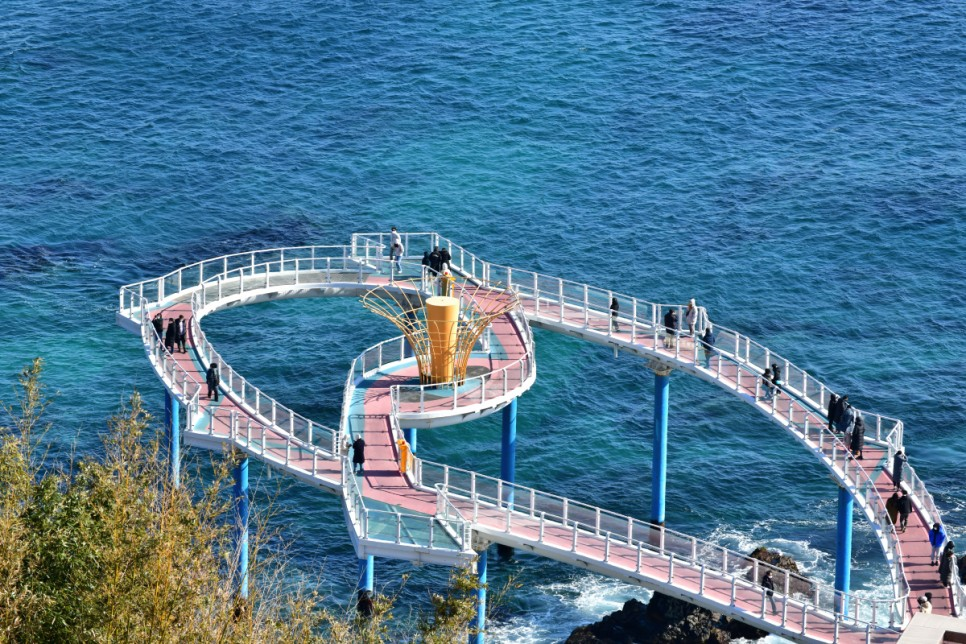 Image credit: 싱글벙글 via Naver
While you may think that the goblin theme stops here, a look at this walkway from a higher vantage point will tell you that's not true. The boardwalk is shapeed like a dokkaebi bangmangi as well.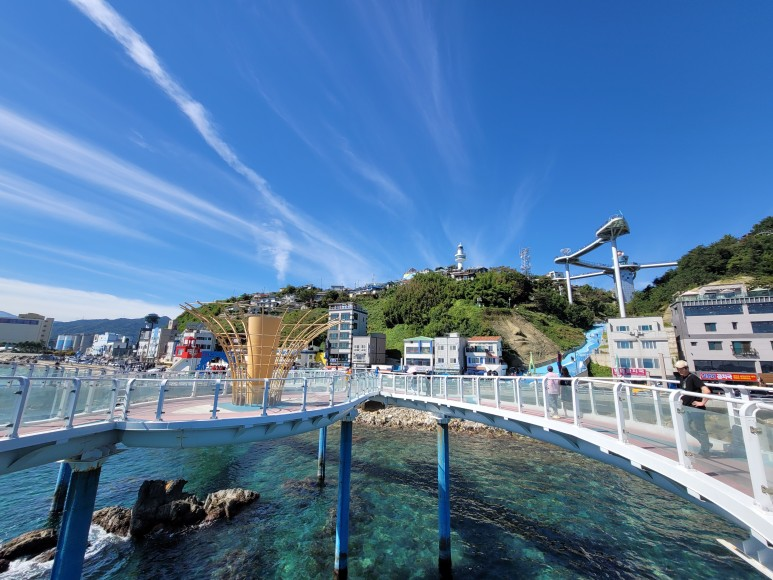 Image credit: sangyeob via Naver
The walkway itself not only boasts amazing views of the sea, it has its own golden sculpture photozone in the middle for you to snap some amazing photos too.
---
Getting to Dojjaebigol Sky Valley
---
Dojjaebigol Sky Valley is a creative way to combine Korean culture and tourism. So you'll want to check out this one-of-a-kind experience if you're vacationing in the Gangwon area, which is roughly a 4-hour train ride from Seoul. 
How to get there: 
From Mukho Station, take Bus 21-4 for 10 stops.

Alight at Seagull Sashimi Restaurant stop and walk straight ahead.
Address: 2-109 Mukhojin-dong, Donghae-si, Gangwon
Opening hours: Sat-Thu 10am-6pm | Fri 10am-4.30pm
Contact: 033-534-6955
Plan your South Korea trip better with these guides on 7 water parks, 11 things to do in Jeju, and Mangwon. If you're keeping strictly to Seoul, bookmark these 14 bagel spots and 9 romantic activities you can do in the city.
---
Cover image adapted from: 행복한 사람 via Naver, 누리 via Naver, 싱글벙글 via Naver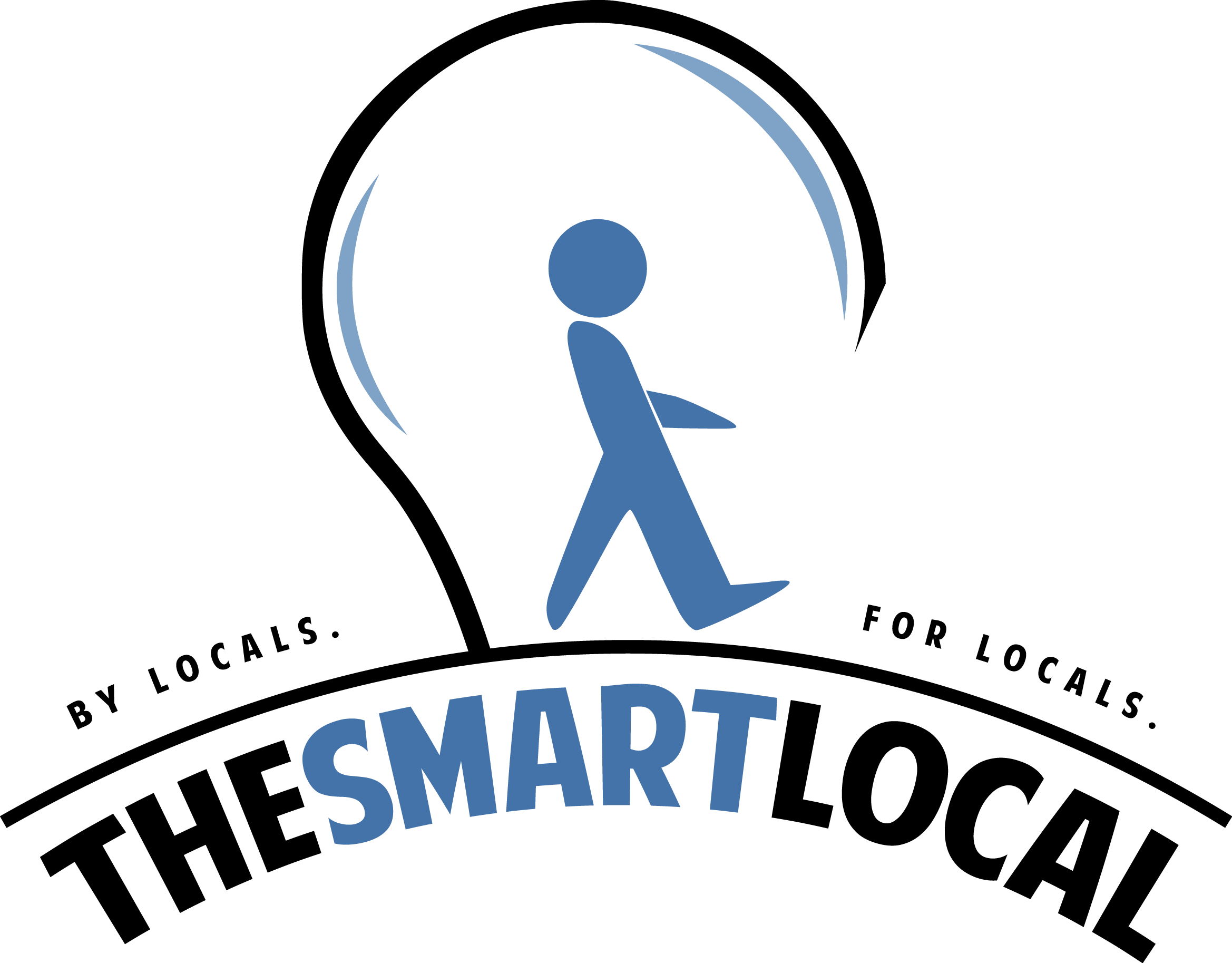 Drop us your email so you won't miss the latest news.