Maxim Plant 
---
Coffee makes up a huge part of Korean culture, so much so that there are instant coffee brands endorsed by big names such as Gong Yoo and Song Joong Ki. The most popular brand is arguably Maxim, which is so successful that they've opened a cafe and coffee lab called Maxim Plant. 
---
Integrated cafe & coffee roastery
---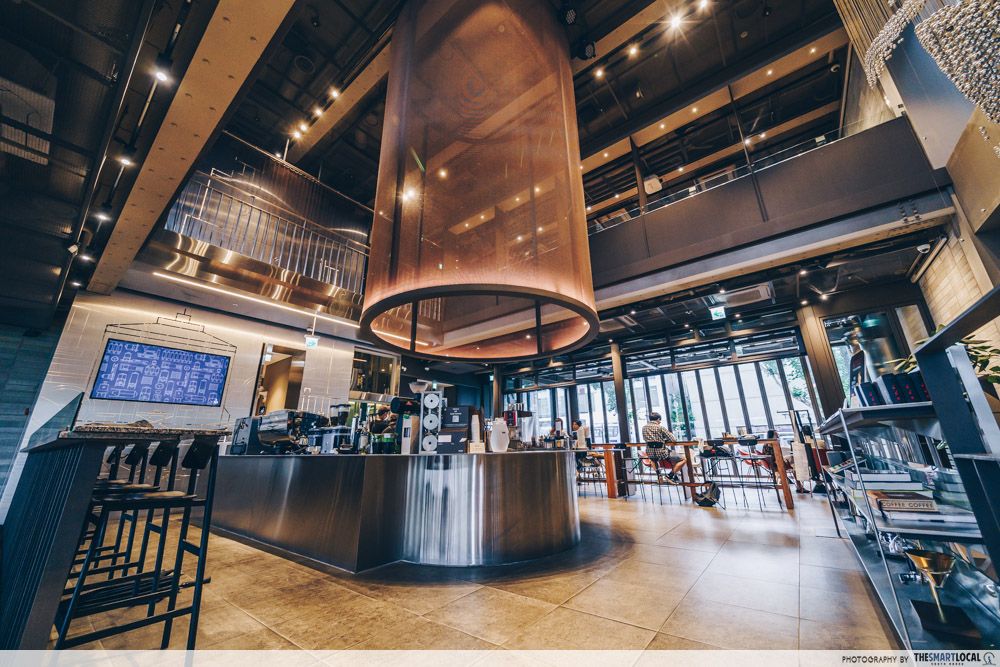 Maxim Plant first opened its doors in 2018, and while the 5-storey building functions as a cafe, it doubles as a flagship store and production plant where coffee beans are stored and roasted.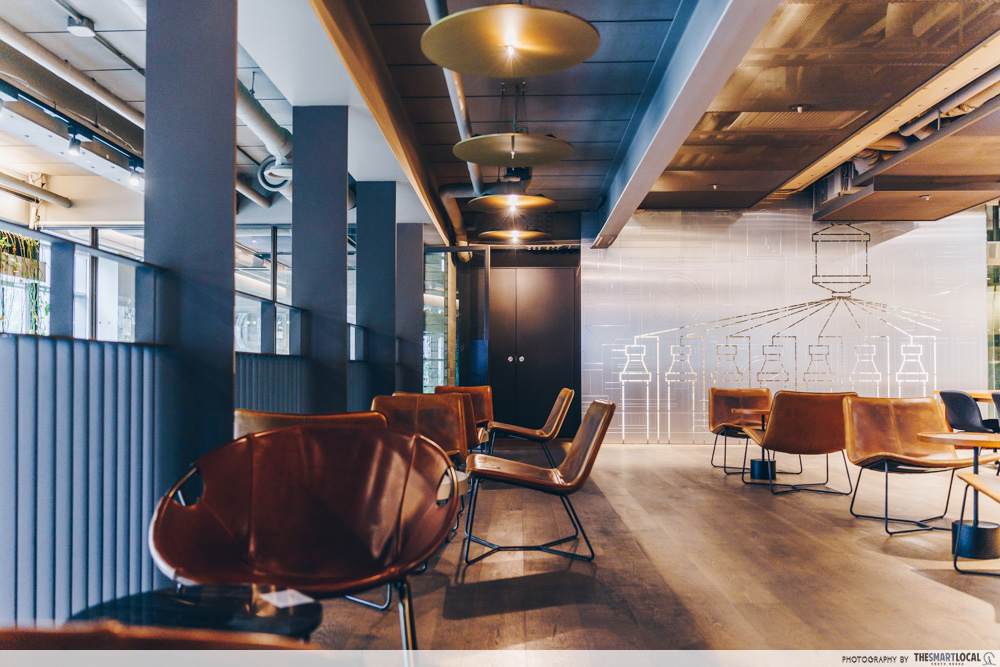 The main area, which houses the cafe, is located on the first floor. The floor guide is as follows:
B2: Coffee Lab
B1: Library
L1: Cafe
L2: Cafe & terrace
L3: Brewing lounge & terrace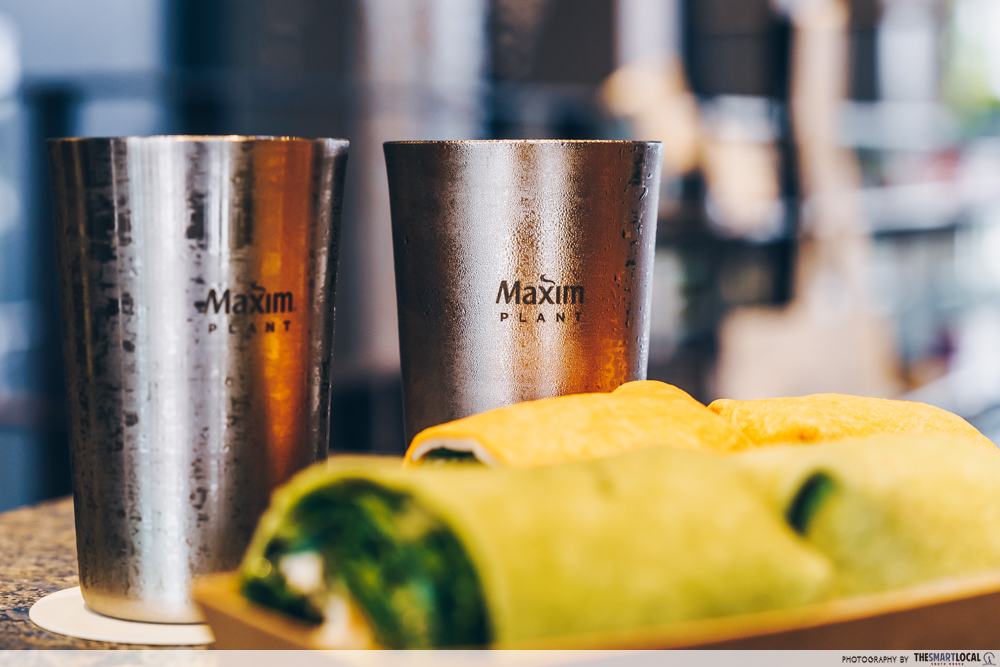 We encourage you to visit the cafe between 10am and 2pm as you can enjoy the brunch set consisting of a cup of Americano and a sandwich, salad or croissant at a cheaper price. A total of KRW2,000 (~USD1.42) is discounted from the original price. 
For those ordering a cup of Americano (KRW4,900, ~USD3.49) or Espresso (KRW4,400, ~USD3.13), you can choose either a light or dark blend for your coffee beans.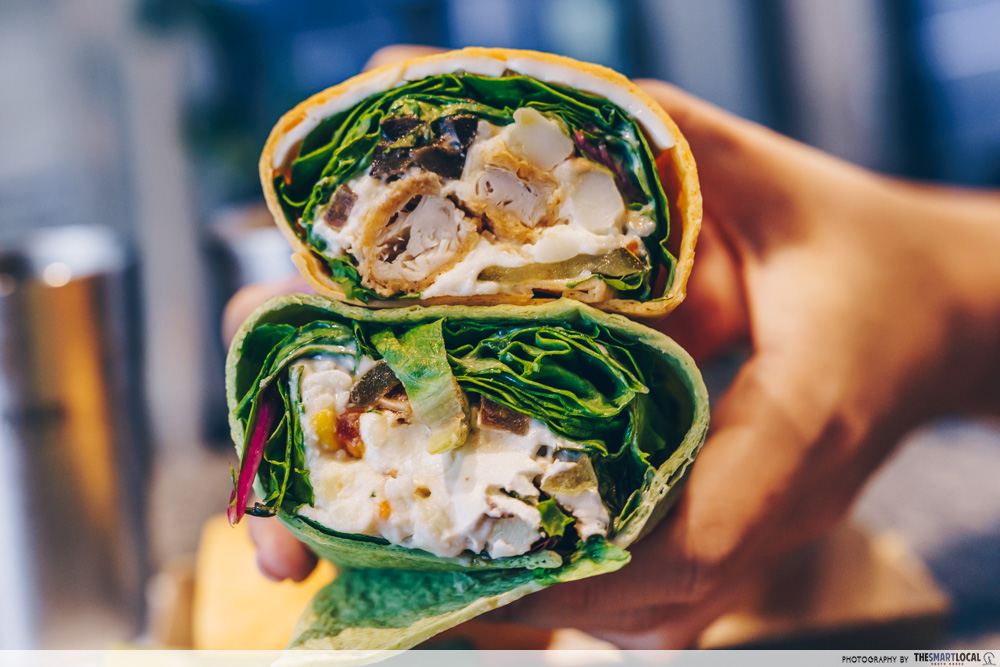 Besides staple cafe desserts such as cookies and cakes, you can also opt for a hearty meal such as the Chipotle Chicken Tender Wrap (KRW5,500, ~USD3.92) or Honey Ricotta Cheese & Nuts Wrap (KRW5,500, ~USD3.92).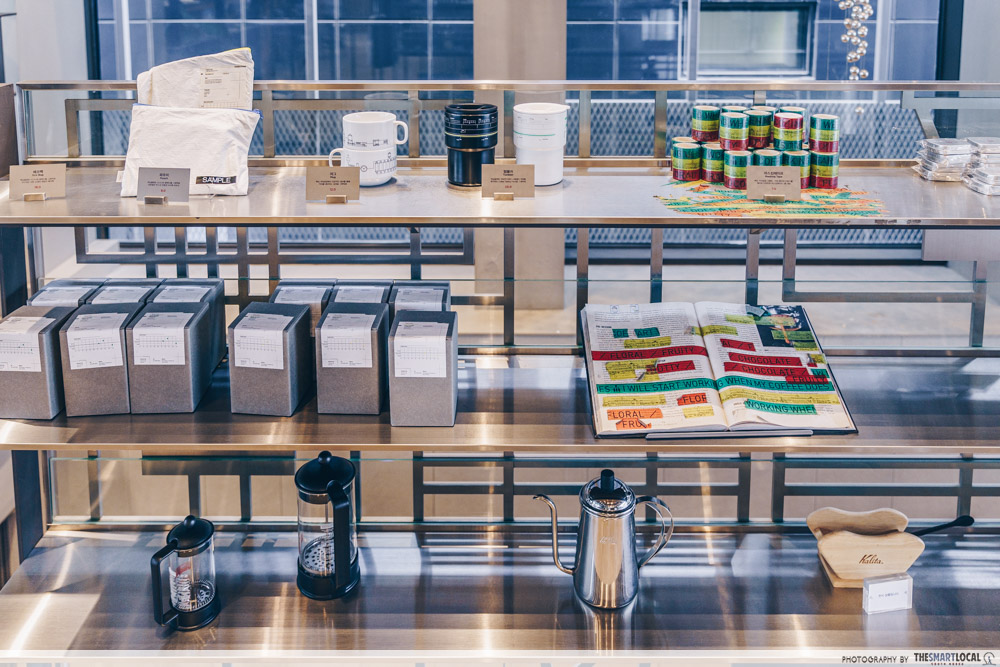 Located right next to the order counter, there's a cosy corner dedicated to Maxim Plant merch that are for sale, ranging from masking tapes and tumblers to brewing gears. The coffee grinder and drip kettle don't just make great keepsakes, but are also practical gift ideas for anyone who enjoys brewing coffee in the comfort of their own homes.
---
Ideal space to have meetings & get work done
---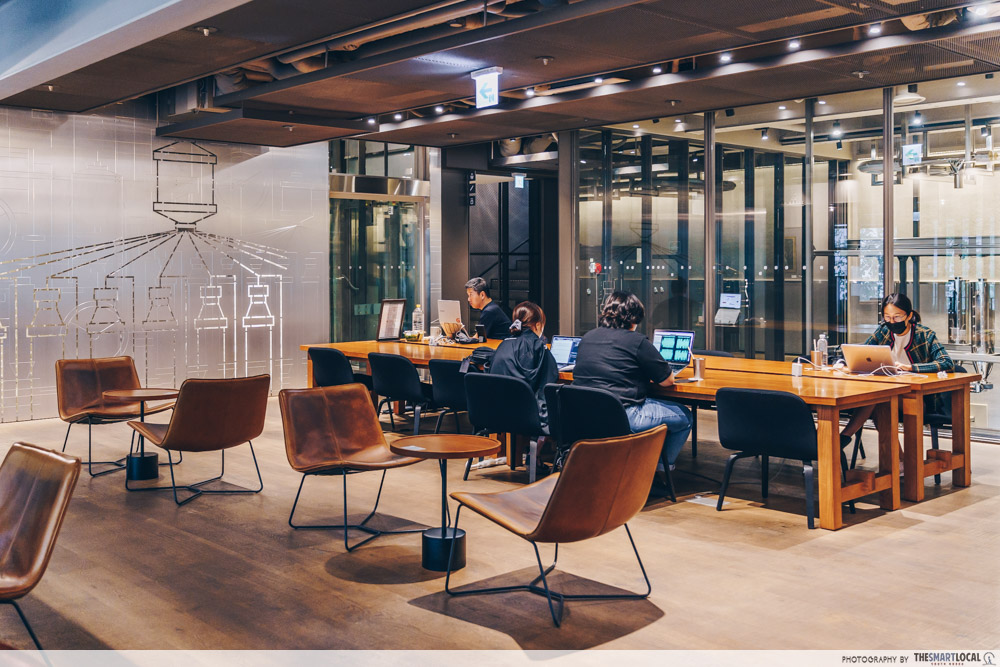 The capacious cafe houses a mini library in the basement dedicated for those who want to maximise their work productivity, so it's no surprise that silence has to be maintained if you want a seat on this floor.
Here, you can get your work done in a beautiful, distraction-free space with comfy seats. On top of everything, free WiFi and power plugs are available at Maxim Plant, so you won't have to worry about losing connectivity or your laptop battery running flat.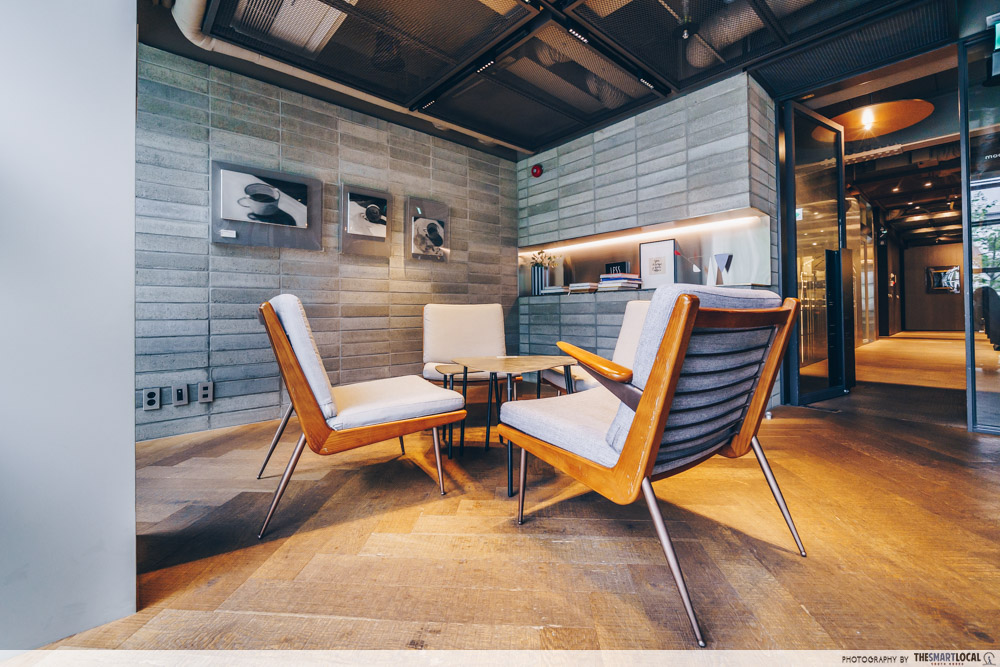 Additionally, there's a designated meeting room for all goal-getters and hustlers out there. The chic and sophisticated design of the space looks like something out of a modern house catalogue, and we were thoroughly impressed by how roomy and well-planned each floor was. 
---
Brewing lounge for all coffeeholics 
---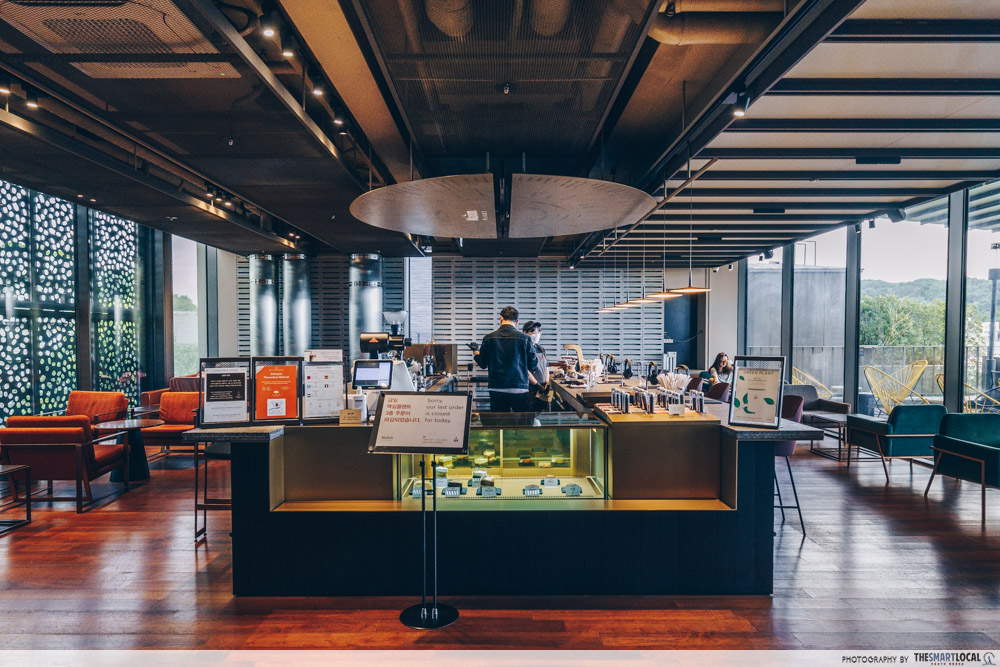 As the name of the brewing lounge suggests, the 3rd level is primarily meant for customers who want to enjoy a cup of freshly brewed coffee right on the spot. Note that the brewing lounge opens from 1pm – 9pm.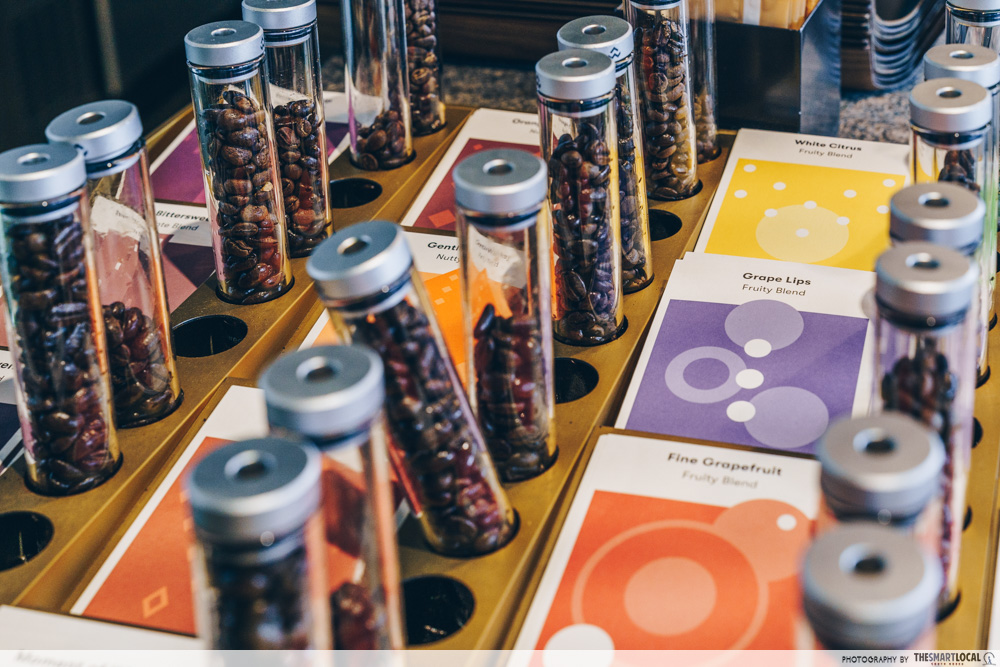 For coffee lovers who are eager to try Maxim Plant's freshly brewed coffee, all you have to do is purchase a Synesthesia Coffee (KRW9,500, ~USD6.75). 
Synesthesia refers to a neurological condition where what you perceive with one sense is rendered with another sense. For example, some people with synesthesia see colours when they listen to music.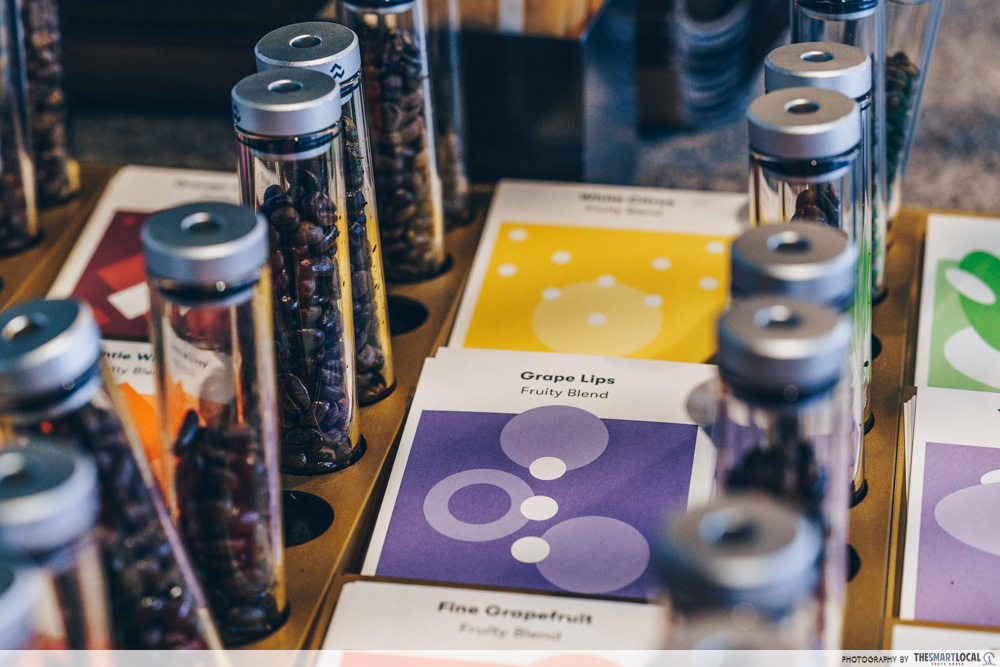 In a similar fashion, the concept of combining synesthesia and coffee at Maxim Plant is to enable visitors to experience their sense of taste through another. 
For instance, there's a list of songs you can listen to while enjoying their coffee. The Jasmine Breeze floral blend is accompanied by songs such as Good Morning World by Kahimi Karie, and Misdemeanor by Foster Sylvers.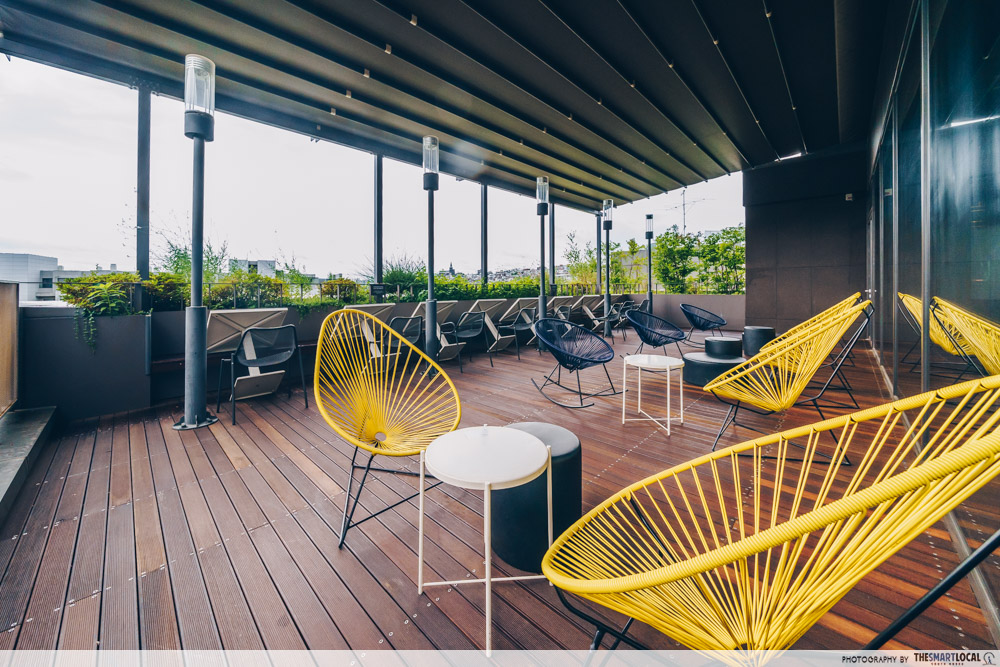 Weather permitting, you can take a seat on the terrace located on levels 2 and 3. The 2 by 2 seating arrangement of the terrace seats is best suited for single visitors or those in pairs, so do keep that in mind if you're planning on visiting with a big group. 
---
Directions to Maxim Plant
---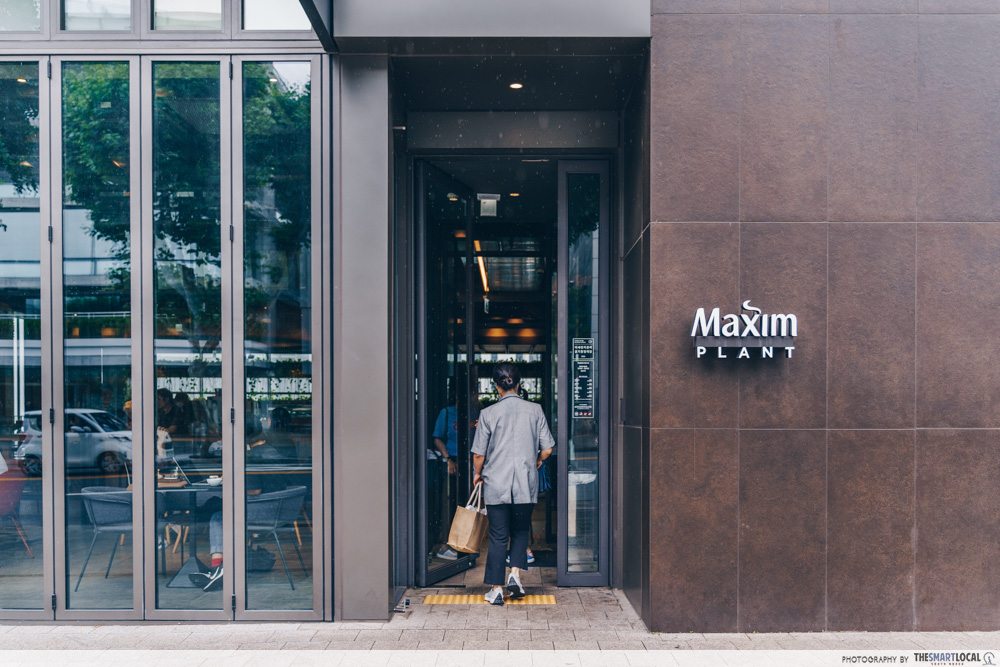 If you're a fan of the instant coffee brand Maxim, your time at the coffee plant will be worthwhile – there's no two ways about it. Plus it's the perfect spot to chill at before carrying on with your shopping spree. 
How to get there:
Head to

Exit 3

of Hangangjin Station.

Walk straight for about 7 minutes, and you should see Maxim Plant. 
Address: 250 Itaewon-ro, Yongsan-gu, Seoul
Opening hours: 10am-10pm, Daily
Contact: 070-4287-8557
Maxim Plant's Instagram
Also check out:
---
Cover image adapted from: TSL 
Get more stories like this!
Drop us your email so you won't miss the latest news.