Cafe Sanare
---
Bukhan Mountain, better known as Bukhansan, has one of the best hiking trails in Seoul. Every year, countless tourists and locals visit the mountain for a challenging hike. Cafe Sanare is located at the foot of Bukhansan, and its serenity makes it a great spot to unwind after a long day of hiking.
---
Minimalistic interior with plants
---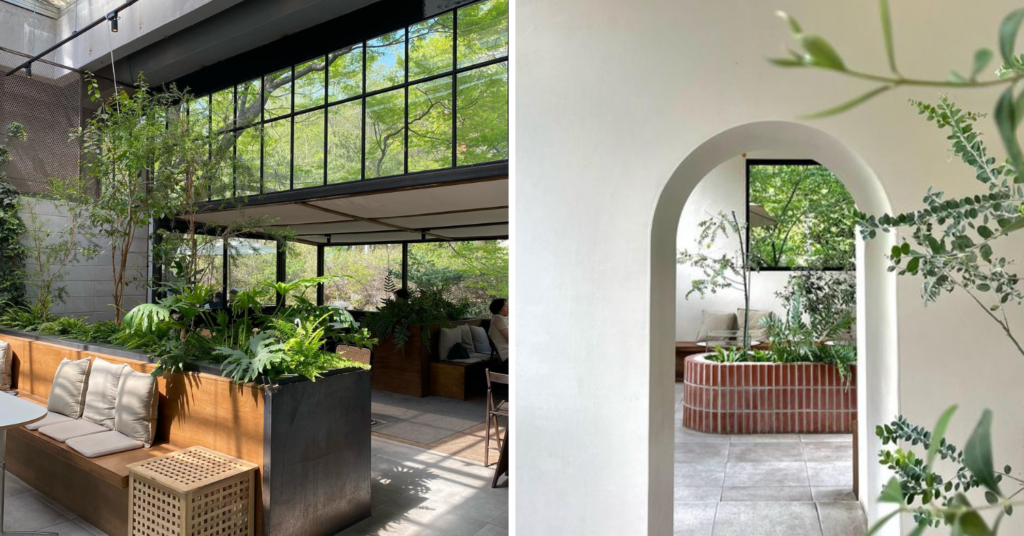 Image adapted from: @a_caffe_er, @etzyyyyy
As Cafe Sanare is located near Bukhansan, the aesthetic of the cafe is greatly inspired by nature. Parts of the cafe's walls have been replaced with glass panels, which means that patrons can rest their eyes and look at swathes of greenery without stepping outdoors.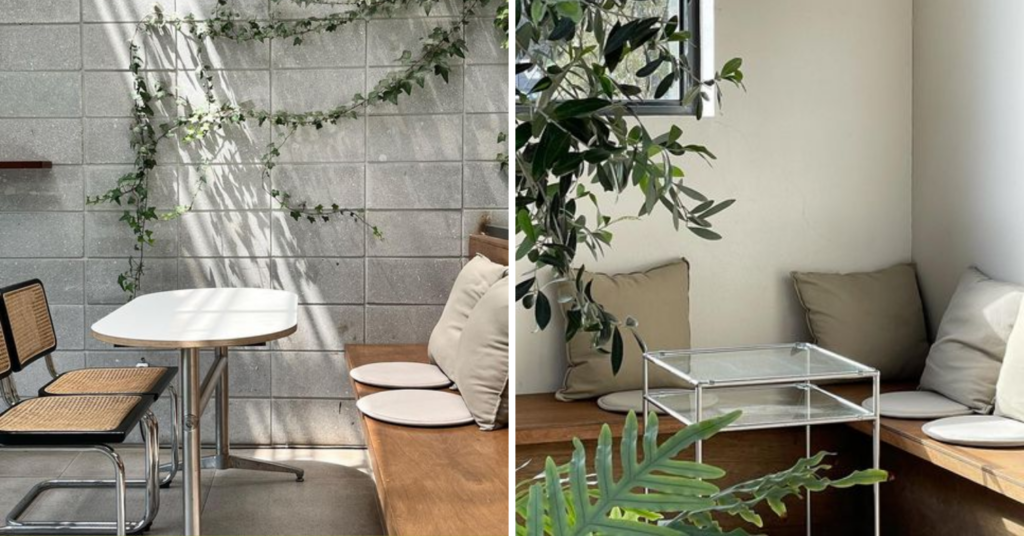 Image adapted from: @kanuy_y, @jammvely
The interior of the cafe is furnished in a mid-century modern style, with rattan furniture, neutral-coloured cushions, and metal tables with transparent glass tops.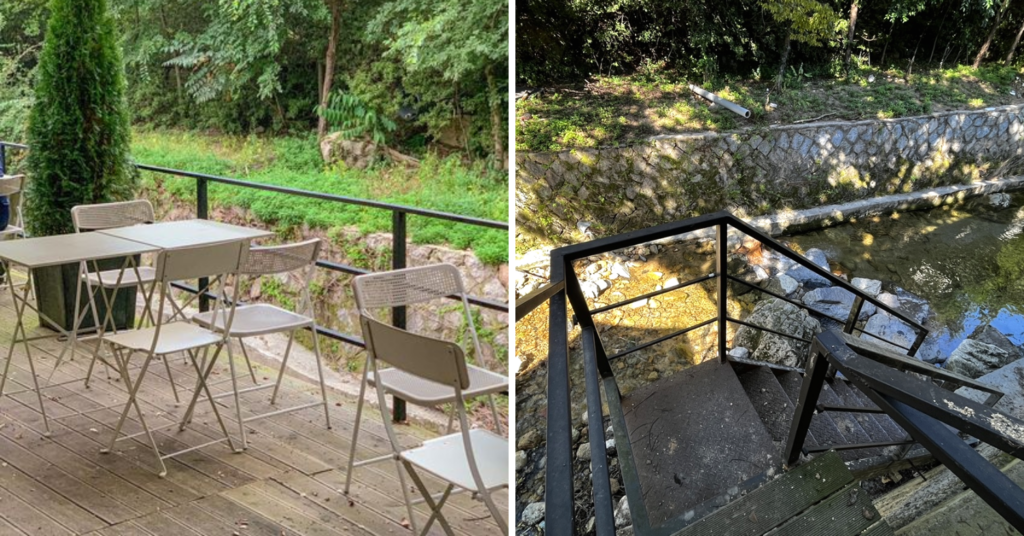 Image adapted from: @bbang.se, 응서 
There are outdoor seats that will bring you even closer to nature. And if that's not enough, fret not as Cafe Sanare has stairs leading to the nearby Uicheon stream, where you can dip your toes in the cool water on a hot day.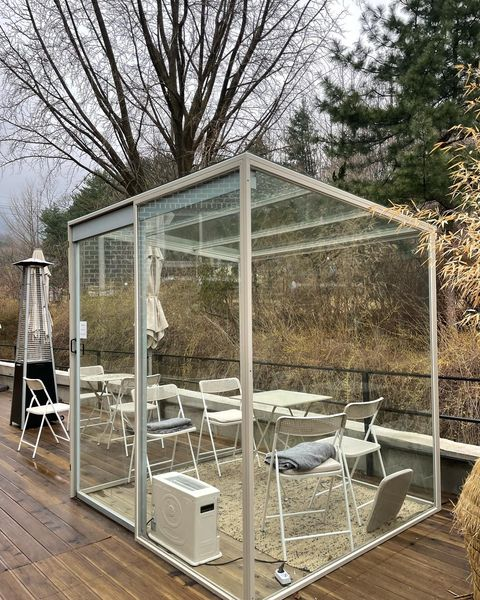 Image credit: @jji_cafe
During winter, the outdoor seats and tables are moved into glass booths that each have a heater, as well as blankets to keep patrons warm.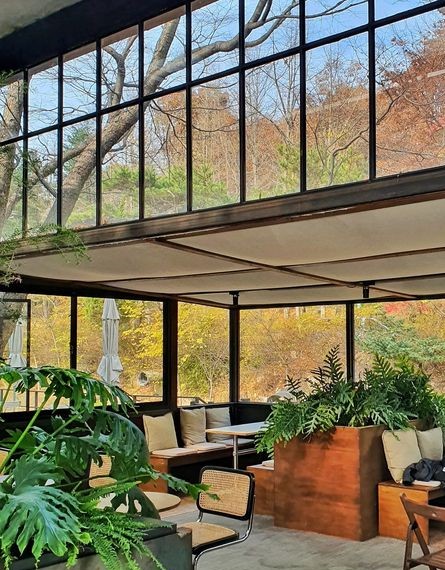 Image adapted from: @cafe_zzzim
In autumn, you'll get to witness foliage ablaze in hues of red, orange, and yellow. And come spring, baby-pink cherry blossoms will make a fleeting, but memorable appearance.
---
Signature desserts & beverages
---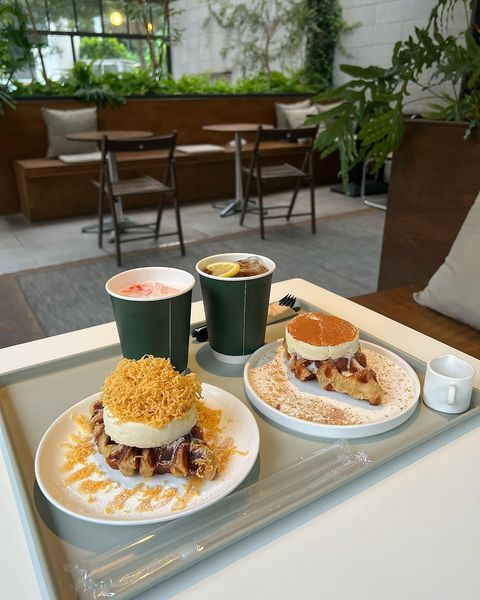 Image credit: @_boras2

While its dessert menu is rather limited, there are some items that you must try when you're at Cafe Sanare. The cafe sells 2 main types of desserts – basque cheesecakes and croffles.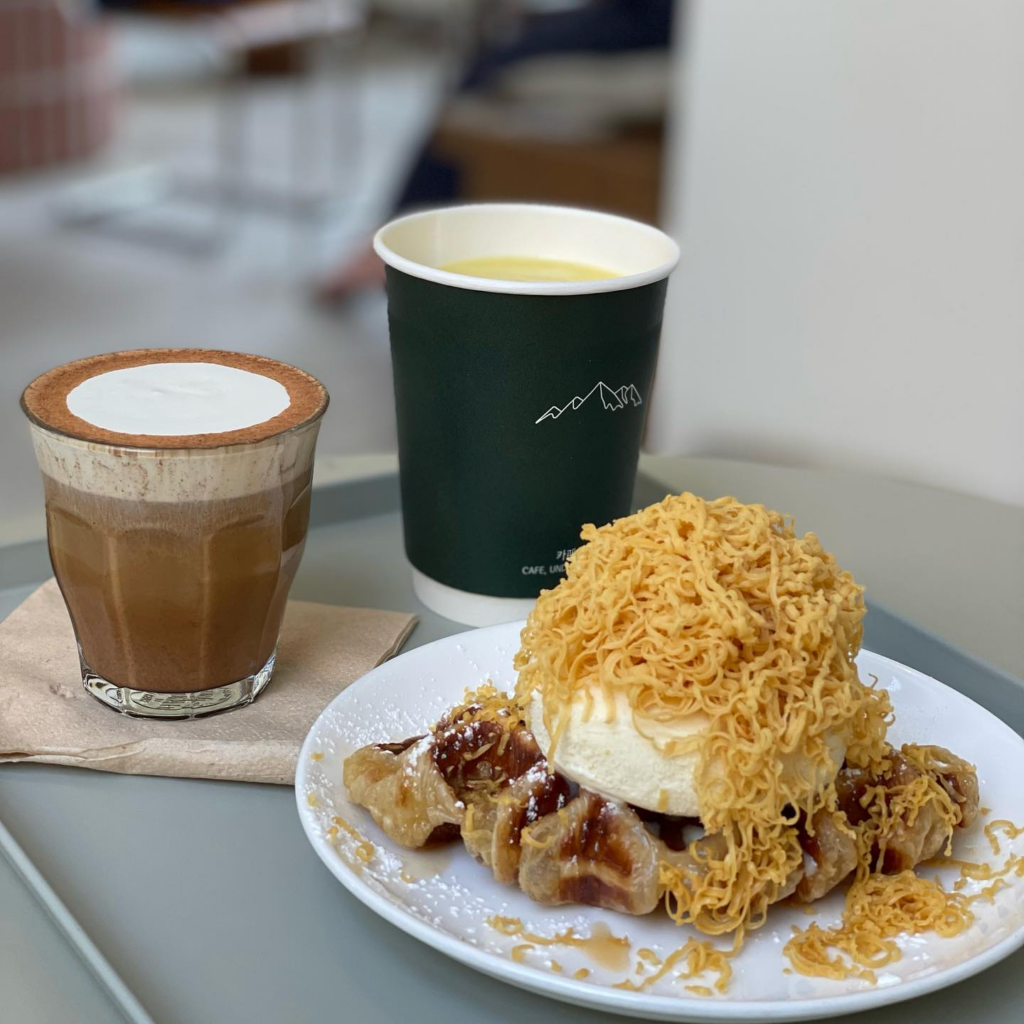 Image credit: @0favor.eat0
Cafe Sanare is known for making mouthwatering roffles, and its bestselling dessert is the Brown Cheese Croffle (KRW9,000, ~USD6.31). It consists of a crispy waffle-pressed croissant that's topped with a scoop of vanilla ice cream and a handful of shredded brown cheese, then drizzled with homemade syrup.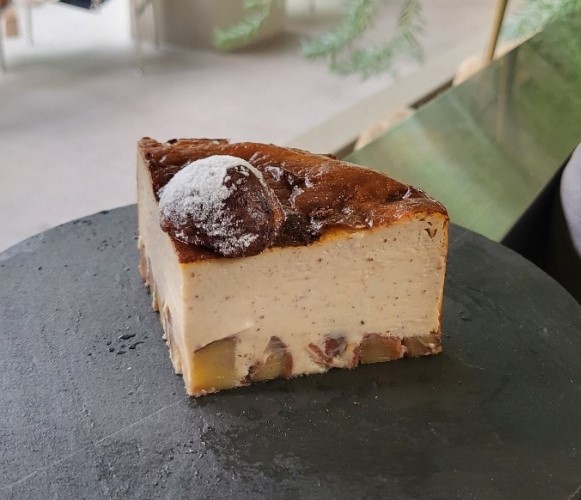 Image adapted from: 엣터제
Another must-try dessert is the Chestnut Basque Cheesecake (KRW8,000, ~USD5.60), which is sweet and buttery.  Chunks of chestnuts line the bottom of the cheesecake, providing a contrast in texture that will keep you coming back for more.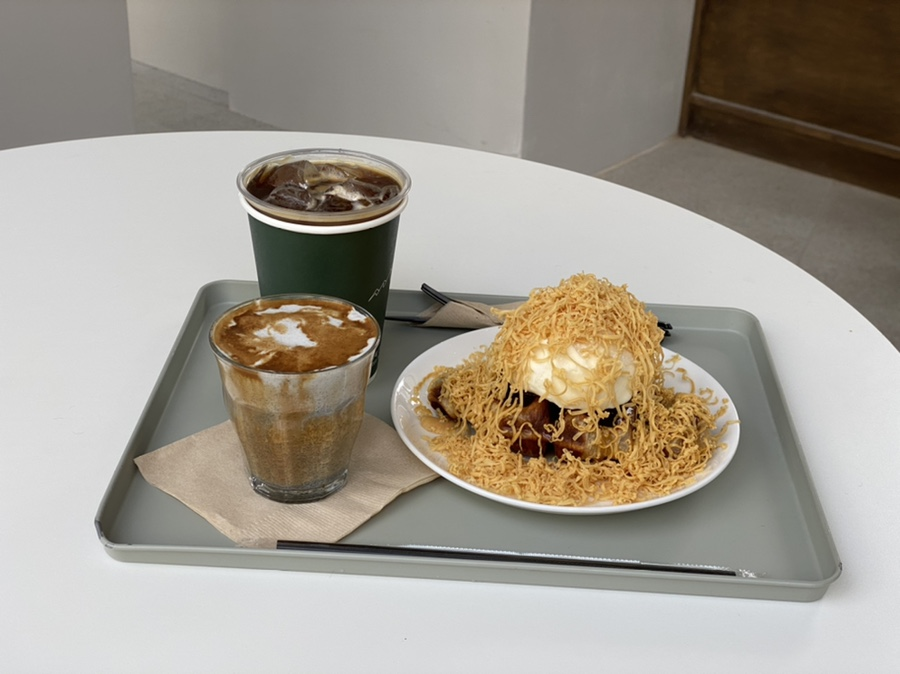 Image credit: suniday
For drinks, try the signature iced Black Sesame Latte (KRW6,000, ~USD4.20), which has a savoury and nutty flavour. 
---
Adorable cafe cats
---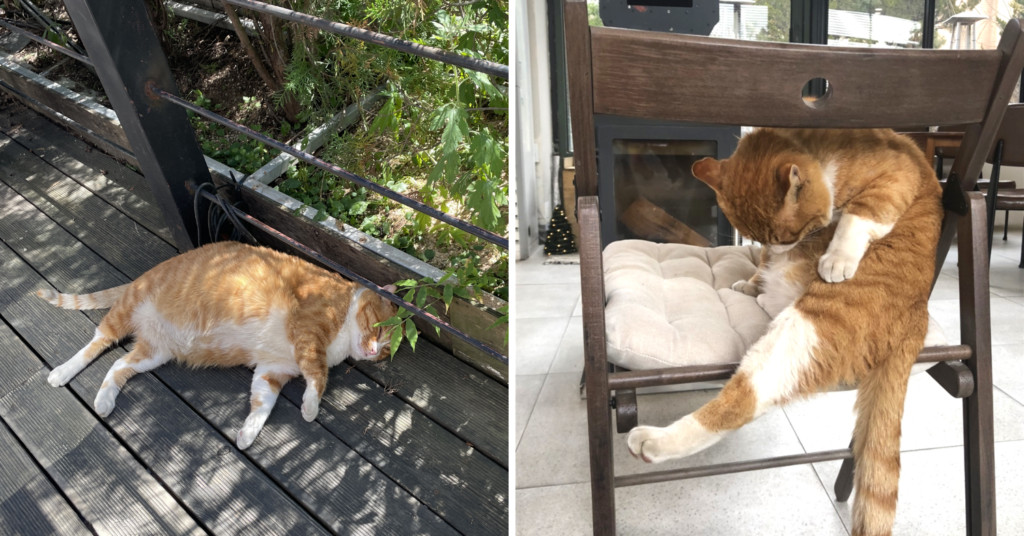 Nokdu the cat.
Image adapted from: 숭그, 어네 
The highlight of Cafe Sanare has got to be the cute and chonky cats, Nokdu and Love. As the cats roam freely, you'll often catch them chilling under the shade in summer, or near the heater during winter.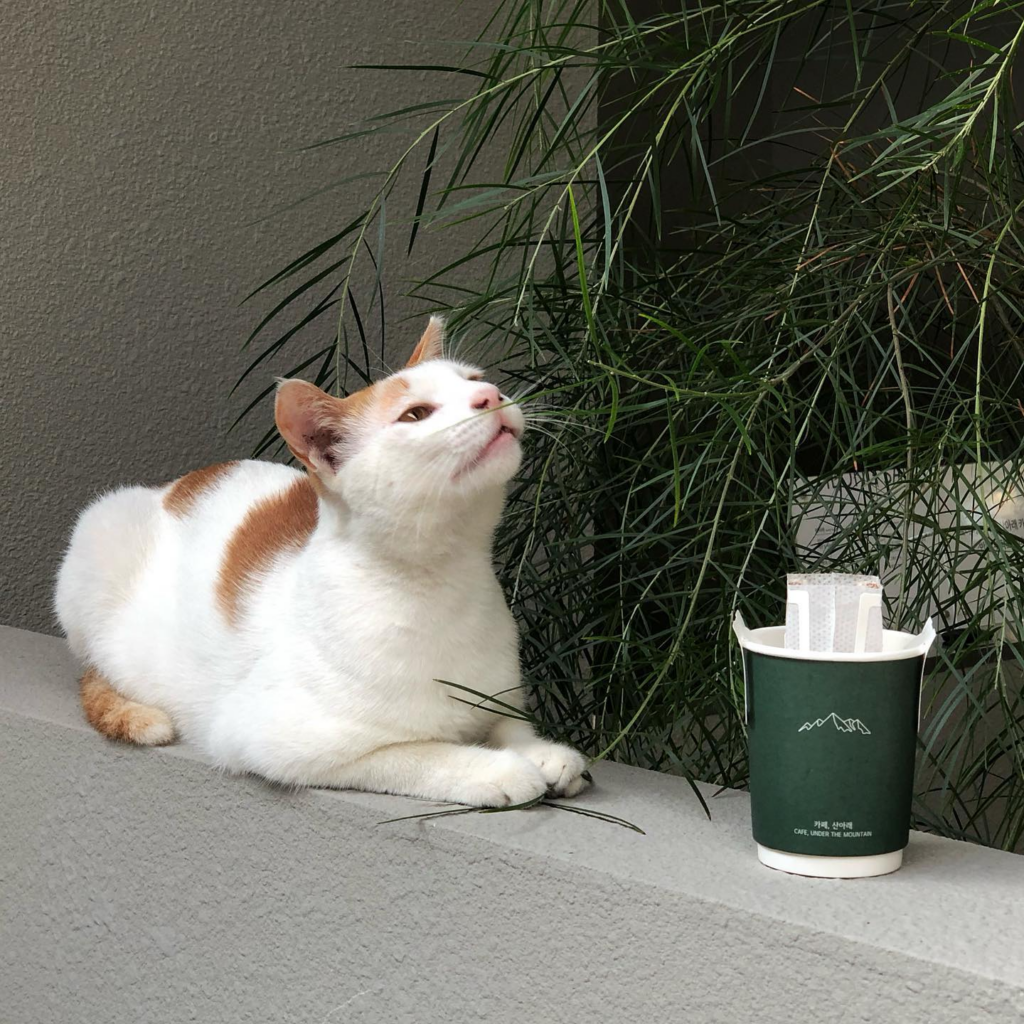 Love the cat.
Image credit: @cafe_sanare
The cats are fed and taken care of by the cafe owners, so you shouldn't feed them. Also, refrain from carrying the cats as it may scare them.
---
Getting to Cafe Sanare
---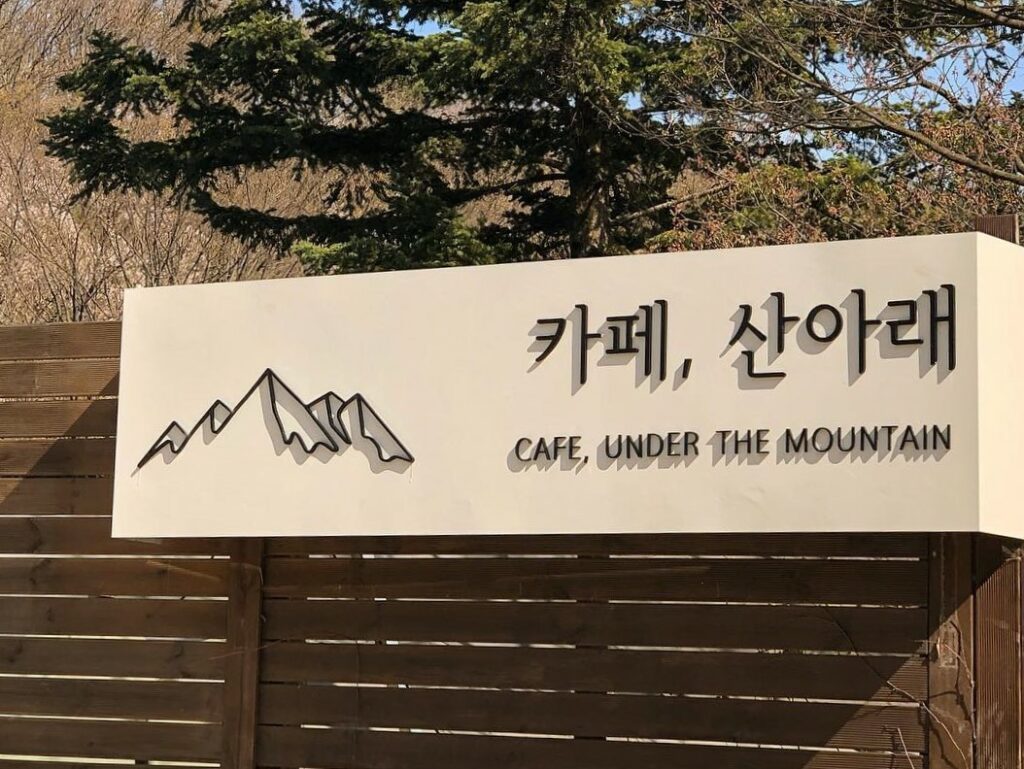 Image adapted from: @cafe_sanare
The aptly named Cafe Sanare, which translates to "Cafe under the mountain", is conveniently located a short distance from the foot of Bukhansan and the nearest train station.
How to get there:
Take the

Ui-Sinseol Line to Bukhansan Ui Station

and leave by

Exit 1

.

Walk straight

for 6 minutes and you'll arrive at Cafe Sanare.
Address: 56 Samyang-ro 181-gil, Gangbuk-gu, Seoul
Opening hours: Mon-Fri 11.30am-9pm | Sat & Sun 11.30am-10pm
Contact: 0507-1352-8813 | Instagram
Note that Cafe Sanare is a no-kids zone, and no pets are allowed on its premises.
Also check out:
---
Cover image adapted from: @a_caffe_er, @stellaseyoung_photo, @cafe_sanare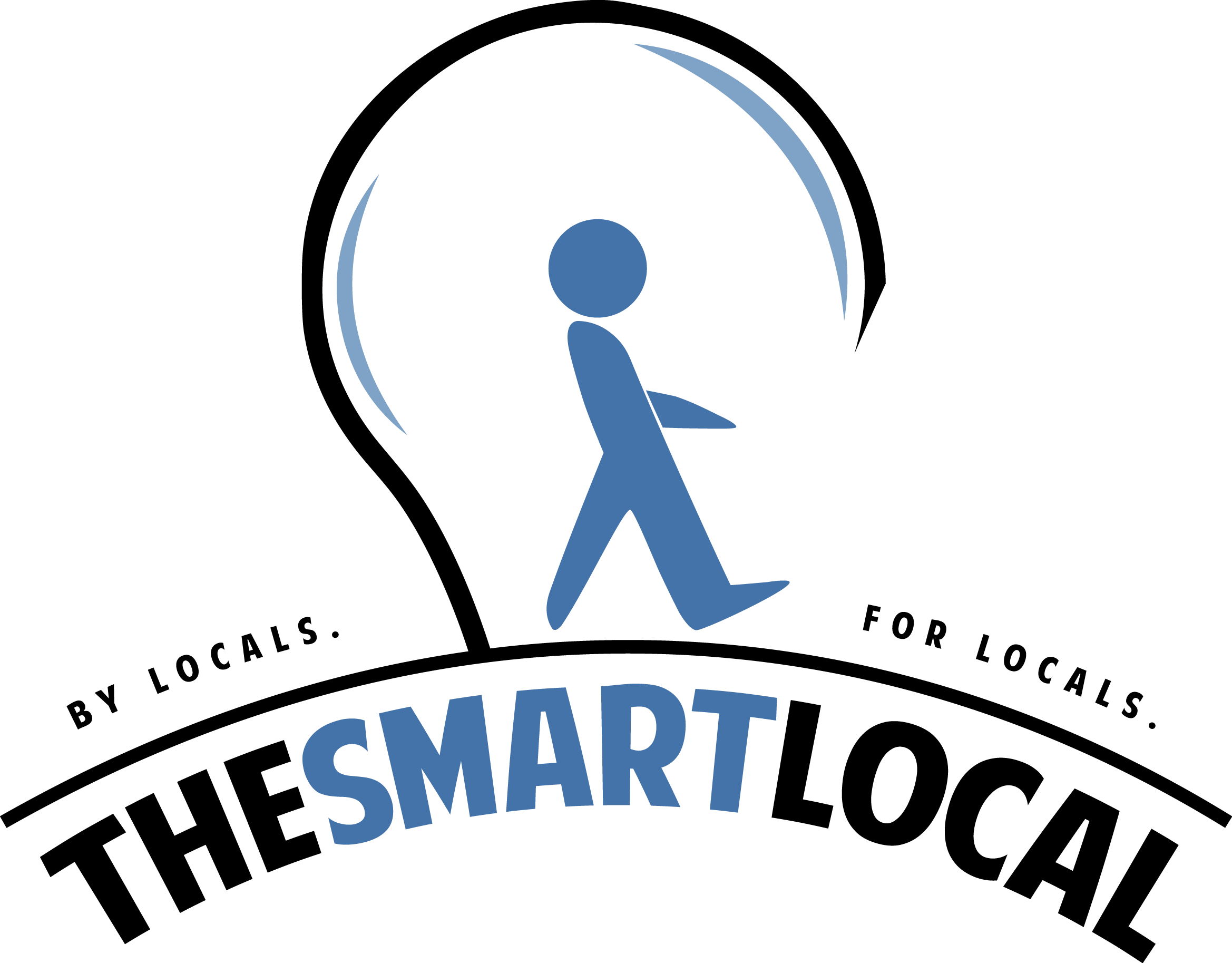 Drop us your email so you won't miss the latest news.