Korean instant noodles to try
---
When it comes to instant noodles, Korea is in a different league. Their wide variety of ramyeon flavours range from sesame to fried eomuk (fish cakes). If you're a ramyeon-lover who is looking to expand your pantry, here are 9 Korean instant noodles you can stock up on for your K-drama nights. 
---
1. Nongshim Yukgaejang ramyeon
---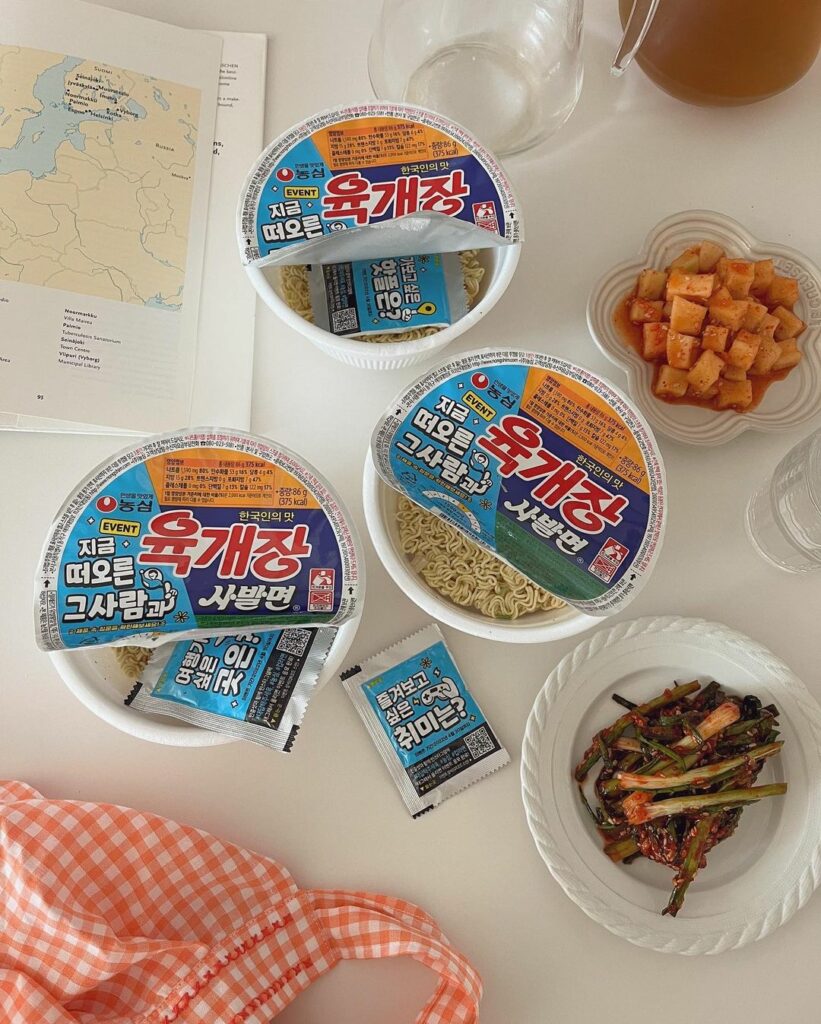 Image credit: @jui.mood
Fans of the popular Shin ramyeon will want to check out the Yukgaejang ramyeon by Nongshim, and it may become your new favourite ramyeon. 
Both brands are spicy and meat-stock based, but Yukgaejang ramyeon has a tinge of seafood flavour in its broth.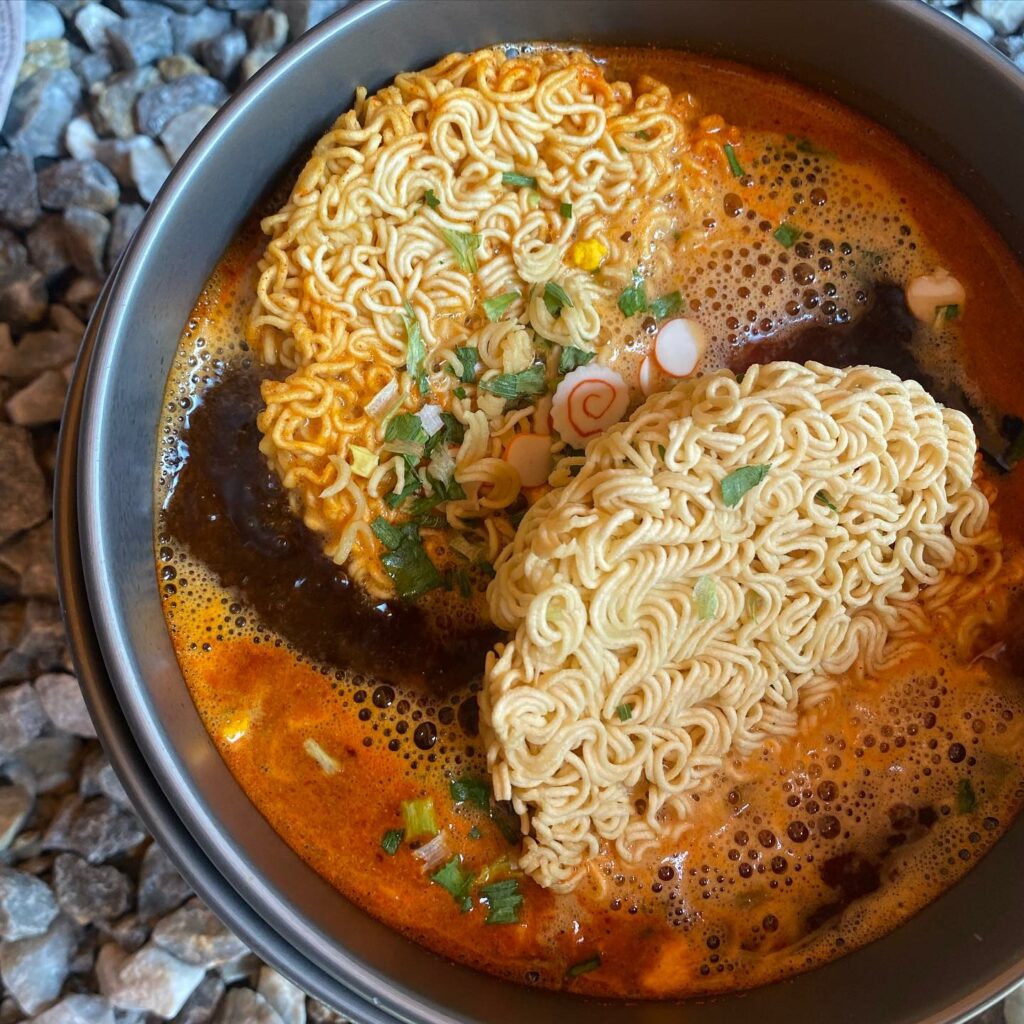 Image credit: @hii__mini
It is also less spicy than Shin ramyeon, so those with a milder palate might enjoy this more than the regular spicy ones.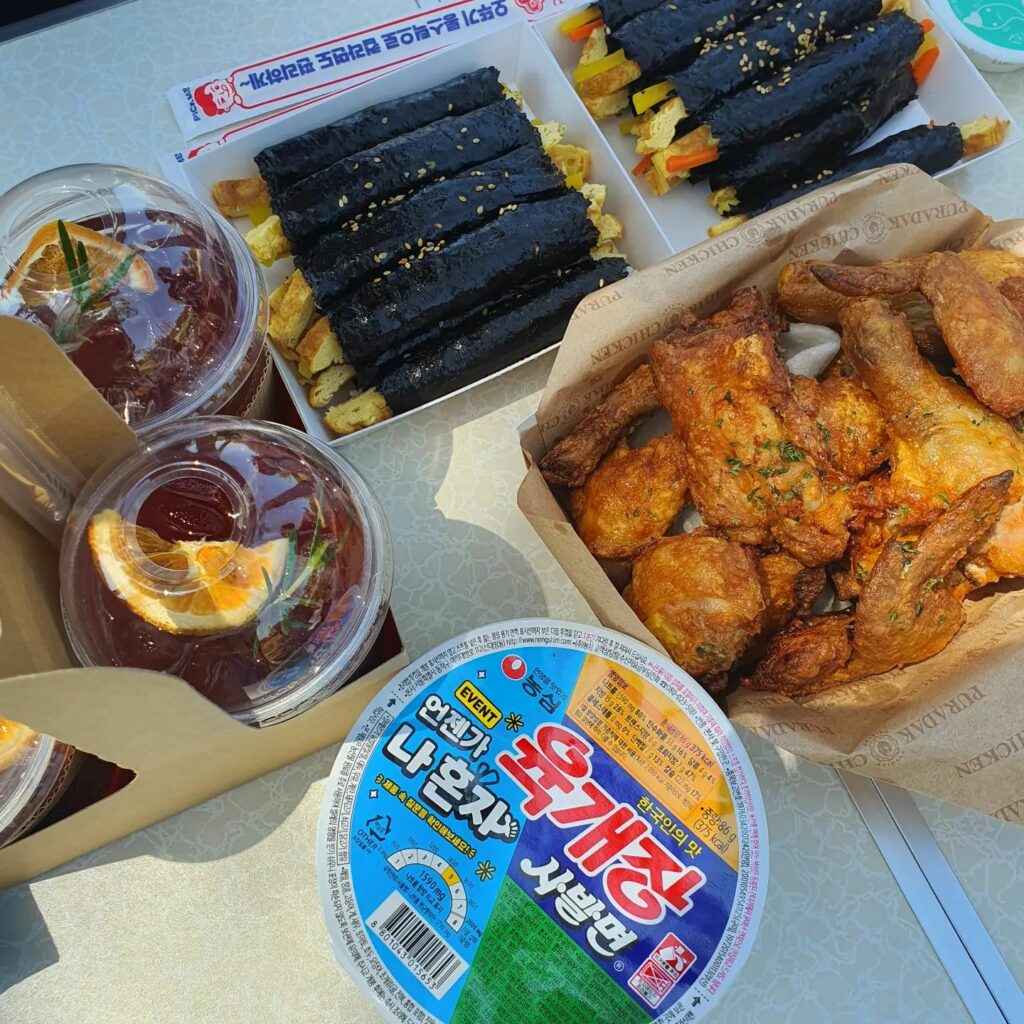 Image credit: @radonglife
The spicy and savoury flavours of the Yukgaejang ramyeon complements greasy foods such as chicken wings for an especially good pairing.
---
2. Paldo Teumsae Spicy Jjajang ramyeon
---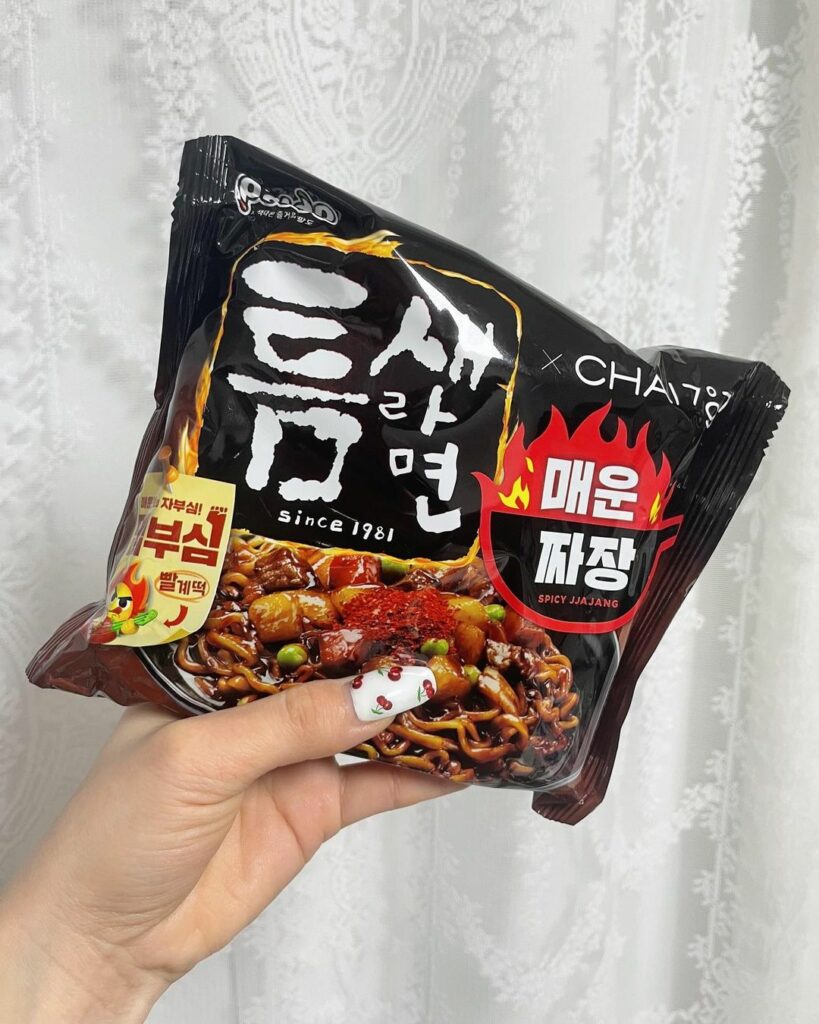 Image credit: @pole_in_jinny
The Paldo Teumsae Spicy Jjajang ramyeon are noodles with black bean sauce, and they are similar to the well-known jjajangmyeon. 
However, this instant noodle pack is known for packing a punch that might require some milk chugging action, so if you love spicy food, this ramyeon is a must-try.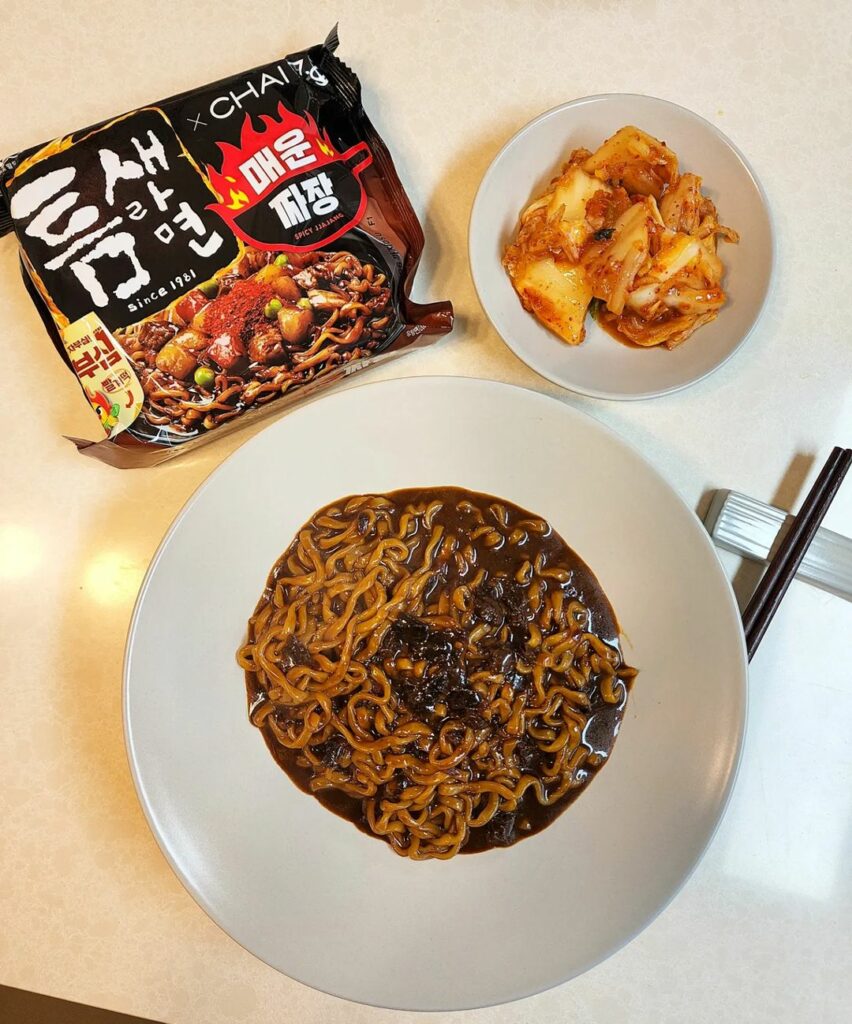 Image credit: @happymingming2
To complement the thick, chewy noodles, pair the ramyeon with some kimchi for an extra crunch to make the perfect midnight snack.
---
3. Paldo Bibimmyeon
---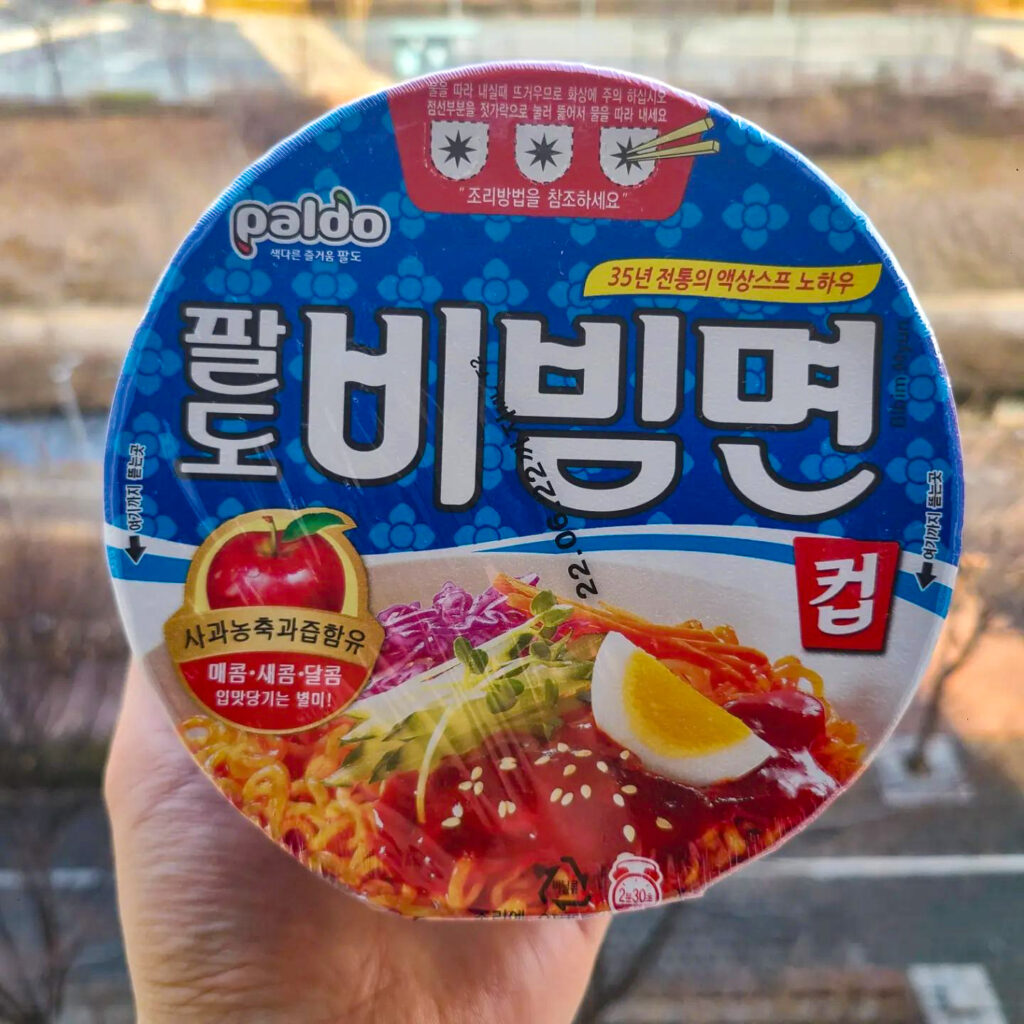 Image adapted from: @korea_cvs
Made to mimic a traditional bowl of bibimmyeon (spicy cold noodles), the Paldo Bibimmyeon is a bowl of sweet and spicy goodness. 
The sweetness of the noodles comes from concentrated apple juice, which may sound odd at first, but it's a heavenly combination as it neutralises the spice from the gochujang (hot pepper paste).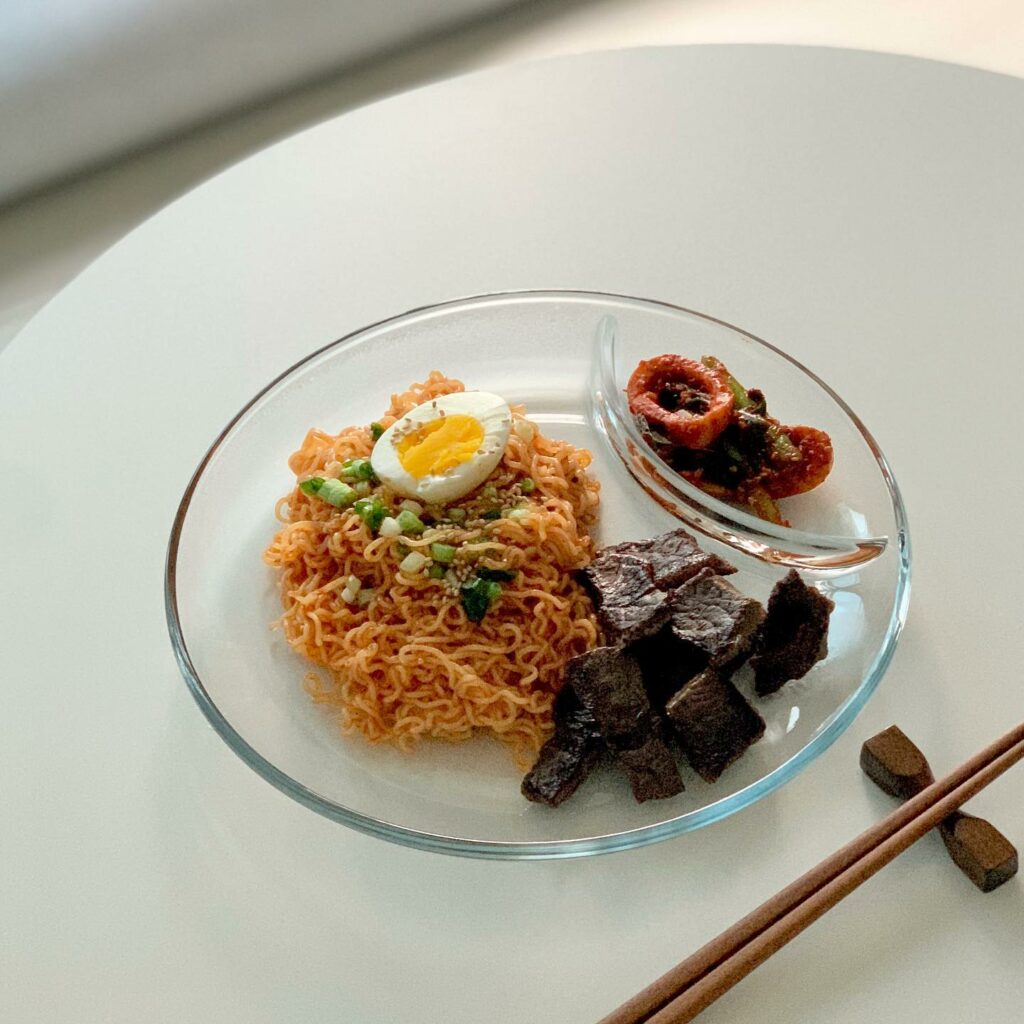 Image credit: @juhee.pic
Although this bibimmyeon is an instant version, it tastes very similar to the actual noodles you would find in a Korean restaurant.
The packaging even recommends adding in a hard-boiled egg or some finely chopped cucumber to bring back some of that traditional bibimmyeon nostalgia.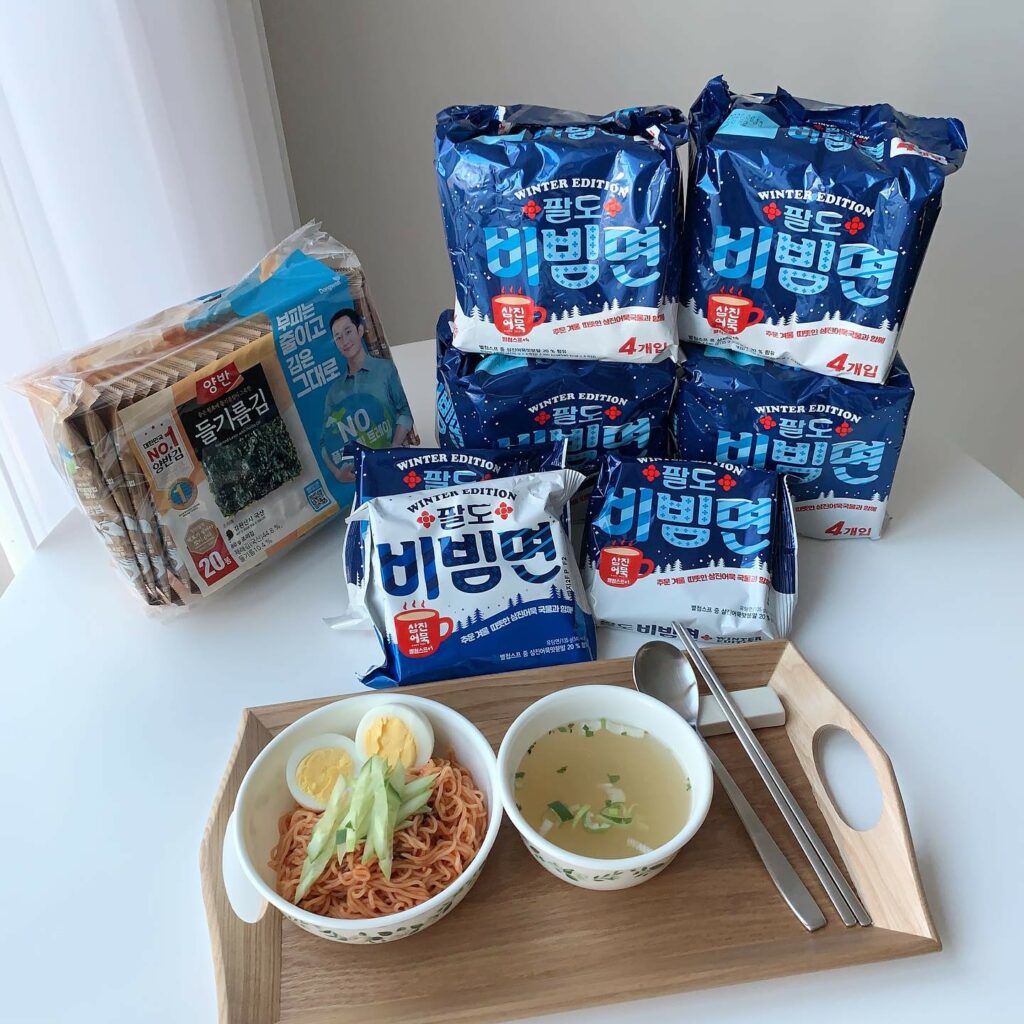 Image credit: @apple_unni_
Paldo also came up with a winter edition, where it included a sachet for you to make a bowl of hot soup so you can enjoy the cold noodles even amidst the cold weather.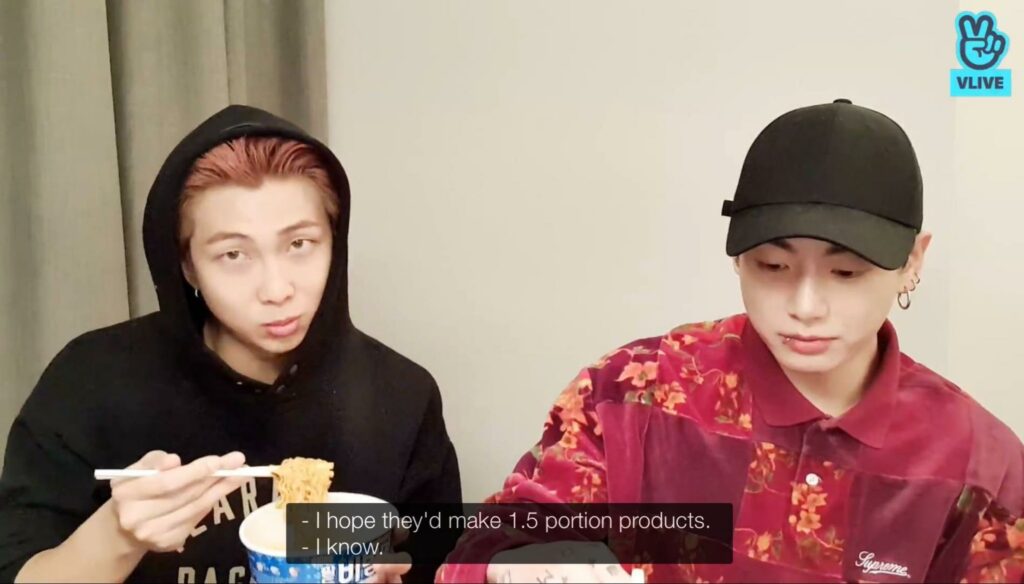 Image adapted from: BTS
Fun fact: Paldo Bibimmyeon is one of BTS's favourite ramyeon brands and they often rave about it on their V Lives.
---
4. Nongshim Jjapaguri
---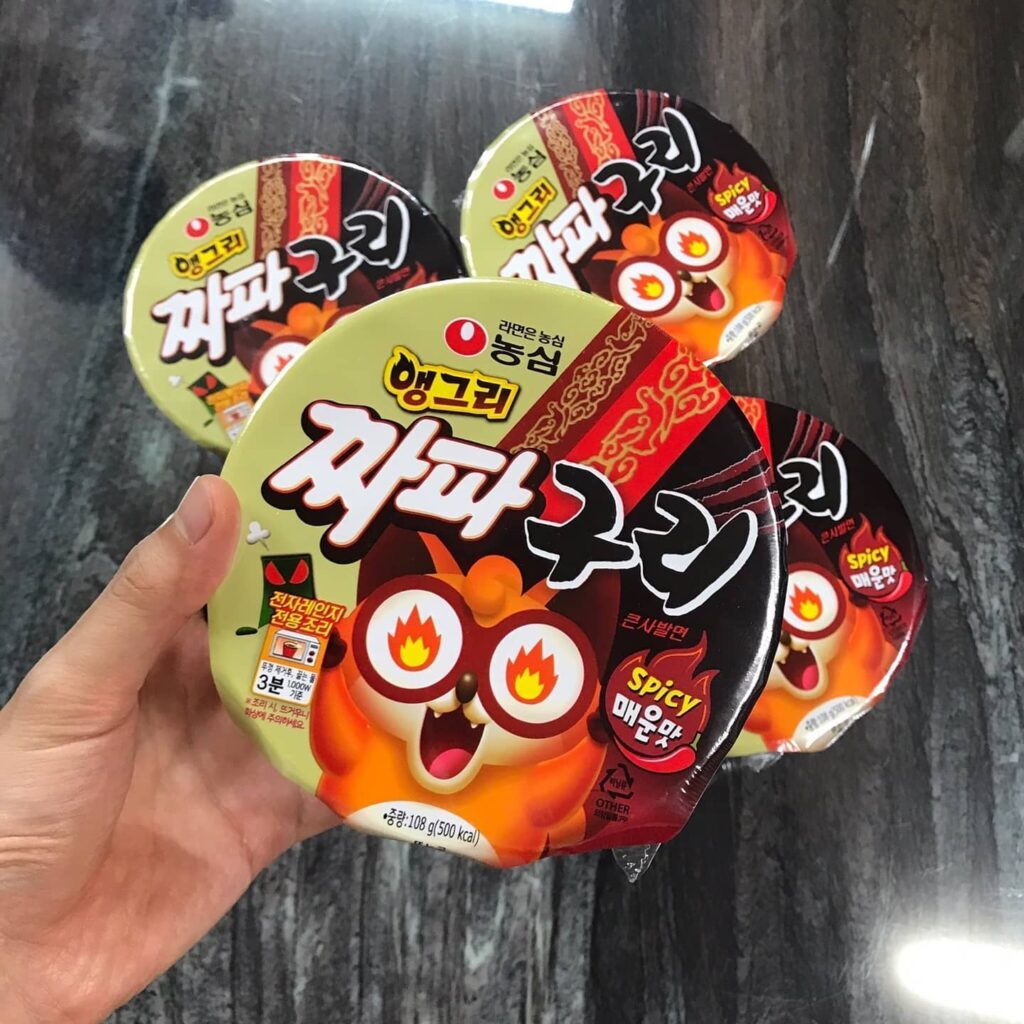 Image credit: @1.32i
Also known as ram-don, Jjapaguri is a mix of two types of ramyeon, Jjapagetti and Neoguri.
Jjapagetti is an instant noodle dish with black bean paste, while Neoguri is a spicy instant noodle dish with thick noodles.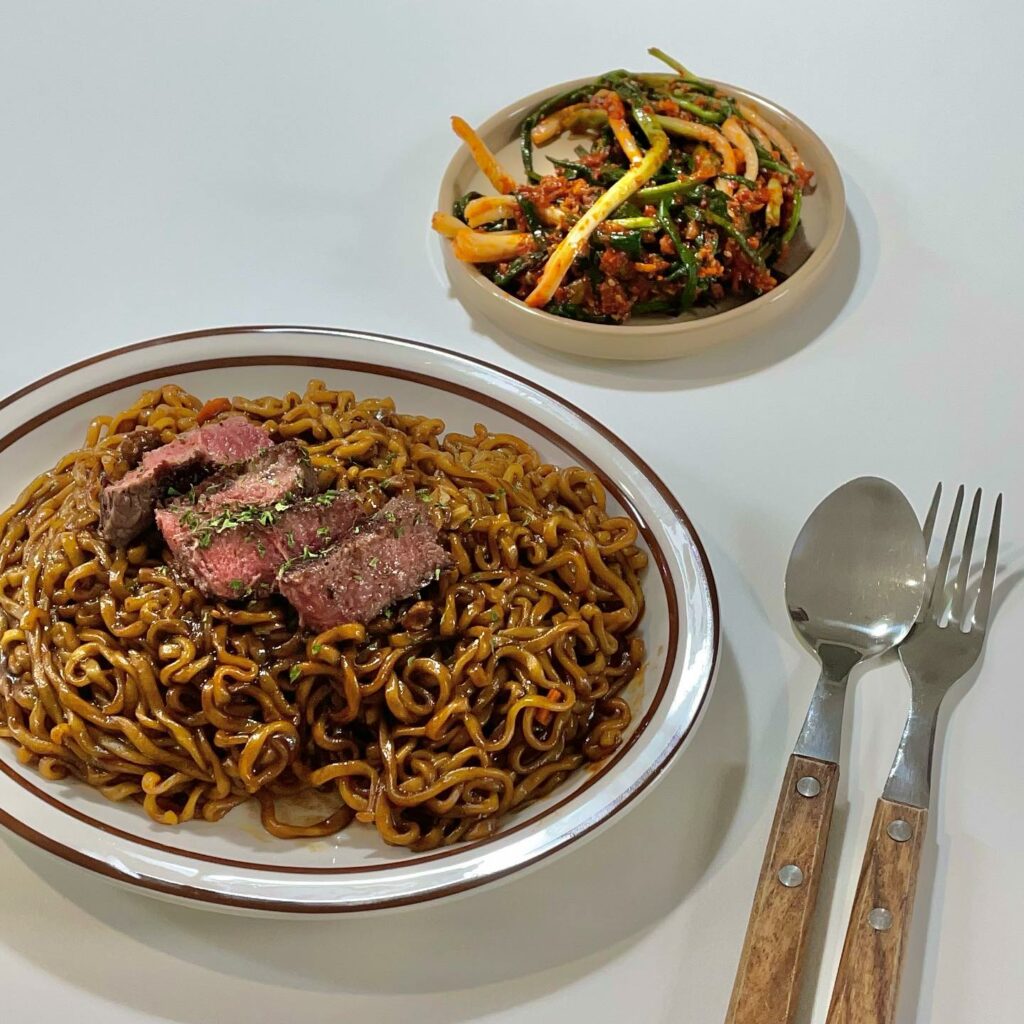 Image credit: @rurupop_
If you're feeling extra fancy, you can add some beef to your Jjapaguri to enjoy like how it was featured in the hit Korean movie, Parasite. 
---
5. Ottogi Chamggae ramyeon
---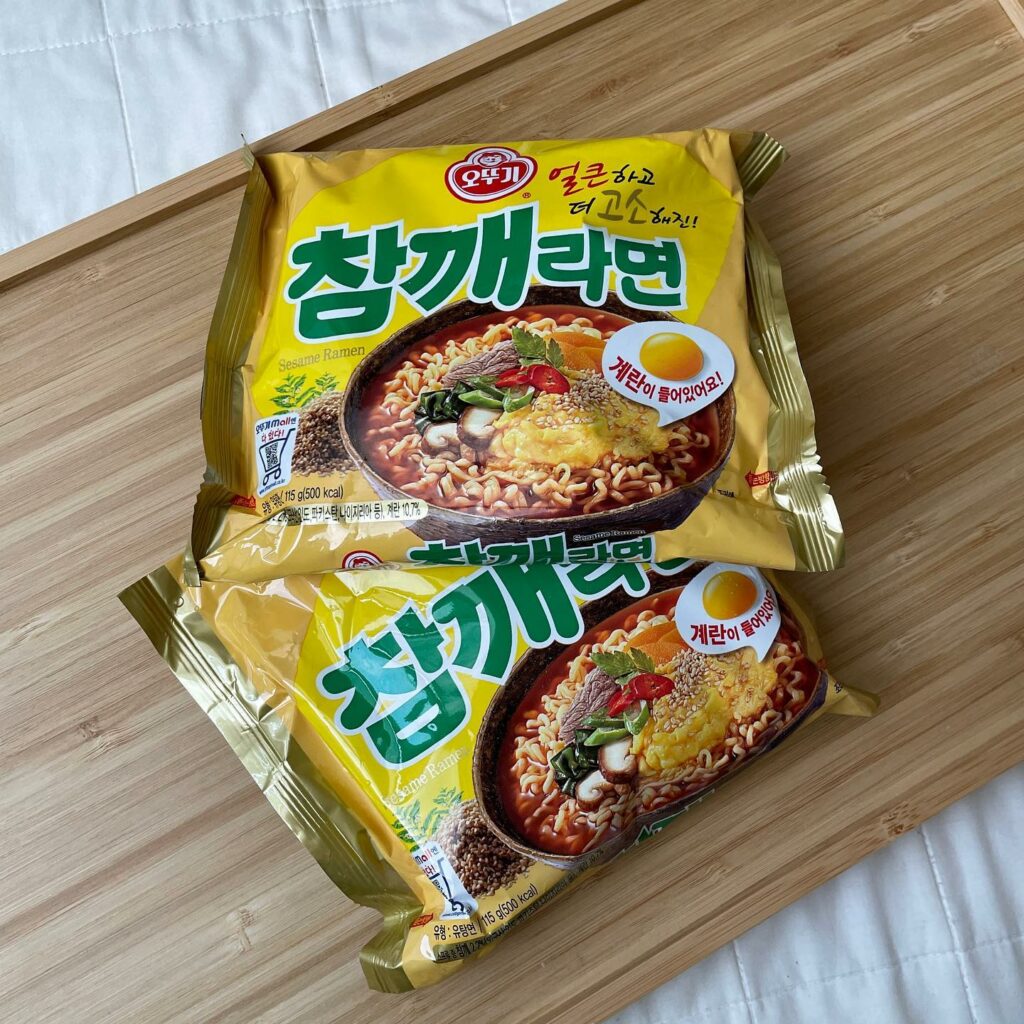 Image credit: @lisq_1994
Chamggae ramyeon, or sesame ramyeon, is a ramyeon that has a distinct and unique flavour, with its egg and sesame base.
It is slightly peppery, but it isn't overwhelmingly spicy, so this ramyeon is perfect for those less tolerant of spice.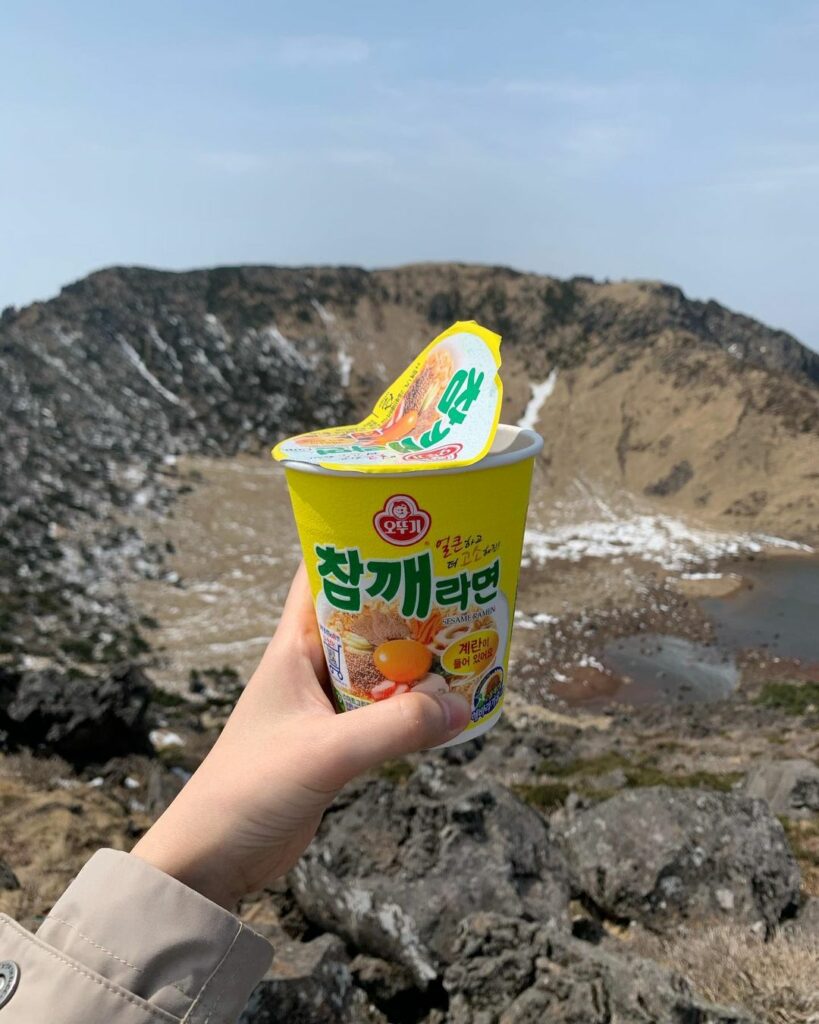 Image credit: @merry_tutti
Within the packet or cup of ramyeon, you'll find an "egg block", which is made of egg and vegetables that complement the sesame flavour.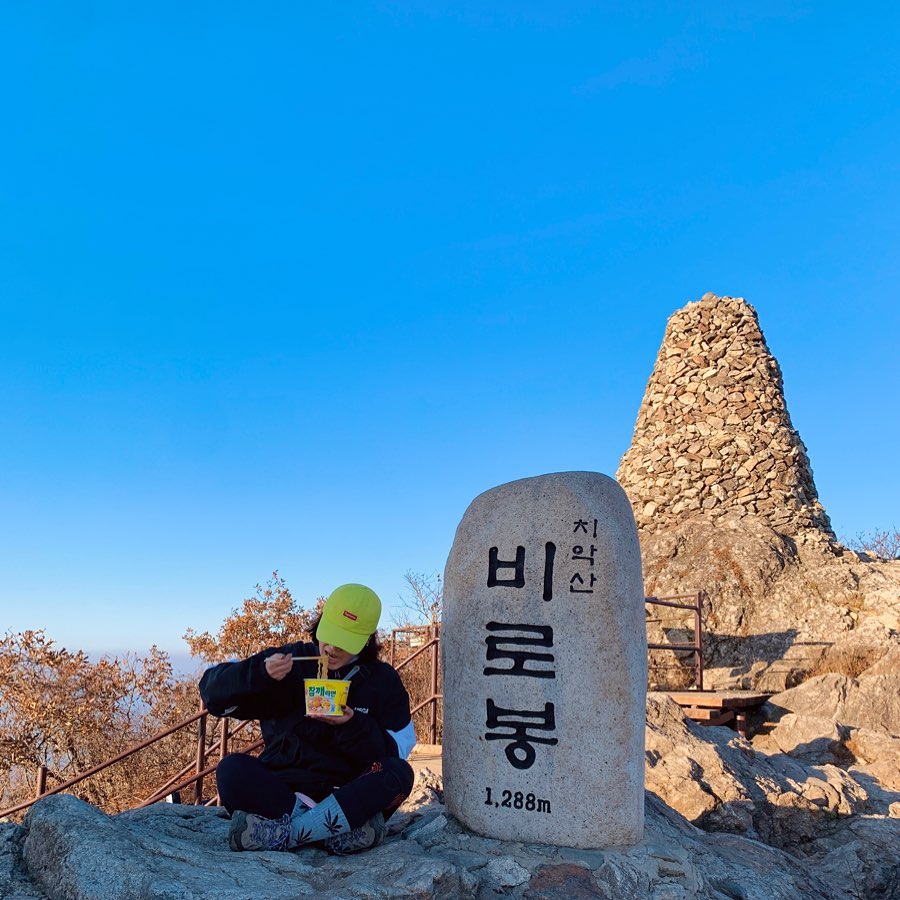 Image credit: @nnnnn_hh_
It is a classic choice that many locals go for, and it is often brought along on chilly hiking trips. 
---
6. Nongshim Kaguri
---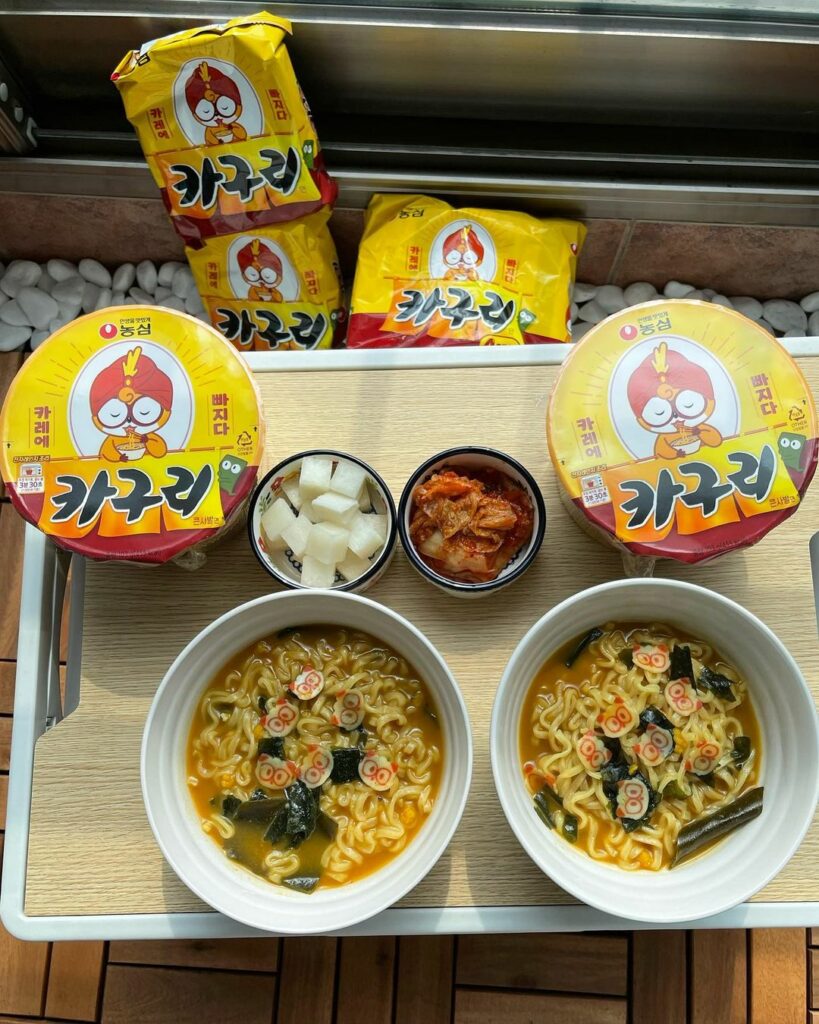 Image credit: @hyonni123
Kaguri is a spin-off of Neoguri, a type of ramyeon that's quite popular internationally. While Neoguri has a seafood-based broth, Kaguri is a curry-flavoured soup noodle. Both dishes are known for their addition of cute fish-cake flakes that resemble racoons, and the large pieces of seaweed in their noodles – sure warm both your stomach and your soul. 
---
7. Paldo Rabboki
---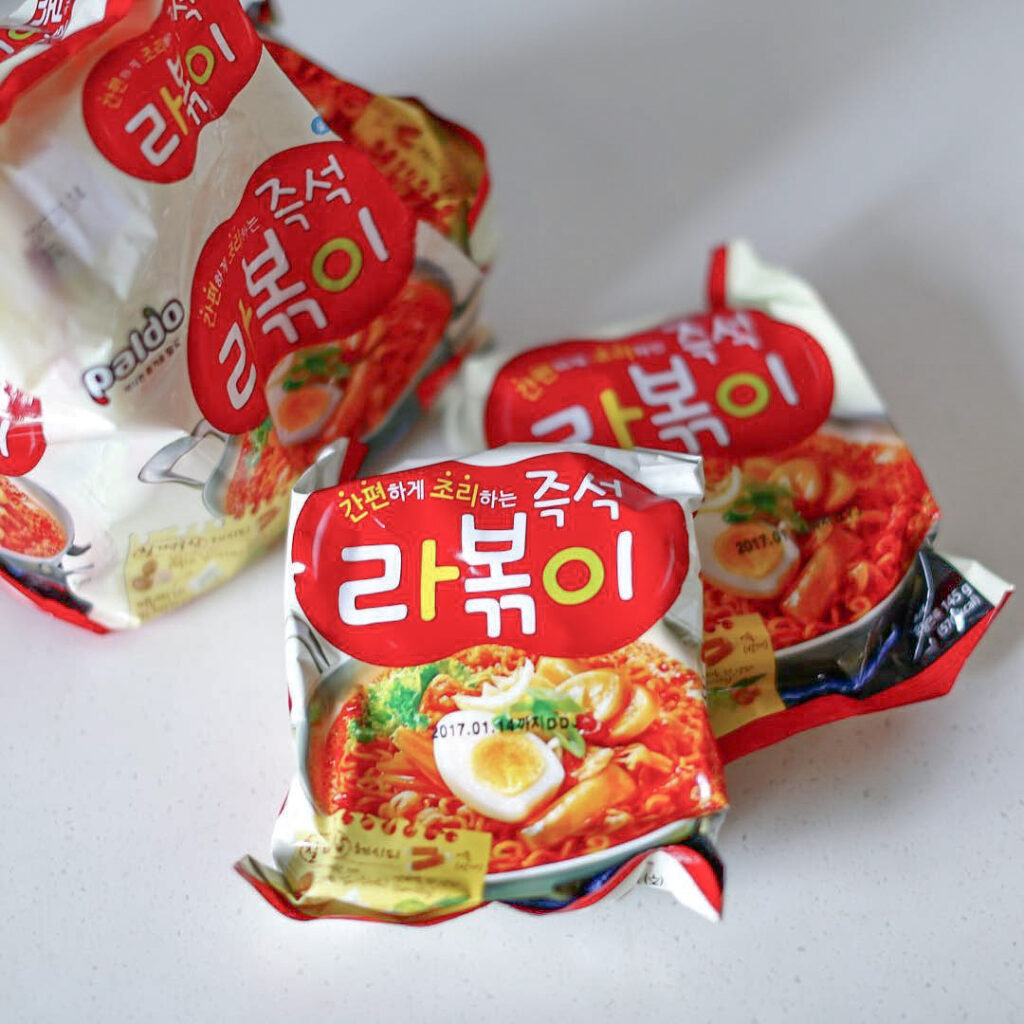 Image adapted from: @mignon.u_u
Paldo Rabokki is an instant noodle version of rabokki, a combination of ramyeon (Korean instant noodles) and tteokbokki (Korean spicy rice cakes).
These noodles are on the sweeter side, and it is popular amongst both children and adults alike.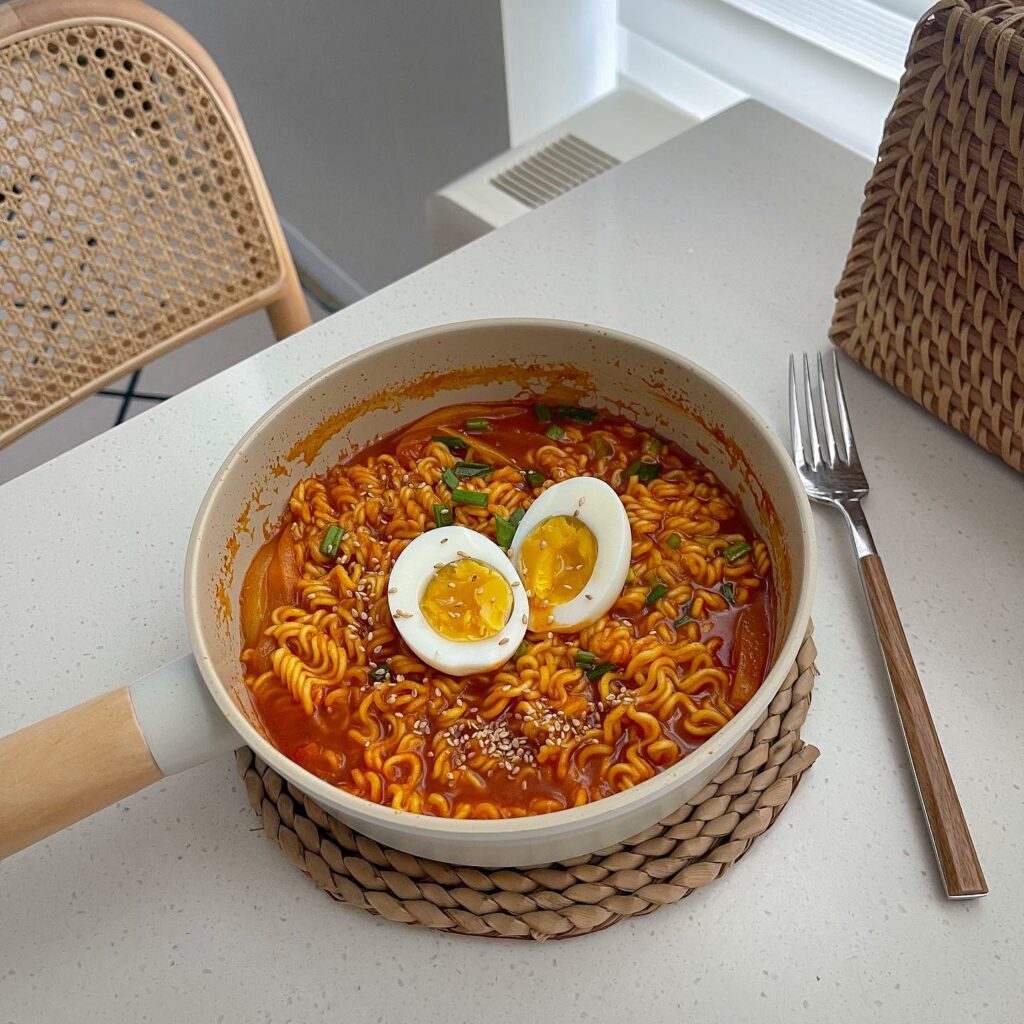 Image credit: @77__home
Pro-tip: Cook these noodles for around five to six minutes until most of the liquid is reduced, and the sauce becomes thick for a more authentic taste of rabokki.
---
8. Nongshim Mupama Tangmyun
---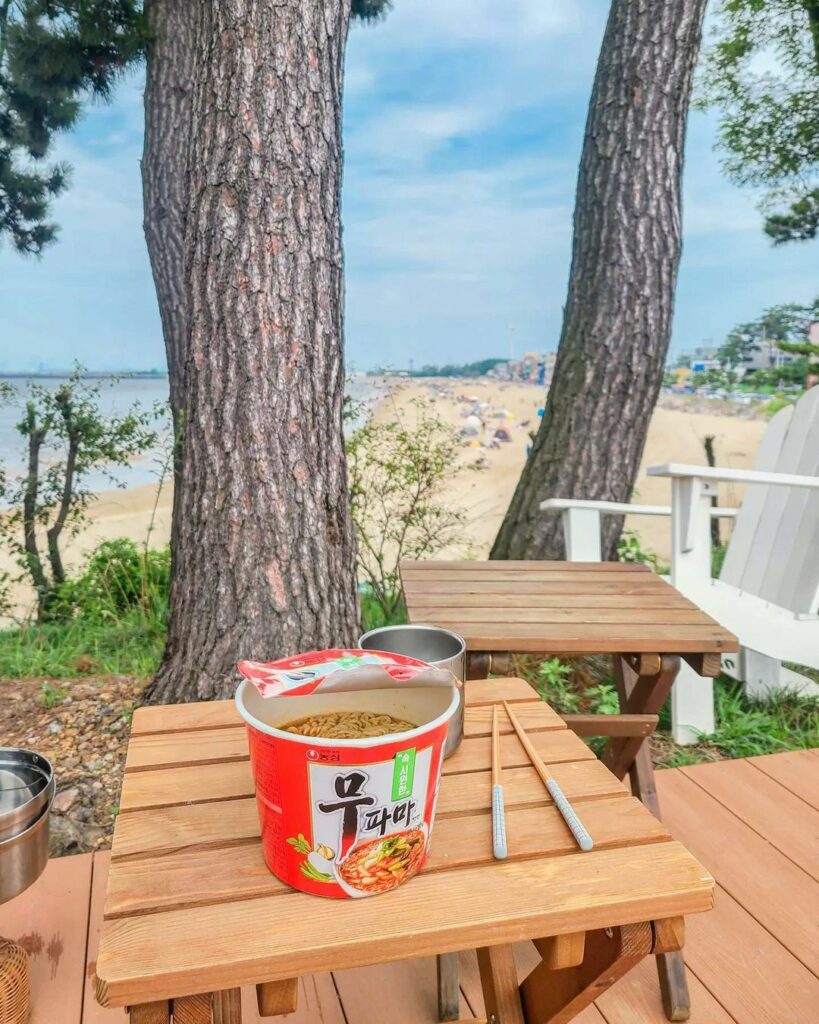 Image credit: @__sooniiiiii
Mupama Tangmyun is the ramyeon made for vegetable lovers, as the broth is flavoured with a variety of greens.
The name "Mupama" is derived from "Mu" (radish), "Pa" (scallion), and "Ma" (short for garlic), and it is a hearty bowl of soup that is packed with flavour.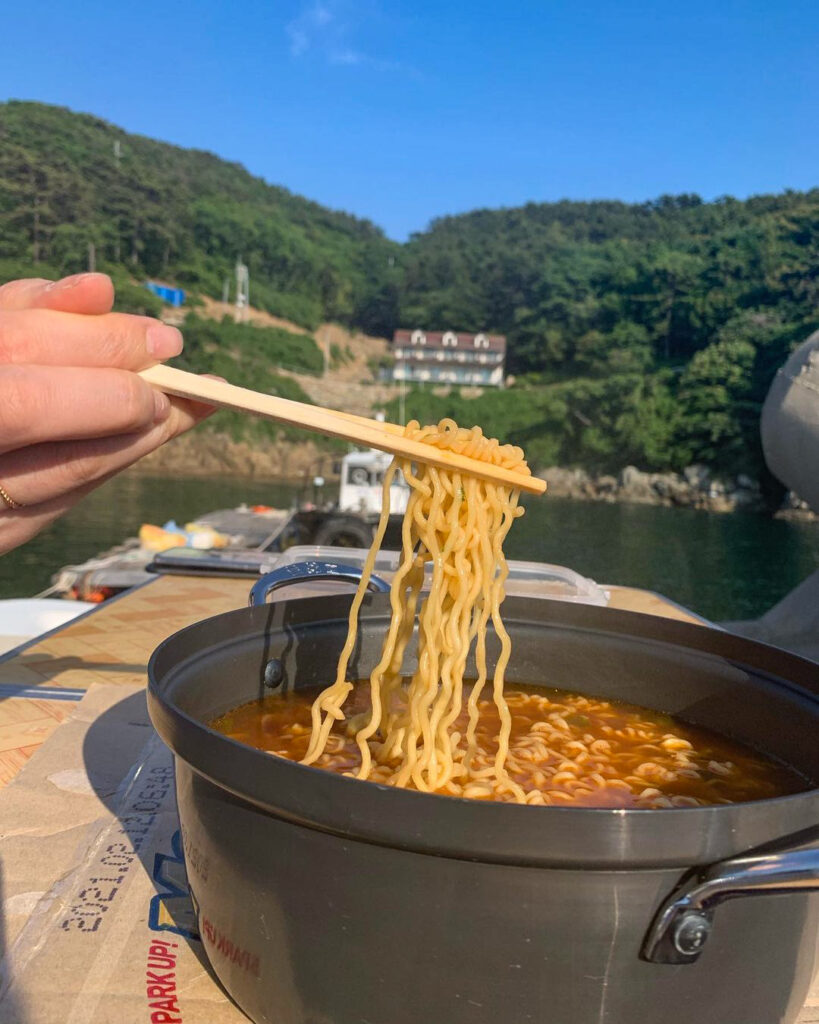 Image credit: @0_jjieun
If you enjoy soupy ramyeon, you should add Mupama Tangmyun to your shopping cart, as the broth is satisfyingly flavourful.
It packs a good amount of heat, and the noodles are springy too.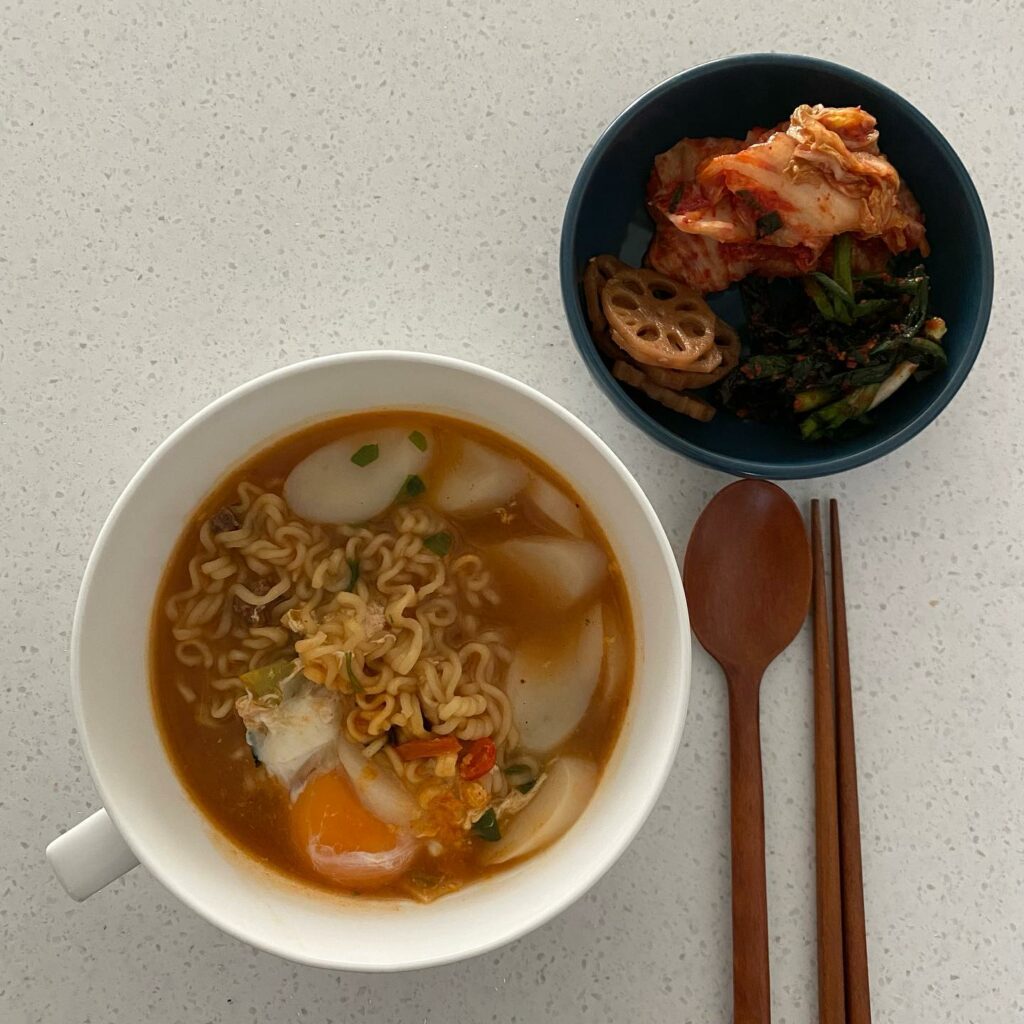 Image credit: @eundongmeal
You can also throw in some rice cakes and crack an egg into it for a more nutritious and filling meal.
---
9. Nongshim Twigim Udong
---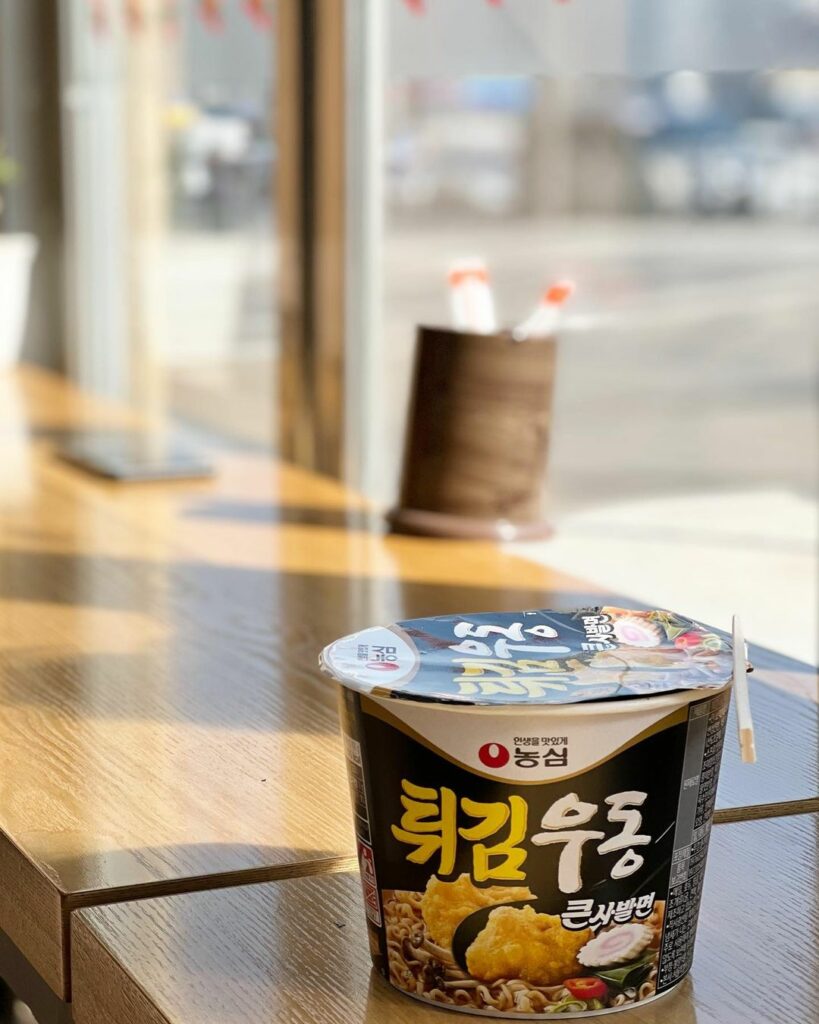 Image credit: @anssang1225
Those who enjoy lighter flavours need to check out Twigim Udong. It's a seafood-based ramyeon that isn't spicy. 
The name "Twigim" means "fried" in Korean, and the broth is made to taste like fried eomuk (fish cakes).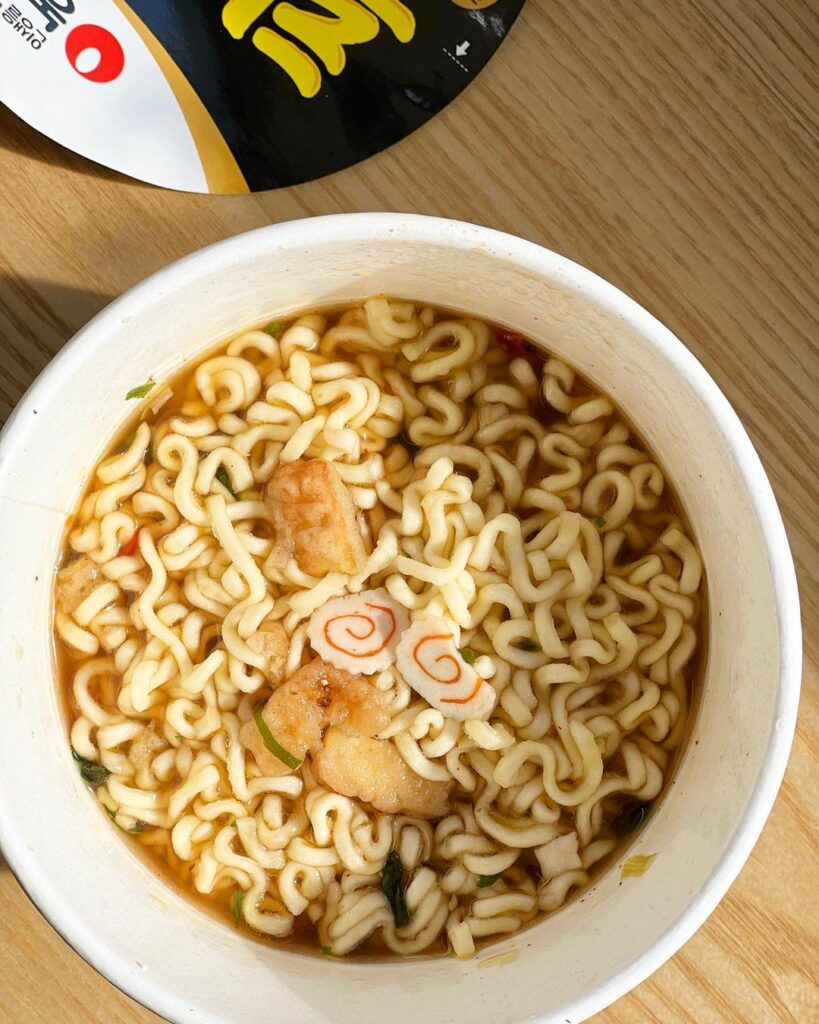 Image credit: @anssang1225
The noodles are chewy as they are on the thicker side. There are also some fried pieces of eomuk in the soup, which gives the dish an interesting taste and texture. 
---
Korean instant noodles that will up ramyeon rizz
---
This is your sign to stop relying on Samyang fire noodles, and try out other instant noodles that South Korea has to offer. With this variety of Korean instant noodles, you'll be a true ramyeon connoisseur, and your K-drama nights will be on the next level.
Also check out:
---
Cover image adapted from: @merry_tutti, @jui.mood, @__sooniiiiii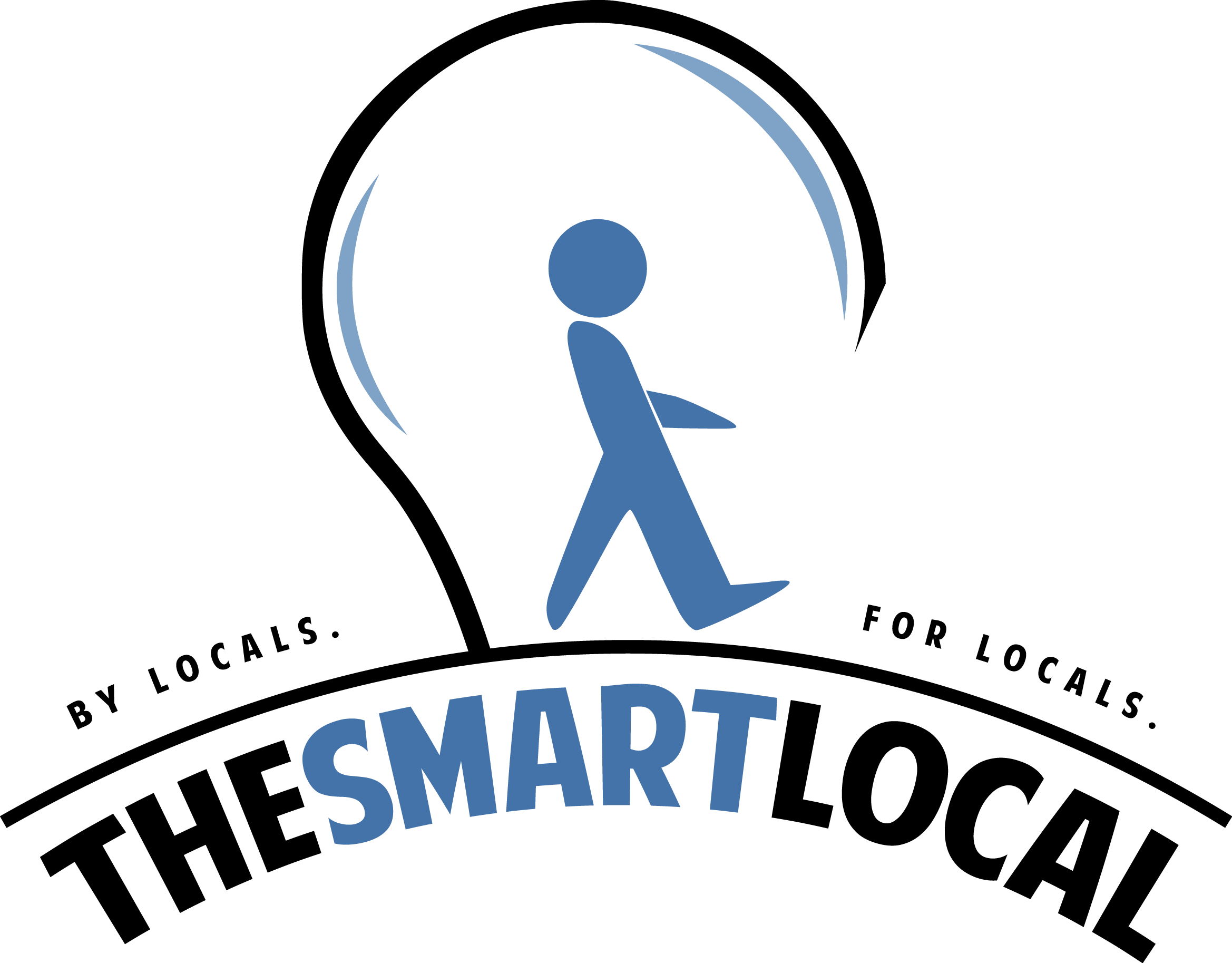 Drop us your email so you won't miss the latest news.